Post-Holiday Skin Recovery
Here's how to fight back against holiday skin care sins and recover your glow for the new year!
Posted on January, 10 2018
Written by: 100% PURE®
Post-holidays, post-new year's, new you? Sort of, maybe, if you put a little work in. After a month of drinking wine instead of water, and counting "roast root vegetables" as your weekly green, it's very possible that your skin might be looking a little less than ideal. Holiday merriment sometimes verges on holiday vice, and behaviors like drinking and smoking paired with stress, sun and the associated free radical damage that ensues can leave you with dry skin, emphasized fine lines and wrinkles, enlarged pores, acne, plus other oxidative damage that contributes to signs of aging. This all leads to our central question: how do you pump the breaks on the skin care sins you've committed over the holidays?
First, forgive yourself – the holidays are for drinking and eating and seeing loved ones, and if your skin isn't the dewy canvas it once was, know that it's OK to give yourself – and your beauty routine – a break once in a while! And with this mantra in mind, face the new year with head held high.
Post-holiday Skin Transformation
Now onto the post-holiday skin care approach – it needs to be firmly rooted in letting skin sin give way to skin virtue. But as with all beauty and skincare, the reversal of dermatology woes caused by non skin-loving holiday behavior has to be gradual – nothing happens overnight, except maybe eye puffiness if you've had a few cocktails. If your skin is overly dry or flaking, make sure you're not over-moisturizing in a zealous attempt to fulfill your new year's resolutions – you'll end up with a dermis that's overly dependent on moisturizer (think disrupted natural oil production) and potentially clogged pores.
Similarly, if you're seeing new fine lines crop up around your eyes and mouth, don't use an extra heavy hand with active anti-aging ingredients like retinol and fruit acids – this will just lead to irritation, flaking and itching, and won't get you goddess faced any faster. Likewise, steer clear of over-exfoliating, over-cleansing, or combining multiple products with similar functions (for instance, mixing several different anti-acne anecdotes would be a no-no). Stay sane about your post-holiday routine and things will fall into place! For a full To-Don't list before diving into steps you can take to regain skin serenity, peep at our 10 Things to Never Do With Skincare roundup. Maybe print it out and put it on your fridge.
A Step-by-Step Plan for Skin Recovery
So how do you approach skin care sin reversal? Think repairing, restoring, and preventing. Post-holidays, you might have some discoloration or dark spots, thanks to either sun exposure, hormonal changes (the cheese platter is to thank for that) or lingering post-blemish marks.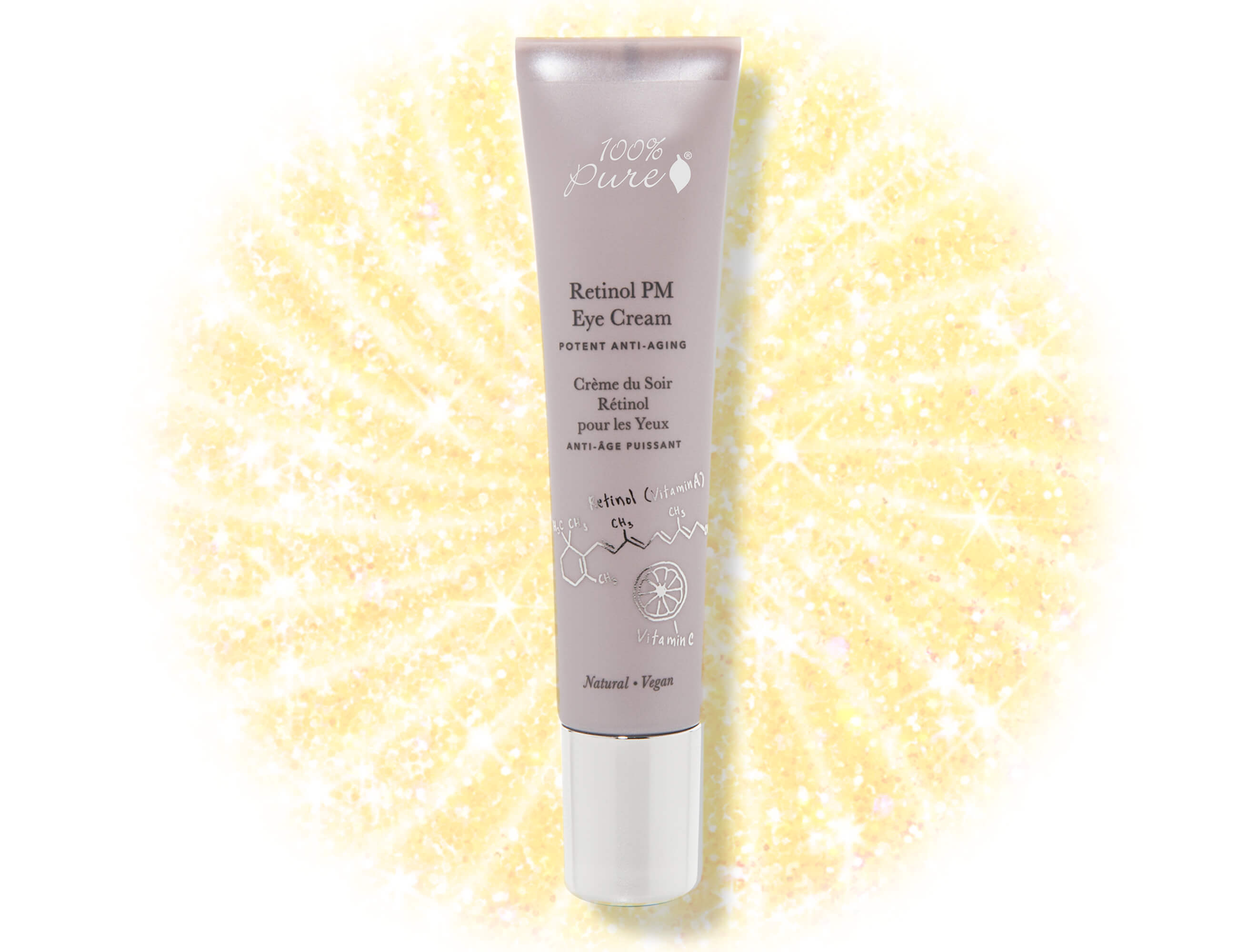 Nothing is more effective for beating dark spots than retinol, a natural Vitamin A derivative that boosts collagen and increases skin cell turnover to reveal smooth and fresh dermal layers sans spots or dullness underneath. For potent discoloration correction, especially for the fragile under eye and eyelid area, try our Retinol PM Eye Cream, a super concentrated formula featuring hyaluronic acid to lock in hydration and keep collagen synthesis up, retinol for brightening and dark spot fading, and organic chamomile butter, which is an incredible plant based skin brightener and tone evener. This is an intense PM product that will work while you sleep – making this one of your new 2018 habits for fighting unsavory wrinkles, lessening under eye shadows, and overall skin recovery.
In conjunction with any retinol therapy you're doing, it's essential that you incorporate regular SPF use into your daily routine. Retinol and sunscreen go hand-in-hand, because retinol acts as an exfoliant revealing younger and fresher dermal layers – which have, you guessed it, never been exposed to UV rays. This means that you have to be extra careful to apply SPF when using retinol, because your post-exfoliation skin is more vulnerable. And if you expose new skin to UV rays, you'll land yourself with the same age related free radical damage you were treating with retinol in the first place. Don't enter into the sun damage cycle, and make sure you're pairing active anti-aging products with adequate SPF and sun protection.
Now let's talk about re-hydrating and re-moisturizing, two of the most important prongs to your post skin sin approach. Chances are, after the holidays you'll be dealing with some seriously dehydrated skin, which can be caused by a myriad of factors, including heavy makeup application, cold and dry weather, excess alcohol consumption, a high sodium diet, or all of the above combined (usually the case during the holidays). Dehydrated skin looks different on different people – for some, flaking and redness take center stage, while for others, oil production kicks into gear to make up for missing moisture, resulting in breakouts in addition to dry patches (all you combination skin people out there, we see you).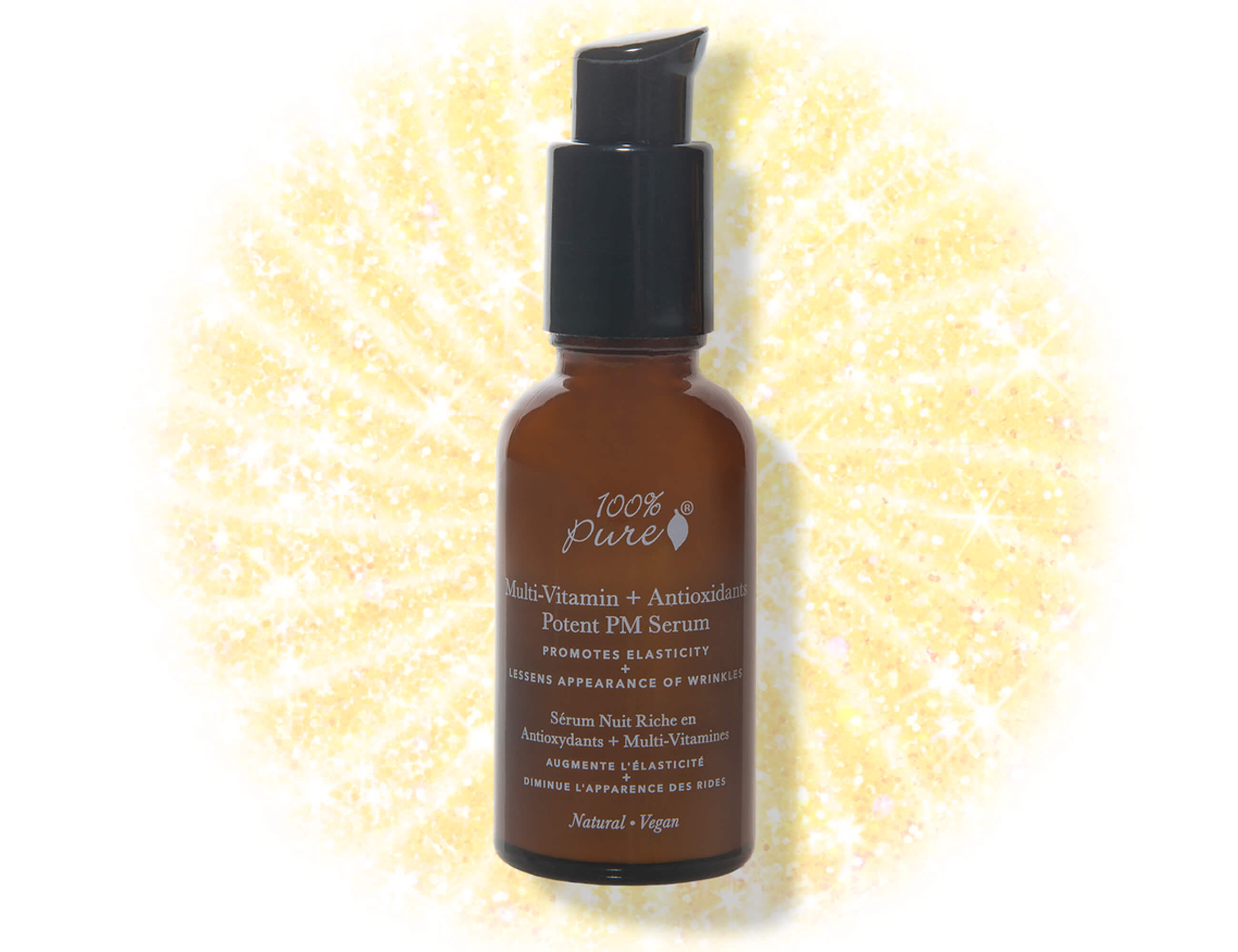 To deal with these skin woes, cue our Multi-Vitamin + Antioxidants Potent PM Serum, a super nourishing treatment that boosts collagen, reverses sun damage, and gives your skin a hefty dose of Niacinamide, a form of vitamin B3 plus nicotinic acid that improves weak skin surface layers and enhances moisture retention and skin suppleness. The formula starts with a base of organic rose water, an ultra hydrating ingredient that contains micro levels of rosehip oil essential fatty acids.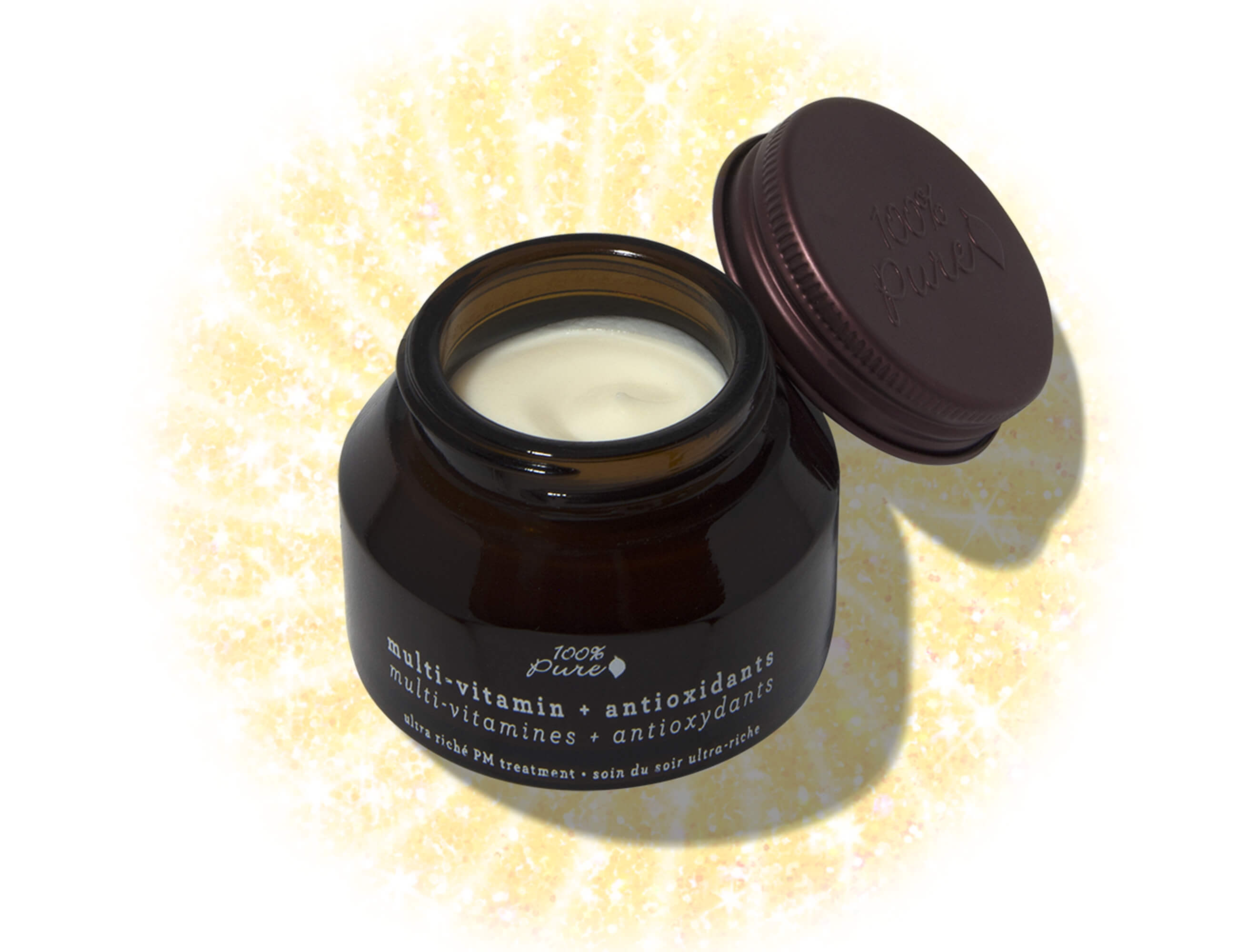 Combine this PM serum with our Multi-Vitamin + Antioxidants Ultra Riche PM Treatment, a super luxurious evening cream with a high dose of corrective Vitamin C, essential for synthesizing new collagen, shielding topmost skin layers from pollutants, and significantly improving hydration. The PM Treatment formula begins with a base of glacial water infused with aloe vera, leaving your skin with a plethora of antioxidants, beta carotene, and Vitamin E for improved elasticity and smoothness.
Our last piece of advice when it comes to dealing with past skin care skins? Focus on using products that refortify skin against free radical damage, the underlying process behind skincell aging and deterioration leading to wrinkles, sagging and dullness. Free radicals are damaging molecules that come from UV rays, pollution, cigarette smoke, chemicals from synthetic cosmetics – you name the vice, and more likely than not, free radical damage is part of its associated risks. Unchecked, free radicals damage collagen production processes and spur hyperpigmentation, resulting in overall accelerated skin aging.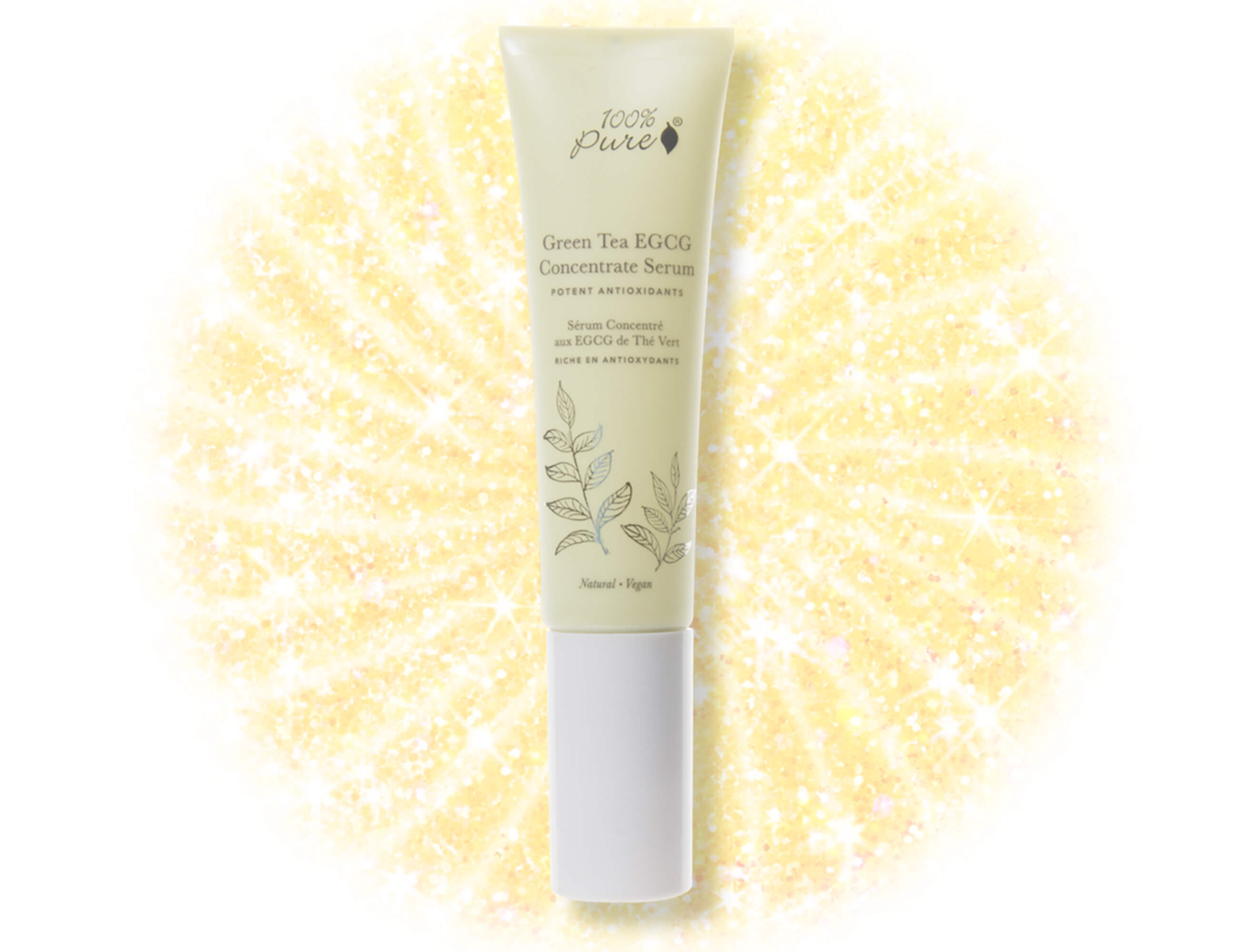 In order to battle these pesky molecules, it's essential to use products high in antioxidants, the naturally occurring substance that neutralizes free radicals, and thus prevents free radical stress on skin cells. One of our fave sources of antioxidants is epigallocatechin gallate (EGCG), a type of catechin abundant in green tea, with research backed ability to reduce oxidative and UV stress on skin cells. EGCG features in our wide range of green tea enhanced plant-based products – cult faves include our Green Tea EGCG Protective Serum and Green Tea EGCG Protective Cream, both of which are chock full of antioxidants and nourishing essential fatty acids from acai butter and green tea oil. For intense fortification against environmental damage, our EGCG formulas will be a key component towards achieving your post-holiday dewy face goals.
All this said: if you overindulged this past month, fear not. With a few smart habits and the right organic and plant based ingredients, your second slice of pie and third glass of wine and forgot-to-take-your-makeup-off-two-nights-in-a-row will be but a memory from 2017. Remember, 2018 is all about repairing, restoring, and preventing. That's your recipe for success in the new year! Stay tuned here for more product guides and ingredient spotlights.
We carefully hand-select products based on strict purity standards, and only recommend products we feel meet this criteria. 100% PURE™ may earn a small commission for products purchased through affiliate links.
The information in this article is for educational use, and not intended to substitute professional medical advice, diagnosis, or treatment and should not be used as such.
Sign up to our email newsletter for more blog updates and exclusive discounts.
< Older Post | Newer Post >