10 Crucial Skin Care Don'ts
Ten things to NEVER do to your skin - and how to get your organic skin care routine on track towards happier, healthier skin!
Posted on October 30, 2017
Written by: 100% PURE®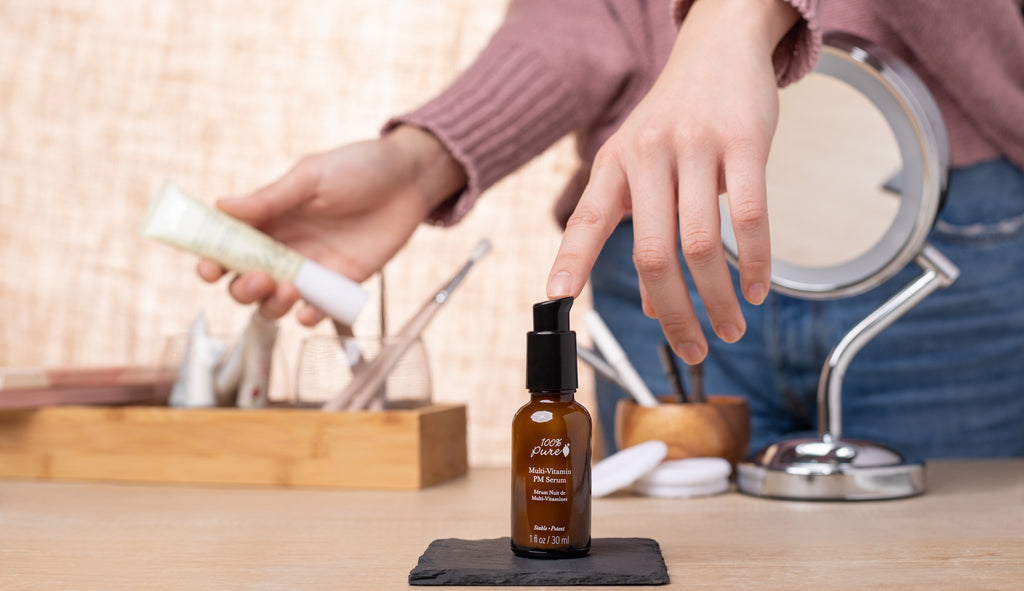 #1: Using Past the Expiration Date
You MUST resist the urge (and frugal voice in your head) when it comes to keeping old skin care! Using skin care products - especially natural or organic skin care - past their recommended expiration date is inviting unwanted bacteria and germs onto your face, which can lead to skin irritation or unwanted breakouts. Expirations are also there to tell you when the product will start to naturally degrade, and lose much of its potency. Squeezing the last drop from an old facial serum (circa 2013) simply isn't worth the risk.
#2: Exfoliating Incorrectly
This "skin care don't" is a two-parter. Do you fall into the 'I never exfoliate' camp? Well if you aren't scrubbing down, you should start today. Gentle exfoliating is key for removing dead skin cells, rough skin, and promoting skin cell turnover. Slough away dead dermal layers for a brighter, clearer face about 3-4 times a week. Are you a squeaky clean over-exfoliator? Put that scrub down, and step away from the sink: over-exfoliating (or being just plain aggressive with your scrubbing) could be causing micro rips and tears in your delicate skin. Look for scrubs that contain gentle exfoliation, instead of abrasive sugar or walnut shell scrubs (even those these are better for the environment than those plastic beads, they'll too abrasive for your face). Our award-winning Acai Pulp Facial Scrub uses crushed acai berries and grape seeds to gently buff away dull or rough skin - be sure to gently massage into your skin and neck, instead of furiously scrubbing.
#3: Using PM Products During the Day
Uh oh! Did you miss those 'PM or nighttime' instructions on that face cream you applied this morning? There's a reason products are exclusively used as nighttime skin care treatments, and there's also a reason you shouldn't be using them during the day. Typically, PM skin care formulas use specific brightening and anti-aging ingredients, such as retinol or Coq10, that rely on cover of darkness to work their magic on skin. When exposed to sunlight, retinol increases sensitivity and vulnerability in your skin, thus the "PM only" application when sun won't be an issue. Always wear SPF the following day after using any PM labeled product; see #6 for details.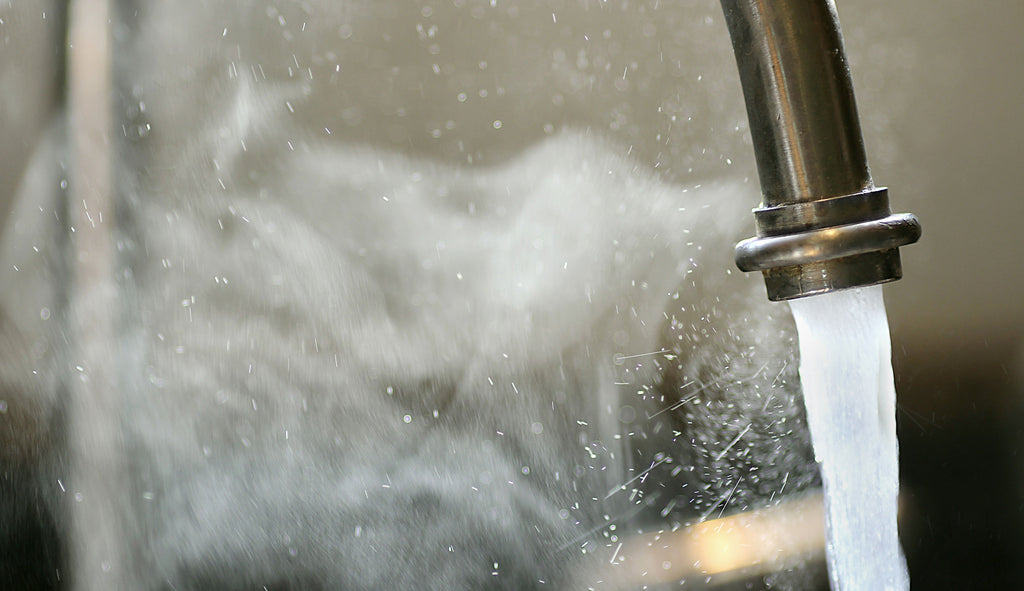 #4: Using Extra Hot or Scalding Water to Cleanse
Pain is beauty… ever heard that before? Well it's time to ditch that out-dated mantra, and start by cutting skin some slack when twisting those sink knobs. During your morning or evening cleanse, make sure the water is warm to lukewarm and not scalding hot. If it's too hot to touch, it's most certainly too hot for your face. Using extremely hot water on your face isn't helping, but rather stripping skin of its natural oils -- not to mention running the serious risk for a first or second degree burn. The warmness of the water helps to open your pores and allows your cleanser to get rid of dirt and excess oil, but don't take it to the extreme since the cons definitely outweigh the pros.
#5: Applying Body Creams to Your Face
Who doesn't love multi-tasking?! It sounds like you'd be saving yourself some serious time (and maybe a little money) if you just slathered on one product everywhere, right? Think again. Natural body creams and lotions are specially formulated for the skin on our body. They're formulated with ultra hydrating ingredients that might be too thick and moisturizing for our thinner, more delicate facial skin. Our feet and hands have much thicker skin when compared to our eye area, so body lotions need to penetrate deeper to work, and are therefore often formulated with more aggressive moisturizers that may be too heavy for facial skin. Nourish and treat your skin with the correct natural formula targeted for each specific body part, versus penny pinching or time-saving with the one-and-done method.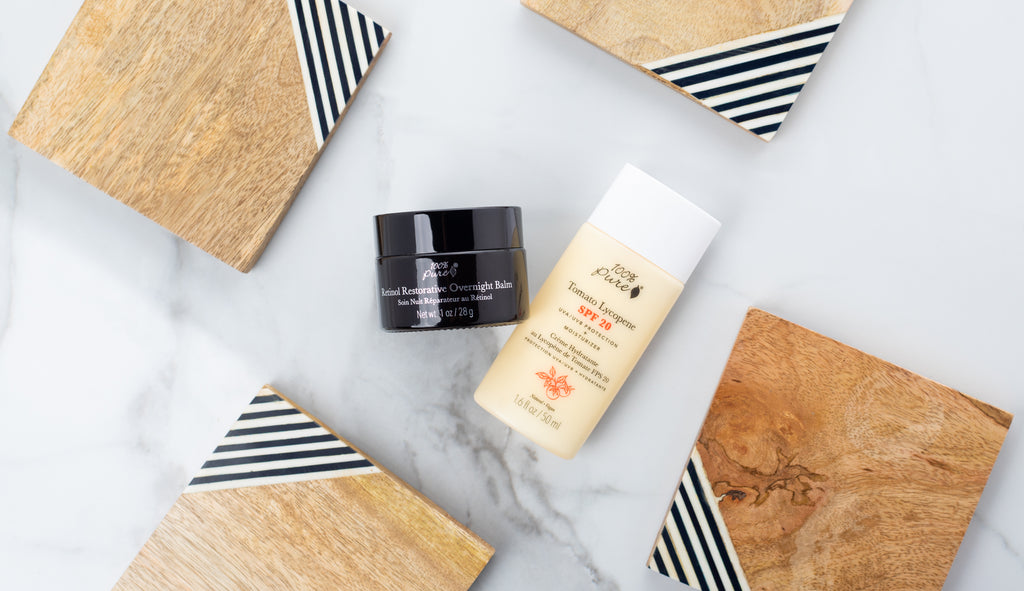 #6: Forgetting to Use SPF After Retinol Treatments
Expanding on #3, another skin care no-no is disregarding the instructions "next day, follow up with a broad spectrum SPF." It's not just another up-sell marketing tactic - dermatologists everywhere would agree that it's a real skin care regime must. Our potent vegan retinol is derived from carrot seeds, and helps even your complexion while you sleep by helping to erase layers of damage. When you wake up the next morning, it's as though there is "new" skin exposed, which is delicate and sensitive. Natural SPF is critical for protection against the sun, and helps not undo last night's skin care work.
#7: Not Finding Out Your Skin Type - and Using the Wrong Products
Did you know that 100% PURE has a licensed esthetician who's ready to give you a personal skincare consultation? Now you have no excuse for not knowing your exact skin type. We're skincare junkies too and ready to chat on the phone, consult in our retail stores, or via email about what products are best for your specific skin type. There's no need to try and guess if you need natural skincare products for oily skin, when what your skin type truly needs is the perfect combination skin routine. Who knew it could be that easy! We're here, and we're ready to help you achieve #skingoals.
#8: Product Overload
Inspired by those Instagram snaps of overflowing medicine cabinets and vanities full of gorgeous organic skin care? While we do sometimes get a smidge jealous of all that eye candy in one bathroom, we're hoping that our fellow skin care junkies are swapping out products accordingly. There's no need to be going gangbusters with a 60 product skin care routine every day; there's a tipping point where your skin taps out and is officially overloaded. Your skin will tell you when it's over-treated with breakouts, excessive dryness, or even excess oil if you're using too many products. While we're all for doubling or even tripling down on a natural serum, it's better to switch products in and out of your routine rather than wasting precious time and products.
#9: Don't Trust Every Tip on the Internet
If this could be a whole separate blog post, we'd be able to write volumes on this topic. Please, please don't always trust what you read on the internet (for so many reasons). The beauty bloggers writing might not be out there hoping to intentionally hurt you, but can definitely lack the expertise and in-depth knowledge on certain topics. We were recently browsing through our regular beauty blog roster, and couldn't believe our eyes when one of our regulars touted that bathing in bleach helps with her bacne (acne on your back). Abort, abort! While we appreciate her insight and bravado for being the guinea pig on this controversial method, under no circumstances would we condone soaking in a harsh chemical as the one-stop-solution to getting rid of acne. While this might be one of the more extreme DIY tips gone awry, we'd implore our readers to do what you do best: stay vigilant and read that ingredient list. Oh, and don't trust just any average Joe out there with a blog!
#10: Not applying Products in the Correct Order
Now that you know what your skin type is (check!), let's make sure you are applying your natural skin care products in the proper order. Did you catch our 10 Step Korean Skin Care Routine post? If 10 steps in your skincare routine seems a little too daunting (don't worry, you'll get there), here's a helpful guide to the correct order for perfect layering. Correctly layering your skincare products matters because each formula has different sized molecules and nutrients that need to be delivered in the correct order for maximum benefits and potency.
Skincare Layering Cheat Sheet*
Cleanser
Exfoliator
Toner
Serum
Sheet or Hydrogel Mask
Eye Cream
Moisturizer
Sunscreen or Night Balm
* Feel free to skip over products if you are not using them in your routine.
We carefully hand-select products based on strict purity standards, and only recommend products we feel meet this criteria. 100% PURE™ may earn a small commission for products purchased through affiliate links.
The information in this article is for educational use, and not intended to substitute professional medical advice, diagnosis, or treatment and should not be used as such.
Sign up to our email newsletter for more blog updates and exclusive discounts.
< Older Post | Newer Post >