How To: Sultry Summer Makeup
Get beautifully bronzed in 5 simple steps!
Posted on July 6, 2017
Written by: 100% PURE®
We're loving the anti-airbrushed, 'no-makeup' makeup looks being served this summer. Bare skin or barely there coverage are the rising trend because not only do they let your natural beauty shine through, they feel way better than heavy layers of foundation on a hot summer day. Let that skin breathe!
Right now we're featuring a sultry, Summer Luster Look that celebrates bronzed beauty and glowing skin. How you prep your skin for this look (foundation vs. bare skin) is up to you, but just be sure to add the SPF! Get ready to pack this makeup kit for beach trips, tropical vacations, sunset dates with your sweetie, or anywhere the summer winds might take you.
Products in Summer Luster Look:
STEP 1: Base
When starting this look, you have lots of options for your base. After cleansing, toning, and adding your daytime natural moisturizer, your first choice is to simply go bare! Nix the foundation! A naked faced is great for showing off freckles and luminous skin, but just be sure to add your SPF.
If you want just a hint of coverage, try our BB Cream. This formula will balance skin tone, but remain sheer enough to keep your natural skin visible. Not only will you get a kiss of shimmer on your skin from responsibly sourced mica, you'll also get automatic SPF 15 protection. Refreshing aloe juice ensures hydrated skin, while herbs of lavender and rosemary refresh and purify while you wear.
For those who want more complete coverage without sacrificing a dewy touch, go for our Bamboo Blur Tinted Moisturizer. You'll get a subtle matte finish with a soft focused glow, oil control from bamboo silica, and lightweight wearability that's refreshing on skin-- even in hot weather!
STEP 2: Brush
Our go-to brush is the Cruelty Free Flat Kabuki Brush F40, because it's perfect on the go and can multitask like a pro. We keep 2 in our bag: 1 for fruit pigmented makeup, and 1 for reapplying SPF throughout the day. This way you can keep potentially dirty hands from touching skin, and reduce chances of clogging pores with dirt and debris while you're at the beach or on the go. Just remember to keep yours clean and fresh by washing regularly with a natural brush cleaner, a natural cleanser, or even a natural tonique to keep skin refreshed.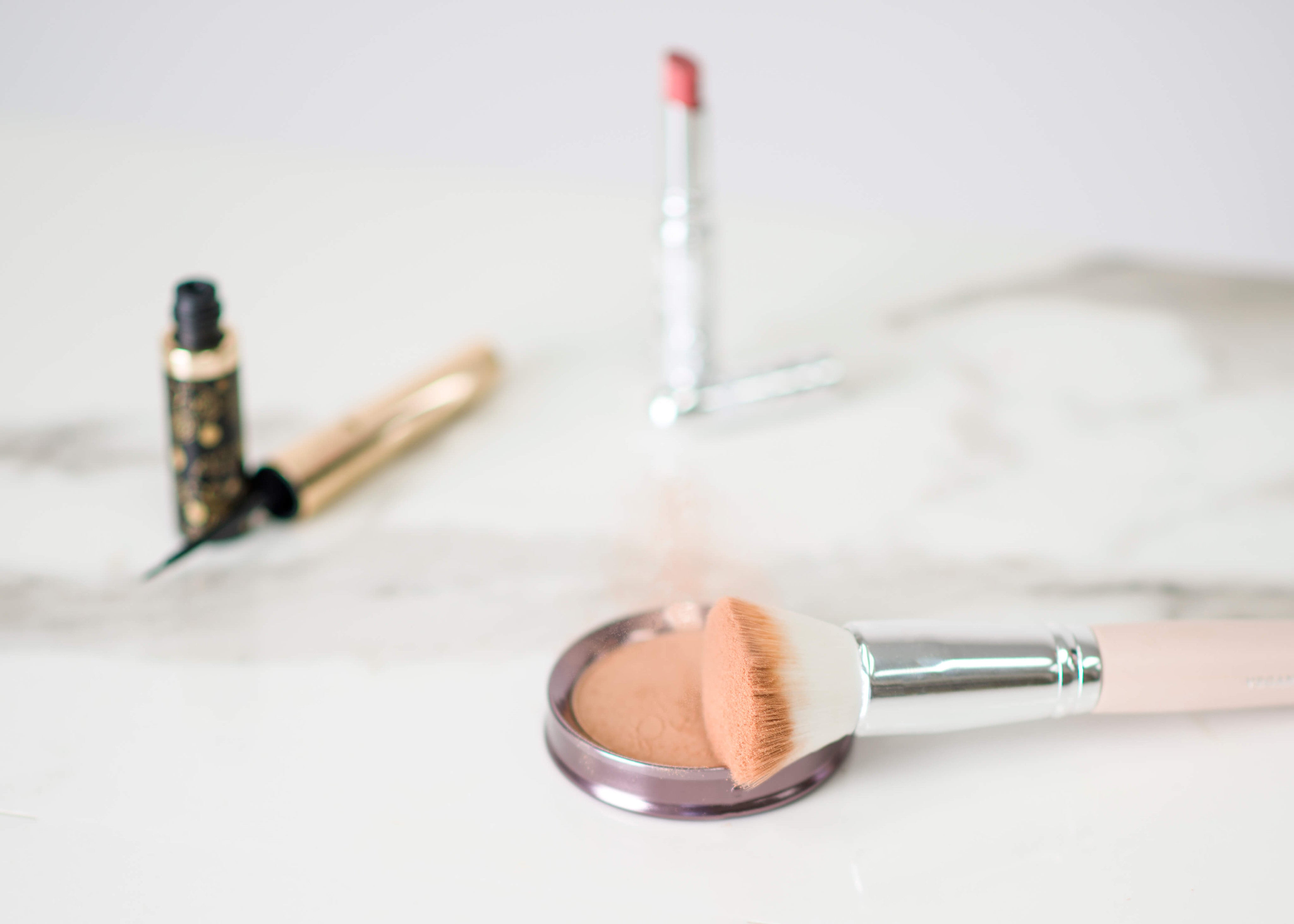 STEP 3: Bronzing
For an instant, tanned glow, grab our Cocoa Pigmented Cocoa Gem Bronzer and get ready to apply all over: all bronze everything! You can apply bronzer in strategic spots based on your face shape, or just go nuts and paint yourself as a bronzed goddess. This bronzer is light enough to add a soft gold shimmer to chest and shoulders, or even as a luminizer for darker skin tones.
For use as a bronzer, grab your F40 Kabuki brush and dab into bronzer pan. Apply where the sun's rays would naturally fall on your face, using light strokes to avoid too heavy handed an application; the goal is for skin to look lightly tanned and sun-kissed. Moving from top to bottom of face: apply softly along sides of forehead, brow bone, cheekbones, and along outer edge of your jawline. Finish by lightly tracing along bridge of nose, from top to tip.
For body, practice the same application for any areas that might see the sun. If you're wearing a tank top or strapless top, the collarbone, neck, and shoulders are prime areas to bronze. It will help the tanned glow of your face blend seamlessly with the rest of your body.
For added glow on legs and arms, grab an All Over Glow: Lightly Sun Kissed for light to medium skin tones and Deeply Sun Kissed for medium to deep skin tones. Go ahead and apply as you would a lotion; these babies are packed with nourishing pomegranate seed oil and skin healthy vitamin E to make them a fabulous blend of natural makeup and natural skin care.
With this head-to-toe bronzed glow, your skin will be sun-kissed and beachy without looking cakey or heavy.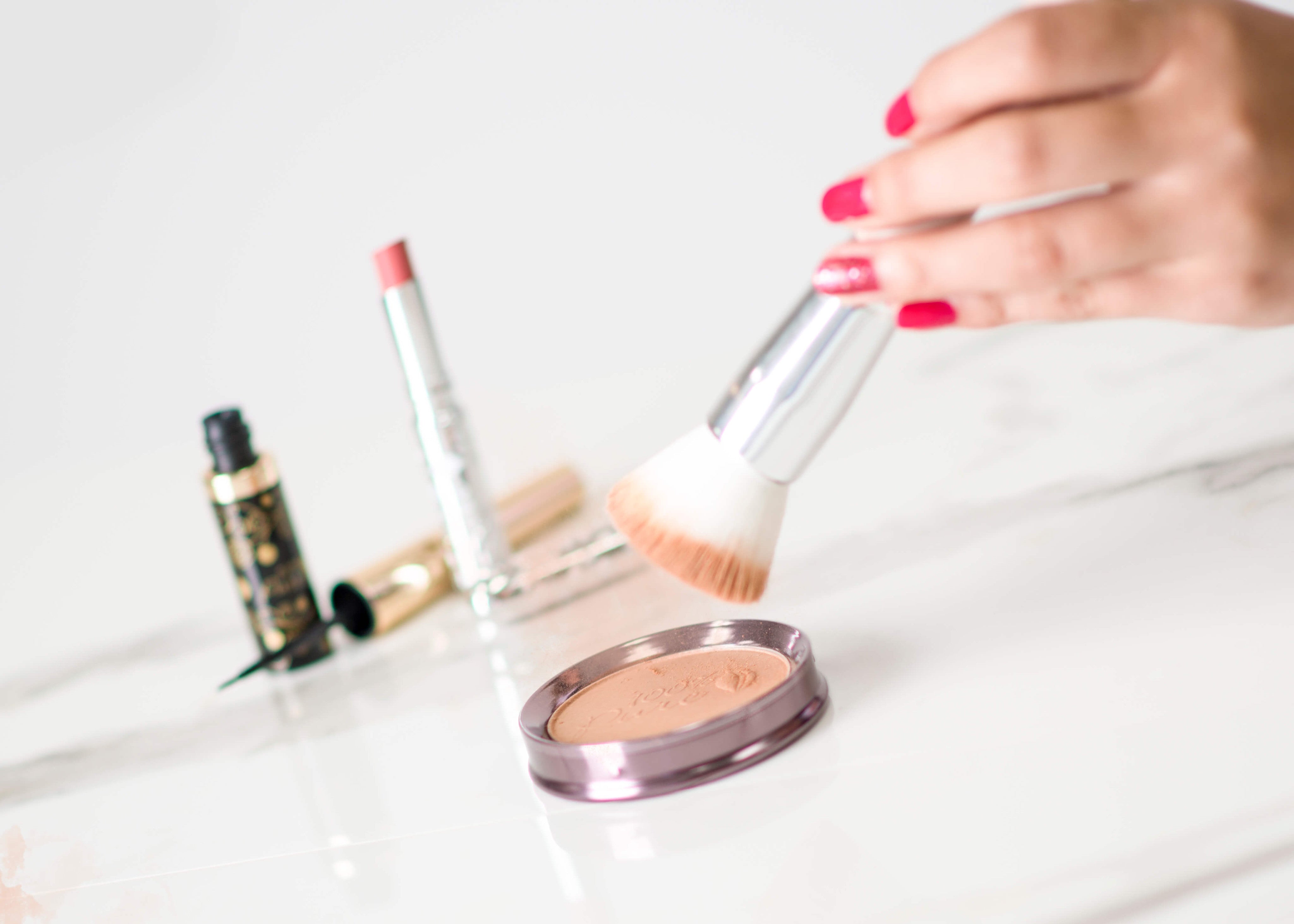 STEP 4: Eyes
Don't put that bronzer away just yet! Use Cocoa Gem to give a bronze-gold glow to eyes. The warm metallic will make any eye color pop, and tie in the shimmer that's dancing along the rest of your skin. The fruit pigments of apricot and peach, plus earthy pigments of cocoa beans, give a warm undertone beneath the soft shimmer of natural gemstones like opal, pyrite, and sunstone.
Ground this ethereal look with a dramatic, smudge-proof liner that can last through the summer heat. Long Last Liquid Eye Liner in Black Tea allows for smooth, precision application to construct a classic wing, sultry smudged look, or graphic, dual-ended cat eye. Micronized black tea leaves give intense black pigment, while aloe and herbs keep your eyelids hydrated and refreshed.
STEP 5: Lips
Adorn your lips with a bold shade that will give the necessary pop of gloss and color to this look: Fruit Pigmented Lip Glaze in Seduce is a peachy-pink shade perfect for summer, with a neutral undertone. The decadent butters of cocoa and avocado in this formula ensure lips stay shiny and glazed, while remaining deeply moisturized with all-day wear.
PRO-TIP: To add a hint of color to cheeks, apply a dot of lip glaze and blend onto each cheekbone for a natural flush. The creamy, skin nourishing formula will blend easily, and matching cheeks to the tone on your lips will give the entire look a more natural finish.
While we all love classic natural makeup looks, this particular summer look is about celebrating bronze, dewy skin and all things sun-kissed. The best part is that to get this look, you don't have to spend hours baking in the sun-- just access your inner sun goddess with a bit of fruit pigmented bronzer!
We carefully hand-select products based on strict purity standards, and only recommend products we feel meet this criteria. 100% PURE™ may earn a small commission for products purchased through affiliate links.
The information in this article is for educational use, and not intended to substitute professional medical advice, diagnosis, or treatment and should not be used as such.
Sign up to our email newsletter for more blog updates and exclusive discounts.
< Older Post | Newer Post >