How To Determine Your Face Shape
Oval? Round? Diamond? Know and Understand Your Face!
Posted on August 23, 2022
Written by: 100% PURE ®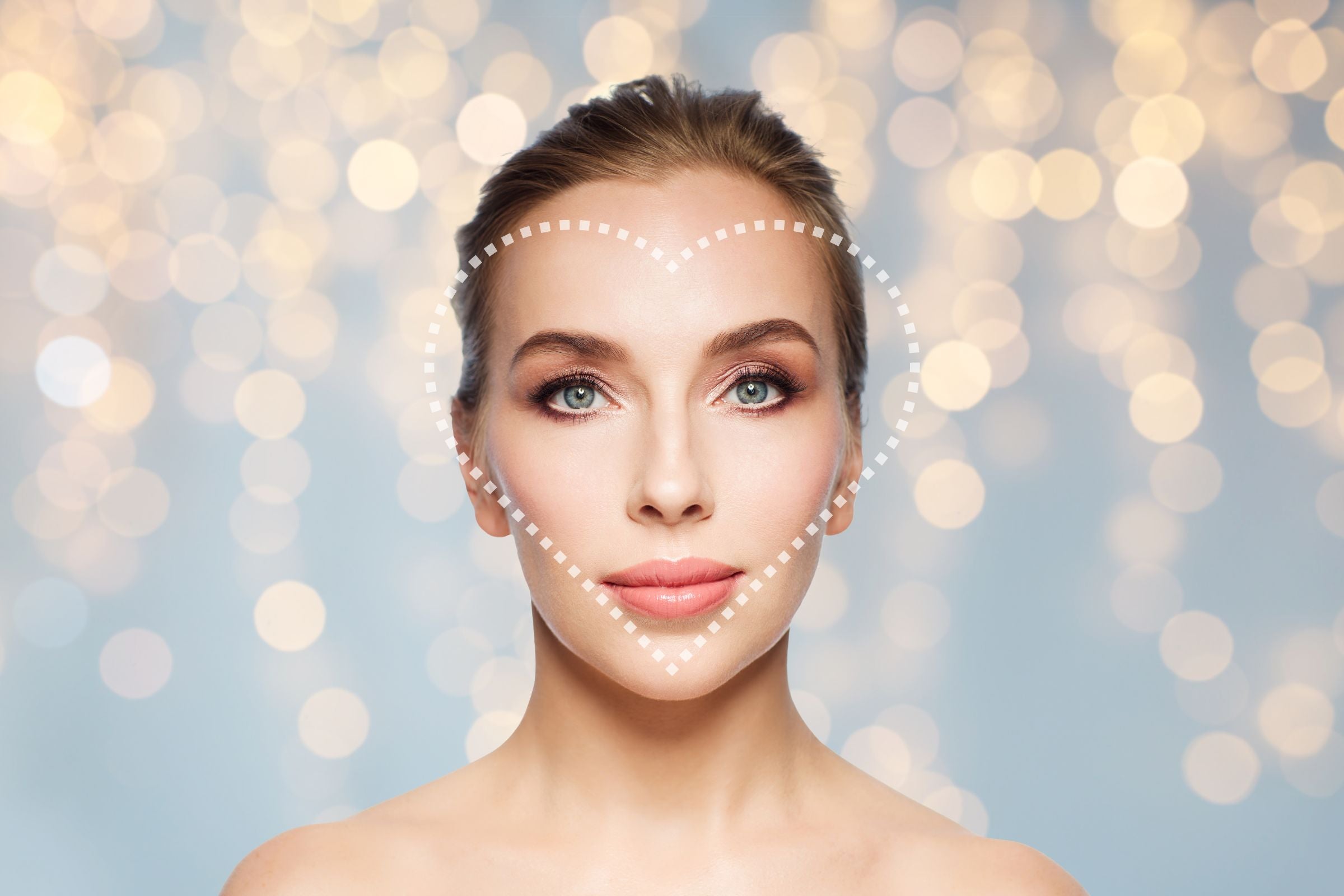 Let's 'face' it, the shape of our face – like our fingerprints – are unique attributes that tell a thing or two about our beautiful selves. Even when we have a hard time putting a name to a face, we survive the awkward moment remembering the face.
In fact, your face shape plays a major factor from deciding hairstyles to sunglass styles. Knowing your face shape can also help you better understand how makeup placement can create different effects. Follow along as we break down the 6 face shapes, how to measure, and what your unique shape means for your beauty routine.
Why Does My Face Shape Matter?
We're probably all guilty of showing a stylist a pic of some hot hairstyle on some celeb that we're dying to try only to discover it looks like a hot mess on our selves. It could be a bad stylist, but chances are the style is not for your face shape. Perhaps you've grabbed the latest big bee-eye sunglasses only to catch yourself in the mirror and then fly faster to put them back. Face shape, friends.
Depending on your specific beauty goals, determining your face shape can also help you understand how to apply contour and highlight more easily to enhance your best features. It also allows you to emphasize certain angles and curves of your face, or de-emphasize areas you'd prefer to minimize.
The 6 Most Common Face Shapes
As we've mentioned, your face shape plays a big factor on how certain hairstyles and sunglasses will look on you, and especially in the placement of makeup. There are 6 basic face shapes with unique attributes.
Now you might be thinking that's great, but which one do I have? Grab a mirror and read on as we describe each one and drop a face-shape-celeb lookalike for you!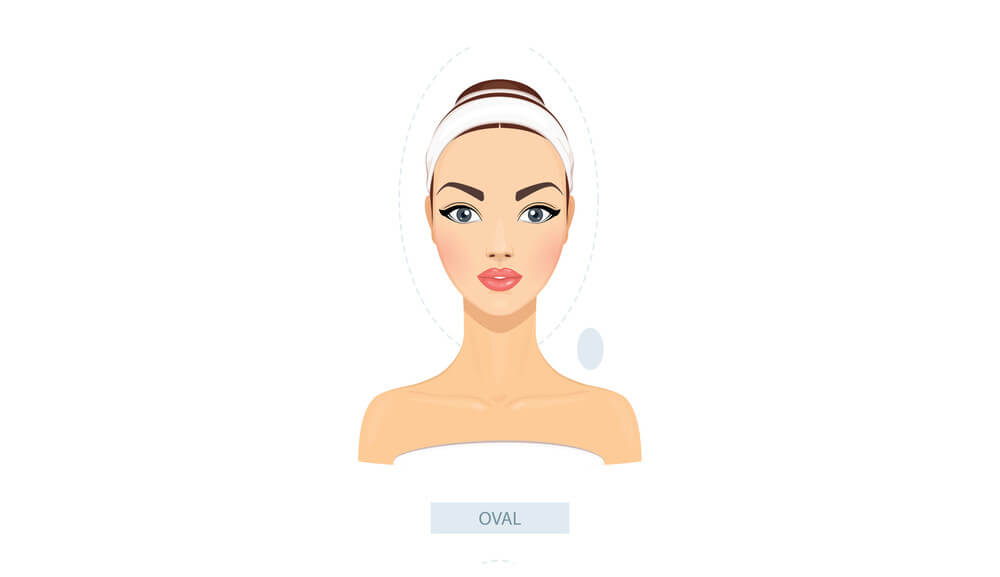 Key Features of an Oval-Shaped Face
An oval face shape is narrow, elongated, and elegant. They're sometimes 2x longer than they are wide, have no pointed features, and a narrow chin. You won't see the squared jaw or forehead as you would with rectangular faces.
If you have an oval face shape, you'll recognize the following characteristics:
Face:
Length is longer than it is wide.

Forehead:
Width of your forehead is smaller than the width of your cheekbones. May also have a tall forehead.

Cheekbones:
Your cheekbones are the widest part of your face.

Jawline:
No sharp angles on your jaw or chin.
Key Features of a Round-Shaped Face
We love round things: donuts, boba pearls, the moon – and of course, lovely round faces! If you have a round face shape, the width and the length of your face are approximately the same. Soft facial features like a rounded jawline can lend to a more youthful look.
If you have a round face shape, you'll recognize the following characteristics:
Face:
Length is essentially the same size as the width.

Forehead:
Rounded at the hairline.

Cheekbones:
May be round and give a youthful, fuller appearance.

Jawline:
Rounded with very subtle or soft angles.
Key Characteristics Features of a Diamond-Shaped Face
You know what they say about diamonds being a girl's best friend. In this case we mean that almost literally, as a diamond face shape has some of the best natural angles to work with. Whether it's hairstyles, hats or sunglasses, almost any style works with this dazzling face shape.
If you have a diamond face shape, you'll recognize the following characteristics:
Face:
Have a narrow forehead and a small chin.

Forehead:
Width is smaller than the width of your cheekbones.

Cheekbones:
Significantly wider than your forehead and jawline and sit nice and high.

Jawline:
Have a narrow chin area that tapers to a strong point.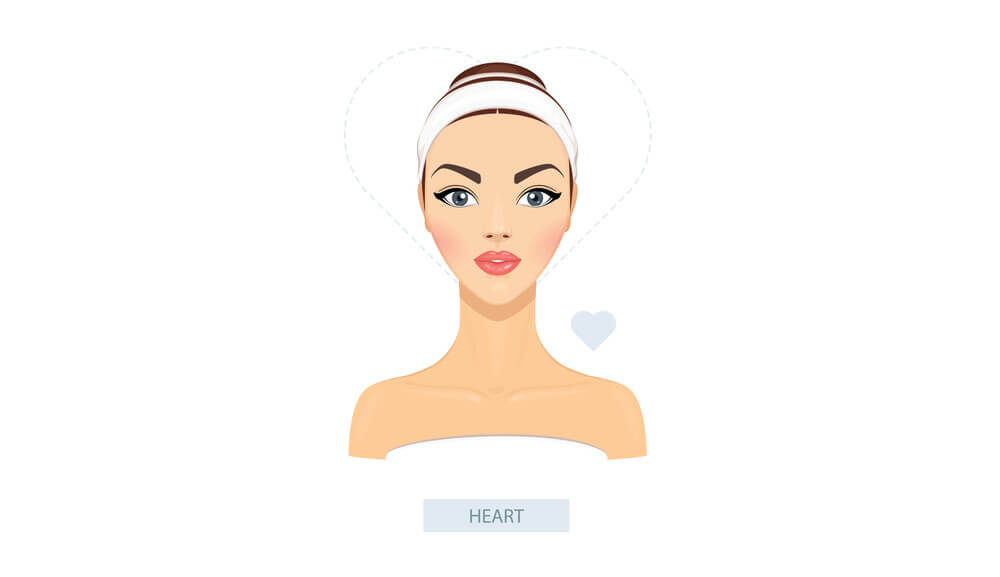 Key Features of a Heart-Shaped Face
A heart-shaped face – think Reese Witherspoon – is just as cute as it sounds, and is one of the most easily identified. The most common characteristics are a face that's widest in the middle (near the cheeks), along with a pointed chin.
Newsletter
Subscribe
for more blog updates and exclusive discounts
If you have a heart face shape, you'll recognize the following characteristics:
Face:
Slightly longer than it is wide, and gets more angled towards the chin.

Forehead:
A larger, wider forehead than your jawline. May have a widow's peak or not – think an upside-down triangle.

Cheekbones:
Width about the same as your forehead, if not wider.

Jawline:
You have a slender jawline and the chin area will drop to a point without any squared off corners along the jaw.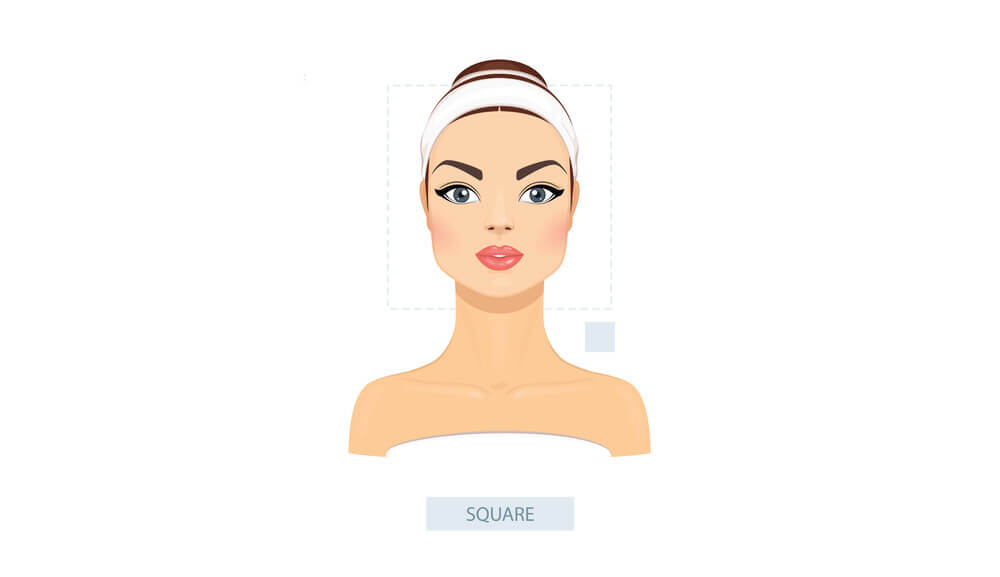 Key Features of a Square-Shaped Face
There's lots to love about a square face. The sharp angles of the jaw, a face width that makes the eyes look more unique, and natural angles in perfect balance with soft features of the nose and eyes.
If you have a square face shape, you'll recognize the following characteristics:
Face:
About as long as it is wide.

Forehead:
Hairline follows a straight line. Forehead is about the same width as your jaw.

Cheekbones:
Minimal curves to your cheekbones.

Jawline:
You have a strong, squared jawline. Sides of your face follow a straight line from your jaw to your forehead.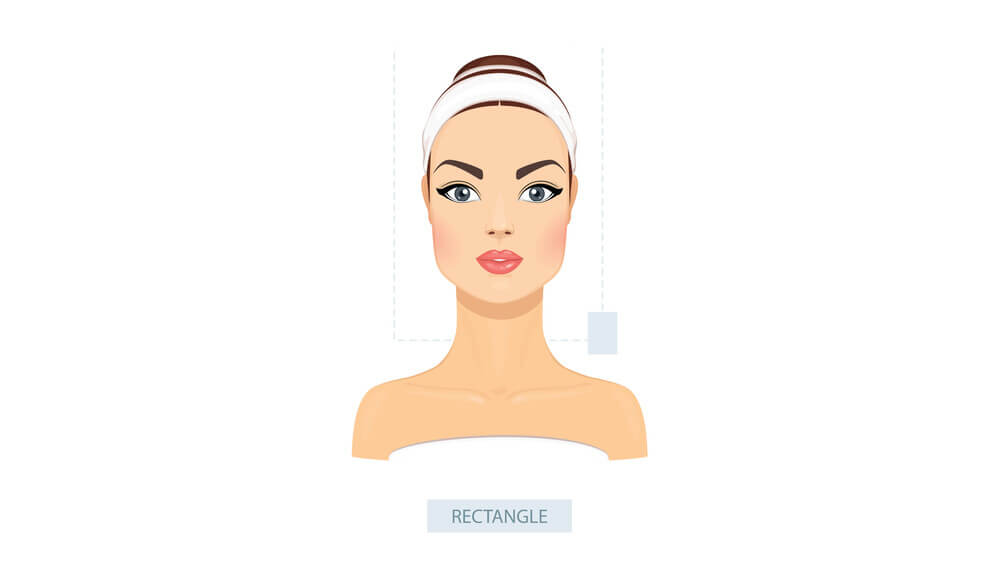 Key Characteristics Features of a Rectangular-Shaped Face
You'll know you have a rectangular face shape if the widths of your forehead, cheeks, and jawline are all relatively parallel. Your jaw will likely be more square, and your face will be longer than it is wide.
If you have a rectangle face shape, you'll recognize the following characteristics:
Face:
Is twice as long as it is wide. Have a square resemblance but appear slightly longer.

Forehead:
Hairline follows a straight line and is about the same width as your jaw.

Cheekbones:
Minimal curves to your cheekbones and the sides of your face follow a straight line from your jaw to your forehead.

Jawline:
Strong, squared angles.
How to Determine Your Face Shape
Now that you've got a list of characteristics and you've likely stared in the mirror for a while to make a face shape match, it's time to gather your face measurements so you're able to create the perfect look that makes you feel best.
Before you start, tie your hair back, and pull your hair off your forehead so you can see your entire face. Use a flexible measuring tape, like the kind used by a tailor, and be prepared to take yourself back to third grade math, though a rough estimation would also do just fine. Then, measure the four key distances of your face, listed below.
Step 1. Forehead Width: Measure the distance across your forehead at the widest point, from hairline to hairline.
If your face is the widest at your forehead and slowly gets more angled towards your chin, you probably have a heart-shaped face. This is also called the inverted triangle.
Step 2. Cheekbone Width: From your hairline above your cheekbone, measure the distance across your face to the same spot on the other side.
Is your face widest near your cheekbones? Then, in this case, you have a diamond face shape.
Step 3. Jawline Width: Start at the base of your jaw (underneath your ears). Measure the distance along the edge of your jaw until you reach the middle of your chin. Continue to measure the other side or simply multiply that number by two.
You have a triangular or pear face shape if your jaw is the widest point of your face. When you have a rounded jaw, you probably have an oval or a round face shape.
Step 4. Face Length: Begin measuring at the center of your hairline and bring it all the way down until it reaches the tip of your chin.
If your forehead, cheekbones, and jaw are all equal, then the chances are that your face shape could be either oval, square or round. Sometimes, when the jaw doesn't appear to be that strong, you could also be a diamond face shape or triangle.
Understanding the shape of your face is the first step in creating hairstyles, accessories, makeup, and more that fully envelops your best features. Since our faces are often responsible for first and lasting impressions, it's nice to know how to use it to your advantage. Now it's time to go out and put your best face forward!
The Best Products For Your Skin (No Matter The Shape Of Your Face!)
Your facial structure is largely a result of your genes, the underlying bones, and how your muscles sit. While no cream or serum can alter these fundamentals, some ingredients can tackle issues like sagging, volume loss or swelling that subtly change how your face appears. Here's a rundown:
Retinoids (Retinol, Tretinoin, etc.): These are the real MVPs in the skincare game. Not only do they boost collagen, making your skin feel firmer, but they also tackle fine lines. Just remember, always wear sunscreen when using them because they can make your skin more sensitive to the sun.
Our Recommendations:
Multi-Vitamin + Antioxidants Potent PM Serum
This is a major player in the retinol regimen, having achieved superstar status nearly overnight. Retinol helps to promotes cellular turnover and sloughs away dead skin, helping to lift stubborn blockages and debris from deep within pores. The potent, stabilized vitamins in this PM serum work synergistically to reduce the appearance of lines and wrinkles, while brightening and balancing skin.
Looking for a gentler alternative to retinol? Meet Bakuchiol! This incredible ingredient is a plant-based alternative to retinol and is perfect for sensitive skin. It also encourages collagen production for fewer fine lines and boosts skin cell turnover rate for a more even, brighter complexion!
Backuchiol Moisturizer
Made with Bakuchiol and Hyaluronic acid, our Bakuchiol moisturizer is rated 5 stars by our customers and has quickly become a favorite. This moisturizer boosts collagen production, lightens dark spots, and minimizes wrinkles.
Backuchiol Oil Serum
Made with the clinically recommended maximum Bakuchiol concentration, this serum is a must-have for those who are looking for long-lasting hydrating. It penetrates deep into the skin for a soft and supple feel.
Peptides: Ever heard the term 'building blocks'? That's essentially what peptides are for our skin. They signal the skin to produce more collagen, aiding in that youthful bounce we all crave. Over time, they can help the skin feel more resilient and vibrant.
Our Recommendation:
Puristry Seaberry Moisturizer
If you've ever wanted a silky smooth facial moisturizer that doubles as a complexion booster, here's your answer! This anti-aging formula is non-greasy and flaunts a phytonutrient-rich anti-aging resume. This moisturizer creates profound hydration and vitality in the skin, thanks to quinoa peptides and powerful botanicals. Seaberry provides repairing properties, while bakuchiol and plant stem cells promote smoothing and radiance.
Hyaluronic Acid: Imagine this as giving your skin a big, refreshing drink of water. It's a molecule that can hold up to 1,000 times its weight in water, resulting in plump and dewy skin. If you feel like your skin looks a bit 'deflated', this might be your go-to.
Our Recommendation:
Rose Hyaluronic Acid Serum
If you're experiencing redness or irritation, our soothing Rose Hyaluronic Acid Serum is here to deliver happier skin. We included calendula – long-praised for its soothing, calming effects – along with white tea for a boost of antioxidants. All the while, your skin is also receiving the hyaluronic acid benefits of intense hydration and mega-plump, dewy-looking skin.
Caffeine: Beyond perking you up in the morning, when applied topically, caffeine has this fantastic ability to reduce puffiness. Especially around the eyes. If you've had a late night or just feel like your face is a bit puffy, look for creams with this ingredient.
Our Recommendations:
Coffee Bean Caffeine Eye Cream
Formulated with potent antioxidants, vitamins, and plant extracts to reinforce the delicate eye area against environmental aggressors. This fan favourite boasts some impressive results: 97% saw reduction of puffiness with regular use; 93% saw reduced appearance of fine lines and wrinkles; and 100% saw increased hydration and moisture.
Coffee Bean Face Cream
This all-in-one cream uses coffee bean extracts, antioxidants and essential vitamins to repair UV cell damage while instantly brightening and invigorating your skin. With this face cream, you can have a healthy, vibrant complexion in no time.
Vitamin C: Think of this as the cherry on top. It's an antioxidant powerhouse, protecting against environmental aggressors and also brightening the skin. If you're after that radiant glow, Vitamin C is your best buddy.
Our Recommendation:
Vitamin C Serum
Our Vitamin C Serum has a cult-like following, and features highly stable vitamin C in a hydrating aloe gel base. Our serum also features antioxidant-rich botanical extracts like green apple and grape, plus alpha lipoic acid (ALA) for fighting free radical damage that can potentially cause dark spots on the skin.
Niacinamide: This ingredient is like that reliable friend who's always got your back. It supports skin barrier function, reduces redness, and even helps with hyperpigmentation. If you're looking for an all-rounder, niacinamide might be it.
Our Recommendation:
Niacinamide Boost
If you want a niacinamide product that packs a serious punch, look no further than our very own Niacinamide Boost!
This supercharged serum isn't your typical dropper bottle – it comes as a powder. It is activated by water to rejuvenate the skin's texture, promote firmness, and minimize the appearance of pores with concentrated niacinamide and hyaluronic acid.
AHA/BHA (Alpha/Beta Hydroxy Acids): They're the unsung heroes for smoother skin. By gently exfoliating, they remove dead skin cells, revealing a brighter complexion underneath. Plus, they can potentially ramp up collagen production. Just ensure you're not overdoing it; 2-3 times a week is usually enough.
Our Recommendation:
10% Fruit Acids Apple Enzyme Resurfacing Serum
This regenerative serum is made with skin brightening licorice, kojic acid from sake, sugar alpha hydroxy acid, beet lactic acid and fruit enzymes. 10% of these glow enhancing actives work together to brighten and even skin tone, lighten scars and dark spots, minimize pore size, and increase cell turnover for super soft, smooth skin.
DMAE (Dimethylaminoethanol): There's a bit of a buzz around DMAE. Some folks swear by its skin-tightening effects. It's believed to enhance skin's firmness, but we're still waiting on more concrete studies. So, for now, maybe consider it as a "bonus" ingredient.
Our Recommendation:
Lavender Niacinamide Pore Minimizer Tonique
Great for all skin types, this hydrating toner has a base of calming aloe and lavender extract which help to soothe active breakouts, dryness, and imbalances in the skin. Witch hazel water makes a stunning performance of balancing and tightening tired, puffy fall and winter skin.
We carefully hand-select products based on strict purity standards, and only recommend products we feel meet this criteria. 100% PURE™ may earn a small commission for products purchased through affiliate links.
The information in this article is for educational use, and not intended to substitute professional medical advice, diagnosis, or treatment and should not be used as such.
Sign up to our email newsletter for more blog updates and exclusive discounts.
< Older Post | Newer Post >