The Best Face Rollers For Fresh and Glowing Skin
Elevate your at-home spa routine by indulging in a face roller to help relieve stress, enhance skin brightness, and give your complexion an overall glow
Posted on August 19, 2022
Written by: 100% PURE®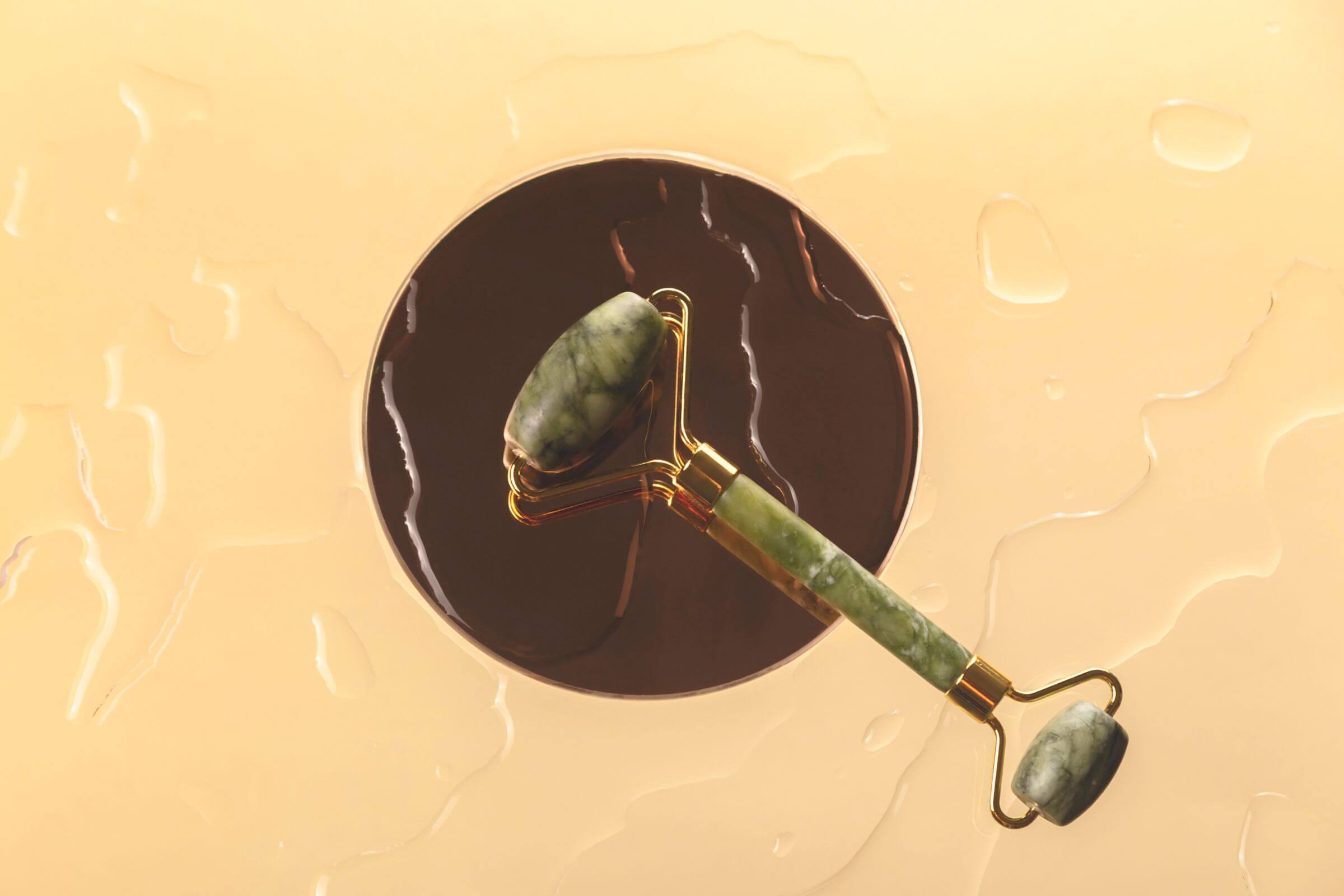 If we could dive into the Fountain of Youth, we'd likely find a plethora of face rollers floating around. Whether they're made of some trending stone or crystal, face rollers are the product du jour of firmer, more youthful skin.
Whether you're struggling with dull skin, firmness and elasticity or just feel like a stress ball, there's a roller out there to address it. Keep reading to learn how to use a face roller, and our top picks of these mighty self-care icons.
What Are Face Rollers and When Did They Become Popular?
Face rollers are stone rolling devices made of jade, rose quartz, or other trendy crystals that's been smoothed and attached to a convenient handle. These handy facial massage tools give you a quick boost of benefits like depuffing your face, helping with aging woes, and more. The idea is that these little devices glide over your face to give you a relaxing massage and, of course, feel-good vibes.
We're suspecting the royal elite in ancient China felt the same, as jade rollers were used to not only promote physical wellness but to also enhance beauty. That's right, face rolling originated centuries ago in China where the tool was used in beauty rituals and Chinese medical treatments like gua sha - a traditional healing method using a smooth-edge tool and scraping motions to treat pain and tension.
Though face rollers have been around since the 17th century in China, it wasn't until recently that they have become popular thanks to the beauty blogger set and social influencers. Plus, it doesn't help that we see our friends, or perhaps celebrities trying out these magical massaging skin care unicorns that may just cure all our anti-aging woes.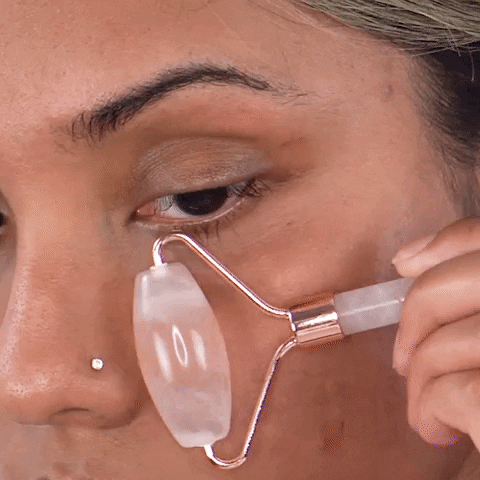 How to Use a Face Roller?
The idea of rolling onto the skin isn't totally new, but the idea of doing it with a luxurious crystal is definitely a beauty 'craze' if we've ever heard of one. The concept is to assist in depuffing, drainage, collagen stimulation, and relieving facial muscle tension. But you're not going to be unleashing any type of beauty benefits if you don't know how to use a face roller correctly.
The good news is you can easily add face rolling into your regular skin care routine, and we're going to show you how in a few easy steps:
Prior to cleansing and toning, if you want that crisp, cooling effect, keep your face roller in the fridge to keep the stone cold.
#1: Cleanse and tone
Cleansing helps wash off sweat and makeup from the day, which can harbor bacteria – which will only be spread when you do your face rolling! Toning helps make sure all of your makeup comes off, and primes your skin for a properly pH balanced routine. Try the hydrating combo of Rose Micellar Cleansing Water and the Restorative Sea Culture Toner for smooth, softened skin.
#2: Apply a serum or oil
After cleansing and toning, apply a hydrating serum or facial oil to reduce the friction between skin and your face roller. These formulas will create a smooth, slippery surface for your tool to glide over. This eliminates chances of yanking or tugging, which can lead to fine lines and wrinkles.
Newsletter
Subscribe
for more blog updates and exclusive discounts
#3. Roll down and out
The direction you roll in matters – using the larger stone end, roll from the middle of your face upwards. For around the eyes, use the smaller stone end and roll away from your eyes to decrease puffiness.
Face rolling for up to a minute can provide significant benefits. You can choose to use your face roller for up to five minutes. Remember to use a light to medium pressure. If you notice any pain or severe skin redness, you might be massaging too harshly!
PRO TIP: Resist the urge to roll back and forth as that doesn't improve blood flow or lymphatic drainage to the face.
#4. Clean your roller
Cleaning your tools will help you avoid spreading acne-causing bacteria onto your face. You can use a DIY cleaning mixture after you perform your facial. A simple mix of warm water and sulfate-free, paraben-free, and fragrance-free dish soap can work wonders.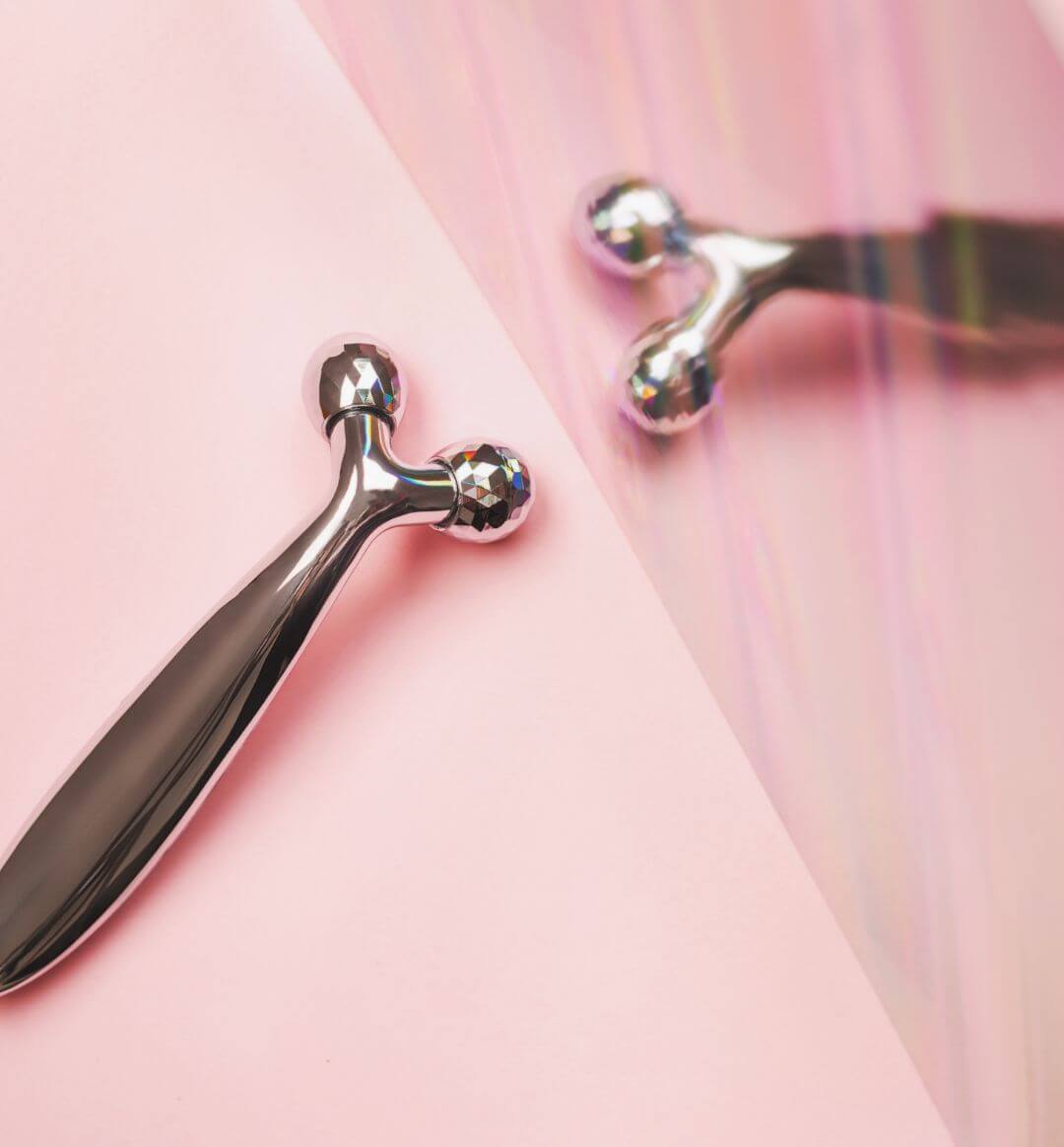 The Best Face Rollers
We've covered the steps you need to perform this skin-enhancing facial. Here are our top picks for some budget-friendly face rollers (with a little splurge or two on ones) that target key facial concerns and why one deserves a spot in your skin care routine.
Best Overall
If you're looking for a face roller that does everything – and then some – the Skin Gym Face Sculptor is designed to zap any puffiness, firm, and sculpt your face to give you a rejuvenated appearance with a radiant glow. The globes provide a deep kneading action that mimics a professional massage to release tension and stress, while also firming and toning the skin. Just think of the beauty benefits the next time you're going to use the 'gym' without actually going to one!
Best for De-Puffing
The Mount Lai De-Puffing Jade Facial Roller is a Chinese skincare tool and massager made from jade, known for its ability to boost circulation, release lymphatic build-up, and improve skin elasticity. This dual-ended face roller is crafted to soothe and calm stressed, tense skin, while helping to boost blood circulation for that natural 'spa-glow' we all love! While this option features jade, there are other similar tools composed of rose quartz or amethyst too.
Best for Contouring/Sculpting
Feeling fancy? The BeautyBio Rose Quartz Roller is for you! The 100% solid Brazilian rose quartz dual-ended roller helps contour, depuff, and seal in the benefits of serums and moisturizers for face and body. The naturally cool rose quartz crystal, which is carefully selected from the top 10% of graded rose quartz for its purity and energy, promotes lymphatic drainage of the face, reduces surface inflammation and contours skin.
Best for Gua Sha
Meet the face roller's little sister: the gua sha! The Mount Lai Jade Gua Sha Facial Lifting Tool may be tiny, but it's mighty by working to help firm and lift skin, while also helping improve the penetration and effectiveness of your skin care products. This gua sha tool is designed with curves that can cover large surfaces, or hug the tight contours of the face. Just press the tool flat against your face and move it across your skin in an upward sweeping motion for a radiant complexion.
Best Value
If you're looking for a budget-friendly option, the Yeamon 2-in1-Face Massager gives you twice the bang for your buck! This budget-friendly option comes with a 3D face roller and a T-shape lifting bar for under $20. The roller is great for massaging and lymphatic drainage while the T bar sends 6000 vibrations per minute for a mini workout for your face. Plus, it's a nice chance to test drive both facial massage methods too!
Best for Eyes
If the eyes are the window to the soul, you don't want them puffy and tired looking. The Skin Gym Jade Crystal Facial Roller is here to help you (and your bags) out. It's double-sided, so you can use the smaller end to get into those harder-to-reach inner-eye corners.
So, it IS a myth: You don't need expensive, trendy, or unique skin care gadgets to get firm, radiant skin. Opt for a face roller! Until we get our VIP access to that mythical Fountain of Youth, these beauty tools have many off-the-chart beauty benefits to hold out us for a while.
We carefully hand-select products based on strict purity standards, and only recommend products we feel meet this criteria. 100% PURE™ may earn a small commission for products purchased through affiliate links.
The information in this article is for educational use, and not intended to substitute professional medical advice, diagnosis, or treatment and should not be used as such.
Sign up to our email newsletter for more blog updates and exclusive discounts.
< Older Post | Newer Post >