How to Clean Makeup Brushes & Tools
Simple tips for keeping bacteria out of your brushes
Posted on December 15, 2020
Written by: 100% PURE ®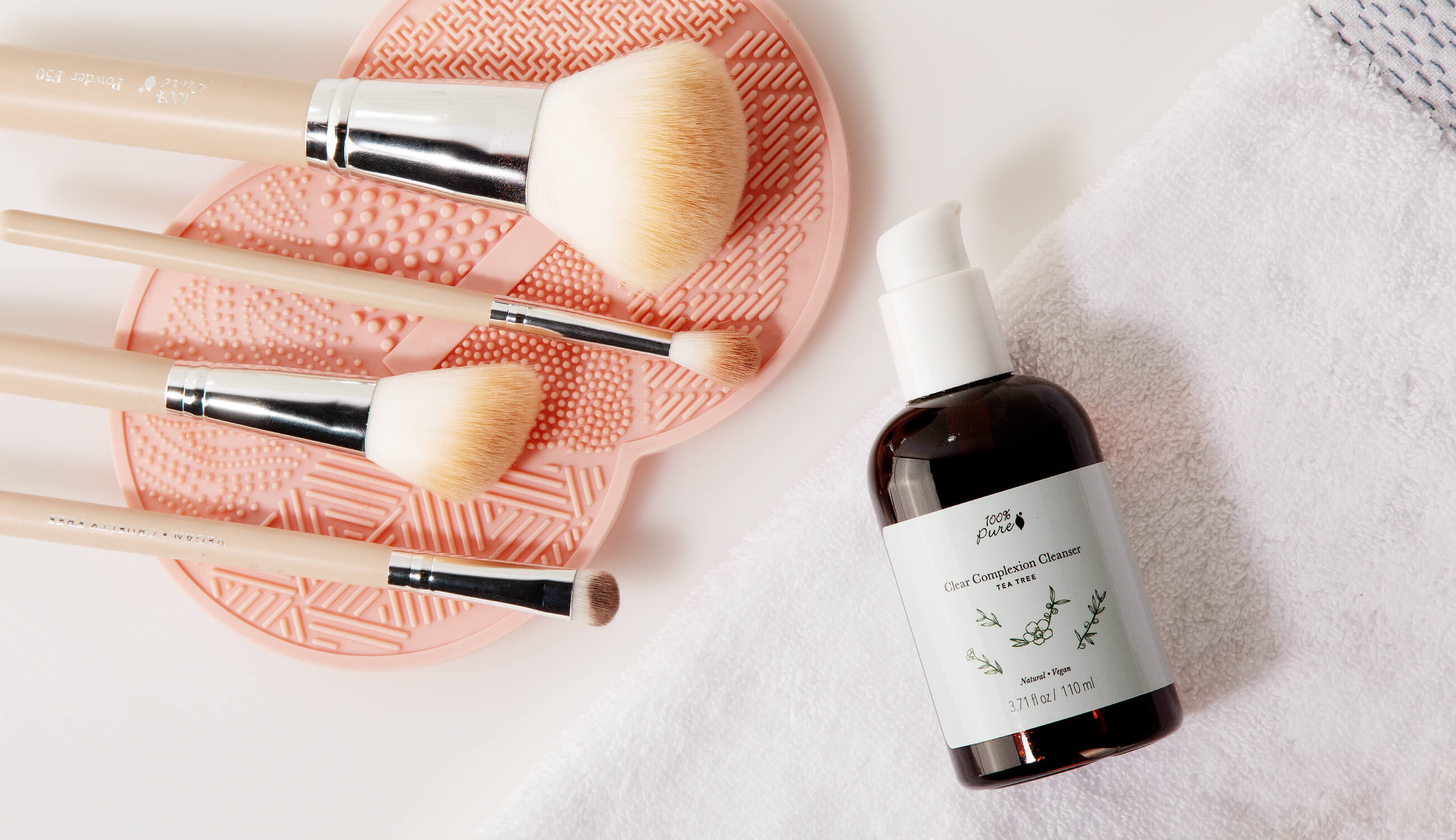 If there's anything we've learned in 2020, it might be just how important it is to practice self-care. This, of course extends, directly to personal hygiene – and when you're a makeup lover, knowing how to clean makeup brushes is crucial!
As we continuously glam up for our mask makeup looks using the same dirty brushes, residual dirt and grime is being recycled. Our face's natural oil increasingly builds up on our brushes, creating a breeding ground for bacteria. This leads to all sorts of issues: not just breakouts, but the risk of staph, stye, or even herpes viruses.
This is why it's so important not only to know how to clean your makeup brushes, but also to set a schedule for when you should do so.
Remember: face tools like powder brushes, stippling brushes, and foundation sponges are the ones that go the most directly onto your skin. That means that these in particular should be cleaned at least once a week between uses.
We get that this can feel like a major constraint on your time. If you own a lot of makeup brushes, you're going to need to do a lot of cleaning. But if you're willing to carve out 30 minutes or so per week, your skin will absolutely thank you for it!
What NOT to Do When Cleaning Makeup Brushes
Most of us have a pretty good idea of HOW to clean makeup brushes – but it's the WHEN that can sometimes elude us. When it comes to brush cleaning, our frequency could use a little improvement. After all, good makeup brushes cost money! Not to mention our skin is its own investment, and dirty brushes shouldn't ruin that.
So let's talk about a few things to keep in mind when cleaning your makeup brushes.
Be mindful of the brush cleaner you use, to keep the bristles in good condition. While many makeup lovers swear by alcohol-based sprays or Dawn dish soap, we recommend opting for something more mild.
While dish soap is generally an acceptable cleaning agent for brushes made with synthetic fibers, there are far more gentle options for taking even better care of your brushes in the long run.
That being said, brushes that use animal hairs are far more fragile, and won't stand up to harsh surfactants well. On top of that, animal hair brushes promote cruelty to animals – and tend to foster more bacteria. As conscious consumers, we have plenty of reasons not to recommend animal hair makeup brushes.
The Tea Tree Clear Complexion Cleanser works like a charm on our synthetic fiber brushes. It totally outweighs the convenience of using an alcohol spray with every use, which can transfer onto your skin and dry it out.
How to Clean Makeup Brushes in 5 Steps
Now that we've gone over what not to do, let's talk about how to clean makeup brushes in a way that preserves their condition.
There are lots of ways to clean makeup brushes, and lots of tools to complete the process. For example, silicone scrubbing pads made with bumps to help agitate soapy bristles for a deeper clean. Some brands even offer little "beauty washing machines" for your foundation sponges!
But if we're being honest, you can really just start with your hands. Just lather your hands with some soap and warm water!
So how often should you wash your makeup brushes? Well, it depends on where you use them. Face-related makeup brushes should be cleaned at least once a week, while the ones for the eyes should be cleaned at least every 7-10 days. Product buildup can get heavy when brushes are used repeatedly, so use your best judgement when setting up a brush-cleaning schedule.
Here are five steps for cleaning your makeup brushes:
Saturate brush bristles with lukewarm water. Make sure not to use hot water, as it can be damaging over time.

Using your chosen cleanser, squeeze a drop onto your palm.

Gently massage the bristles into your palm, taking care not to press too deeply on the base of the brush, where bristles connect to the handle. This is important, because heavy saturation can disintegrate the adhesive over time. If your brush heads always seem to fall off at the collar, this is likely the reason!

Rinse the bristles thoroughly and gently squeeze out any remaining moisture with a clean towel. Be especially careful with voluminous, puffed-out bristles that you might find in a foundation brush.

Re-shape the brush head to its original form, and leave to dry with the bristles hanging over the counter where air can circulate through every bristle. Never dry them vertically with the brushes upward, as water will leak down into the collar and deteriorate adhesive in the collar. Don't leave them to dry on a towel either, as this can lead to the bristles growing mildew!
Your makeup brushes aren't the only tools that need washing: you need to wash your skincare tools, too! Luckily, our Charcoal Konjac sponge doesn't need too much extra care. After each use, simply rinse out the sponge thoroughly to ensure that no product remains, and leave in a dry, airy space.
Similarly, you can make bathing sponges last a lot longer by taking care of them. After using a loofah like our Recycled Plastic Bath Sponge, make sure to rinse clean and air-dry when finished.
We carefully hand-select products based on strict purity standards, and only recommend products we feel meet this criteria. 100% PURE™ may earn a small commission for products purchased through affiliate links.
The information in this article is for educational use, and not intended to substitute professional medical advice, diagnosis, or treatment and should not be used as such.
Sign up to our email newsletter for more blog updates and exclusive discounts.
< Older Post | Newer Post >