Gift Sets for Anyone on Your List
You can't go wrong with designer gift sets of skin care, hair care, body care, and more!
Posted on December 7, 2018
Written by: 100% PURE®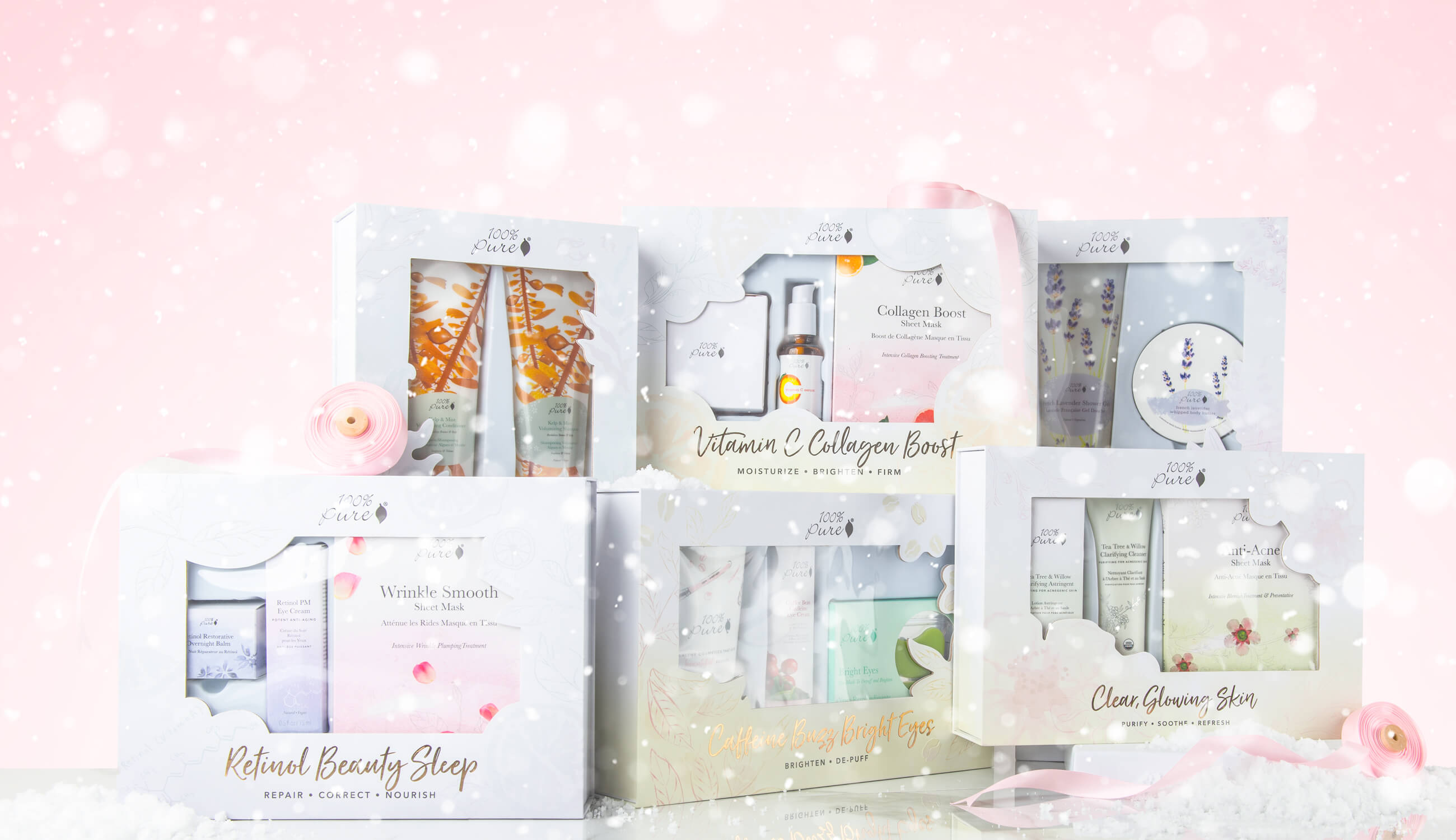 Ho-oh, no! Its officially the holiday season and you haven't started your holiday shopping. Not to fret; our holiday gift sets are *totally drool-worthy* and we're happy to share another holiday gift guide to brighten the eyes and rosy the cheeks of everyone on your nice list this year.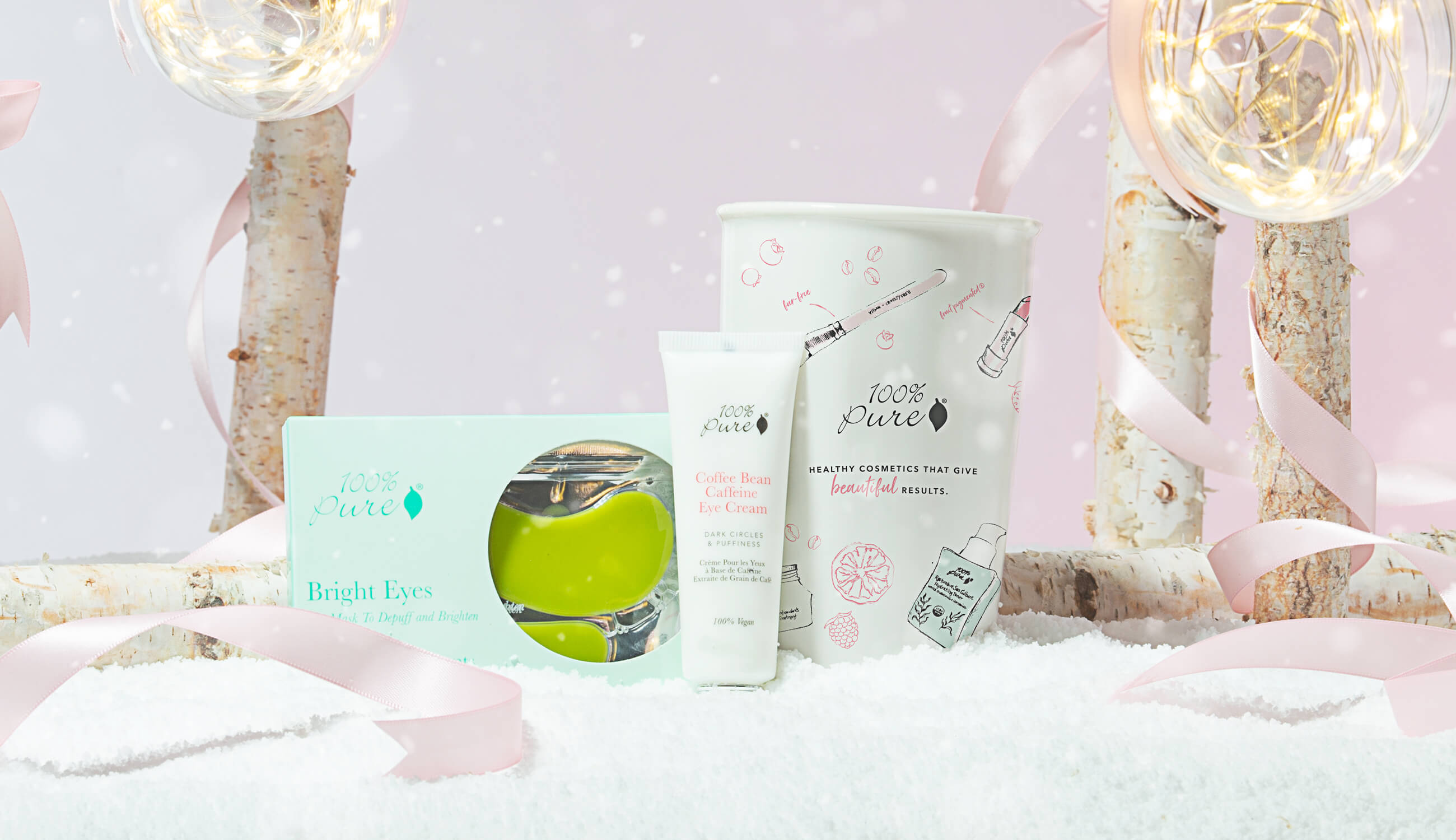 Give the gift of a full night's rest – or at least the appearance of one – with our caffeine boosted set. This trio of products is the gift that keeps on giving, with our best-selling Coffee Bean Caffeine Eye Cream as the highlight ingredient. It contains lightly fragrant vanilla acting as a moisturizing humectant on sensitive, dry eye areas, plus vitamin E to restore skin to its former (well-rested) vitality.
If your secret Santa just can't get enough of healthy eye care (#thelimitdoesnotexist), then this gift is sure to delight. Complete with the 100% PURE Bright Eyes Mask, this duo of eye care is perfect for someone in need of a perk-up. Completely vegan and natural, these targeted masks come complete with toning antioxidant green tea, extremely hydrating hyaluronic acid, and a blend of caffeine to tighten and restore vibrancy. To round out this trifecta of holiday treats, the lucky recipient will receive a branded 100% PURE mug to perk them up while pampering their peepers.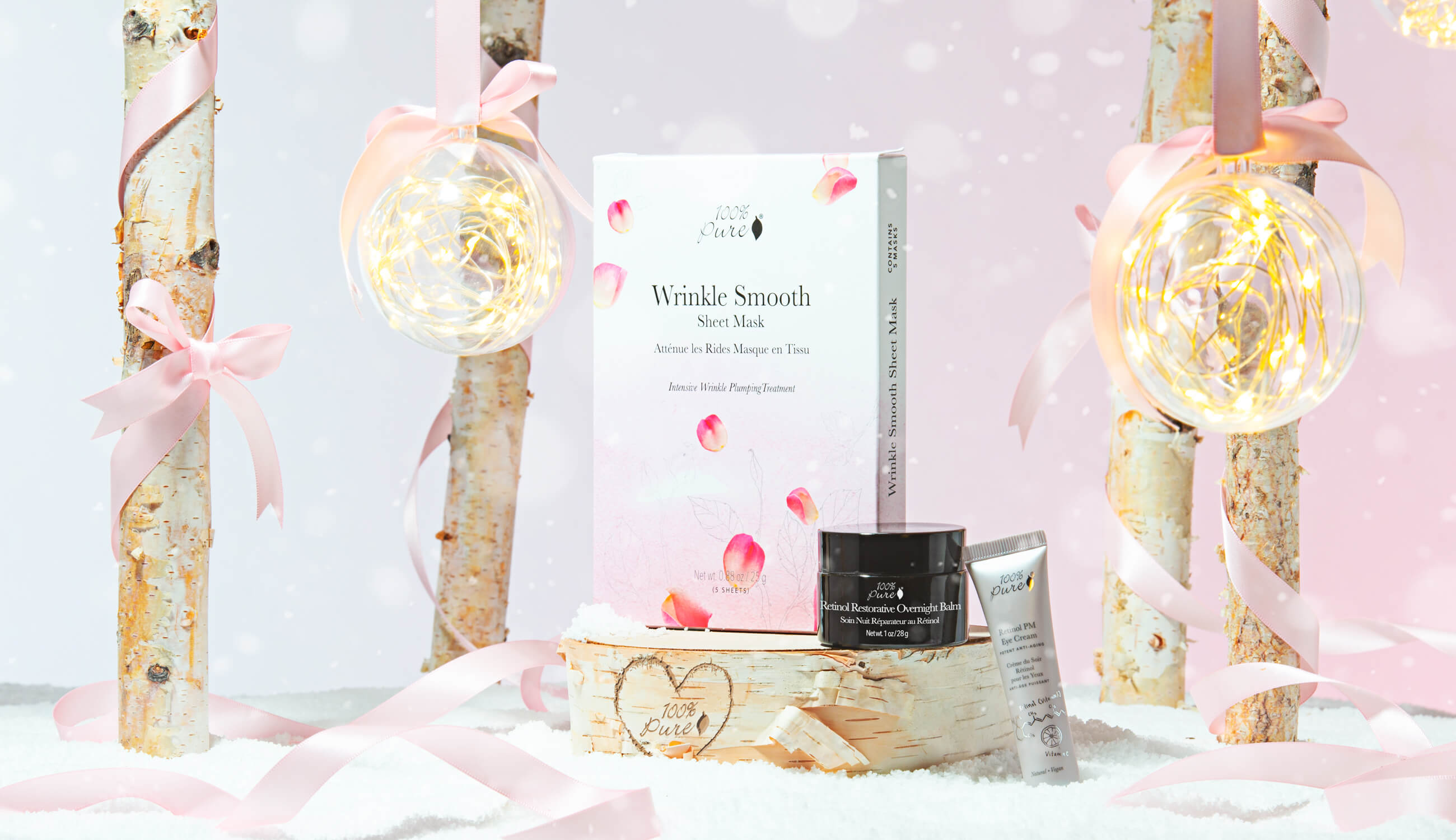 While we can't promise this gift will make your friend feel better-rested, we can ensure it will make them look like it. With all the right ingredients to boost skin elasticity and that firm feeling we see in healthy (young) skin, our Retinol Restorative Overnight Balm makes this gift #1 in our book. What makes this balm special is the buttery texture and rich, deeply nourished feeling. That decadent texture comes from avocado butter, complete with fatty acids to plump and create a moisture barrier for skin. Vitamins A, E, and C, plus the light and sensual fragrance of organic jasmine oil, means this balm is both potent and luxurious - and we wouldn't blame you if you end up keeping it for yourself. If that wasn't enough of a reason to make you want to steal this gift from under the tree, Retinol PM Eye Cream and a plentiful 5-pack of Wrinkle Smooth Sheet Masks come complete with the set. What more could anyone ask for?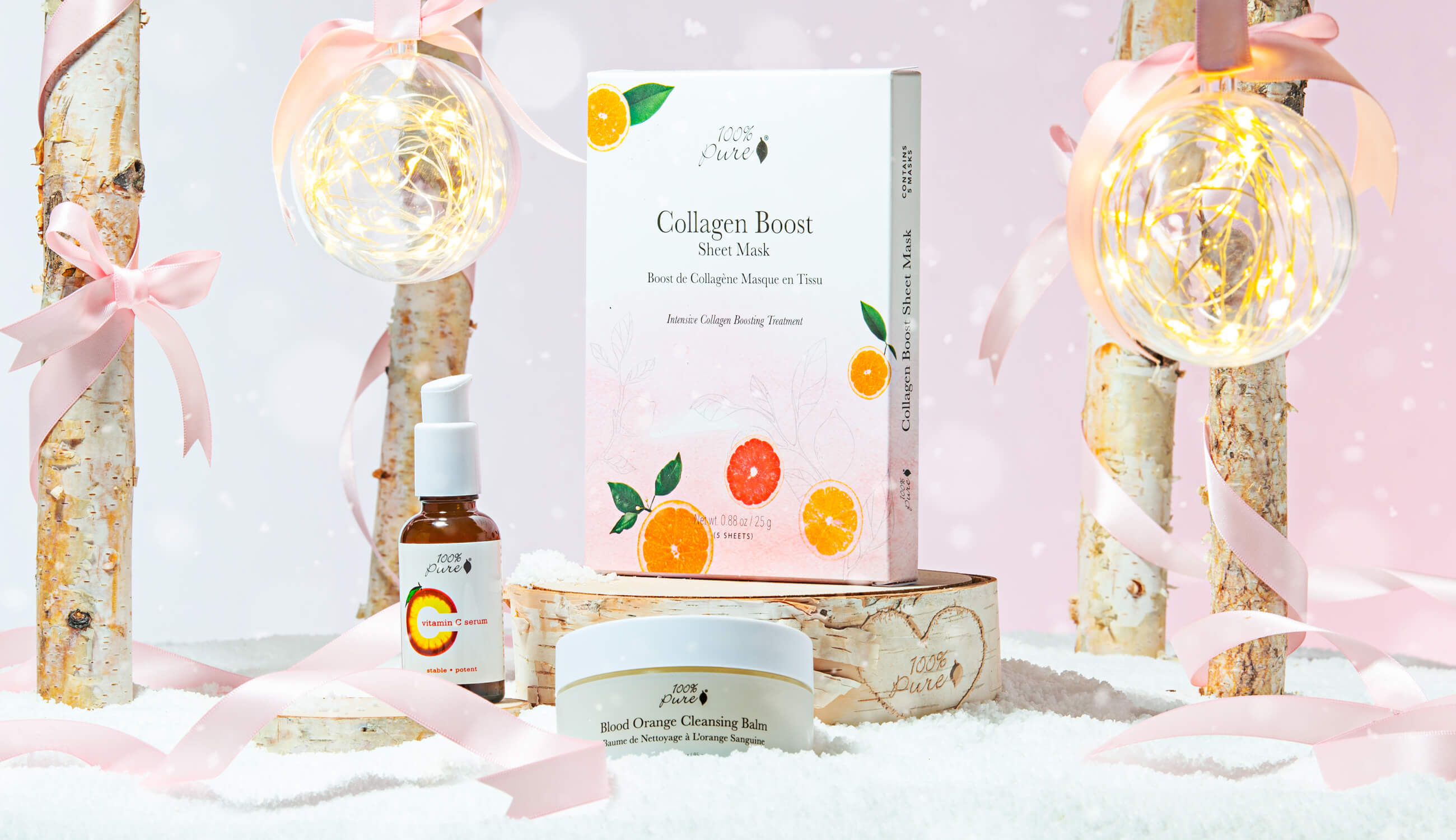 Ready for a steal? This gift set delivers on all fronts with three terrific products for brightening and toning the skin. The giftee gets treated with Blood Orange Cleansing Balm to start their routine. Gentle, brightening and moisturizing, it is the perfect cleanser to use in dry, harsh winter temperatures. When they're ready for a super sleuth of complexion perfection power, they can layer on the 100% PURE Vitamin C Serum and when they're feeling in need of a pick me up, pump it up, literally, with a 5-pack of Collagen Boost Masks. This gift is perfect for all skin types and an extra special treat for the beach babe in your life.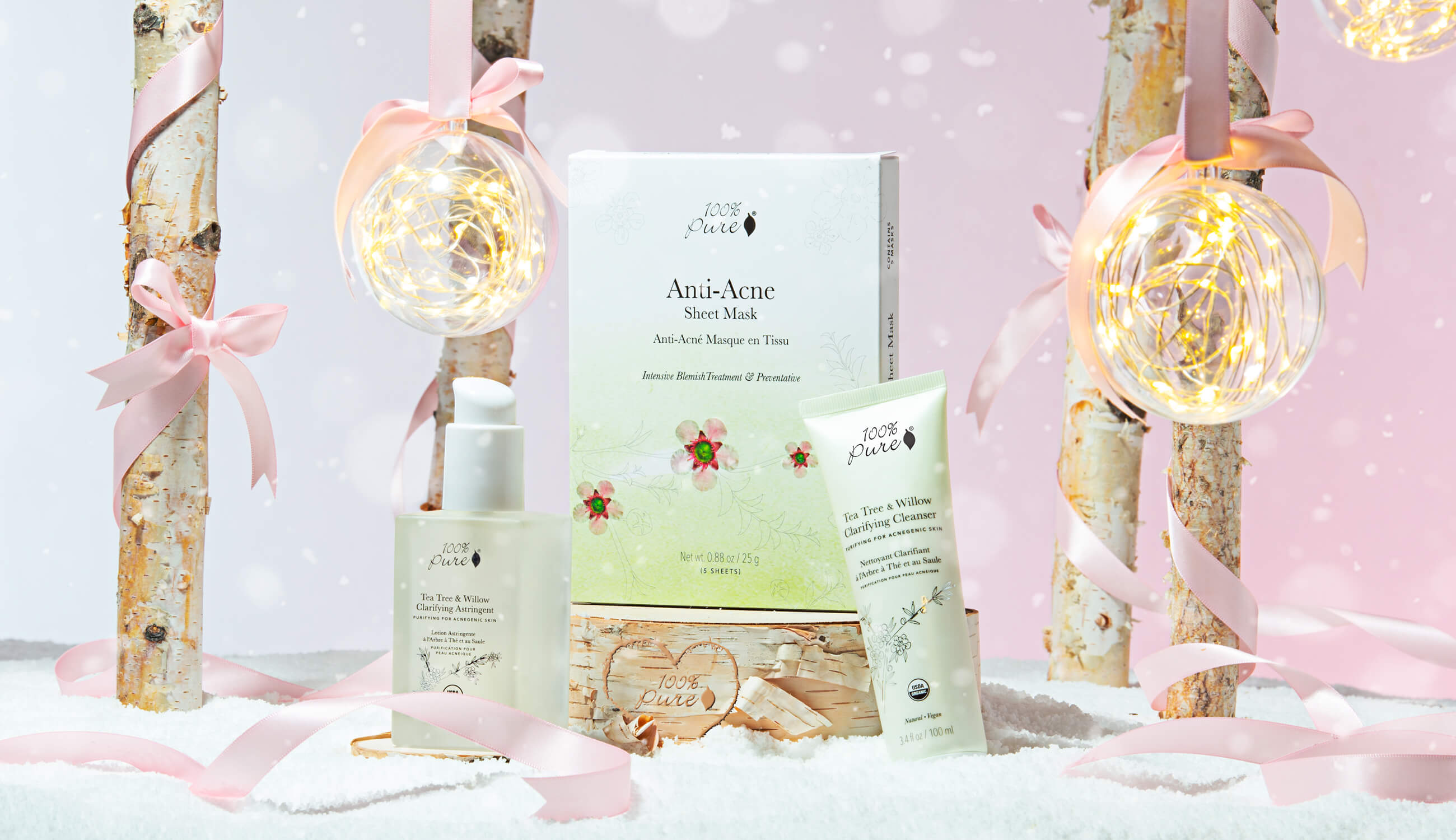 Give the gift of great skin care with this thoughtfully curated gift set. A cleanser, toner and masks to boot, the skin care junkie in your life will crown you the king or queen of gifting. The Tea Tree & Willow Acne Clear Cleanser in this gift set is the perfect pore cleansing, clarifying option for oily, combo and acne-prone skin. They'll be able to complete their cleansing routine with a matching toner, designed to soothe and reset skin. When extra anti-blemish assistance is needed, they can even set their toner treatment with ana Anti Acne Mask. All in all, this set is ideal for eliminating acne causing bacteria and calming active breakouts.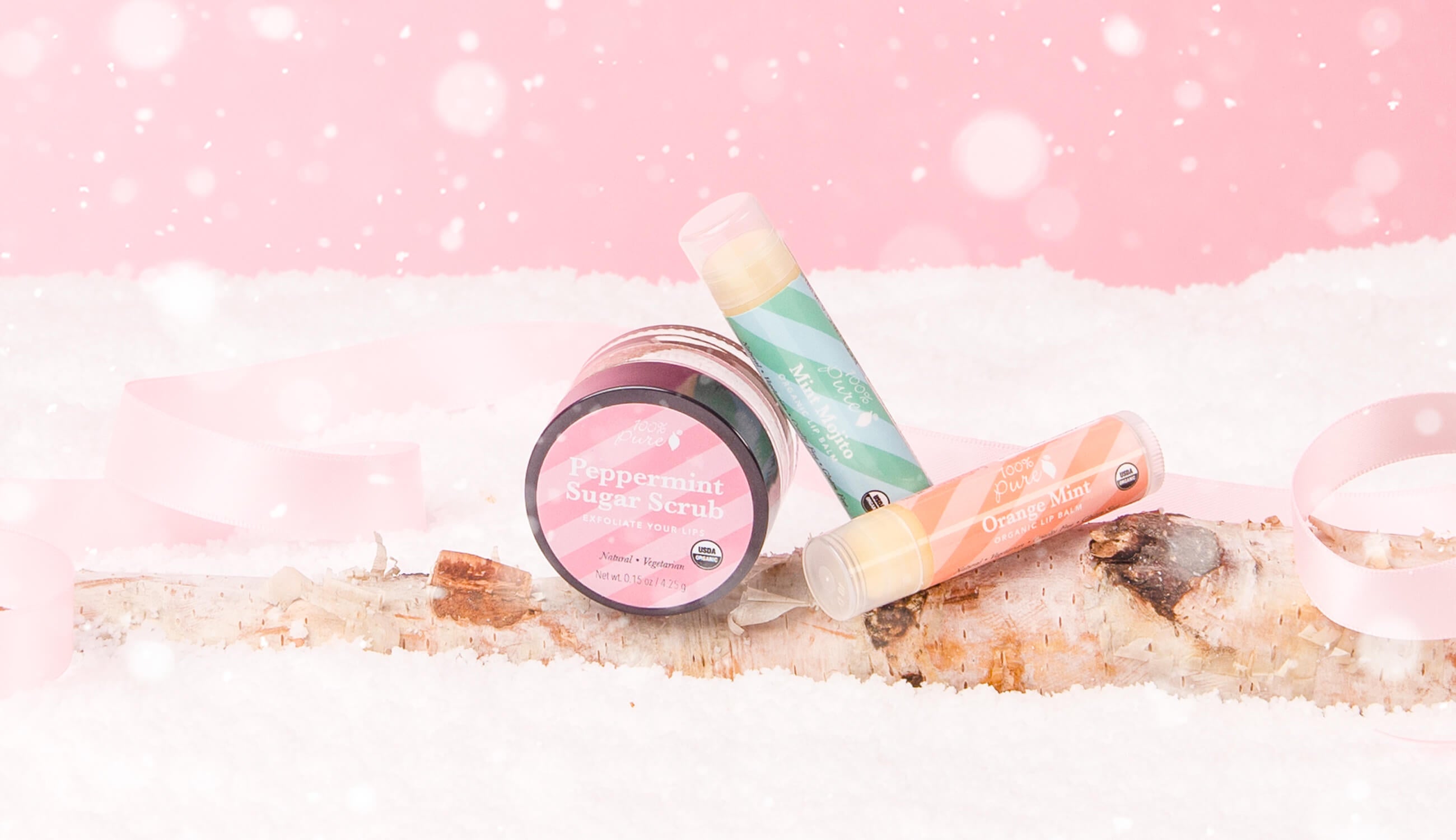 If you bring the mistletoe, we promise to bring the kisses - with a tasty trio of purely sweet lip treats. Orange mint and mint mojito balms ensure pillow soft kisses that taste just as good as they feel. But first, scrub up and soften lips with our Peppermint Lip Scrub. Since lip skin can flake up in layers on the mouth, this sweet little brown sugar scrub is made to polish away roughness, and prime for the sweetest holiday kiss a gal or guy could ask for.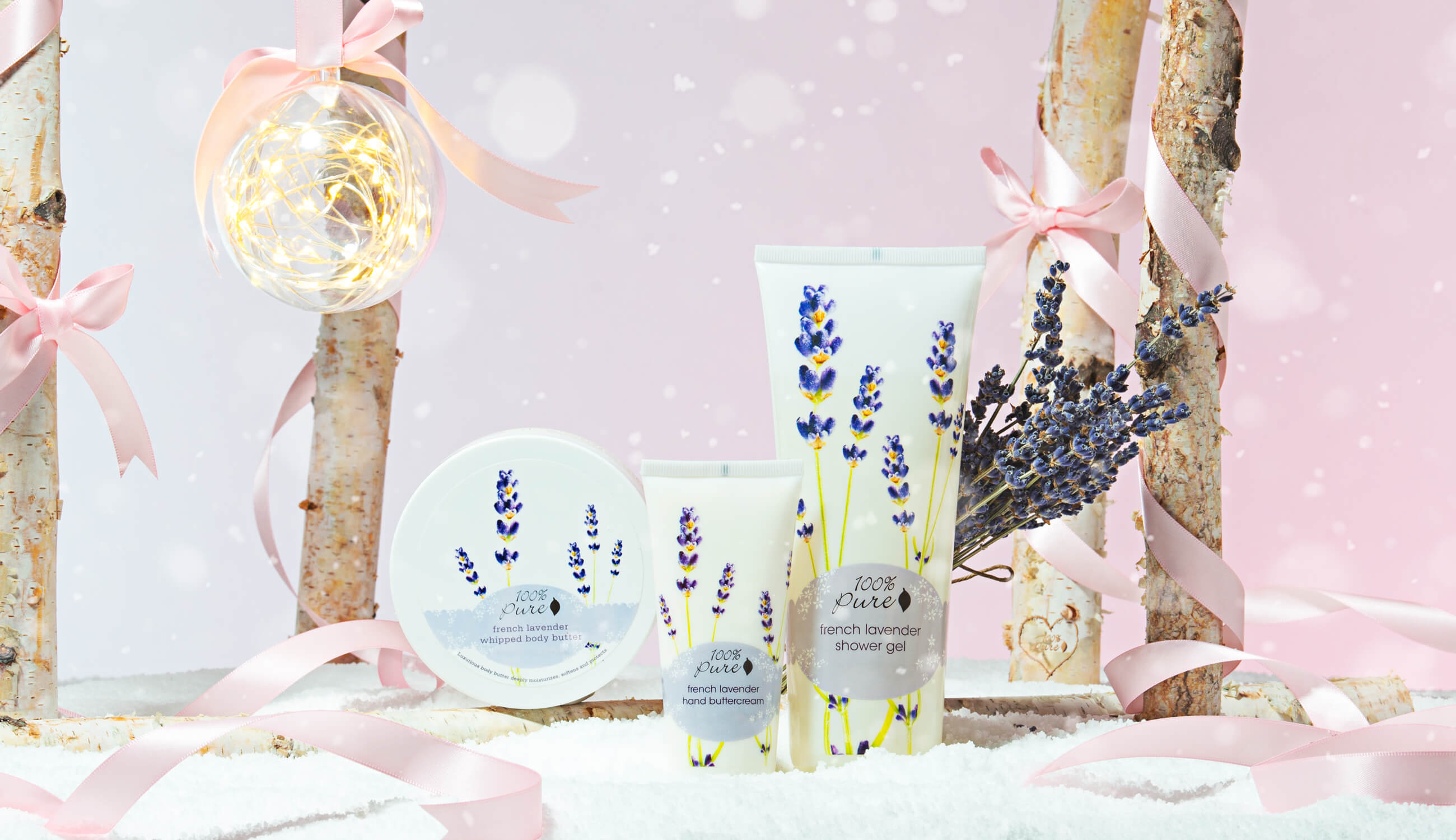 This fragrant, luxurious gift will surely bring peace on Earth to the receiver's shower routine. Our soft and silky Lavender Shower Gel is complete with skin hydrating aloe, a coconut oil cleansing base, and a blend of herbs to transport your sweetie to French flower fields. When shower time is over, help them complete their French countryside experience with lavender-infused Whipped Body Butter and Hand Cream, to protect skin whether they're grinding at work all day, or roasting chestnuts by an open fire.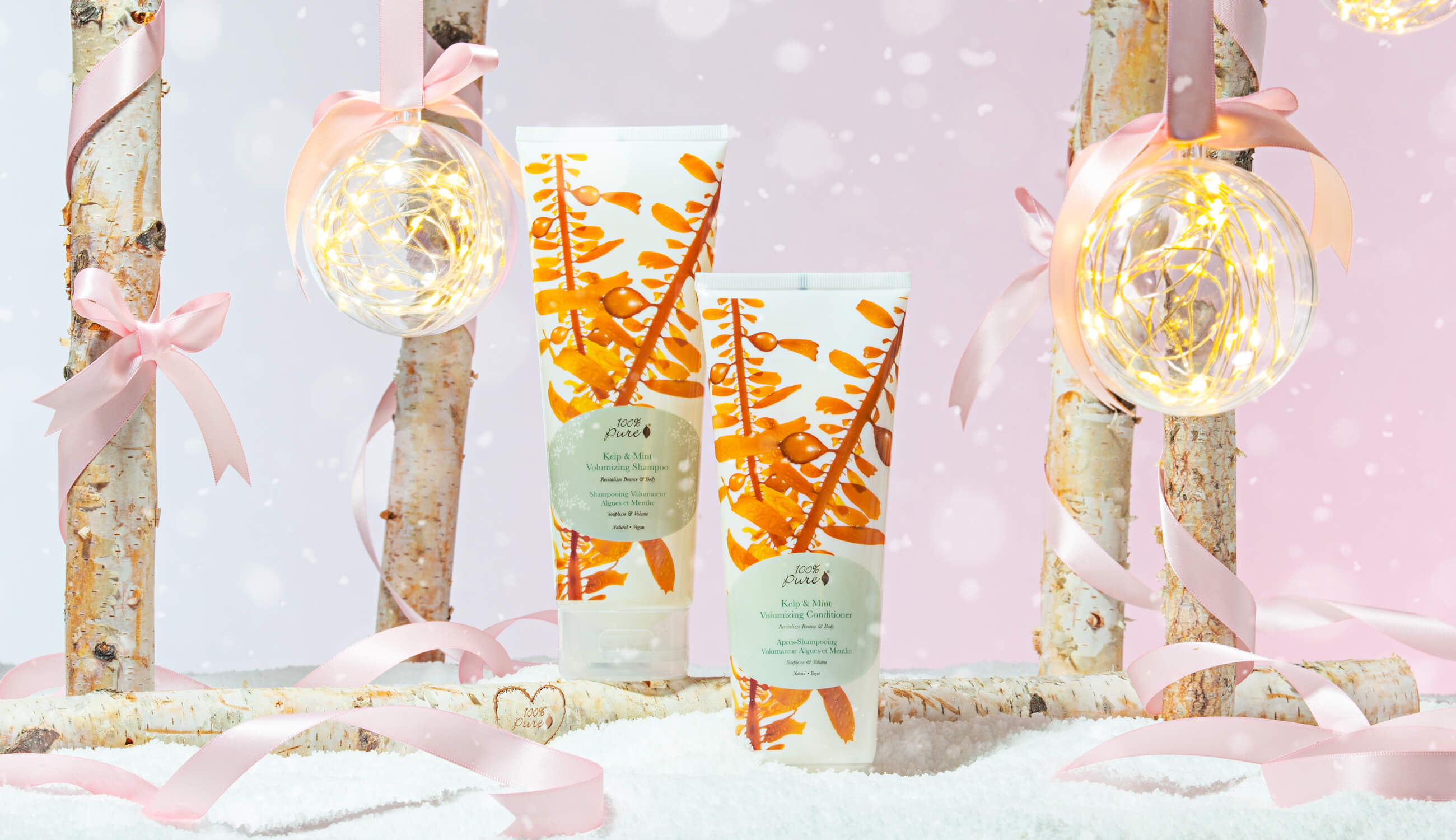 The siren in your life will appreciate this duo of kelp-infused hair care, to treat her locks to some holiday love (definitely warranted for winter locks, too). Kelp helps condition, increase shine, and thicken the hair - all while promoting growth. This shampoo-conditioner couplet makes quick work of her hair goals for long, strong, healthier hair heading into 2019.
Still haven't found the perfect gift for that hard-to-shop for friend or family member? Check out our recent, extensive price-tiered holiday gift guide - for gift ideas for every budget!
We carefully hand-select products based on strict purity standards, and only recommend products we feel meet this criteria. 100% PURE™ may earn a small commission for products purchased through affiliate links.
The information in this article is for educational use, and not intended to substitute professional medical advice, diagnosis, or treatment and should not be used as such.
Sign up to our email newsletter for more blog updates and exclusive discounts.
< Older Post | Newer Post >