Face Oils - What's Best For Your Skin Type?
Benefits of facial oils and how you can find your perfect match for gorgeous skin
Posted on October 7, 2022
Written by: 100% PURE ®
Somewhere along the line between our tween and teen years, someone put the notion in our heads that facial oils were a recipe for breakouts and disastrous skin. And to be fair, this is sometimes a possibility for some oils, especially for those with oily or acne-prone skin. But that fear monger has some explaining to do today.
The truth is that face oils can do wonders for every skin type. It's just about finding the right one for you. Follow along as we delve into the beauty benefits of facial oils, and help you find your beloved true-match face oil for a gorgeous complexion. It's closer than you might think and, perhaps, is the ultimate skin secret.
What Are Facial Oils?
When we think back to the skin care advice and tips we were given growing up, "oil" sent visions of greasy skin, pizza face, or soggy old French fries – no thanks! Then along comes modern skin care, praising facial oils up and down for their healing properties and skin benefits. We've got one foot in… but what kind of oils are we talking about, like from the pantry? Not exactly!
Facial oils can be broken down into single or pure oils that consist of one ingredient that comes directly from the source, like coconut or argan oil. You can have combined oils that consist of several oils together to create a multipurpose product that can target several different skin needs, such as face oils with a range of often plant-based potent ingredients with oils.
To oil-leviate any confusion, you're going to find either straight-up oil, oil blends, or oil/non-oil hybrid products, such as a facial oil with retinol, for instance, that addresses a specific skin concern – in this case, aging.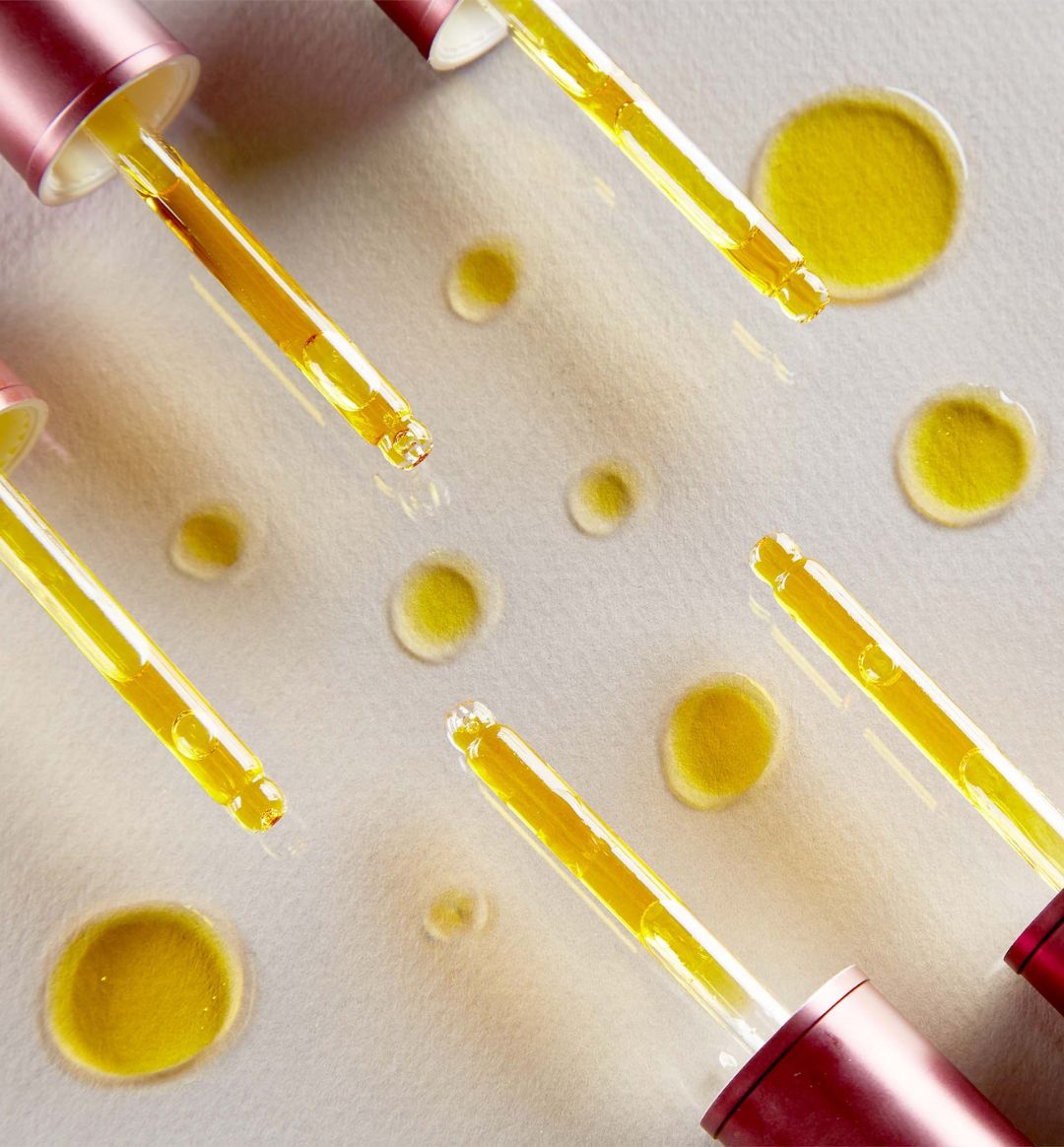 What Is Facial Oil Used For?
Facial oils are rapidly growing in popularity in skin care routines, often as part of providing an extra sealant of protection and transforming skin from dull to dazzling. As the masses discover the many key benefits of facial oils, these ultra-elixirs are continuing to experience an upward trend that makes them different and unique from other products. They are master mimickers! Here's how:
Our skin naturally produces oils and lipids, which help prevent water loss to keep our skin hydrated and taut. Face oils help to keep your skin balanced and add an extra level of protection to guard against moisture loss, which could lead to dry skin and early onset of fine lines and wrinkles. Face oils also keep sebum at bay – a slippery slope that can lead to acne.
Is Applying Face Oil Good for Your Face?
While they're predominantly known for their hydrating properties, we're here to shout from the rooftops that facial oil is the one product with endless uses that can actually treat your skin issues, while giving you the radiant face of your dreams.
So, is applying these fabulous oil elixirs good for your face? We'll let you decide with some of these golden benefits that facial oils can offer to your skin!
#1: Helps keep skin balanced – even for oily or acne-prone skin
It seems counterintuitive to put oil on your face when most of us don't want to look oily – especially if we already happen to have oily, acne-prone, or combination skin. Alas, facial oils can actually help to balance excess sebum in oily skin types to keep acne at bay.
#2: Seals in moisture and adds extra nourishment – especially for dry skin
While anyone – even those with oily skin – can benefit from facial oil, it can be especially nourishing to dry skin. Whether your dryness can be blamed on plummeting fall temps or regular dry skin symptoms, facial oil can help boost your moisturizer's hydrating efforts.
PRO TIP: Face oils are the thickest ingredients or the most occlusive layer to seal in hydration. In regards to moisture retention and using a face oil, it's important to remember that if you apply a moisturizer after a face oil, it won't be able to penetrate that seal and as a result, will be less effective.
#3: Promotes a healthy glow, especially for mature or dull skin
As we age, our skin produces less natural oils; this may exaggerate the look of fine lines. Facial oils can help with anti-aging concerns because they contain antioxidants that pass through the skin quickly, preventing water loss while keeping skin plump. Antioxidants also boost collagen production and strengthen skin elasticity – another anti-aging perk!
#4: Helps foundation apply more smoothly
The silky, luxurious feel of facial oil makes it a marvelous skin care product to apply before your foundation. If your skin is dry, flaky or has blemishes, it can be difficult to apply makeup with a seamless application or non-patchy finish. Facial oil helps your makeup brushes glide across the skin for a smooth, even application.
PRO TIP: For fresh, dewy skin, you can try mixing a facial oil with your foundation, or you could also take the speedy route and go for an oil-infused foundation.
#5: Helps to make your nighttime products more effective
When facial oils are applied as the last step of your evening skin care routine, they can act as a barrier on the outer layer of the skin. Applying natural oils for skin before bed allows ample time for your skin to soak them up overnight and provide protection throughout the day.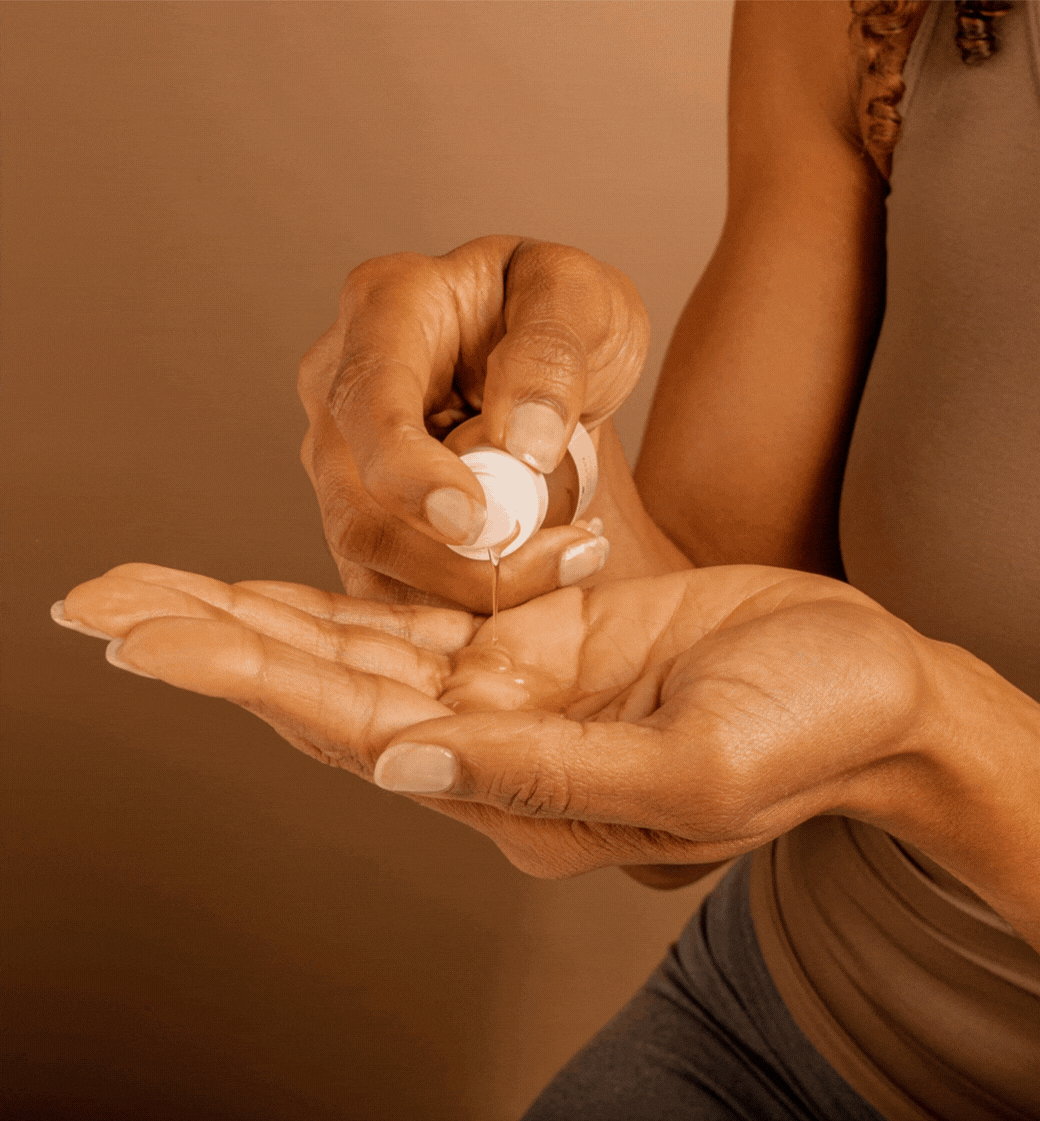 Is Facial Oil Better Than Serum?
It's a great question! Facial oils and serums can both benefit your skin routine. They are similar in that both of these skin care products are designed to help improve skin texture, clarity, and overall appearance and suppleness. They do, however, have some key differences that make both of them great assets to your skin care routine.
Serums tend to be light, ingredient-rich formulas that address specific concerns, like uneven skin tone or texture. They are typically water-based and contain lightweight moisturizing ingredients, making them ideal to apply before a moisturizer. Because of their tiny molecular size, they may penetrate the skin more quickly and deeper into the skin, providing nutrients to the deeper layers.
On the other hand, facial oils tend to be thick, hydrating formulas that primarily address dryness or dullness; though some advanced oil blends, or oil/non-oil hybrid formulas can do more. They're usually oil-based, rich, emollient formulas that can help nourish the skin's natural protective barrier, and help balance the skin by mimicking the skin's natural sebum.
PRO TIP: You can use a serum and face oil together. If you want to use both but not at the same time, try breaking them up with a serum during the day and facial oil at night. It depends largely on your personal preferences and skin type.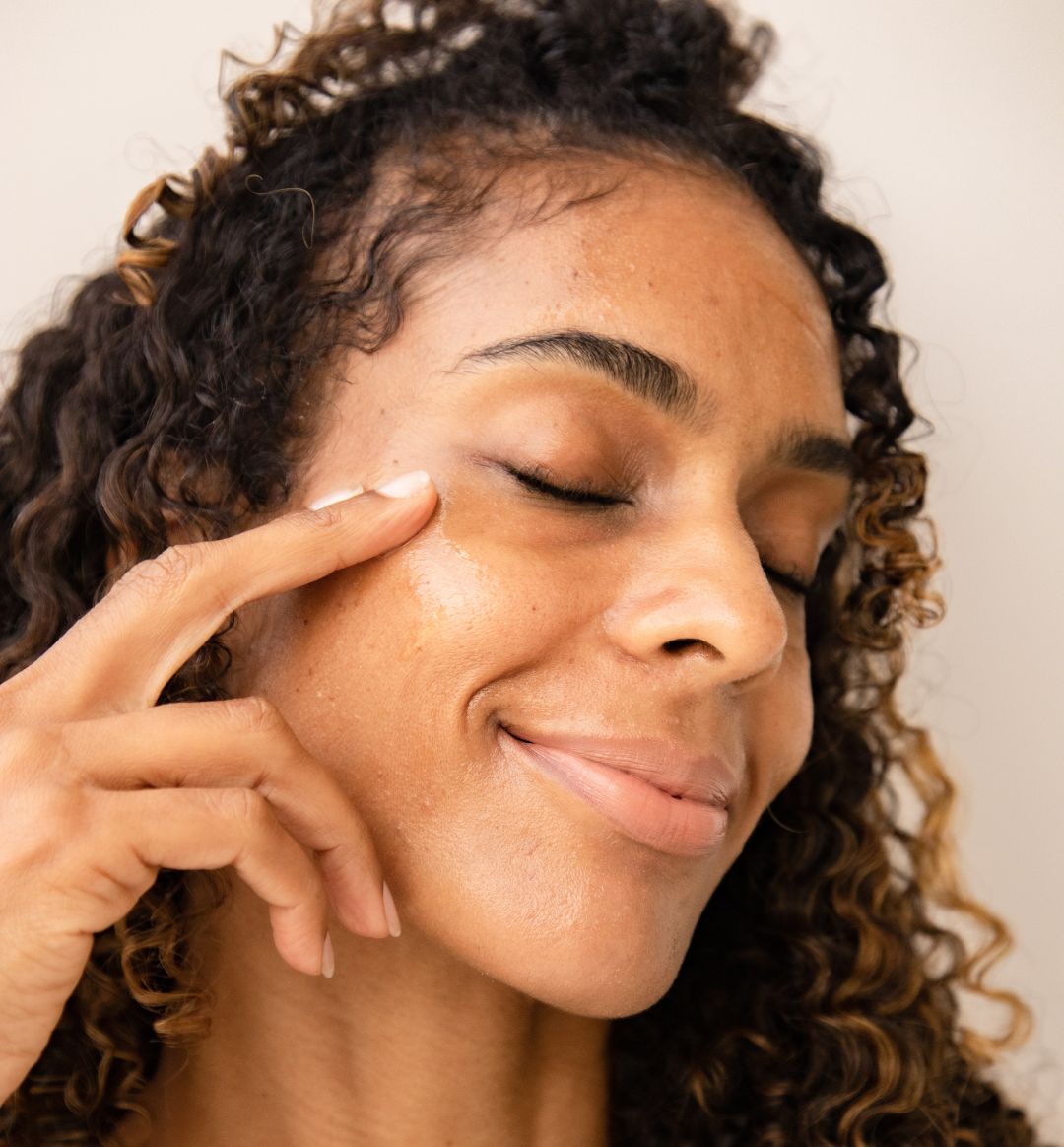 Which Are the Best Oils for Face?
Do you love having healthy, glowing skin? We think so, too! Facial oils contain nutrients that help preserve skin's suppleness and glow. Because many of the best face oils contain components that are rich in antioxidants, these luxurious elixirs can help maintain the youthfulness of the skin.
The key to unlocking the beauty benefits of facial oils is to ensure that it's compatible with your skin type, and you're using it correctly. Here are some of the perks of the best facial oils by skin type.
OILY SKIN: Intensive Nourishing Facial Oil
We know what you're thinking – face oils sound like a slippery slope to breakouts and shiny-looking skin! On the contrary, they create a Zen-full and peaceful balance to your skin.
Our skin's own sebum can be stuck on the surface and sometimes, oily skin can be caused by a lack of moisture penetrating the skin. A face oil can help neutralize our own oil production - plus many oils also have anti-inflammatory properties, which can reduce redness and irritation that also comes with acne.
Looking for an oil that's unlikely to clog pores? Our Intensive Nourishing Facial Oil features a blend of lightweight grapeseed oil, antioxidant vitamin E, and calming florals and herbs that truly feeds the skin. What's great about this oil for oily skin, in particular, is its grapeseed oil base. Similar in texture and weight to skin's sebum, this oil sinks in easily and hydrates the skin quickly.
Our Intensive Nourishing Facial Oil comes with a sweet surprise – a boost of fruity blackcurrant oil for anti-aging. Calming and balancing lavender and rosemary provide the skin with a neutral but hydrated finish and improved oil balance over time.
NORMAL: Rosehip Oil
A potent skin oil can transform the skin, preserving the suppleness and bounce that our most youthful skin possesses, while also adding a subtle radiance and healthy glow. Our Rosehip Oil has practically everything skin needs to thrive, including vitamins and omega fatty acids to deeply replenish thirsty skin.
In particular, rosehip oil is beloved for its concentration of essential omega-3 and omega-6 fatty acids, which do wonders for hydrating the skin and locking in moisture. Great for layering over skin care or under makeup, this pure rosehip oil soothes and calms the skin, helping to heal scarring and keep the skin balanced. Plus, the smell of this face oil is so divine!
DRY: Super Fruit Facial Oil
Like sunshine in a bottle, this dry skin-friendly facial oil packs a nutritious punch. One of the best sources of antioxidant vitamin E, this superfruit oil has a sunflower seed oil base that's lightweight and gentle.
Antioxidant and anti-aging fruit components from pomegranate, acai, goji, raspberry, and more deliver a richly conditioning experience, perfect for adding glow and bounce to dry skin types. With the low comedogenic ratings of its ingredients, this oil is a great choice for any skin type. It features fruits like acai, goji, and mangosteen. These ingredients provide essential antioxidants to help protect against daily environmental stressors.
The Superfruit Facial Oil has a light, silky feel and the added bonus of seaberry. Seaberry, or sea buckthorn, is known for increasing hydration, reducing redness, and offering anti-inflammatory benefits to calm acne. Sign us up!
NORMAL TO DRY: Marula Oil
Lightweight and fast-absorbing marula oil is rich in vitamins and omega fatty acids to help balance and replenish normal to dry skin. Our cold-pressed Marula Oil helps smooth and minimize fine lines, balances hyperpigmentation and uneven skin tone, and keeps skin hydrated and well-nourished.
Its fatty acid content helps maintain healthy, youthful skin, while its high antioxidant content helps defend against free radicals. Vitamins E and C rejuvenate the skin for a youthfully supple glow. Continued use of this golden elixir improves skin texture and a more even tone.
Hopefully, with this collection of tips and benefits, your skin should be glowing, soft, and supple in no time! It's a bonus if we calmed your mind of any myths preventing you from using facial oils. Whether you're dealing with dry skin, oily skin, or combination, using a facial oil is your hot ticket to a glowing, youthful complexion. Your skin will thank you daily!
We carefully hand-select products based on strict purity standards, and only recommend products we feel meet this criteria. 100% PURE™ may earn a small commission for products purchased through affiliate links.
The information in this article is for educational use, and not intended to substitute professional medical advice, diagnosis, or treatment and should not be used as such.
Sign up to our email newsletter for more blog updates and exclusive discounts.
< Older Post | Newer Post >