The 10 Best Serums To Use At Night
Discover our top night serums to maintain healthy skin while you sleep!
Posted on October 6, 2022
Written by: 100% PURE ®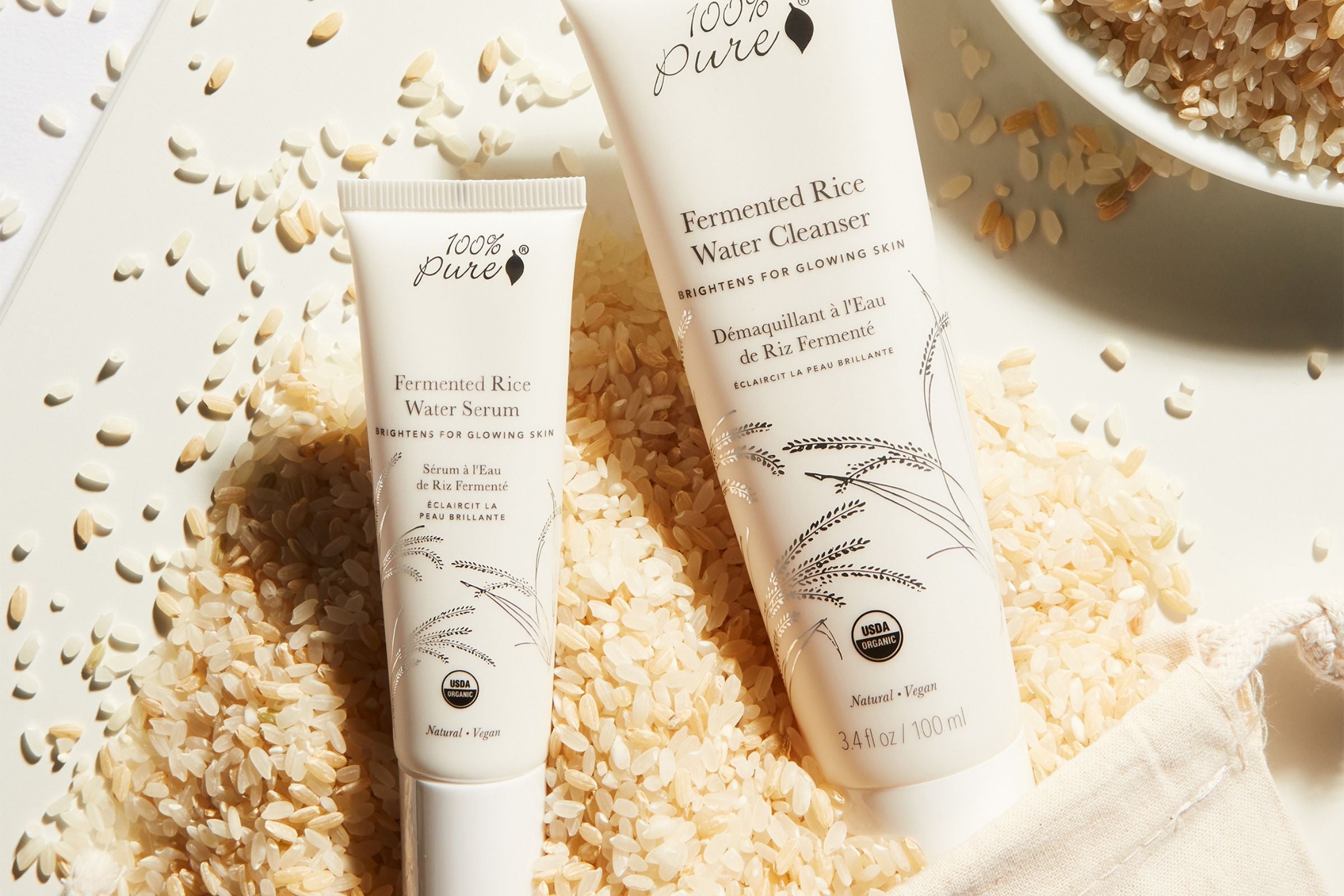 As relaxing as skin care can be, there are times in which things get a bit confusing–especially when it comes to the blurring lines between daytime and nighttime products.
There are day creams and night creams, and then to make matters more complicated, you'll get conflicting information from experts and influencers alike on whether these labels even matter.
However, we're here to help dispel the confusion around daytime and nighttime skincare, starting with night serums.
Why Should You Use Serums in the Night Hours?
In order to understand the importance of using a serum at night, it helps to understand the roles of daytime and nighttime skincare.
Daytime skincare is all about protecting your skin from the sun and the elements; this means it's important to use SPF, and to layer it over an antioxidant serum to fight free radicals.
Meanwhile, the evening hours are all about repair and recovery. While you're fast asleep, your skin is hard at work–since cell turnover is at its peak at this moment, this is the perfect time to use a serum. When you use a serum with effective ingredients that target your skin concerns, you're taking serious advantage of your rest period.
Moreover, the evening hours are ideal for using certain actives you wouldn't want to use during the day. For example, retinol can do wonders for cell turnover, but it can make the skin prone to sun damage.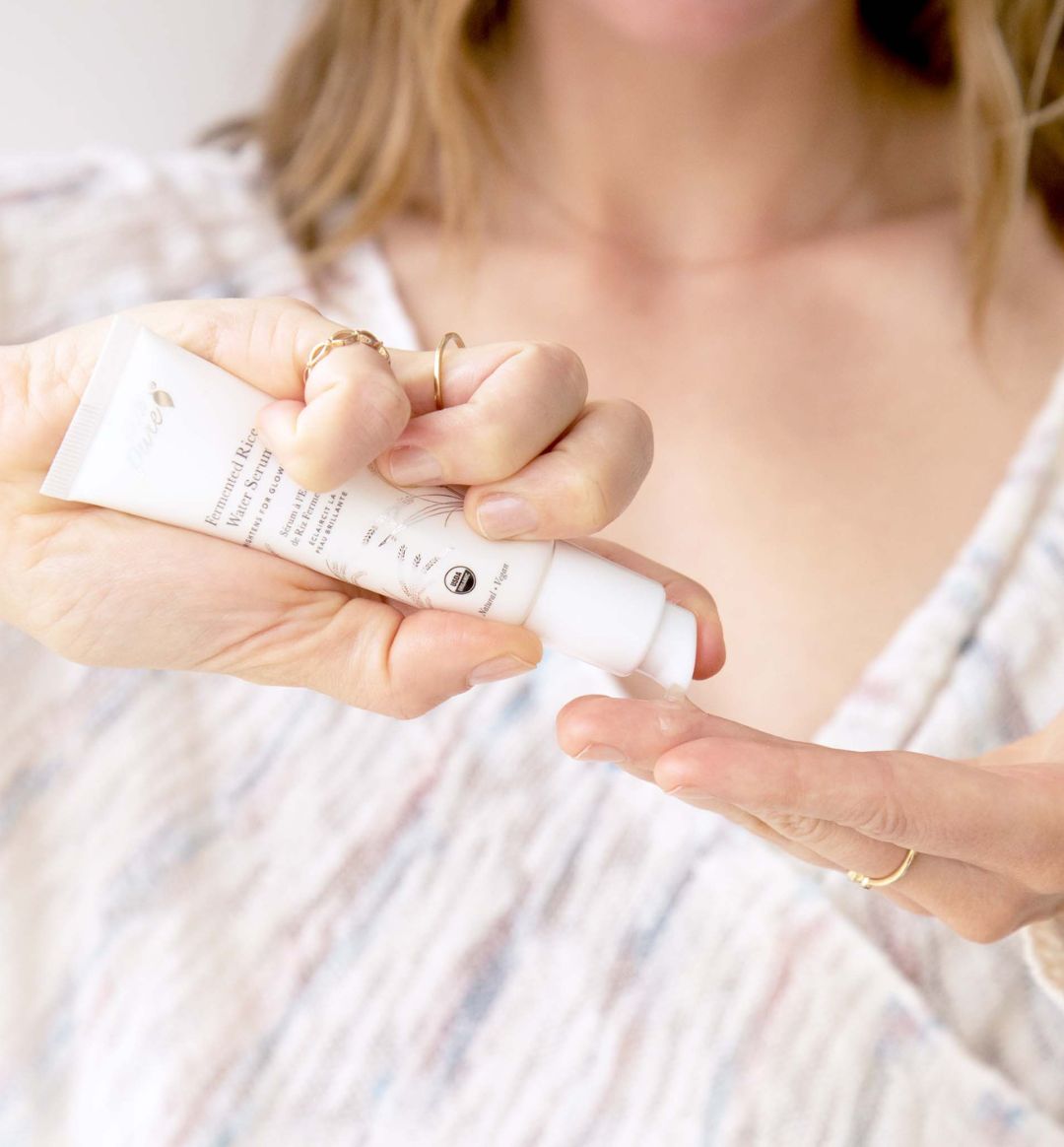 Which Serum is Best for Nighttime?
Now that we see why it's so helpful to use a serum at night, you may be wondering: what's the best serum for my face?
There's no shortage of options when it comes to serums at night, and luckily, you don't have to use just one!
Still, it's important to choose your night serum with intention. After all, what works for your best friend or favorite influencer won't necessarily work for you.
That being said, there are some gold-standard ingredients that are definitely worth considering. For instance, retinol is a powerhouse for both anti-aging and clarifying, while vitamin C at night can do wonders for collagen production. There are also ingredients like rice, green tea, and even cucumber, which help soften and renew the skin while you rest.
Not sure where to start? Not to worry! Read on to find out our list of the top 10 best serums to use for nighttime, based on your skin conditions and concerns.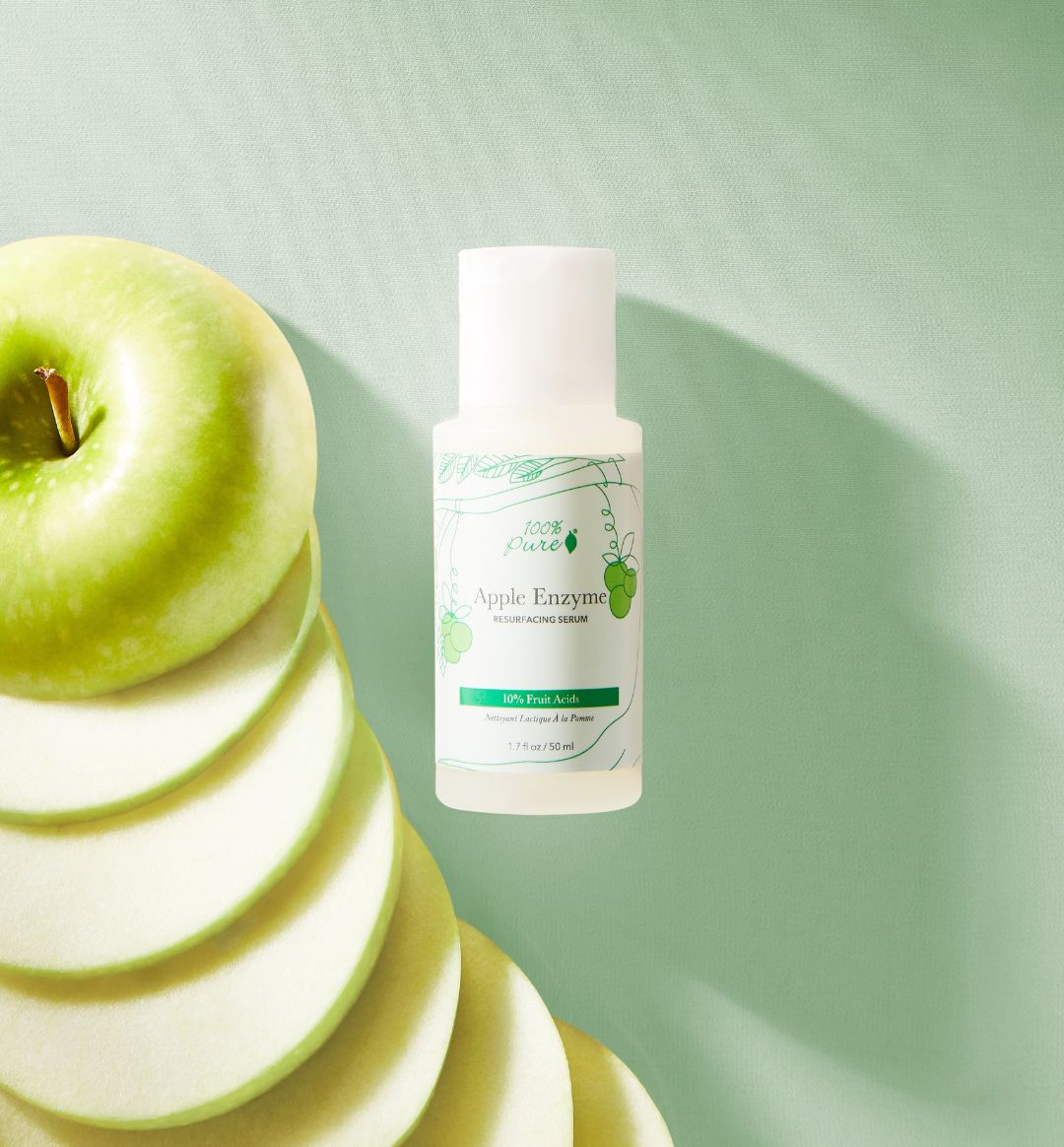 Best Serums for Nighttime, Depending On Your Skin
Best Night Serum for Targeting Dullness
As most skin experts will tell you, moderate exfoliation can do wonders for dull, dry skin.
Exfoliation involves the gentle removal of the outermost layer of the skin, which helps reveal glowing skin from underneath. When we talk about exfoliation, we tend to discuss chemical and physical varieties. In recent years, however, enzymatic exfoliation is becoming increasingly popular.
Typically used in facial spas, enzymatic exfoliation involves fruit-derived enzymes. These enzymes digest the keratinocytes in the outer layer of your skin without damaging the barrier, which can help smooth skin texture, brighten the complexion, and improve the skin's permeability for better product absorption.
Our brand new 10% Fruit Acids Apple Enzyme Resurfacing Serum is a regenerative serum made with skin brightening licorice, kojic acid from sake (fermented rice), sugar alpha hydroxy acid, beet lactic acid and fruit enzymes from pineapple, green apple, citrus and papaya.
These incredible glow enhancing actives work together to:
Brighten and even skin tone, lighten scars and dark spots

Expedite cellular turnover to smooth away bumps and flakes for super soft, smooth skin and,

Minimize the appearance of pores.
Best Night Serum for Mature Skin
As we age, our skin benefits more from added moisture. So why not try a facial oil as one of your nightly serums? Facial oils can do wonders for moisturizing the skin and locking in hydration; if you plan on using a few different serums at night, make sure to either use your facial oil after your serums and before your moisturizer, or mix it into your moisturizer.
We love the luxurious feel of this Evening Primrose + Green Tea Algae Retinol Oil from MARA, which features a powerful combination of retinol, algae, and green tea to help boost hydration, clear the skin, and promote a fresh, plump look.
Best Night Serum for Hydration
All too often, hydration is one of those priorities we leave on the back-burner in favor of potent, active ingredients like retinol and niacinamide.
However, hydration is one of the most important factors for a healthy skin barrier, so make sure you're using a hydrating serum at night!
Our Watermelon Cucumber Water Locking Serum hydrates, plumps, and smooths skin with watermelon and cucumber, while hyaluronic acid and polyglutamic acids soothe and lock in moisture.
Best Night Serum with Antioxidants
Antioxidants have gained some serious recognition in recent years–specifically for the way they combat free radicals. Through this function, it's been shown in studies like this one that antioxidants can play a major role in anti-aging and wrinkle prevention.
A well-rounded antioxidant serum is an excellent addition to your nighttime skincare routine; especially one like our Multi-Vitamin + Antioxidants Potent PM Serum which is made with niacinamide and highly-stable vitamin C.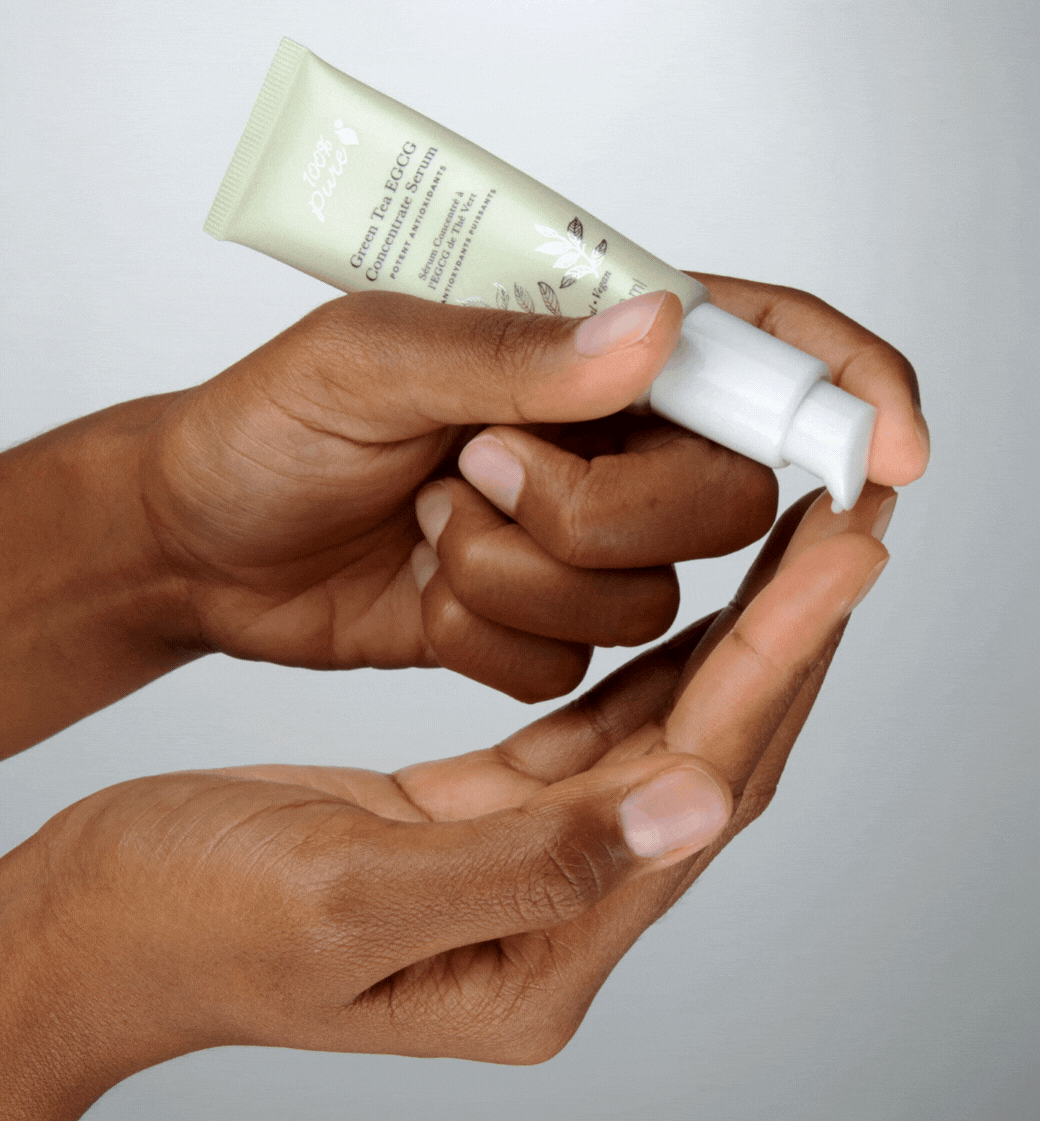 Best Night Serum for Anti-Aging
There's a vast range of ingredients that can help support a youthful glow, but one of our absolute favorites is epigallocatechin (EGCG).
As the key phytonutrient in green tea, EGCG has been shown to help delay signs of aging, including sun damage, fine lines and wrinkles, sagging skin, and age spots.
Our Green Tea EGCG Concentrate Serum contains green tea extract combined with a potent dose of EGCG, making it an excellent night serum.
Best Night Serum for Deep Wrinkles
While retinol is often hailed as the queen of anti-aging, there are ingredients out there that can strengthen its efficacy even more–especially when it comes to targeting deep wrinkles.
For an anti-aging evening serum, we love Alpyn Beauty's Wild Nettle & Niacinamide Firming Serum. Made with wild nettle, niacinamide, and a plant-derived form of retinol called rambutan, this serum works as an anti-aging cocktail for all skin types.
Best Night Serum for Irritated Skin
For an especially soothing, gentle ingredient that still boosts your glow, rice is one of the best options out there. With its skin-softening, brightening, and moisturizing properties, it's no wonder why it's been used in Eastern skincare for centuries.
What's even better than rice in skincare? Fermented rice!
Fermented rice is highly concentrated in amino acids, minerals, enzymes, alpha-hydroxy acids (AHAs), and vitamins that can nourish and brighten the skin.
A fantastic source of fermented rice is sake, which we feature in our Fermented Rice Water Serum.
Best Night Serum Containing Retinol
As mentioned earlier, retinol is one of the most efficacious ingredients you can have in your serum at night.
But with so many retinol serums on the market, it's hard to cut through the noise and find one that works for you.
Finding the perfect retinol serum for your skin may involve some trial and error, but one of our favorites is the STEM CELLULAR Anti-Wrinkle Retinol Overnight Serum from Juice Beauty.
This serum features plant-derived retinol, along with evening primrose oil. The accompanying ingredients in this serum make it especially hydrating, so it's incredibly gentle. We love the way it glides onto the skin–it's the perfect night serum for an evening of self-care.
Best Luxury Night Serum
Let's face it: there's a lot of pricey skin care out there, and not all of it is as effective as we hope for it to be.
Sometimes, however, you stumble upon a skincare gem–the kind that gives you an instant glow, like RANAVAT'S Radiant Rani Illuminating Botanical Serum. This dermatologist-tested serum features saffron, the world's most precious spice.
Thanks to its potent blend of antioxidants, this night serum will leave your skin with a red-carpet glow that lasts, while fighting free radical damage.
Best Night Serum for Pregnancy
Pregnancy is a time period that's full of change, and some of that change might be happening to your skin. While we'd all love to have clear, glowing skin while pregnant, cystic acne and melasma are extremely common issues both pre and post-partum.
On top of that, you can't use retinol while pregnant, either.
Luckily, azelaic acid makes an excellent alternative that's pregnancy-safe, and in Versine's Gentle Actives Clarity Crème-Serum + Azelaic Acid, this potent-yet-gentle active works to target skin conditions that are common with pregnancy.
We carefully hand-select products based on strict purity standards, and only recommend products we feel meet this criteria. 100% PURE™ may earn a small commission for products purchased through affiliate links.
The information in this article is for educational use, and not intended to substitute professional medical advice, diagnosis, or treatment and should not be used as such.
Sign up to our email newsletter for more blog updates and exclusive discounts.
< Older Post | Newer Post >