Alpha Hydroxy Acids in Skincare
Wondering what these fruit-derived natural acids do? We'll be your guide – plus the best acids for brighter, more youthful looking skin
Posted on October 5, 2022
Written by: 100% PURE ®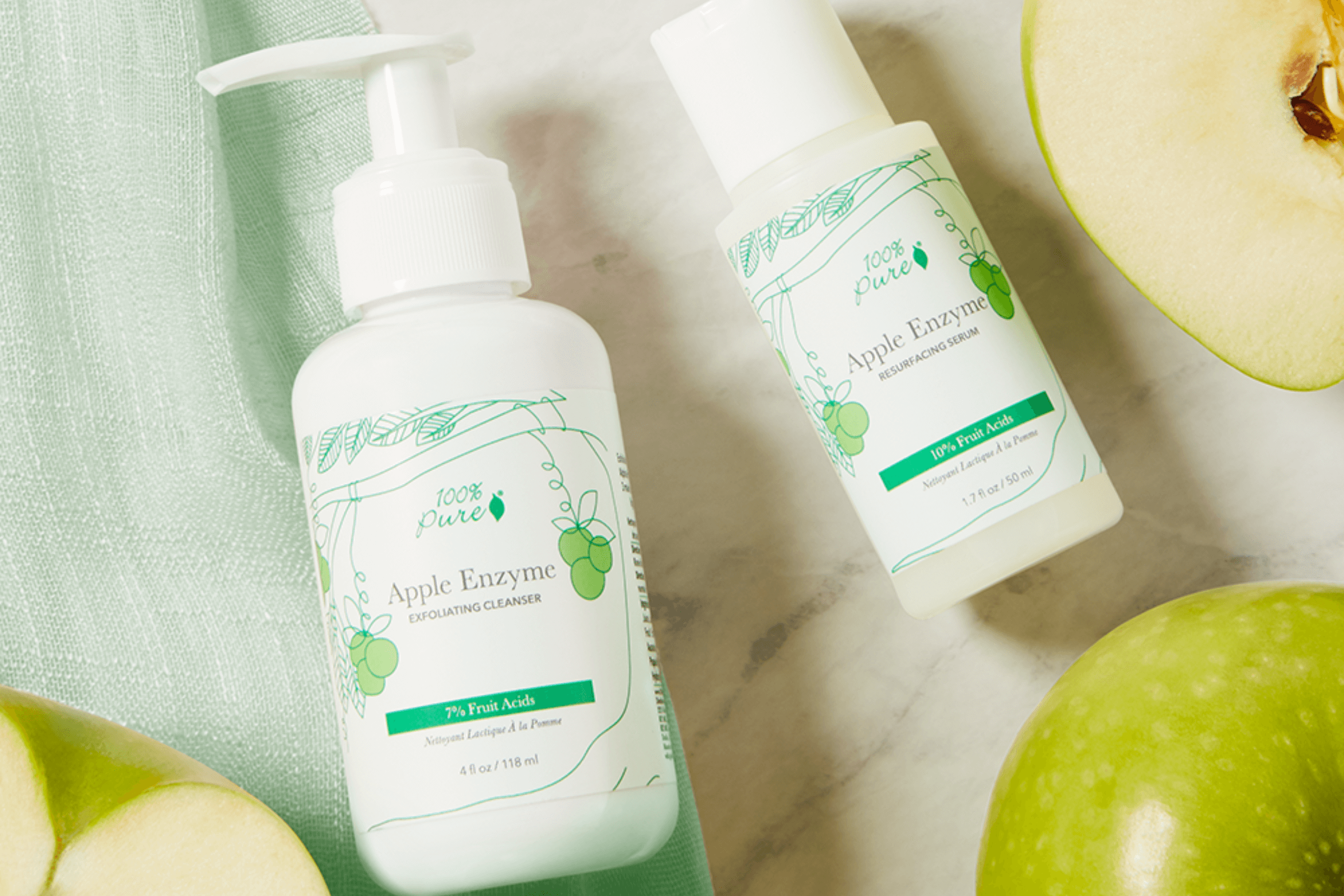 When it comes to the season hierarchy, fall reigns supreme with its beautiful foliage and near-perfect temps, but it may leaf you with some seasonal skin woes - specifically, a dull, lackluster complexion. Skin dryness, the wet and windy elements, and an accumulation of dead skin cells can have your skin not living apple-y ever after.
It's time to break out some winter skin warriors, like alpha hydroxy acids! These natural, fruit-derived all-stars can turn tired, unhealthy skin into a glowing, gourd-geous complexion that's fall-proof. In this post, we'll be your guide on what alpha hydroxy acids do for your skin, which acid best suits what skin type, and how to use these beneficial ingredients for your skin.
What Do Alpha Hydroxy Acids Do to Your Face?
How cool is our skin?! It has the impressive ability to renew itself on a regular basis, shedding dead cells to reveal more polished skin beneath. Yet there are still times when we may need to offer our wondrous skin some assistance, especially as it makes the transition into the feats of fall, which can plague us with dry, lackluster complexions.
Enter alpha hydroxy acids at your assistance! AHAs for short are fruit-derived natural acids that do an A-plus job at exfoliating your skin at the cellular level, helping it to get rid of dead skin cells that can clog your pores and dull your complexion.
You may not literally see dead skin being sloughed away when you use this potent acid, but it's definitely putting in work. This allows for brighter, clearer skin; increased cell turnover; and deeper penetration of skin care products. AHAs also help pore-clogging, which can result in breakouts and acne.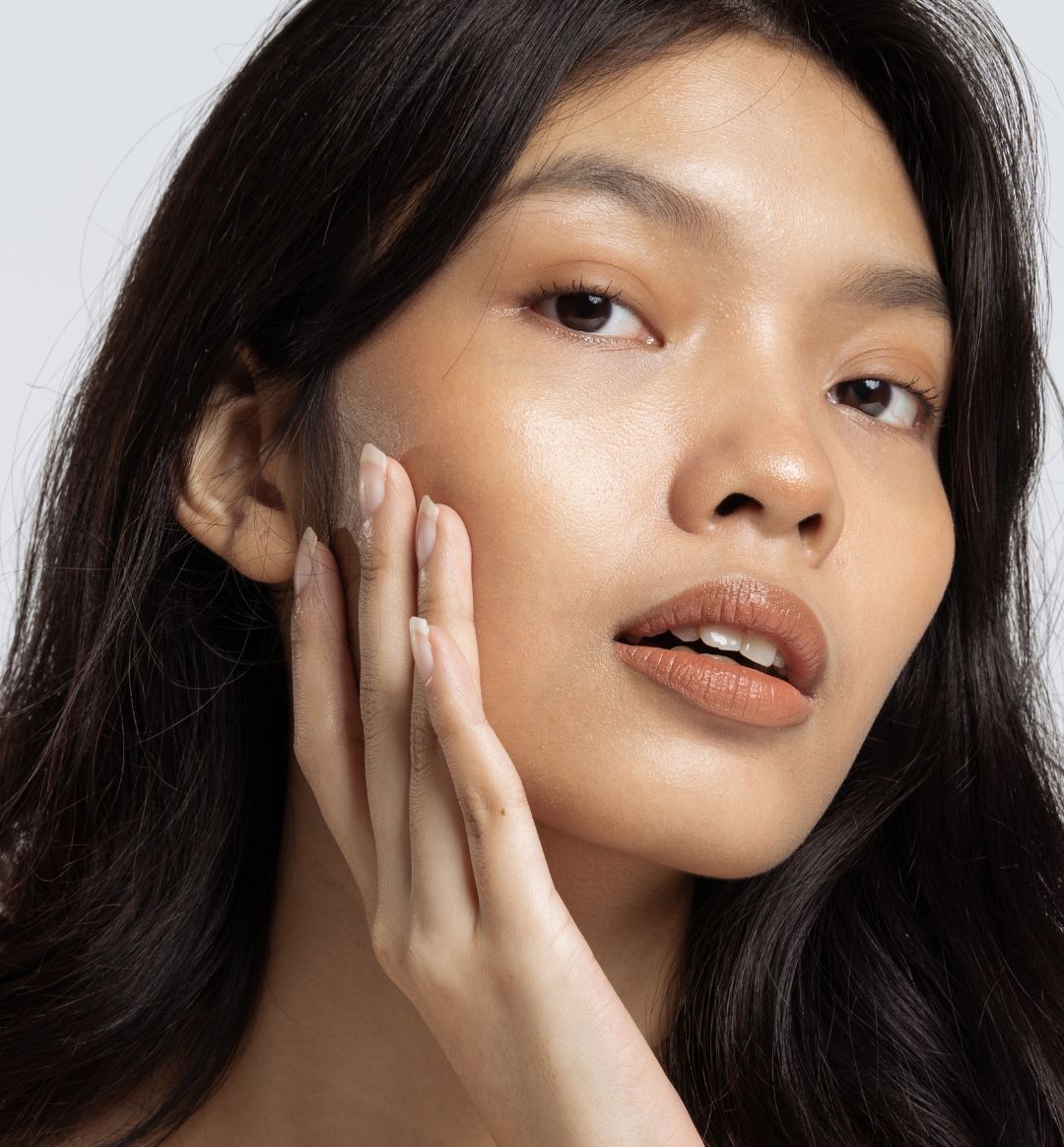 What Alpha Hydroxy Acid Is Best?
The first step in choosing which acid is best is to understand what each of these powerful acids do and what skin concerns they target. Though most AHAs tend to be gentle, some are stronger than others, which can sometimes lead to irritation or dryness, especially if you have finicky skin. Check out the some of the best and most popular AHAs:
Glycolic Acid
Our anti-hyperpigmentation hero, this AHA is setting the standard as a power-packed ingredient. Helping to slough away dead skin, reduce breakouts, and diminish dark spots, this chemical exfoliant totally gives our skin a super makeover in a single step. Common sources are sugarcane and pineapple.
Mandelic Acid
While it is true that all AHAs lead to a fresher, brighter complexion, mandelic acid, which is derived from fruits like cherries or almonds, tends to be a crowd-pleaser with sensitive skin types due to its larger molecular structure, which makes it gentler on skin as it penetrates more slowly. Acneic skin types may benefit from its gentle exfoliating and antibacterial properties.
Citric Acid
The name gives a bit away with this one; citric acid comes from our favorite citrus fruits! It comes with all the AHA benefits of removing dead skin, smoothing skin texture, and reducing breakouts and dark spots. This zingy, zesty acid also has lots to offer in terms of antioxidants, for protection against environmental toxins, and antibacterial properties to help combat acne while exfoliating skin.
Lactic Acid
If you're worried about skin irritation after trying a chemical exfoliant, try lactic acid first. A beautifully brightening acid commonly sourced from tomatoes or milk – but also available from vegan sources like beets – this is one of the gentler AHAs out there. Look for a radically improved skin texture, boosted glow, and enhanced skin clarity and firmness with consistent use.
Malic Acid
An apple a day keeps the doctor away, but it can keep the dull skin blues away, too. Malic acid is most commonly derived from, you guessed it, apples, and it's one of the more gentler acids out there. Not only is it a great exfoliant--it's also especially rich in antioxidants, making it a great anti-aging ingredient in skincare products. Just as you might want to add apples to your diet, don't forget this apple acid for smooth, glowy skin.
Speaking of apples, we have a powerful apple-fruit-derived cleanser that works in harmony to unclog and minimize pores, even skin tone, and brighten leaving you with super soft to the touch skin. Our Apple Enzyme Exfoliating Cleanser reveals glowing skin with our exfoliating cleanser made with green apple, licorice, citrus and 7% acids.
Make sure to pair with our Apple Enzyme Resurfacing Serum, which is made with skin brightening licorice, kojic acid from sake (fermented rice), sugar alpha hydroxy acid, beet lactic acid and fruit enzymes from pineapple, green apple, citrus and papaya. 10% of these glow- enhancing actives work together for 4 main functions: brighten and even skin tone; lighten scars and dark spots; expedite cellular turnover to smooth away bumps and flakes for super soft, smooth skin; minimize the appearance of pores.
Kojic Acid
Found in ingredients like sake (fermented rice water) and shiitake mushroom, this acid is one of our favorite ingredients for lightening dark spots and boosting radiance. While nowhere near as potent or active as some of the acids higher up on this list, kojic acid shouldn't be overlooked in your brightening routine. It's a safe daytime treatment, featured as a natural byproduct in our Fermented Rice Water Toner and Serum.
Tartaric Acid
Found in fermented grapes and grape extracts, this lesser known AHA offers benefits for fighting sun damage. It is most commonly used in conjunction with other AHAs to increase its efficacy. Tartaric acid has PH-balancing properties that can help soothe and heal inflammation. It also helps to stabilize acidic formulas while maintaining a positive pH level, hence reducing the risk of skin irritation.
What Skin Types Are Alpha Hydroxy Acids Good For?
Now that you have an idea of what most of the common alpha hydroxy acids do, it's time to consider your skin type. As you can see, some skin types like acne or reactive skin are more suited to certain AHAs over others. So, let's delve into what your skin type says about your AHA of choice.
If you have oily, acne-prone, or skin that's prone to hyperpigmentation, glycolic acid will be your BFF. Due to its small molecular size, it can penetrate the deeper dermis, helping to lift away pore-clogging impurities, dark spots, and even fine lines and wrinkles. A trifecta of skin goodness!
If you have dry or sensitive skin, you're not being left out to dry. You may find that glycolic acid is too much for your skin to handle. If this is the case, have no fear; you have some acids to count on – as in lactic and mandelic acids. Kojic acid will work well with sensitive skin plagued by pesky dark spots. These acids don't penetrate the skin as deeply – less irritation for the win!
If you have normal to combination skin, citric acid has unique properties and good-for-your-skin benefits that your dermis is going to drink up! Since it comes from citrus, you can expect brightening powers that will leave your skin radiant. But unlike many other acids, this citrus superstar acid is unique as it also possesses antioxidant properties that can help fight against sun damage and oxidative stress.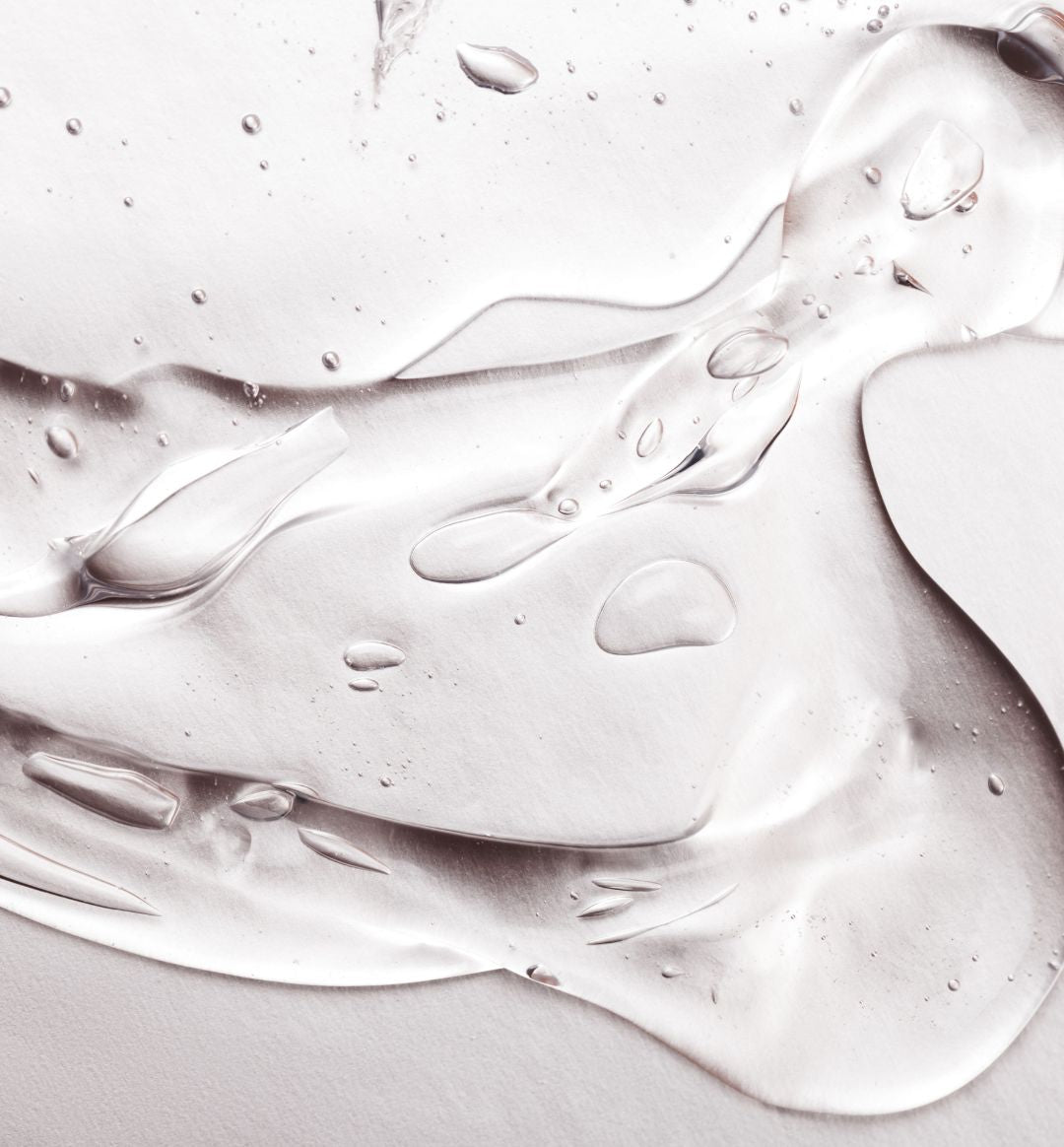 Are Alpha Hydroxy Acids Like Retinol or Hyaluronic Acid?
In the world of skin care, let's just say ingredients can get a bit confusing, especially if they have multi-tasking abilities that seem to overlap with other ingredients. Take alpha hydroxy acids: with the word "acid" in it, AHAs can come across as intimidating to use, especially if you have very sensitive skin. AHAs also have some similar properties to retinol, like the ability to shed dead skin cells, but they are two different things.
Some consider retinol a chemical exfoliant. Retinol does increase cell turnover like AHAs do, but exfoliation isn't its key purpose. Retinol is an anti-aging ingredient meant to promote collagen and elastin production, while reducing the appearance of fine lines and wrinkles! Plus, retinol works its most potent and safest magic while you sleep, whereas some AHAs can be used during the day.
Next up is hyaluronic acid! Though alpha hydroxy acids and hyaluronic acid share the word "acid", they are indeed different. Sure, hyaluronic acid (HA) has become the "pumpkin spice" of skin care at tackling all things dry and dull, its role is more of a hydration superstar, meaning it binds to water to plump up and hydrate your skin. These two acids have different, but great benefits for the skin.
Alpha hydroxy acids are powerful, natural skin care ingredients that can improve texture and minimize pores to promote cellular turnover and restore luminosity. The best part is that these all-star acids are diverse – there's something for every skin type! Take advantage of the enhanced product penetration, which has plenty of big benefits for skin! It's something your skin will fall in love with during the fall!
We carefully hand-select products based on strict purity standards, and only recommend products we feel meet this criteria. 100% PURE™ may earn a small commission for products purchased through affiliate links.
The information in this article is for educational use, and not intended to substitute professional medical advice, diagnosis, or treatment and should not be used as such.
Sign up to our email newsletter for more blog updates and exclusive discounts.
< Older Post | Newer Post >