How to Use Witch Hazel Toner
The most convenient way to add witch hazel to your skin care routine is to use it as a toner!
Posted on October 1, 2022
Written by: 100% PURE ®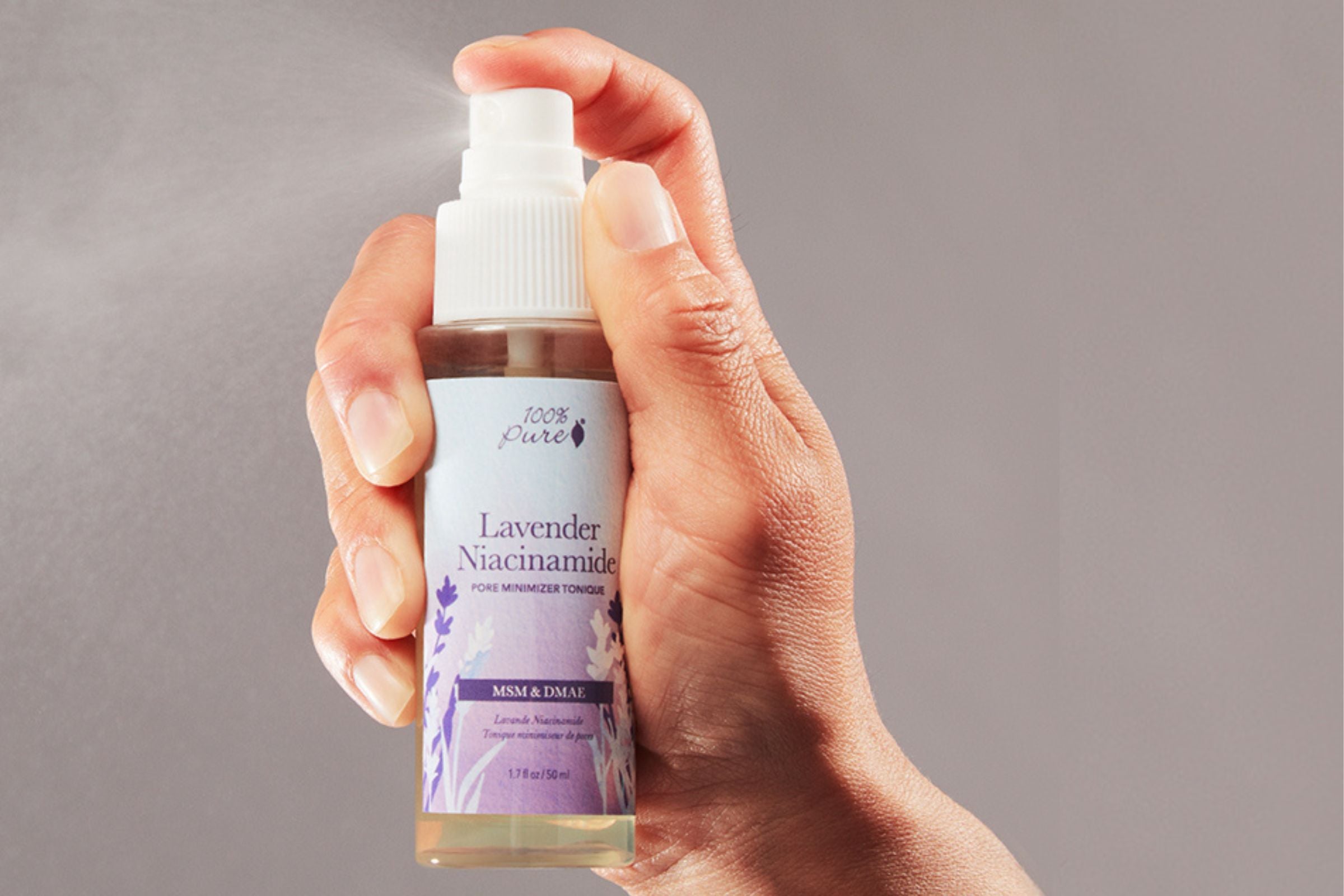 Sometimes the natural beauty community gets a bad wrap. People often look down on natural products or see them with a heavy dose of skepticism, believing that simply because they're natural that the products are less effective. When it comes to witch hazel, however, that's just not the case. Among popular natural skincare ingredients like tea tree and rose, witch hazel has a pretty well known reputation as a soothing ingredient for skin and skin irritation. The various skin benefits of witch hazel go far beyond a basic anti-inflammatory. Witch hazel toner is a great way to introduce this lovely ingredient to the skin. Stay tuned for the full breakdown on the why, when, and how to use witch hazel toner for the skin.
What is Witch Hazel?
We know that for some, witch hazel may be as familiar as rosewater; but for many, witch hazel may as well be a paint color. Witch hazel is a flowering plant native to China, Japan, and North America. The fringed yellow floral with a maroon bulb-like core blooms in winter and witch hazel toner has been documented for use in skincare as early as the 1800s. The astringent which is extracted from the plants' buds has been popularized by Native Americans for treatment of various inflammatory skin conditions - from mouth sores to menopause.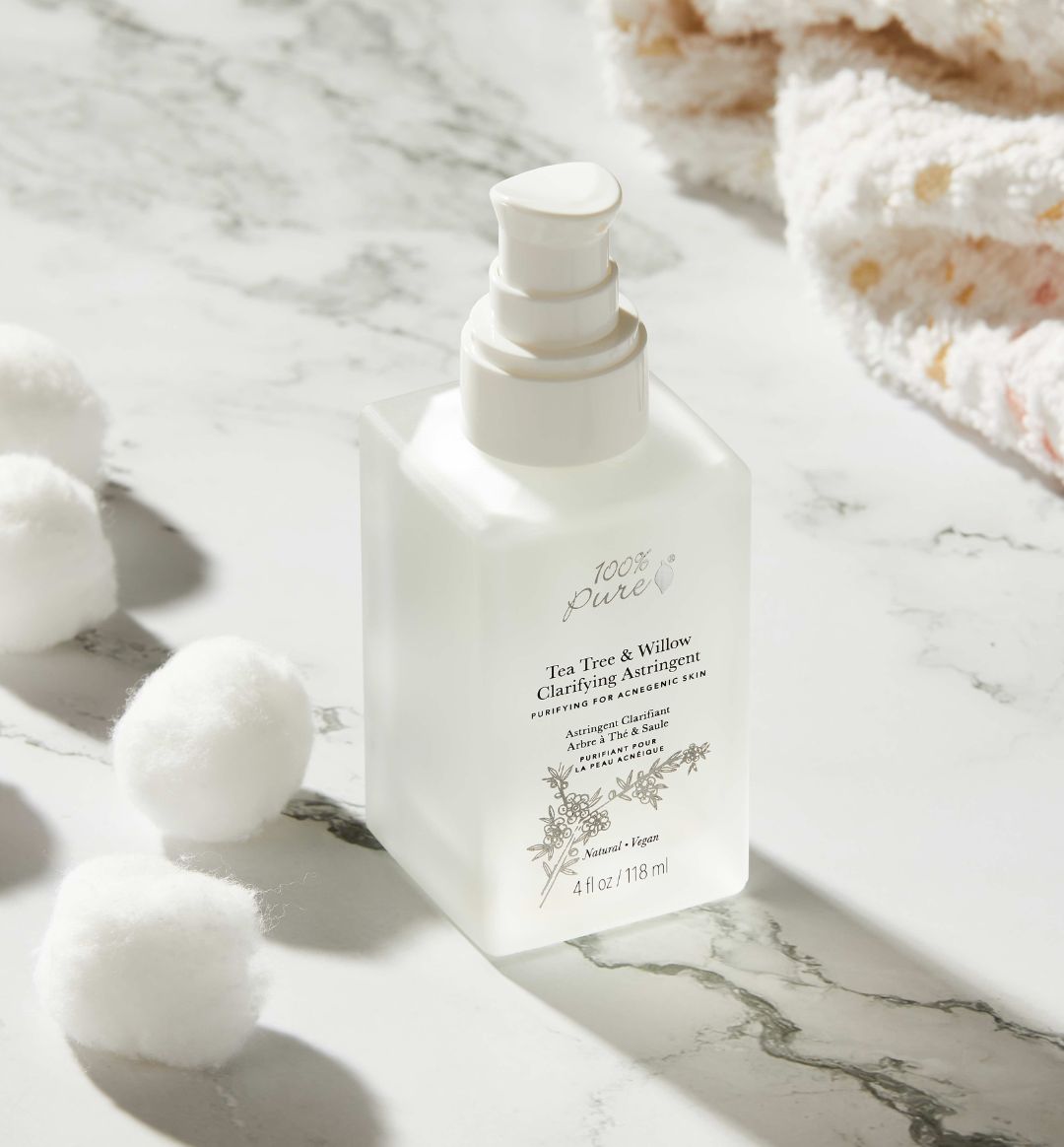 How Does Witch Hazel Work?
Formerly used as a general treatment for all sorts of irritated skin conditions, many healing ointments and creams may still contain witch hazel. Astringent witch hazel contains a component called tannins, which many may be familiar with in regards to wine. In the popular drink, tannins give wine a more complex flavor and texture, helping to create "legs" that indicate a quality vintage. With regard to witch hazel, however, we can think of tannins as emergency responders for inflamed skin.
The tannins in witch hazel help to diminish swelling, redness, and irritation by neutralizing the free radicals causing inflammation and drawing impurities out of the skin. One of, if not the most impactful benefits of witch hazel toner, this calming quality allows this ingredient to be so diversely compatible for different skin types and skin conditions.
Who Should Use Witch Hazel?
While we love witch hazel as a natural skincare ingredient, it's still important that we make sure ingredients and formulas work for our skin before adopting them into our skincare routine. Witch hazel is best for oily, combination, and oily skin types as it can really balance the skin; mildly dry skin types may also see the calming and balancing effects of using witch hazel toner. It's a great remedy for calming a breakout or skin reaction, but may not be the best for recurring skin issues or dry skin conditions like psoriasis. For those looking to treat acne, redness, and rosacea, it may be best to first try a patch test to determine how skin will react.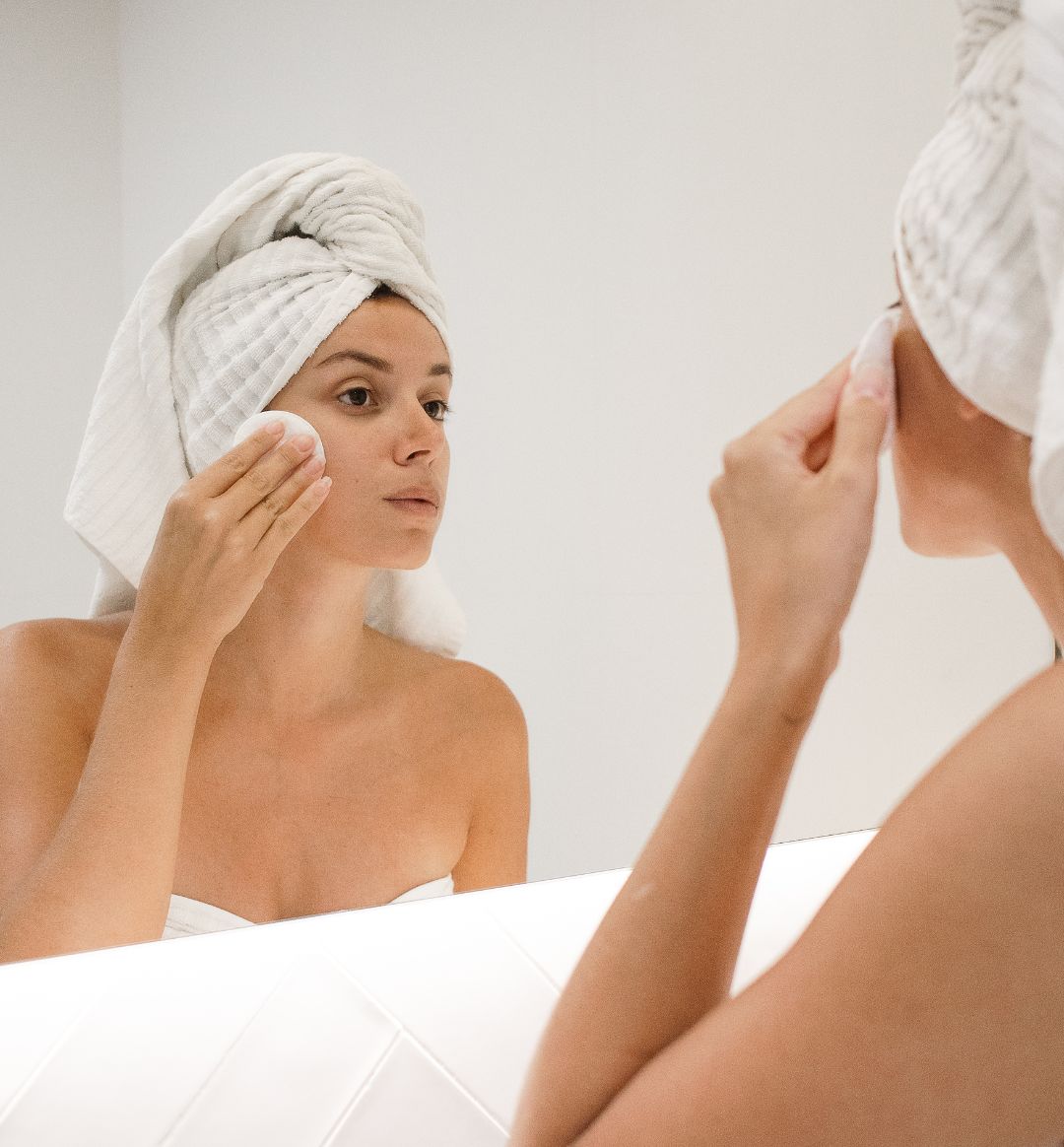 Skin Benefits of Witch Hazel
We talked a bit about how witch hazel is incredibly calming for the skin, but those aren't the only skin benefits of witch hazel. Witch hazel actually helps to positively influence the protein in our skin cells. This process results in smoother, firmer skin, reducing puffiness and leading to tighter pores.
We also mentioned that witch hazel contains antioxidants which can help to reduce the environmental damage our skin faces. Witch hazel helps to heal complexion issues like sunburn, sun spots, dark marks and melasma. It also helps to prevent our skin from suffering environmental damage, and this dual preventative and recovery benefits makes witch hazel toner an especially good ingredient for both day and evening skincare routines.
Finally, as witch hazel is a calming and balancing ingredient, witch hazel as a toner is a popular favorite for those with acneic, oily, and combination skin types. For those with active breakouts, antimicrobial witch hazel toner can help to diminish the redness and inflamed feeling of a rash or pimple as well as fight acne-causing bacteria for lasting calming results. And for those with excess oiliness or combating an oily T-zone, witch hazel can have a mattifying, neutralizing effect.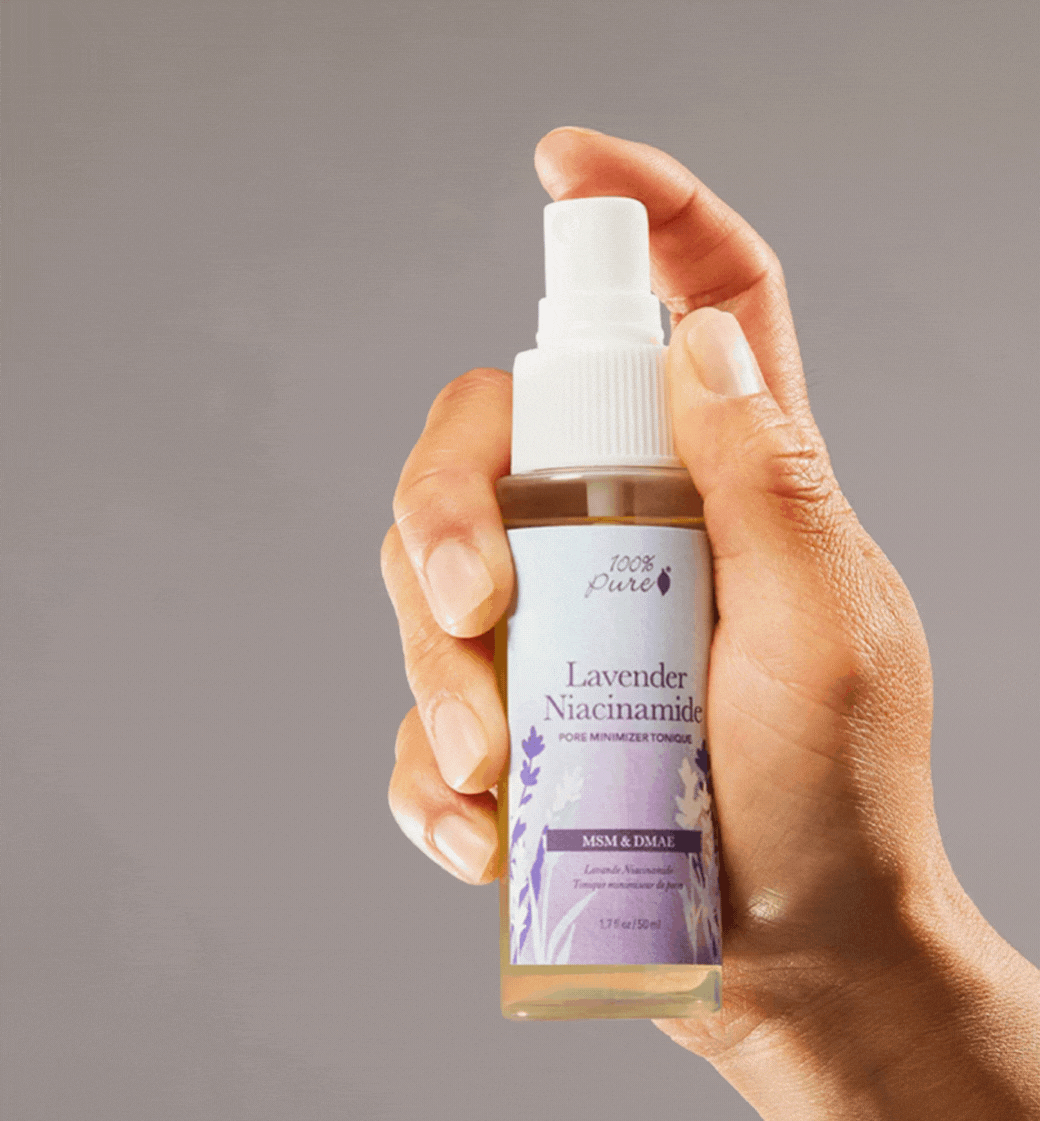 Best Witch Hazel Toner Products
It will come as no surprise that we have a list of witch hazel toner favorites to recommend because honestly, this spotlight ingredient is just that good.
Lavender Niacinamide Pore Minimizing Tonique
First up, our new lovely lavender and witch hazel toner. Great for all skin types, this hydrating toner has a base of calming aloe and lavender extract which help to soothe active breakouts, dryness, and imbalances in the skin. Witch hazel water makes a stunning performance of balancing and tightening tired, puffy fall and winter skin.
Skin types in need of TLC, look no further. The primary function of this toner is all in the name - restorative. Formulated with healing butcher's broom and our favorite ingredient of the day, witch hazel, this toner is made to reduce redness, swelling and puffiness. A great option for that time of the month or skin going through a rough seasonal transition, this thoughtful blend of aloe, rose water and witch hazel is like a shortcut to happier skin.
Jasmine Green Tea Balancing Toner
Those who are fans of brightening and anti-aging are going to love this spa-like toner experience. Formulated with antibacterial toning jasmine along with toning, balancing green tea, this toner is stacked to fight age-inducing free radicals and create bright, tight, smooth, and ageless skin.
Tea Tree & Willow Clarifying Astringent
Oily and combo skin friends, say hello to this beauty. Formulated with acne fighting heavy hitters like neem, rosemary, and tea tree, - not to forget witch hazel, of course - this star studded ingredient list is a breakouts' worst nightmare. Antimicrobial and antibacterial, they work together to fight acne causing bacteria as well as active inflammation on the skin to deliver faster recovery and diminished scarring - all in a single skincare step.
Need something stronger to fight acne, or just want an extra layer of witch hazel for even happier skin? Try a witch hazel-infused face mask for adding that extra hydration with the healing, calming benefits of soothing florals and anti-acne herbs.
Tips on Using Witch Hazel
As we mentioned, witch hazel has been making its way into skincare as early as the 1800s. One of the first documented cases of this was the production of distilled witch hazel by Thomas Newton Dickinson. With its wide availability today, witch hazel is most commonly incorporated into hydration products like serums, toners, and moisturizers. Even so, witch hazel toner is currently the most popular and beneficial way to get the skin benefits of witch hazel.
We recommend witch hazel toner to be applied between the cleansing and serum steps of a beauty routine; for those opting out of serum, this toner application would be after cleansing and before moisturizing. Depending on how thick or viscous the toner is, it may be sprayed directly onto the skin via a mist, or applied with hands or a cotton round. Ideally, apply toner to a clean cotton round so that it is damp but not dripping, then evenly spread toner over the surface of the skin. Allow a minute or two for the product to absorb before continuing on with the completion of the skin routine.
Toner is the first step in replenishing hydration to the skin after it's removed or depleted while cleansing. Because of this, it's important that the toner we use pack a big punch, like making sure our first meal of the day is hot and hearty. A witch hazel toner brings all those benefits of calming, healing, and balancing while also deeply hydrating the skin. Lightweight, it acts as the perfect priming base to layer on a hyaluronic acid or vitamin C serum to achieve clear, bright, and plump youthful skin.
In terms of crafting an overall skincare routine, it's important to remember that harsh, powerful, and astringent products may not be best for daily use. While its necessary to consider all the ingredients a product has, we recommend building up to daily (or almost daily) witch hazel toner use over time. Start with once or twice a week and limit introducing other new skincare products during this phase to determine the best frequency of using witch hazel toner for you.
We carefully hand-select products based on strict purity standards, and only recommend products we feel meet this criteria. 100% PURE™ may earn a small commission for products purchased through affiliate links.
The information in this article is for educational use, and not intended to substitute professional medical advice, diagnosis, or treatment and should not be used as such.
Sign up to our email newsletter for more blog updates and exclusive discounts.
< Older Post | Newer Post >