BB Cream vs. CC Cream - What's the Difference?
Whether you're going for a fresh, dewy look, or a smooth, matte finish one of these is for you!
Posted on December 26, 2022
Written by: 100% PURE ®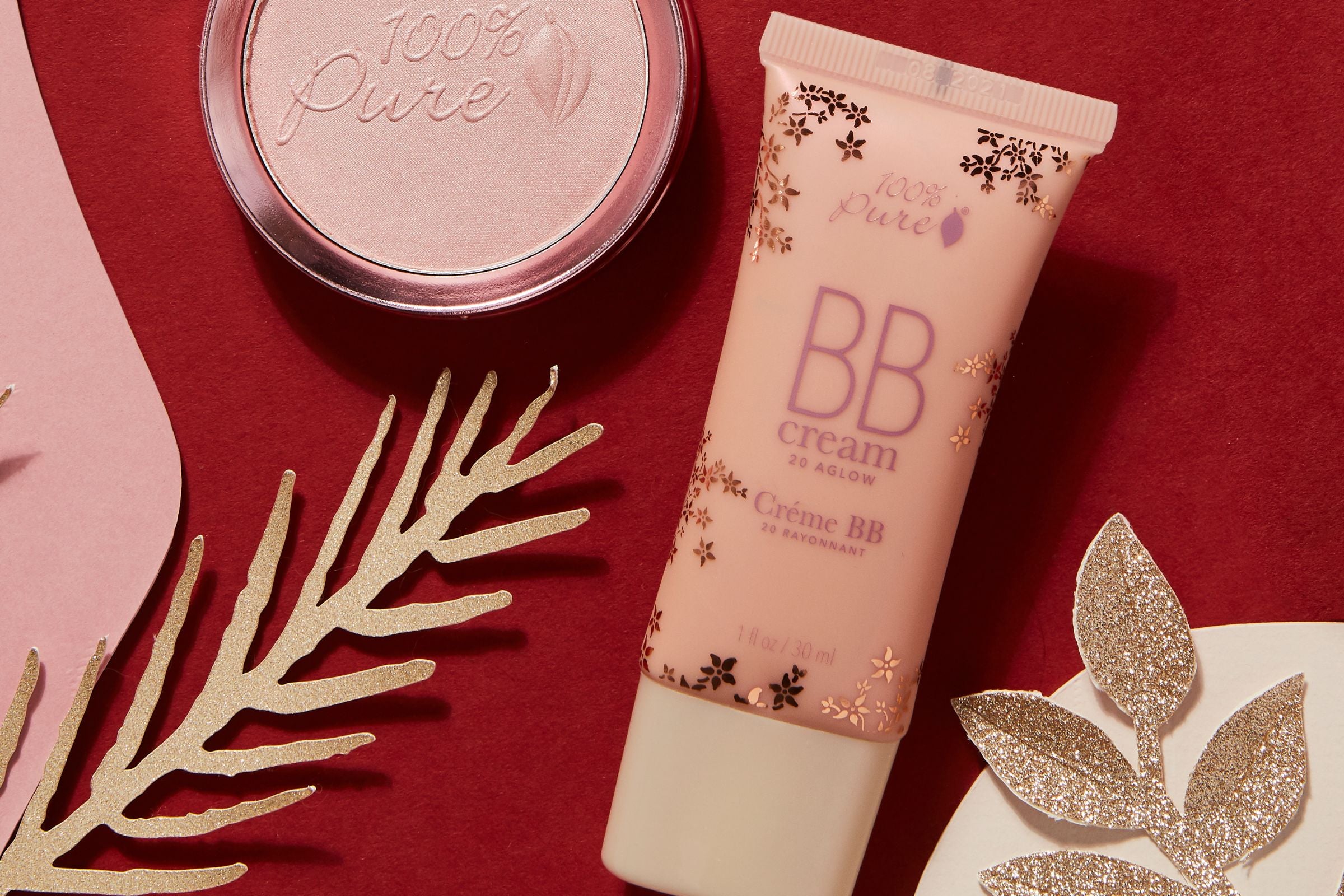 We understand the struggle that comes with being a makeup fanatic. When you think you know everything there is to know about one product, the internet starts recommending another variation of it. Since the beginning of the last decade getting the right shade of foundation was like a dream but now the options are truly limitless.
For a more natural everyday look girls have started opting for BB cream or CC cream instead of heavy foundations. To choose the right product for you, it's important to have all the information available. If you don't know what BB creams and CC creams are, then you are at the right place to learn.
What Are BB Creams?
BB is an abbreviation for Blemish Balm or Beauty Balm. It is like a tinted moisturizer. Most of these creams serve 2 purposes; first to even out skin tone and second to provide protection to skin from harsh sun rays. BB cream works great as a sunscreen, moisturizer, and mild-coverage foundation. BB cream is best to use for daytime looks because it is long-lasting and light.
Beauty Balms have been around for more than a decade, but they only became popular after the rise of K-beauty around the world. When BB creams were first introduced in the western market, they became a fan-favorite due to their skin-healing properties. Instead of fully hiding the natural skin, the purpose of BB creams was to improve the natural texture of the skin. BB creams came as a lifesaver to college students and working ladies who otherwise had to apply foundation daily.
BB creams work great for all kinds of skin types. The tinted moisturizer doesn't clog the pores and lets the skin breathe. People with sensitive skin have always been afraid of using foundation. For them, BB creams are perfect as they don't mess with the skin. In fact, BB creams are great for hiding imperfections and giving a natural finish.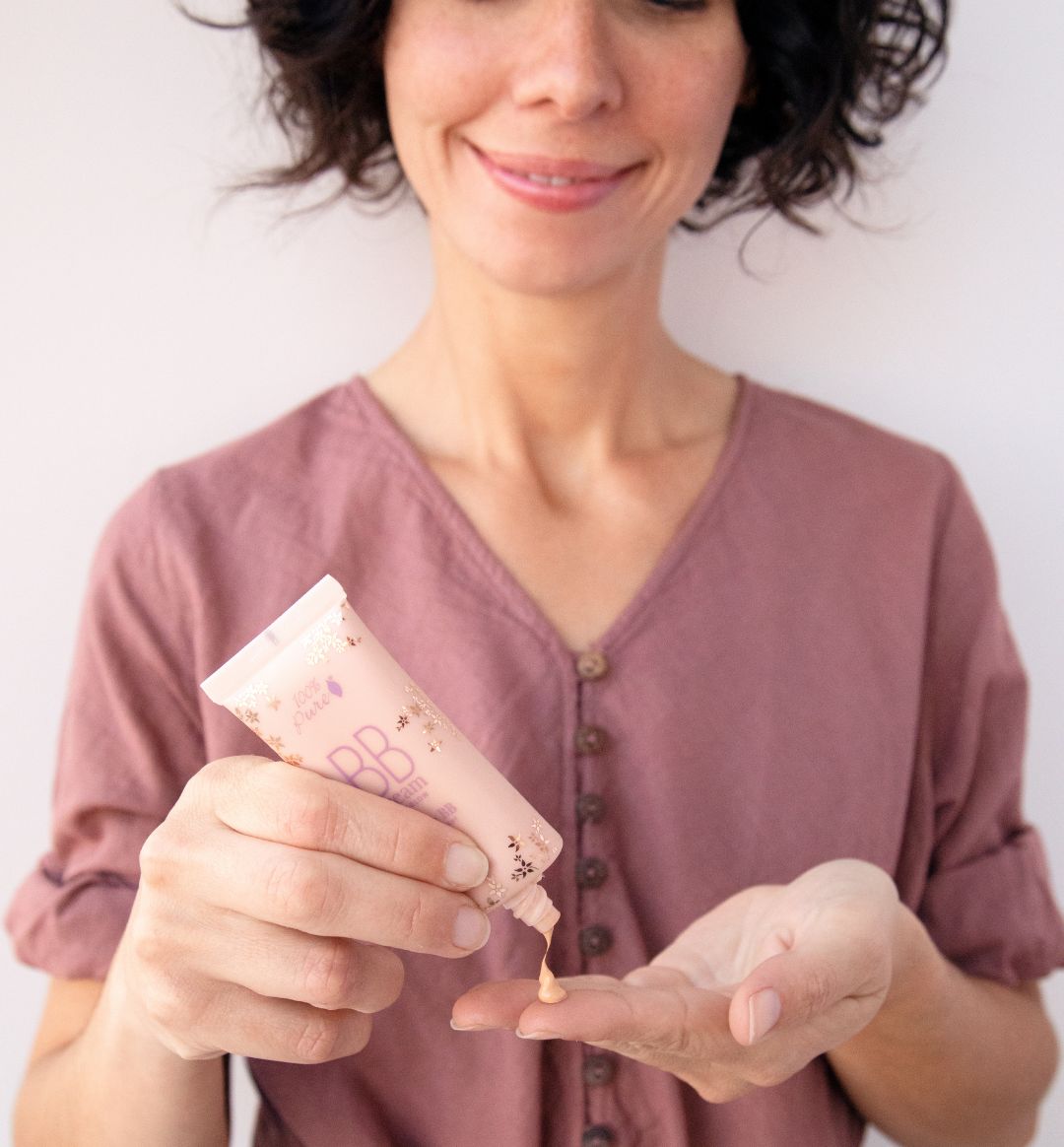 Try 100% Pure Natural & Cruelty-Free BB Cream
100% Pure BB Cream is great for everyday use. It is made from all-natural ingredients which makes it an excellent choice for everyone. The true purpose of BB cream wasn't just to be a makeup product, it also has the properties of a hydrating skincare moisturizer that makes skin better. Our BB cream uses all the plant-based key ingredients for each specific function:
Raspberry Seed Oil protects the skin against UVA and UVB rays.
Cherry antioxidants help in protecting and healing the skin
Bilberry Seed Oil enriches the skin with nutrients and fatty acids.
Shea Butter is nature's moisturizer
Cornflower calms and tones the skin
What Is the Right Way To Use BB Cream?
The biggest strength of BB cream is its multi-functionality. It mainly cuts down 4 makeup processes into one. For foundation, one has to prepare the skin with a layer of moisturizer, sunscreen, and primer. However, BB cream is often a 4-in-1 tube that makes your morning routine more efficient.
Cleanse and tone your skin, if you have dry skin then you should apply a moisturizer too.
Take a dime-sized BB cream and apply it to your face. BB creams are supposed to be spread more on the skin.
After that, you either choose to apply the rest of the makeup on it or you can use a concealer to hide prominent skin issues.
Newsletter
Subscribe
for more blog updates and exclusive discounts
What Are CC Creams?
CC is an abbreviation for Complexion Care or Colour Correction. For patchy and uneven skin, CC creams are a wonder cream. One of the most dreaded skin issues that come with aging is dry skin patches. The most frustrating thing that can happen after applying makeup is that it gets set in the dry patches. It completely ruins the makeup look and can damage dry skin.
For those who aren't very skilled in makeup, concealing and color correction can be a daunting task. In addition to vast knowledge, it is also costly to buy all these products individually. CC cream is a budget-friendly and efficient option. They can solve multiple skin issues like uneven skin tone, redness, dryness, and acne marks.
CC creams are a basic foundation, concealer, and color corrector all wrapped in one. The more makeup products you'll apply to your skin, the more it will be difficult to clean. To keep the skin feeling light and fresh, CC creams are great for daily use.
What Is The Right Way To Use A CC Cream?
CC creams were created to make getting ready easier and quicker for people. All you need is this one tube of CC cream and your three makeup steps can be done with it.
Cleanse your skin and apply a hydrating moisturizer.
Take a small amount of CC cream and apply it to your face. You can spread it with your makeup brush or a blender.
If some parts need more concealing you can apply a small dot of CC cream on them.
For a natural look CC cream works well on its own but for a more glam look, you can apply foundation on it as well.
What's The Main Difference Between BB And CC Cream?
BB creams and CC creams are probably one of the most confusing makeup products for many. Most people think they are the same just after hearing their names. However, it's not true as both of the creams serve different purposes. Below are some of the biggest differences between BB creams and CC creams.
CC creams give more of a matte finish while BB creams work best for a dewy look.
CC creams are lighter than BB creams
BB creams work well as a foundation while CC cream works better as a concealer and color corrector.
If you have normal skin with no major issues then pick BB cream and if you have sensitive skin with dryness or acne issues then choose CC cream.
Most Asked Questions About BB and CC cream
Can BB and CC cream be used together?

The short answer is yes. Both BB and CC cream can be used together to achieve the perfect foundation finish. After doing the standard skincare routine, you can apply CC cream for color correction and leveling your skin tone. Then, apply a thin layer of BB cream to get the perfectly naturally glowing skin look.
Can I apply foundation after BB cream?

BB cream is great for mild coverage. If you are someone who likes full coverage then you can apply another layer of foundation on BB cream. Keep in mind that BB cream doesn't provide a matte finish so you might have to use powder if you don't like the dewy look.
Can I use BB and CC cream every day?

Yes, both creams are safe to use for daily use. Most drugstore foundations are made from chemicals that are difficult to remove from the skin. 100% Pure BB cream is safe to use daily and easy to take off at the end of the day.
After BB and CC cream, is there a DD cream as well?

Yes, DD is short for Daily Defense. It is a combination of both BB and CC cream.
We carefully hand-select products based on strict purity standards, and only recommend products we feel meet this criteria. 100% PURE™ may earn a small commission for products purchased through affiliate links.
The information in this article is for educational use, and not intended to substitute professional medical advice, diagnosis, or treatment and should not be used as such.
Sign up to our email newsletter for more blog updates and exclusive discounts.
< Older Post | Newer Post >