5 Benefits of Using a Face Mist
Skin feeling thirsty? You might be missing a face mist – plus the best mists for hydrated, happy skin
Posted on November 21, 2022
Written by: 100% PURE®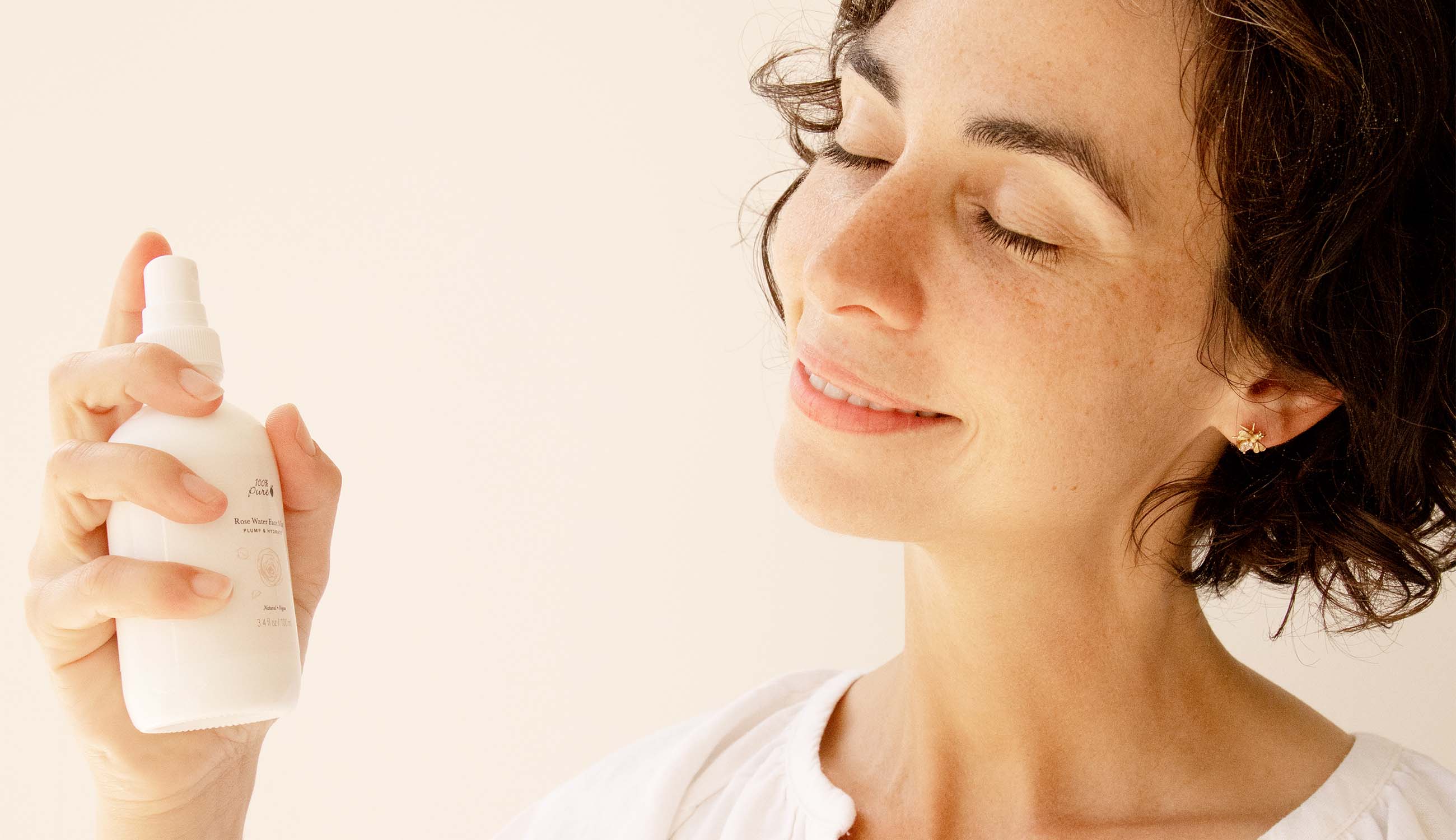 Is there something misting in your face routine? Maturing is realizing that no matter how our skin is behaving at the moment, a face mist is always a good idea.
Many of us are focused on simple and effective routines, which is important! But as the largest organ, our skin is constantly in a state of turnover and renewal. That requires hydration.
Sometimes, keeping a skin care routine simple means adding 1 little element to make it complete. Here are 5 face mist benefits that make a perfect complement to any skin type or skin care regimen.
What Makes a Face Mist?
We admit that a face mist does just look like a fancy face water bottle…but we promise, it's so much more than that! A face mist is a super-efficient way to give skin what it's craving – hydration, antioxidants, and glow. Unlike just spritzing water on the face, a beneficial face mist should be made up of nutrient-rich ingredients like hyaluronic acid or glycerin to boost lasting hydration.
We could think of a face mist as a second cousin to serum. It's more liquid in nature but just as beneficial and nutrient-rich, except with even more versatility. A great face mist can be applied any time of day or night on clean or made-up skin. It should also feel refreshing and pleasant (never greasy, heavy, or irritating).
It's all in the design. When we compare a face mist to other liquid-based skin care steps in our routines, the design and formulation of the product truly set a face mist apart.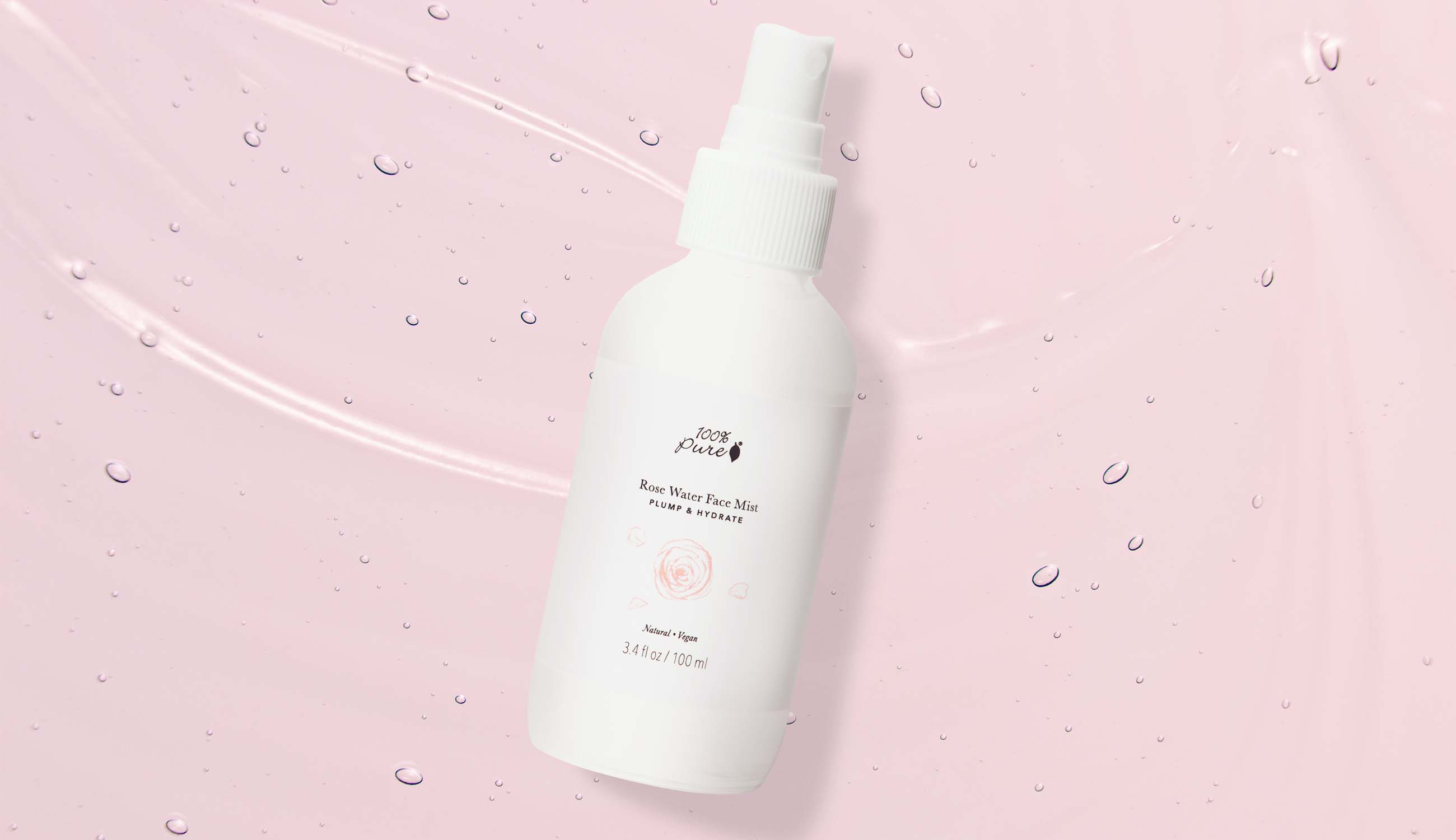 5 Face Mist Benefits
With its stellar hydrating and soothing abilities – plus anti-aging antioxidant powers – it's no wonder face mists have become an integral step in any skin care routine.
There are innumerable benefits of these lovely tonics. Let's talk about the top benefits of face mists and why they are key for healthy-looking skin.
#1 Non-irritating

Most natural face mists are non-irritating to the skin and safe for any individual with allergies or skin conditions. Most face mists have simple product formulas and include only natural soothing and hydrating ingredients that are usually compatible with a variety of skin types.
Combo and oily skin types may be giving us the side-eye right now, but face mists are all-skin type-compatible! There are plenty of face mists formulated with oil-absorbing and balancing ingredients included. Look for florals and herbs such as lavender, rosemary, nettle, rose, or peppermint.
#2. Replenishes dry skin

Face mists are hydration hero's and a fast track to infusions. As we mentioned, a face mist is similar in nature to a serum because the formulation is infused with positive skin-supportive ingredients like vitamin C, hyaluronic acid, and even AHAs. It's a bit of a skin care cheat because it allows us to soak in some of the good stuff without the effort of a 5- or 10-step routine.
#3. Versatile

A face mist is a super versatile and multi-purpose skin care tool. It can be used on clean skin to provide a bit of extra hydration when needed and to prime skin before a serum, moisturizer, or SPF. A face mist works as a midday pick-me-up, a "healthier" makeup setting spray, a great way to refresh the skin after cleansing, or as a boost layer when applying sleep or sheet masks.
Newsletter
Subscribe
for more blog updates and exclusive discounts
#4. Aroma-therapeutic benefits

With those lovely, natural ingredients in mind, a face mist acts as both a physical boost for the skin and an emotional boost via aromatherapy. Many face mists have ingredients for aromatherapy effects. This might be a floral or herb included that not only addresses a skin concern but provides a calming, rejuvenating impact on the mood.
#5. Balances skin care routines

Face mists fill the gap between skin care steps in a nearly effortless way. They add additional nutrition to routines that skip serum and additional hydration to routines that skip toner, priming spray, or setting spray. They also add additional balance to regimens that are adjusting to seasonal weather shifts. Basically, face mist is that girl.
Our 4 Fave Face Mists
Considering just how universally beneficial face mists are, we'll all be looking for the perfect face mist to add to our traditional skin care routine. Here are a few of our fan-favorites:
100% PURE Lavender Tonique
Ready for aromatherapy plus calmer, happier skin? A great option for all skin types, the lavender soothes sebum for balance, calms irritation, and sets skin afloat with happy thoughts. Great for acne-prone skin and humid climates looking for additional skin care harmony.
100% PURE Rose Water Face Mist
This face mist sinks into sensitive skin like a satin pillow. Calming, soothing, and providing lasting hydration, this rose smells as sweet as the real thing. Calming aloe, brightening white tea, and soothing chamomile make this a springtime promenade for any and every skin type to enjoy.
100% PURE Watermelon Cucumber Water Locking Mist
Our ultra-hydrating water mist naturally reinvigorates dehydrated skin cells and reduces signs of aging by locking in cactus juice, watermelon hydrosol, and hyaluronic acid. Featuring antioxidant olive squalene, this face mist helps repair dry, rough skin and soothes redness or irritation, while being non-greasy and a perfect everyday skin care staple.
100% PURE Lavender Niacinamide Pore Minimizer Tonique
A queen for balancing skin and minimizing pores, this floral tonique is great for all skin types. The simple formula shines with calming aloe as a soothing, softening base. Mixed with the lavender extract to treat oil imbalances, active blemishes, and irritation, the antimicrobial purple buds diminish acne and promote healing within the skin.
How to Use a Face Mist
Congratulations on choosing your new BFF: a face mist! Now you'll just need a quick refresher on how to use a face mist – plus a few do's and don'ts of using one:
Step #1:

Always cleanse skin before using a face mist to make sure the bulk of dirt and oil has been removed. Plus, cleansed skin can drink up the benefits of a face mist versus being blocked by dirty culprits.
Step #2:

Don't fully dry your skin after cleansing or toning (if you're using a toner). Gently patting face with a towel to remove excess water is fine, but leaving a little water (or toner behind) will allow your face mist to absorb more efficiently and increase hydration.
Step #3:

Close your eyes and mist 11-12 inches from skin. Relish in the tranquil moment of soothing mist!
Step #4:

Do not rinse or pat dry -- allow your face mist to air dry while it fully absorbs into skin.
Step #5:

Follow with your favorite natural serum, facial oil, eye cream, and/ or moisturizer.
PRO-TIP: A face mist can also be used throughout the day to quench dry skin. It can also be used as a setting spray for makeup.
We hope we de-mist-ified any reservations about incorporating a face mist into your daily skin care routine – and you've learned useful tips along the way about its benefits! A face mist is a great option for all skin types and sets skin afloat with happy thoughts. And remember - happy, healthy skin equals a happier you!
We carefully hand-select products based on strict purity standards, and only recommend products we feel meet this criteria. 100% PURE™ may earn a small commission for products purchased through affiliate links.
The information in this article is for educational use, and not intended to substitute professional medical advice, diagnosis, or treatment and should not be used as such.
Sign up to our email newsletter for more blog updates and exclusive discounts.
< Older Post | Newer Post >