4 DIY Multi-Mask Treatments
You can super-boost your skin care game by layering natural face masks – we'll show you how!
Posted on September 20, 2019
Written by: 100% PURE®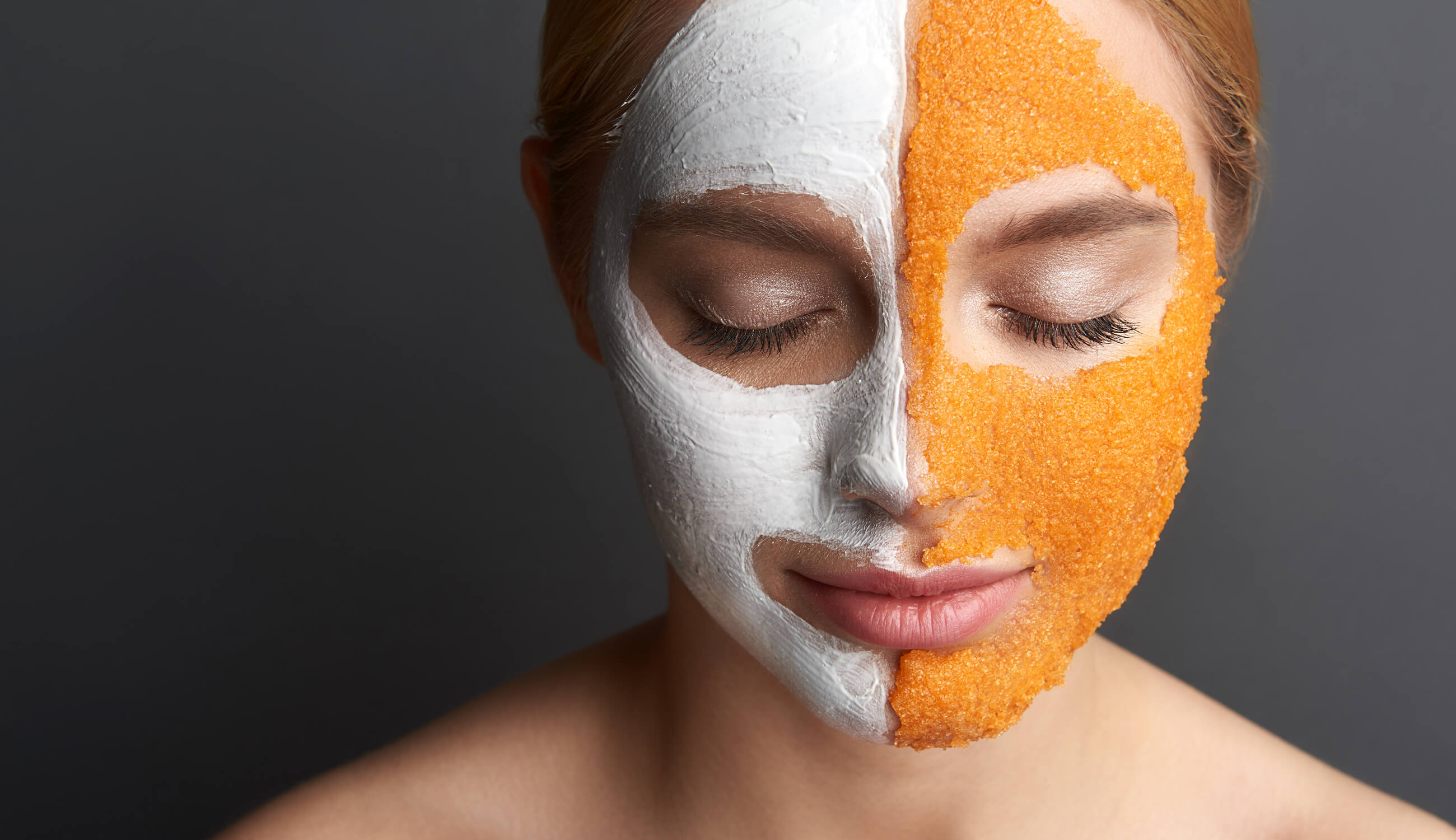 2019 has been the year of the face mask. Natural face masks are the closest thing you can get to a "quick fix" when it comes to skin care. Simply slap them on at bedtime, or while you're getting ready in the morning.
Face masks are super effective at combating heavy duty skin stress, and dealing with specific skin issues in certain areas of your face. The best part is that you can mix and match your natural face masks, creating one all-powerful mega mask! Different areas of your skin may need special care or respond better to specific textures. That's where multi-masking comes in – follow along, we'll show you the way!
How Multi-Masking Addresses Many Skin Issues At Once
When you're experiencing skin stress, it typically won't manifest as just one issue. When skin has been exposed to a significant amount of sunlight, pollution, or toxins, there are a variety of potential symptoms you might be experiencing.
First, you might see oiliness in your T-zone or dryness on your cheeks. There could be irritation in delicate areas around the nose and mouth, pore congestion on your chin, or exacerbated aging in the eye area. Maybe – if you're really lucky – you have some fun combination of all of the above!
The only way to battle a variety of skin issues at once is with a variety of targeted ingredients. Each can work synergistically, addressing different stressed sections of your face at once.
4 Layering Treatments Mapped with Natural Face Masks
With these struggles in mind, we've developed a pretty genius face mask hack (pat on the back to us). Cue the natural face mask map! In a nutshell, we've developed a series of targeted natural face mask treatments, and generated several routines that involve layering different masks on different parts of your face.
We'll get you started with some of our hardest working combinations, covering 4 of the most common skin concerns. This is a super customizable approach, so feel free to play around and figure out what your skin likes best.
PRO TIP: If you're cutting up a hydrogel mask, use an exacto knife. If it's a sheet mask, opt for scissors.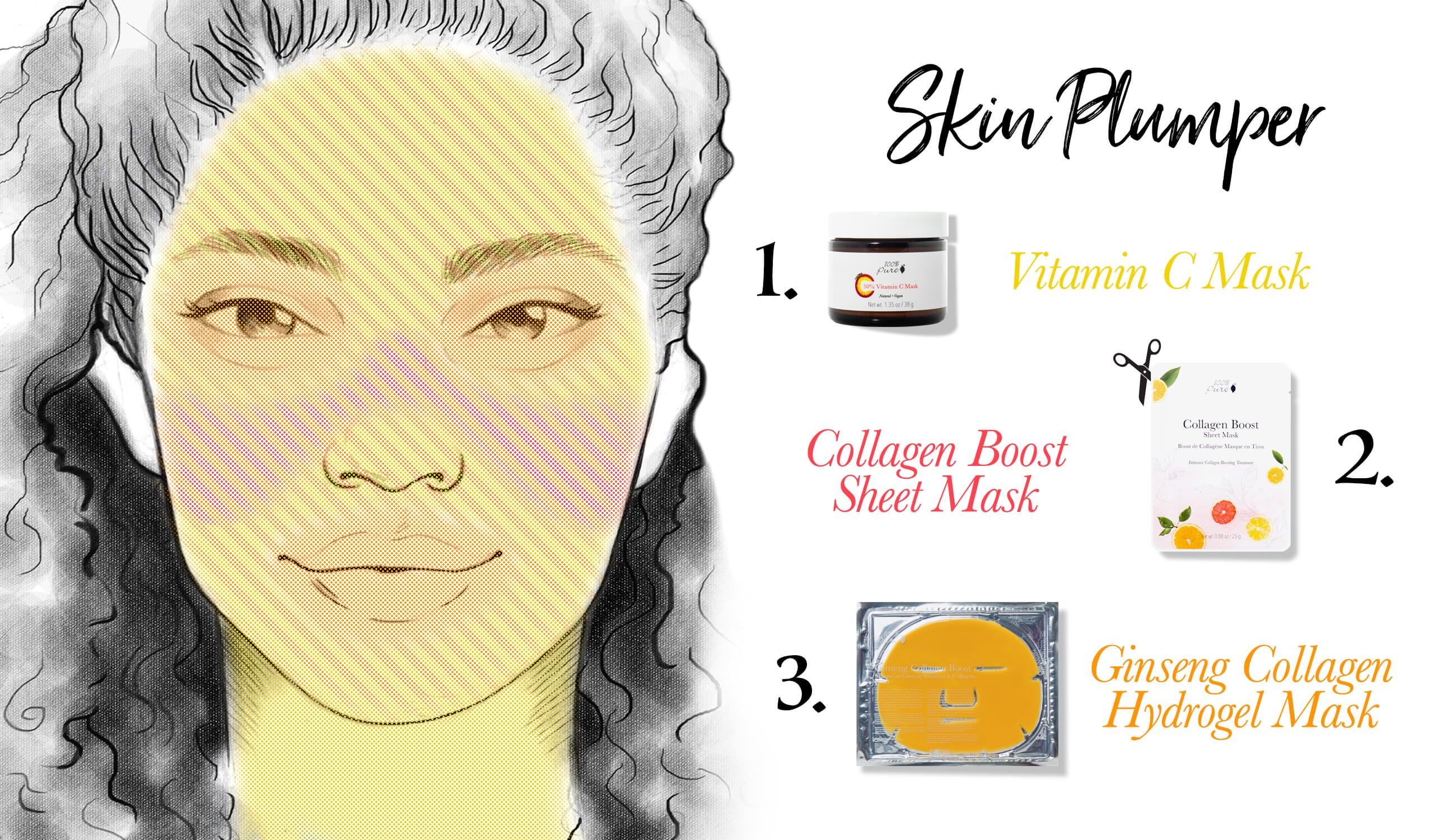 Multi-Mask Treatment #1:
Skin Plumper
STEP 1
We call this guy the Skin Plumper because after sitting through this routine, your skin will feel firmer and more supple – and did we mention the amped-up glow? Start by applying a thin layer of our Vitamin C Mask to freshly cleansed skin. Vitamin C is key here, working to deliver powerful antioxidants into your pores, which in turn promote collagen production and tissue repair.
STEP 2
Next, layer a cross-section of our Collagen Boost Sheet over your nose and cheeks. Strategically layered over the powder mask, this natural face mask will enhance absorption of vitamin C.
This sheet mask powerhouse is made with a long-list of collagen and elastin supporting ingredients, each working to enhance youthful suppleness. Aloe works its humectant magic by delivering a healthy dose of H2O, while Hylauronic acid and glycerin protect your lipid layer and lock in moisture and hydration.
STEP 3
For the final step, layer our Ginseng Collagen Boost Hydrogel mask over the first two layers. This anti-aging mask essentially dissolves into your skin, quenching dryness while gently plumping with hyaluronic acid and aloe water. Ginseng works to strengthen skin's elasticity and fortify cells. Think of it as the layer that locks everything in, reduces evaporation, and delivers an extra shot of antioxidants (now that your pores are extra receptive).
PRO TIP: Wear your layered creation for 15-20 minutes. After you've peeled away each layer, gently rinse away the powder mask with warm water. Follow with a vitamin C serum to reiterate the benefits of your multi-mask treatment.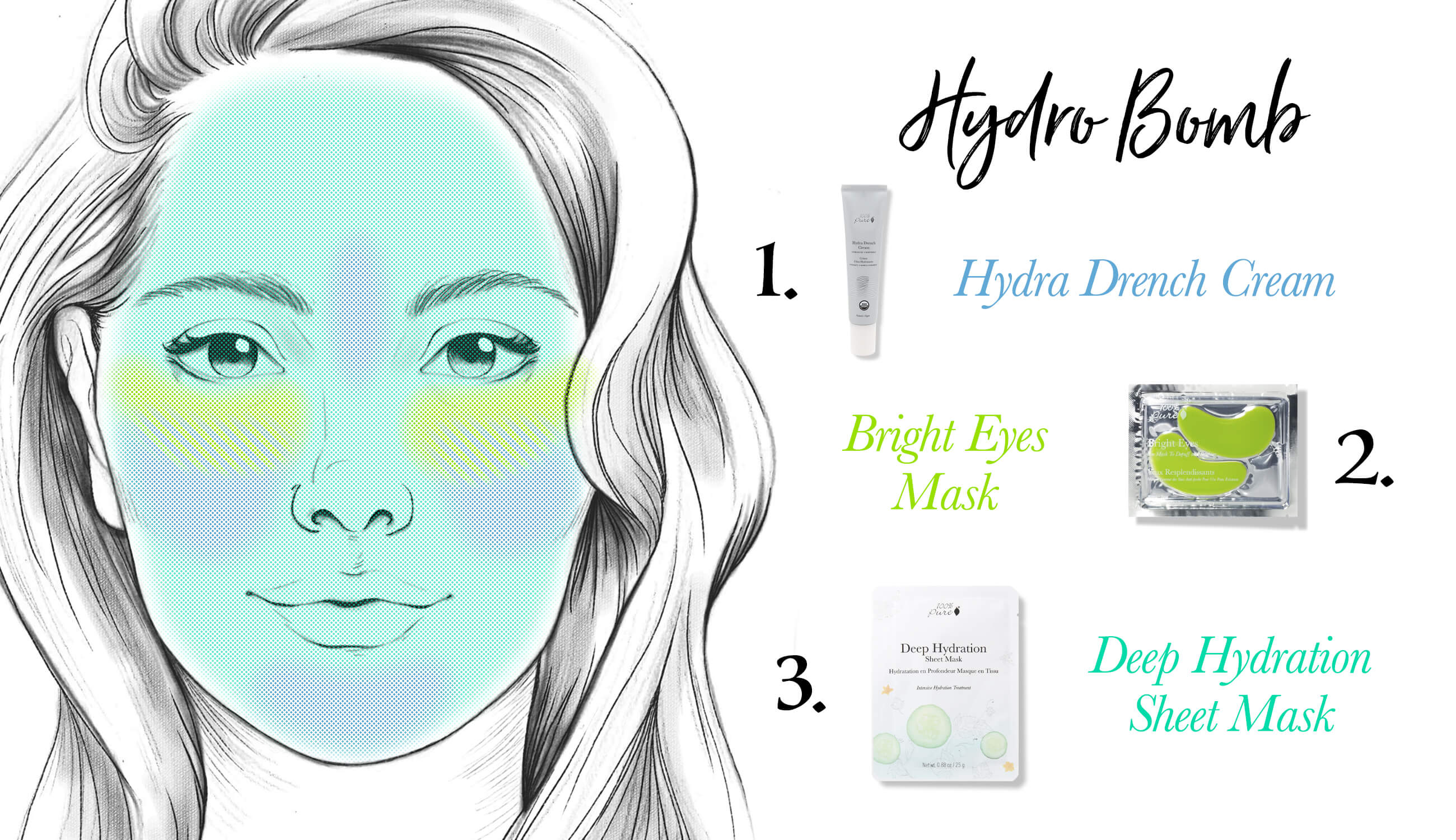 Multi-Mask Treatment #2:
Hydra Bomb
The Hydra Bomb mask routine is designed for people suffering from dry or dehydrated skin. Dry skin is the result of a lack of water in pores (and pores that aren't able to retain H2O). We've designed a routine to replenish dry skin, centering around ingredients that function like a drink of water for your dermis.
STEP 1
For the first layer of your Hydra Bomb treatment, apply the aptly named Hydra Drench Cream. Be generous with your application, making sure to apply a thicker-than-usual layer on especially scaly or flaky areas. Alongside superstar hyaluronic acid, this formula also features antioxidant-packed rosewater and calming nopal cactus. Chia seed gel delivers a serious hit of moisture with its water-absorbent properties, helping skin cells to retain more water for a firm, glowing complexion.
STEP 2
Next, slap a Bright Eyes Mask on the crescent of each under-eye. Often, skin suffering from dryness will show signs of dehydration most dramatically in the eye area. Compromised skin cells will translate into deepened fine lines, a sallow tint to skin, and an increase in undereye darkness. To treat all of these symptoms at once, we've incorporated super skin conditioning cucumber into our formula. De-puffing caffeine derived from yerba mate, green coffee, and green tea keeps eyes properly de-puffed.
STEP 3
Finally, blanketing a Deep Hydration Sheet mask over skin will complete the whole shebang! The final step locks the first two layers of humectants and plant-based oils into your skin, and nourishes with super hydrating plant ceramides.
Since this mask is made from sustainable and antibacterial bamboo cloth, it creates a substantial physical barrier. This barrier locks the initial two mask layers into your skin, while preventing toxins or impurities infiltrating your soft, open pores from the air.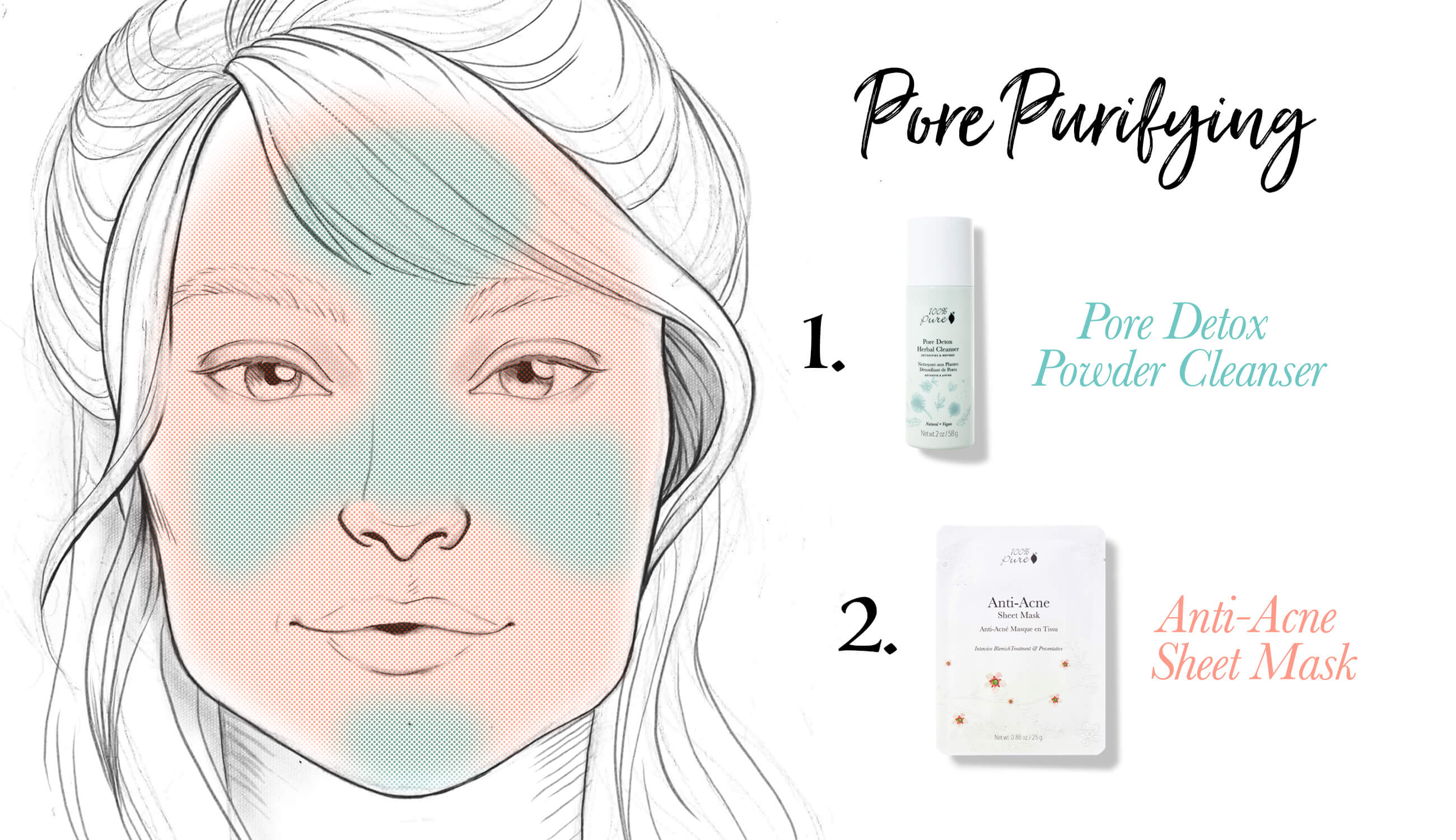 Multi-Mask Treatment #3:
Pore Purifying
This is a natural face mask routine designed to seriously clarify pores – especially beneficial for congested, acne-prone, or oily skin. Pores become clogged due to a combination of factors: inadequate removal of dead skin, the presence of acneic bacteria, and an overproduction of skin's natural lipids (sebum). Often a perfect storm of these factors will translate into chronic acne, and enlarged pores on the nose and forehead.
STEP 1
The first step of this multi-mask routine comes via a layer of the new Pore Detox Herbal Cleanser. The powder formula harnesses the power of neem: an Ayurvedic herb with naturally antibacterial and clarifying properties. Neem works alongside lavender flower and dandelion root (both anti-inflammatory botanicals), which help to purify and unclog the pores.
PRO TIP: Activate this powder cleanser with water before applying onto skin, concentrating application on your T-zone or other breakout-prone areas.
STEP 2
Your next (and final) step is layering the Anti-Acne Sheet Mask over the top. The soothing aloe base features antibacterial and clarifying rosemary extract, plus naturally astringent witch hazel to instantly soothe inflamed skin. Combined with the Pore Detox Cleanser, this combo works to draw dead skin from your pores, clear out any lingering sebum, and banish acne-causing bacteria.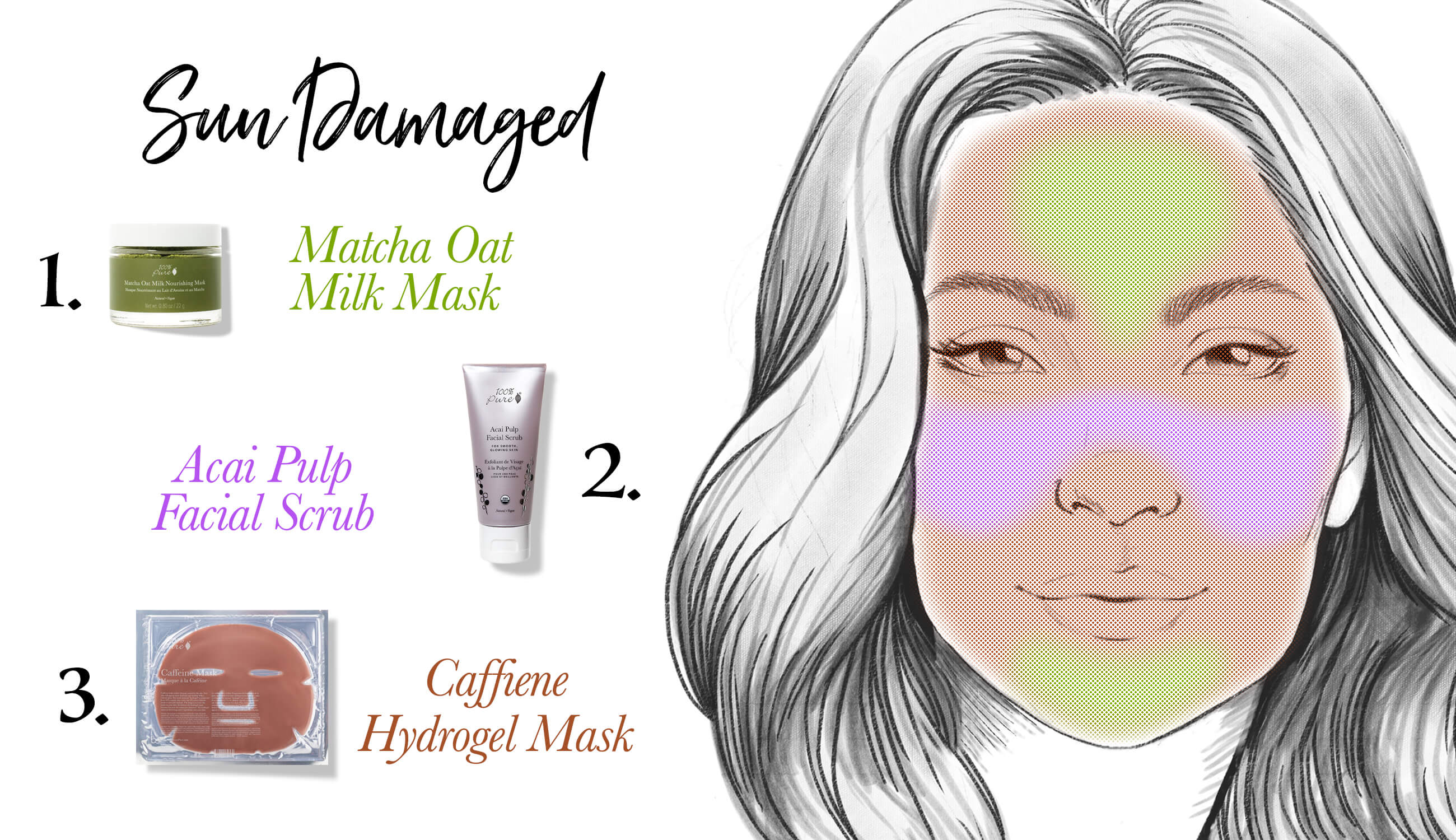 Multi-Mask Treatment #4:
Sun Damage Repair
This natural face mask treatment is for those of us who've spent a little too much time catching rays this summer. We've developed a targeted masking routine to deal with UV damage — starting with the ramifications of uneven texture and hyperpigmentation.
STEP 1
For the first step, we recommend that you apply our Matcha Oat Milk Nourishing Mask. It's a concentrated formula developed with soothing oats and creamy coconut milk. The formula also contains matcha extract, which works to battle redness thanks to a powerful antioxidant called EGCG.
STEP 2
Next, apply our Acai Pulp Facial Scrub to the bridge of your nose and all over your cheeks. Often, sun damage will hit right where you get the most sun: on your nose and cheeks. This results in a rough texture, and skin that's unable to adequately slough itself away. Sun damage in this area will often manifest with irregular skin flaking and pesky sun spots.
The Acai Pulp scrub relies on an organic grape seed exfoliant, which encourages skin cell turnover – revealing fresh, undamaged skin beneath. This superfood mask also injects your skin with dose of vitamin C, vitamin E, and plant flavonoids. To apply, wet hands then massage scrub gently into skin for 30 seconds.
STEP 3
For your last step, apply our Caffeine Hydrogel Mask over your entire face. This mega hydrating, skin-rejuvenating allstar combines green tea, yerba mate, and coffee to deliver a serious hit of caffeine. Applied topically, caffeine works to reduce swelling and redness, promote skin cell turnover, and improve circulation for a brighter, tighter complexion.
Our caffeine mask also contains seaweed collagen, a humectant that boosts skin elasticity and fortifies the structure of skin cells at the deepest level. As a last step, it will lock in your first two steps by amplifying moisture retention and forcing nutrients deeper into the pores. Say goodnight, sun damage!
Happy multi-masking, DIY beauty pro! Play around with these and see which works best for your unique skin type, and feel free to adjust and recreate as you see fit. Because beauty should always be customizable, right?!
We carefully hand-select products based on strict purity standards, and only recommend products we feel meet this criteria. 100% PURE™ may earn a small commission for products purchased through affiliate links.
The information in this article is for educational use, and not intended to substitute professional medical advice, diagnosis, or treatment and should not be used as such.
Sign up to our email newsletter for more blog updates and exclusive discounts.
< Older Post | Newer Post >