https://purity-res.cloudinary.com/image/fetch/q_auto:best,f_auto,fl_lossy,w_auto,c_limit,dpr_auto/https://cdn.shopify.com/s/files/1/0648/1955/products/36a309145cedc5cc8e53d26a9f4ef663_b97d3e57-2cdc-4d85-8329-5551692fb580.png?v=1530661523
https://purity-res.cloudinary.com/image/fetch/q_auto:best,f_auto,fl_lossy,w_auto,c_limit,dpr_auto/https://cdn.shopify.com/s/files/1/0648/1955/products/94faea200b5c08c99ebf148030139c96_c29f7695-066b-42fc-b990-1f6a17eb3404.png?v=1530661523
https://purity-res.cloudinary.com/image/fetch/q_auto:best,f_auto,fl_lossy,w_auto,c_limit,dpr_auto/https://cdn.shopify.com/s/files/1/0648/1955/products/bad8aab191cf4cc47a283b275b5ac34d_7bc09d74-c165-41a2-9b3c-984b2e257a9b.png?v=1530661523
https://purity-res.cloudinary.com/image/fetch/q_auto:best,f_auto,fl_lossy,w_auto,c_limit,dpr_auto/https://cdn.shopify.com/s/files/1/0648/1955/products/fc8aef81d6c3d5083932a81b3c1b8424_0676f9ca-9267-4c84-bb2d-efc355b4e619.png?v=1530661523
https://purity-res.cloudinary.com/image/fetch/q_auto:best,f_auto,fl_lossy,w_auto,c_limit,dpr_auto/https://cdn.shopify.com/s/files/1/0648/1955/products/024b74f7a6e0d10e03cccd8c08396945_dfc294f5-c269-446f-afa6-d8200c2d07cc.png?v=1530661523
https://purity-res.cloudinary.com/image/fetch/q_auto:best,f_auto,fl_lossy,w_auto,c_limit,dpr_auto/https://cdn.shopify.com/s/files/1/0648/1955/products/a8a5987ab0658ef38785966f40d05cdd_a6cdd3e1-350b-4d88-a410-f91431bf3448.png?v=1530661523
https://purity-res.cloudinary.com/image/fetch/q_auto:best,f_auto,fl_lossy,w_auto,c_limit,dpr_auto/https://cdn.shopify.com/s/files/1/0648/1955/products/cc39e874cd0c9875e4c80a254d8fb7c4.png?v=1530661523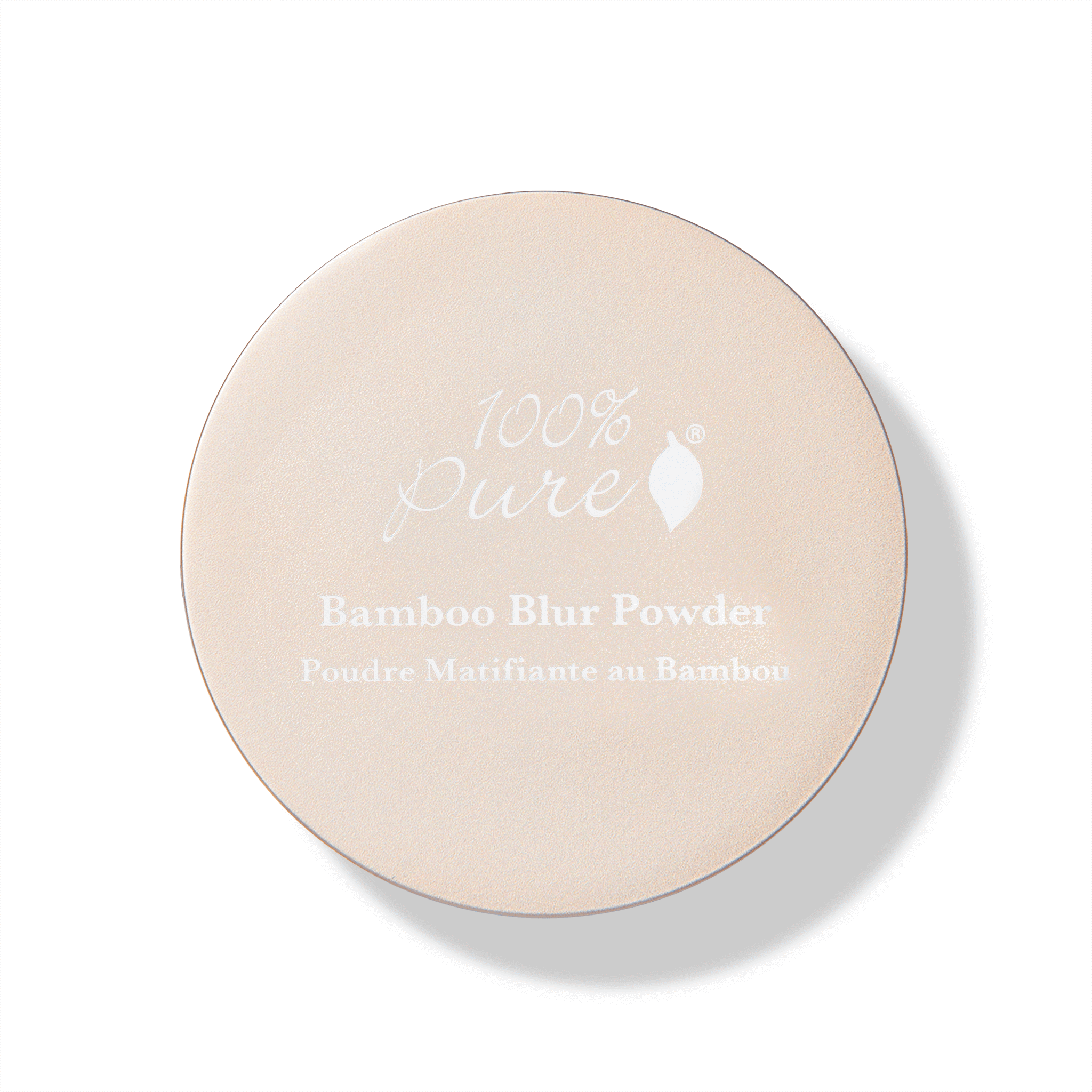 Bamboo Blur Powder
Fruit Pigmented®

Natural

Vegan

Cruelty Free

Gluten Free
Blurring, skin perfecting powder provides sheer to light coverage, and makes your complexion look silky and poreless. Mattifying setting powder made in a base of bamboo silica and colored from fruit pigments. Oil absorbing silica supports collagen formation and fruit pigments are full of vitamins and antioxidants for healthy skin.

Directions

This finishing powder can be used alone or on top of face makeup. Tap jar so powder comes to the surface of the meshed screen. Circle your Cruelty Free Kabuki Brush onto the mesh to pick up powder. Tap off excess powder and sweep from the center of the face outward.

Every ingredient we use is beneficial, here are a few:

Bamboo Silica

Bamboo Silica strengthens skin for a more radiant complexion.

Complete list of ingredients:

Bamboo Silica, Pigmented Extracts of Prunus Persica (Peach) Fruit, Prunusm Armeniaca (Apricot) Fruit, Theobroma Cacao (Cocoa Bean), Carica Papaya (Papaya) Fruit, Curcuma Longa Root (Turmeric), and Camellia Sinensis Leaf (Green Tea)
By using hashtag #100percentpure or #nodirtybeauty, I hereby grant to 100% PURE (Purity Cosmetics), it subsidiaries, agents and affiliates, the unlimited worldwide, perpetual, unending right to use, reproduce, distribute, and convey my image/photograph in any format or medium now known or subsequently developed, to modify and edit my image/photograph, to combine my image/photograph with other images, video, audio, text and other media, to create derivative works incorporating, including or based on my image/photograph. This grant shall be construed broadly.
---
Bamboo Blur Powder
has a rating of
4.5
stars based on
494
reviews.
Customer Reviews
Nice!
I use this over my Creme concealer and it helps it stay longer. Super silky texture. I have dry skin and live in a really dry state, and its winter, so I can't really use it for anything but my eye area at the moment because it just adds to my dryness lol. But I'm sure in the summer it will be nice! Hopefully is can keep my makeup from running or my face from getting super sweaty.
Great for Acne Prone Skin
Overall I'm a big fan of this powder. It didn't leave me shiny after a few hours of wear and never felt like it was congesting my skin. It can be a little tricky to get the right amount out of the container though, and can leave you looking a tad ghostly if your not careful but I think it blends into the skin after awhile so not too much of a biggie.
01/14/2019
Candice S Sorensen
Shine free all day
This leaves a very silky sheen feeling over my foundation and concealer and keeps my face shine free all day. A little goes a long way on a brush. Love this product!
Love this powder!
This powder smooths my skin and keeps it from getting shiny, without adding color or making me look yellow/orange. I love the "no makeup" look, but without powder, my pores stand out, and I am shiny by noon. This all natural powder is perfect for the natural look I love.
Dry!!!!!
I can't believe how dry this is!!! Like chalk I want my money back!!
So sorry to hear this didn't work well for you. Good news, we offer a great return policy! https://www.100percentpure.com/pages/promise-to-love
Complete the Package
Continue Shopping →