How this obscure ingredient can help your skin
Posted on April 9, 2021
Written by: 100% PURE®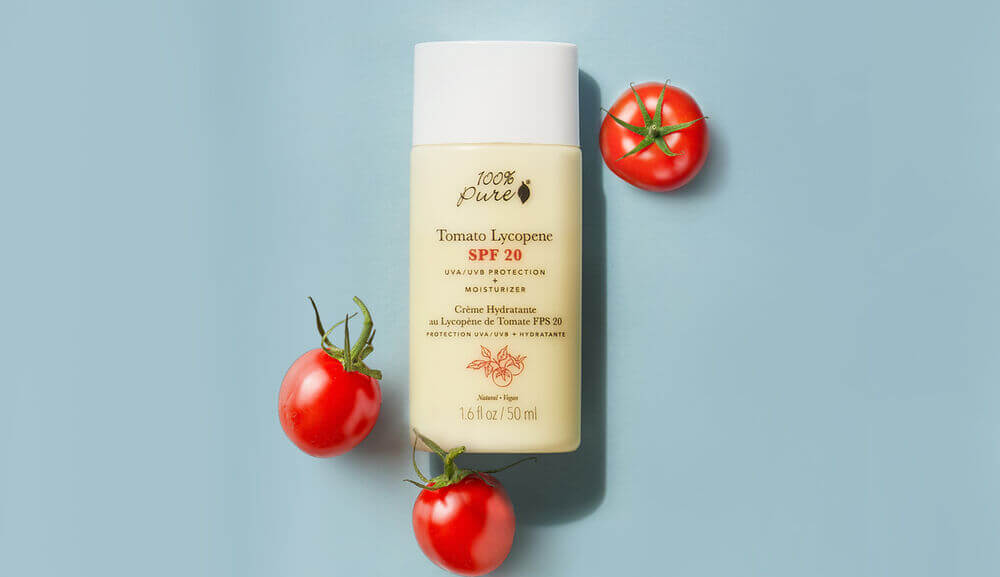 Fan of the color pink? How about the color red? Well then, you're going to love this antioxidant that gives fruits and vegetables it's blushing hue. The nutrient lycopene is found in some of our favorite produce items, but beyond being something we ingest: what is lycopene?
As a powerful antioxidant, this ingredient can help to smooth and transform the skin, enhancing that youthful glow we're always after. Let's dive into this lesser known antioxidant, and find out why we should be adding lycopene to our beauty rotation.
What Is Lycopene?
Lycopene is an antioxidant known for contributing color to our produce, adding anywhere from a golden to rust red tint to various plants. We see its hue in succulent fruits like tomato, guava, goji berry, watermelon, papaya, and grapefruit. Beyond the world of edible produce, it's also a key component in sea buckthorn and rose hips.
In addition to being an antioxidant, lycopene is also classified as a carotenoid (fitting, as lycopene can also be found in carrots). As an antioxidant, carotenoid lycopene can help to balance and support our skin cells by removing stressors linked to aging skin. It may also be beneficial for skin cell regeneration – but we'll discuss more on that later!
Benefits of Lycopene for Your Skin
So why do we love incorporating pink, red, and orange fruits and veggies into our skin care? Lycopene is an active antioxidant, anti-inflammatory, and may contribute to healthier skin.
Every day, we encounter free radicals that can cause dullness, signs of aging, and sun damage in our skin. As an antioxidant, lycopene works to stabilize the imbalance that free radicals cause in our skin cells. By supporting skin's collagen structure to (literally) fill in the gaps, lycopene may help lessen the appearance of fine lines and wrinkles.
Since lycopene is a powerful antioxidant, it can help deactivate the environmental stressors that clog our pores and trigger damaging inflammation. We like to think of it as our "rose colored glasses", because this rosy hued nutrient can also shield our skin from sun damage. While lycopene is supporting skin repair, it is adding a touch of sun protection for our skin.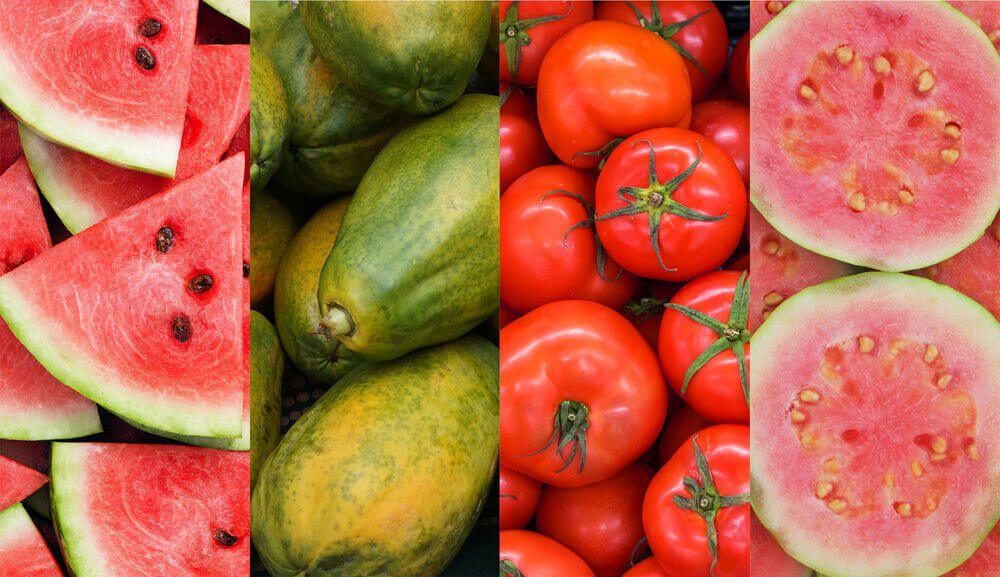 How Do We Get It?
Know that we've given you the answer to 'what is lycopene', how about the next question: how do we get it, and who should be using it?
While lycopene is found in fruit, guzzling down a jar of guava juice isn't the best way to support our skin. Lycopene holds many internal benefits, such as promoting heart health and helping with eyesight – but employing a topical solution might be more impactful.
One of the best ways we see lycopene utilized in skin care is through sunscreen.
As we mentioned before, lycopene has natural UV-shielding properties for the skin. That's why we've incorporated it in our Tomato Lycopene SPF 20 Moisturizer. Natural, vegan, and safe for moms, detoxifying lycopene works as a powerful ingredient in this lightweight SPF.
You may be wondering if lycopene is compatible with your skin type. We love this powerful ingredient for combo and oily skin types, because it helps keep the pores clear and smooth. And if you're struggling with melasma or acne scars, this could be just the transformative ingredient you're looking for.
While lycopene is considered an active ingredient, it isn't necessarily stimulating or harsh. That being said, if you have sensitive skin, try a patch test first. Some areas of the skin can be a bit more reactive, and the skin can be more sensitive at certain stages of our routine.
Our balancing EGCG Serum brings detox power to all skin types while toning and hydrating the skin. This serum features lycopene in the form of goji berries, which contribute to smoother skin while defending against free radical damage.
Key Takeaways
Lycopene is a carotenoid antioxidant that can filter harmful UV light, boost collagen production, diminish fine lines, and promote brighter, smoother skin overall.

We find lycopene naturally in vibrant plants, fruits, and vegetables. A few star players are carrots, rose hips, guava, goji berries, watermelon, and tomatoes.

Lycopene makes a great addition to any serum or SPF, and works on any skin type. Just be sure to patch test your lycopene product if you're prone to irritation or have sensitive skin.
Explore more natural beauty ingredients on our blog!
We carefully hand-select products based on strict purity standards, and only recommend products we feel meet this criteria. 100% PURE™ may earn a small commission for products purchased through affiliate links.
The information in this article is for educational use, and not intended to substitute professional medical advice, diagnosis, or treatment and should not be used as such.
Sign up to our email newsletter for more blog updates and exclusive discounts.
< Older Post | Newer Post >