Vitamin C The Ultimate Skincare Guide
How to use vitamin C in your skin care routine, the best forms of the citrus antioxidant - plus the best products for brighter, firmer skin
Posted on January 5, 2023
Written by: 100% PURE ®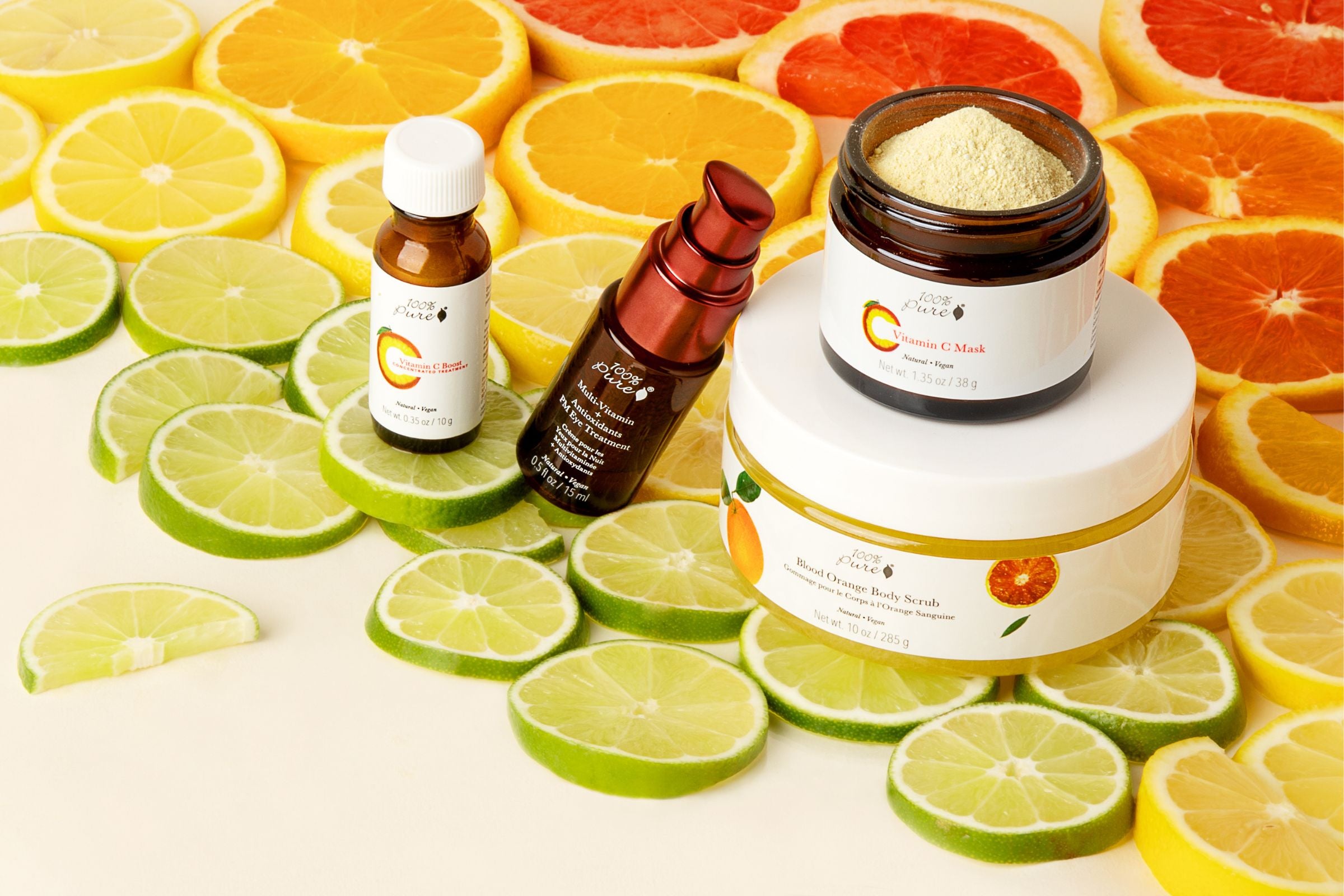 There's an all-star reason it's known as vitamin C-elebrity. Though it comes in third on the red carpet of skin care ingredients, with anti-aging "A", and then breakout-preventing "B", citrus-celeb vitamin C gets first place from skin care experts from around the world as a timeless, anti-aging classic among ingredients A - Z. Its skin-efits are just the tip of the peel!
Most of the skin care enthusiasts out there know the importance of vitamin C and the evidence behind it, and for those who don't – we're not going to gatekeep the benefits of this citrus superhero! But is our skin ready to drink up this potent antioxidant?
With so many different types of vitamin C-eleb out there, this topical vitamin can become vitamin C-onfusing regarding which form is best for your unique skin type. We're here to give you a closer look and all the juicy benefits of vitamin C, explore its different forms, and how our founder created a stable form of vitamin C featured in our best products for brighter, youthful skin.
What Is Vitamin C?
Citrus itself is an all-around health superstar, and that's no secret. Whether it's sipping an alkalizing lemon-infused water, or upping your OJ intake on vitamin C as a cold buster in winter, we're more than a little citrus-impressed and reliant on its health-boosting benefits. Though we're pretty impressed with the whole citrus family, vitamin C has a unique status as a body and skin-renewal VIP!
Vitamin C, also known as ascorbic acid, is an essential nutrient known for its role in immunity and function support in the nervous system. This potent vitamin is required for the growth and repair of all body tissues, including our largest, the skin. Vitamin C is considered an essential vitamin, meaning that our bodies cannot produce it alone, and therefore need a helping hand!
Obtaining this nutrient from the foods we eat is one of the easiest ways to reap its benefits. Luckily, vitamin C can be found in a wide variety of fruits and vegetables, including berries, kale, kiwi, broccoli, papayas, peas, and citrus. According to the National Institutes of Health, the daily recommended intake for vitamin C is 75 mg for women and 90 mg for men.
Meanwhile, individuals often obtain the benefits of this nutrient in a few other ways: not only by taking multivitamins or supplements for their diets, but also through skin care products like vitamin C serums and masks. This isn't too surprising though, as vitamin C can offer a wealth of benefits to the skin. More on those soon!
How Does Vitamin C Work?
Before we spotlight the key benefits of vitamin C, we need to learn how this super antioxidant works and why it's doted on for our skin. Unfortunately, there are things lurking "free" in our everyday environment that harm our skin. These 'outside sources' or free radicals can include UV rays, toxins, pollution, environmental damage, and so much more than our eyes can see.
The problem with these environmental recluse's is our bodies and cells are continuously bombarded with these non-law, body-abiding radicals and they can damage the dermis of the skin and alter DNA, the moisture barrier, skin texture, color, cell functioning, and how your skin ages. This is all oxidative stress. So, how does vitamin C help with this?
Vitamin C's excellent antioxidant properties prevent and stop cellular damage caused by oxidants. In fact, when properly applied, vitamin C doesn't oxidize at all. This shows how topical vitamin C can prevent oxidation, and therefore, slow down the visible signs of aging.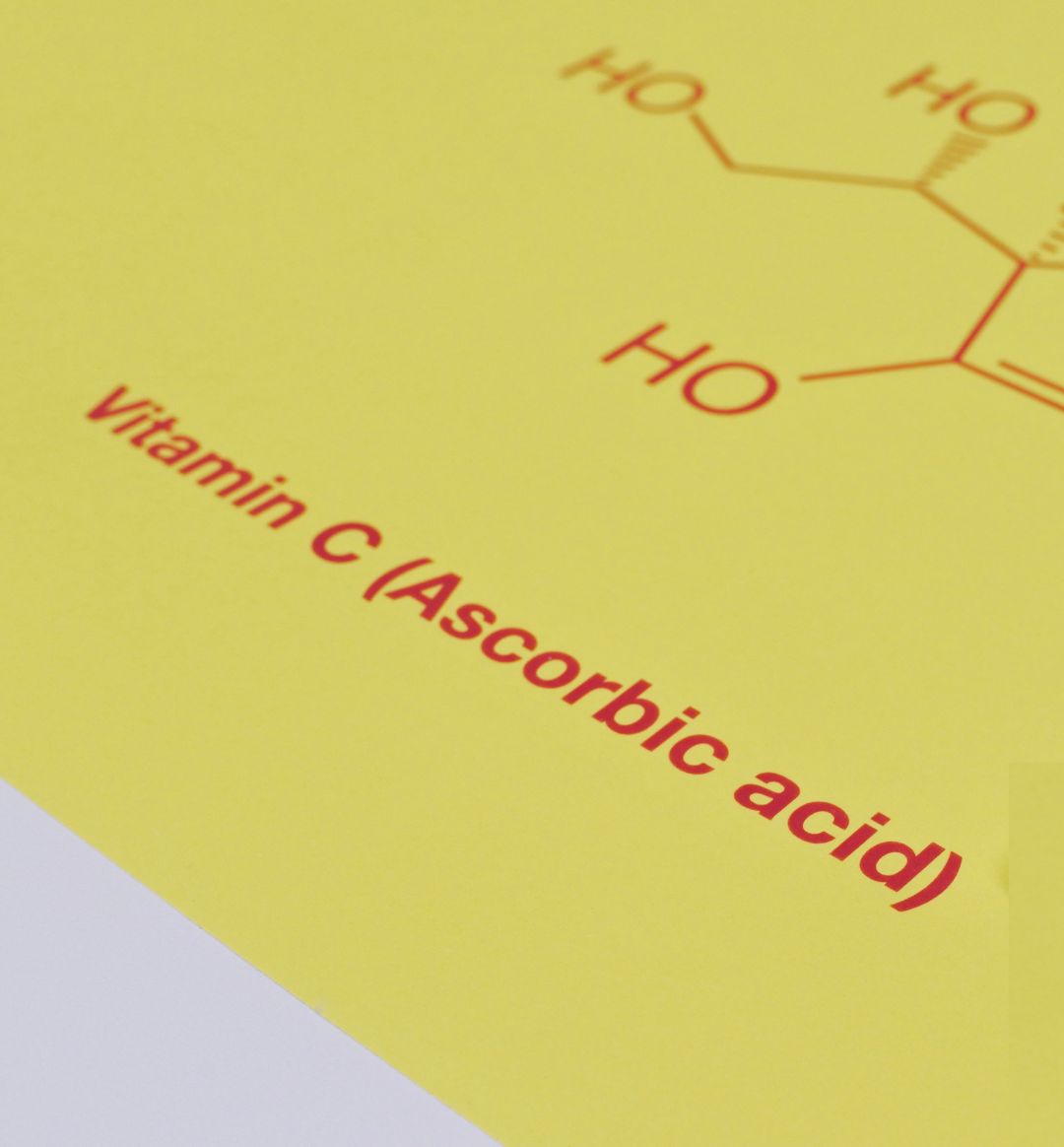 The Different Types of Vitamin C for Skin
Vitamin C is a universally beloved supplement with an impressive track record. Applying it topically can help shield delicate skin from daily aggressors and support a youthful complexion. But the key to this citrus wonder doesn't come down to the product – it's the particular form of vitamin C that's being applied.
Let's explore the chemistry of this spectacular beauty ingredient, and discover how each form of vitamin C differs from the next. We'll also touch on why some forms work better in certain formulations – don't worry, we'll make it easy as 1-2-C!
Newsletter
Subscribe
for more blog updates and exclusive discounts
#1: Ascorbic Acid

Ascorbic acid or L-ascorbic acid is the most well-known and well-researched form of vitamin C in the skin care game. It's the most effective at penetrating the skin barrier; the most common type of vitamin C used; it's overall stable, water-soluble, and quite effective.
When properly formulated at a pH of less than 4, this type of vitamin C has great anti-aging benefits for normal skin types. Sensitive skin types should look for a higher pH of 5-7 – closer to the skin's natural pH – to avoid irritation. Start with a low concentration of 10% for dull or uneven tone and slowly increase as skin can tolerate it.
PRO-TIP: For oily or normal skin types, L-ascorbic acid can be the most beneficial, while dry and sensitive skin types may experience adverse reactions.
#2: Sodium Ascorbyl Phosphate

As opposed to L-ascorbic acid that can penetrate your skin, sodium ascorbyl phosphate converts into ascorbic acid once it's applied to the skin. Though this process will make it less active, it will be less irritating and beneficial for those with sensitive skin.
#3: Magnesium Ascorbyl Phosphate

This type of vitamin C, also referred to as MAP, is water-soluble, which makes it great for sinking into the skin easily. It's one of the most hydrating in its class, and can effectively soothe skin irritations with its anti-inflammatory properties. MAP is also great for acne-prone skin types, as it can prevent the oxidation that leads to blackheads.
#4: Sodium Ascorbate

This vitamin C goes through a metamorphosis on the skin. Much like its close relative sodium ascorbyl phosphate, sodium ascorbate falls under the category of mineral salts. As we know, ascorbic acid is the purest form of vitamin C, and this form is the sodium salt of ascorbic acid. But it doesn't fall short on its wealth of skin benefits, from scavenging free radicals to lightening skin discoloration.
#5: Calcium Ascorbate

As another mineral salt of ascorbic acid, calcium ascorbate – often referred to as Ester C – is an anti-aging antioxidant that plays a pivotal role in collagen synthesis, tissue and wound repair, and antioxidant defense. Calcium ascorbate also has great skin-hydrating effects, and is effective at a neutral pH, which means that it's non-irritating to skin.
#6: Ascorbyl Palmitate

As a fat-soluble derivative of vitamin C, ascorbyl palmitate will be non-irritating for sensitive skin types, but more stable when exposed to air and light than ascorbic acid. Ascorbyl palmitate has milder effects on the skin than ascorbic acid. However, it is still beneficial for aiding in collagen production, mitigating hyperpigmentation, and improving skin texture.
What Makes Our Vitamin C Serum So Special?
If you recall from the beginning of this post, we're not going to gatekeep the benefits of vitamin C, and that includes in the spirit of transparency, offering up the ins-and-outs of our beloved vitamin C products.
Our vitamin C formulas contain a concentrated, stabilized, and easily absorbable form of plant-derived vitamin C. This boosts the potential for better collagen production and potent antioxidant defense.
Conventional cosmetic companies use less stable forms of vitamin C, which oxidize too quickly and can spell trouble for your skin. During oxidation, vitamin C converts to skin damaging free radicals, which accelerate signs of aging and degenerative skin diseases. 100% PURE Founder and Chief Creative Susie Wang first discovered this during college after buying a much-touted vitamin C product, which quickly oxidized, posing dangers when applied to the skin.
It became her mission to flip the script on preventing harmful vitamin c oxidation in skin care. Susie's years of experience and expertise resulted in a stable and potent form of vitamin C. We've developed some targeted vitamin C products with the powerful benefits of the citrus celeb in mind.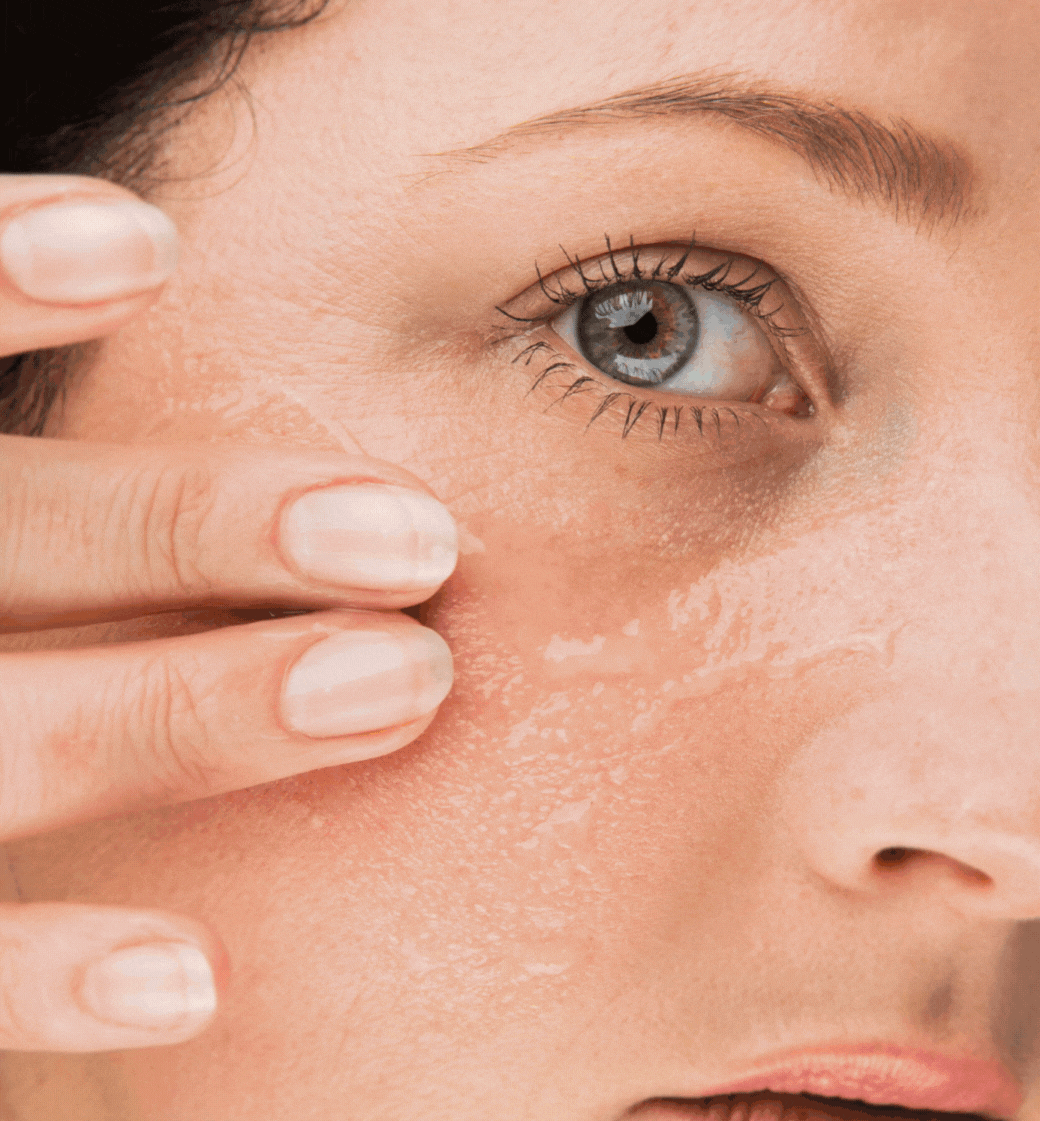 Forms and Benefits of Vitamin C Found in Skin Care Products
Before we jump into the illustrious benefits and forms of our favorite vitamin C formulas, keep in mind that you should be using this brightening ingredient all year long.
Generally, vitamin C is safe for daily use. While using it as part of your skin care regimen is smart year-round, it's especially important to apply it in winter because of the environmental protection it offers. When dry, cool weather can dehydrate skin, vitamin C helps replenish your skin's natural barrier.
Without further ado, let's celebrate what makes vitamin C such a skin care C-elebrity!
Our Vitamin C Mask is a skin brightening treatment concentrated with two forms of vitamin C: Sodium Ascorbate and Calcium Ascorbate. Designed to support collagen and elastin production, this plant-based mask was created to revitalize the skin and slough away dullness and dark spots with lactic and kojic acids, and it comes packed with additional brightening power from papain and bromelain fruit enzymes.
Our natural Vitamin C Serum has a cult-like following, and employs ultra-stable Magnesium Ascorbyl Phosphate, combining it with an extra hydrating aloe gel base to deliver a drink of hydration to thirsty skin. It features antioxidant-rich botanical extracts like green apple and grape, plus alpha lipoic acid (ALA) for collagen and elastin production, while fighting oxidative damage and discoloration with fellow antioxidant vitamin E.
Our Vitamin C Boost is an ultra-concentrated treatment with just two ingredients: vitamin C and hyaluronic acid. In this blend you'll find Sodium Ascorbate, Ascorbic Acid, and Calcium Ascorbate for a triple punch of our favorite vitamin. It's buffered by hyaluronic acid to deliver a silky, hydrating texture and is perfect for dark spots or overall brightness.
Our Multi-Vitamin + Antioxidants PM Serum is your nighttime back-up to your daytime vitamin C serum. Working with the same potent yet stable base as our signature C serum, this anti-aging superstar uses vitamin C, 10% Magnesium Ascorbyl Phosphate (vitamin C), and niacinamide to help minimize dark spots and encourage a healthy glow.
Our Multi-Vitamin + Antioxidants PM Treatment is an antioxidant powerhouse, formulated with Sodium Ascorbyl Phosphate for gentle nighttime rejuvenation. It works on a cellular level to address collagen depletion while promoting firm, plump, and youthful looking skin. This velvety-smooth cream offers a luxe level of moisture for softer, more youthful skin when you wake up.
Our 18.3% Active Ingredients Vitamin C Glow Max Bright Mask will turn a dull complexion into a refreshed, luminous and hydrated glow with this enriching vitamin C concentrated treatment that will leave your skin utterly radiant. Featuring age correcting Bakuchiol, CoQ10, and vitamin E, this mask will brighten, boost collagen, increase elasticity, firm, lessen the appearance of lines and wrinkles, all while deeply moisturizing and softening skin.
There's a reason why vitamin C has become so popular, and why it's a beauty must-have in pretty much every household. Vitamin glow-getter should certainly be your plus-one (or few) in your skin daily and nightly care routine. Knowing what type of vitamin C to use for your skin is the best way to boost your anti-aging and brightening benefits – after all, knowledge is what takes your skin care to the next level!
We carefully hand-select products based on strict purity standards, and only recommend products we feel meet this criteria. 100% PURE™ may earn a small commission for products purchased through affiliate links.
The information in this article is for educational use, and not intended to substitute professional medical advice, diagnosis, or treatment and should not be used as such.
Sign up to our email newsletter for more blog updates and exclusive discounts.
< Older Post | Newer Post >