Tips for Choosing a Natural Self Tanner
Ingredients to try (and avoid) in the best natural self tanner
Posted on April 12, 2022
Written by: 100% PURE®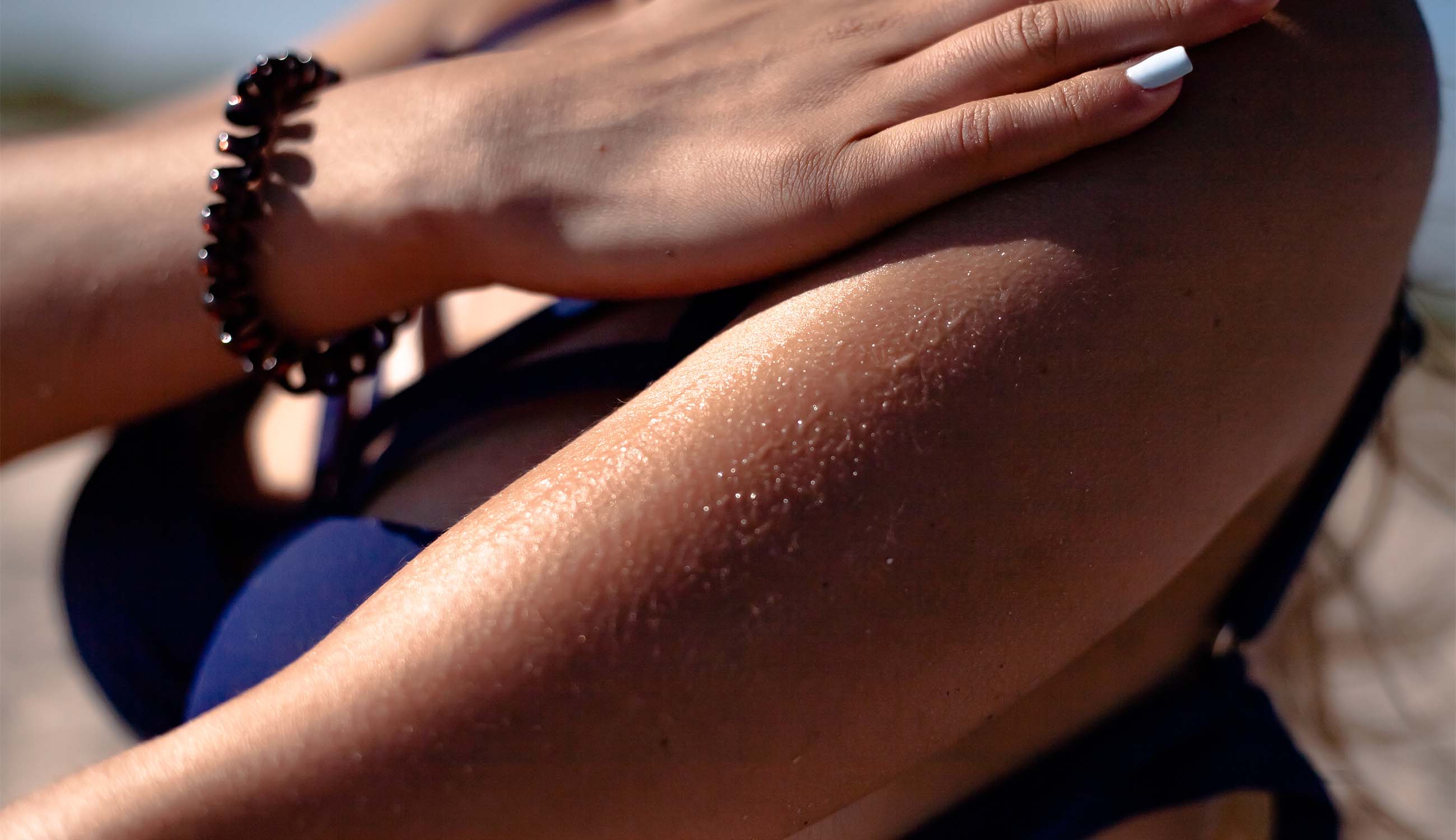 If you're a fan of the tan, you know you can get a tan without the sun and sand. Self tanners make it easier than ever to get a convincing glow right from home, minus the dangerous UV rays. But although you may be dodging the sun's harmful rays, there are hidden dangers in that faux glow too!
Most of the self tanners available in stores have ingredients that could send you running for the sandhills. To jump-start your summer tan, check out the healthy ingredients you should look for – and avoid. We'll also let you know how to properly use a self tanner, plus a few of our favorite natural sunless tanning products.
Where to Apply Self Tanner for a Natural-Looking Tan
The art of applying a sunless tan can be a tricky one – and, yes, it is an art! So you need to be equipped with the knowledge and tips on where to properly apply self tanner to make your faux glow as convincing as a real one.
Generally, and depending on the season, our arms and legs are going to be slightly darker than the rest of our bodies, especially the neck. Those areas are more exposed to UV damage, as we're usually more disciplined in using facial sunscreen daily to cover our necks and chests.
Many conventional self tanners are not meant to be used on your face. You'll only want to apply those self tanners below the neck. If you want to have tan skin all over, it's common to use one self tanner for your body and a different one for your face.
This makes sense as our unique facial skin types can differ from the needs of the rest of our bodies. You should look for natural face self tanners that fit your skin type and can add a subtle glow that can blend with your body sunless tanner.
8 Helpful Tips for Applying Self Tanner
Using a self tanner is an easier and healthier way around the sun's harmful rays. We should be good as 'gold' now – until you reach the point of actually applying a self tanner. Most of the options available in stores can be messy, with an unflattering Oompa Loompa orange tint that can stain your palms and leave you with a streaky finish.
But a natural-looking self tan is doable with the help of some smart prep steps and tips on properly applying a self tanner for that coveted bronzed look.
#1: Exfoliate
Self tanner sinks into dry skin, leaving dark patches that look unnatural. Be sure to exfoliate your skin with a natural scrub or a physical exfoliant before applying self tanner to ensure even application. Try our Matcha Oat Face Scrub for face or the Coconut Body Scrub for knees, elbows, and rough areas on the body.
Newsletter
Subscribe
for more blog updates and exclusive discounts
#2: Make sure skin is dry
Your skin should be clean and dry before using a self tanner. Any water droplets can dilute or erase a self tanner, resulting in unflattering streaks or lighter patches of skin.
#3: Moisturize dry spots
Don't reach for your heavy body cream or body oil because some of the ultra-moisturizing ingredients in those products will not bind properly with the ingredients in a conventional self tanner. Use a lightweight lotion on dryer areas like elbows, knees, and ankles to keep them from turning too dark.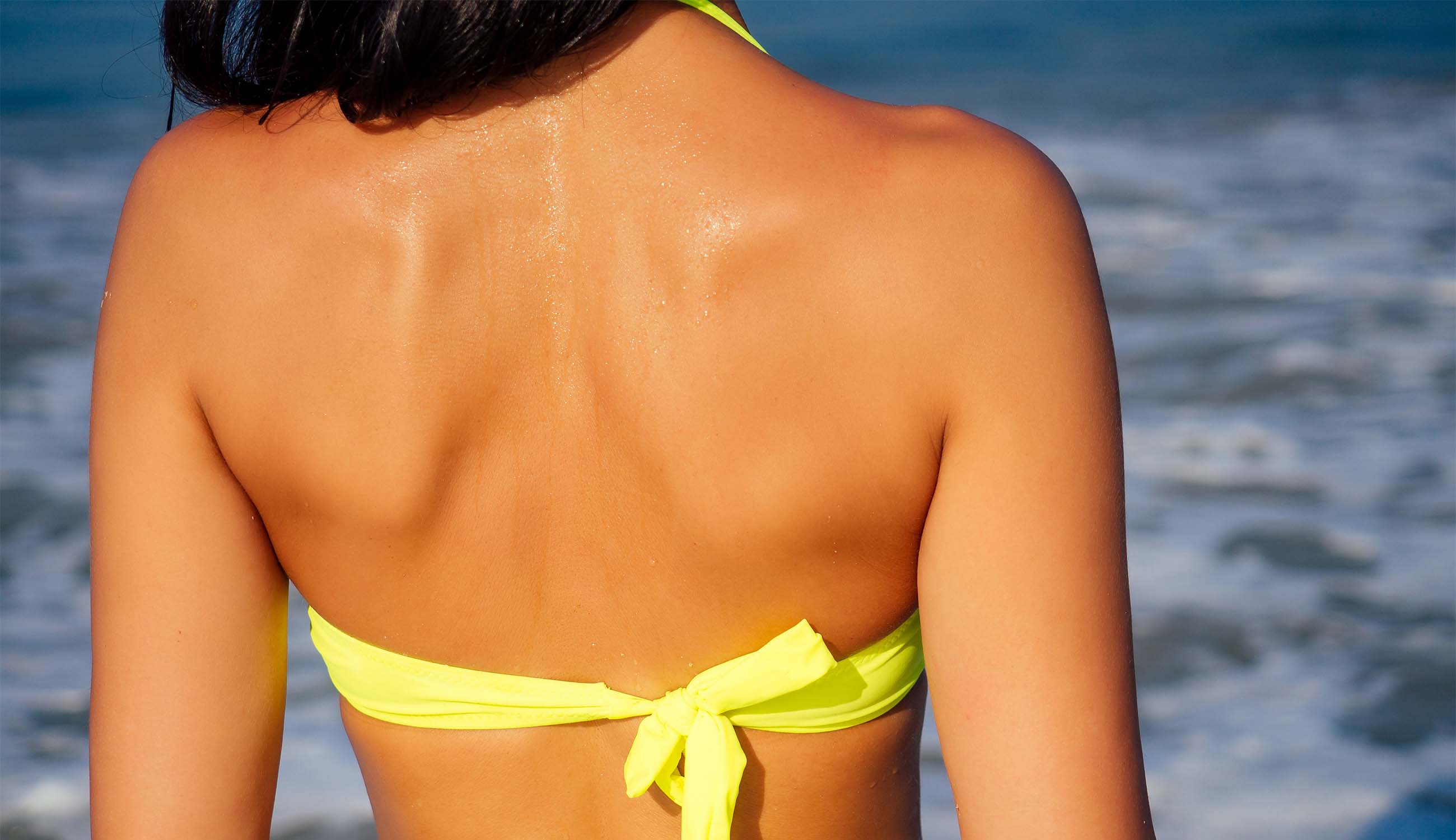 #4: Go lighter first
If you're a newbie or a not so self-assured self tanner, take it easy at first and go with a lighter-toned self tanner. That way, you can gauge how dark you wish to go without coming out of the gate looking like a bronzed statue.
#5: Use different face and body formulas
Use a lighter self tanner color for your face than your body. Your face tends to develop a little darker due to a higher pH level. So, if you go in with a perfect-match body self tanner for your face, your face will look a lot darker.
#6: Pick the right potion
There really is no single type of formula that's right for everyone. You need to try a mousse versus a gel versus a lotion to see what works best for your skin. But we can say that steering away from conventional self tanners that contain synthetic ingredients will only benefit your skin.
We recommend using a natural formula like the Suntegrity 5-in-1 Natural Self Tanner, where you won't find any harsh or toxic ingredients, only eco-certified DHA from sugar beets. Featuring a blend of hydrating oils and nourishing antioxidants, this luxurious sunless tanning lotion provides an ultra-hydrating experience and a natural golden tan.
#6: Apply in layers
Psst, here's a little secret: the best way to get a natural-looking, streak-free glow is to apply a self tanner layer-by-layer. The key to layering the self tanner is to wait at least 30 minutes before applying another layer to achieve your desired color.
#7: Let it develop
Allow the self tanner enough time to fully develop on your skin before you apply more. Be patient as some formulas take time to darken skin. This method prevents buildup, so your tan is smooth, even, and doesn't fade or build up in random spots.
As one of the best natural gradual self tanning lotions, the Kora Organics Gradual Self-Tanning Lotion applies like a dream. The result? A natural-looking sun-kissed glow that is buildable over time. This vegan and cruelty-free self tanner is formulated with rosehip oil and sea buckthorn to feel just like a body moisturizer with the perks of a natural, summertime glow.
#8: Wear sunscreen
To keep your tan fresh as long as possible and to protect your skin, wear a moisturizing sunscreen daily.
Self Tanner Ingredients to Avoid
Although sunless tanning lotions brand themselves as the UVA- and UVB-free way to get a tan, they aren't necessarily a safer alternative overall. Drugstore self tanning formulas typically contain a chemical called dihydroxyacetone, or DHA, which creates the darkening effect of a tan.
The catch is that DHA is also absorbed through your pores and into your bloodstream. Studies have linked the absorption of DHA to increased free radical damage and disruptions to your skin cell DNA. The verdict is that more research is needed before DHA can be declared safe.
Other common ingredients that are best to avoid in conventional self tanners include artificial fragrances. Many fragrances used in tanning products are created from petrochemicals and many chemicals used to create scents are known carcinogens.
It's also important to choose a phthalate- and paraben-free self tanner. Phthalates are chemicals that can behave like estrogen and act as synthetic hormone disruptors as well as cause developmental and reproductive toxicity and cancer.
Studies show that parabens artificially mimic estrogen in the body, leading to a host of problems including extra fat storage, male breast growth, metabolic, developmental, hormonal, and neurological disorders, and various cancers, including breast cancer. No, thank you!
While we may opt for the safety of using a natural self tanner, it's important to experiment with a few products before committing to full-body application, and as with any sunless tanner, patch-test to determine color and skin compatibility.
Trust us: once you've found your perfect natural self tanner and tan level, you'll be thankful you went gold or green instead of paying for chemical-laden alternatives! Plus, you'll be left with safe and sustained color while protecting yourself from photo-aging and UV damage as well as keeping more chemicals out of the environment.
Check out these safe ways to get a summer tan!
We carefully hand-select products based on strict purity standards, and only recommend products we feel meet this criteria. 100% PURE™ may earn a small commission for products purchased through affiliate links.
The information in this article is for educational use, and not intended to substitute professional medical advice, diagnosis, or treatment and should not be used as such.
Sign up to our email newsletter for more blog updates and exclusive discounts.
< Older Post | Newer Post >