The Science of Peptides in Skincare: How They Work and Their Benefits
Exploring the anti-aging benefits of peptides for skin – plus the best peptide skin care products for firm, youthful skin
Posted on January 28, 2023
Written by: 100% PURE®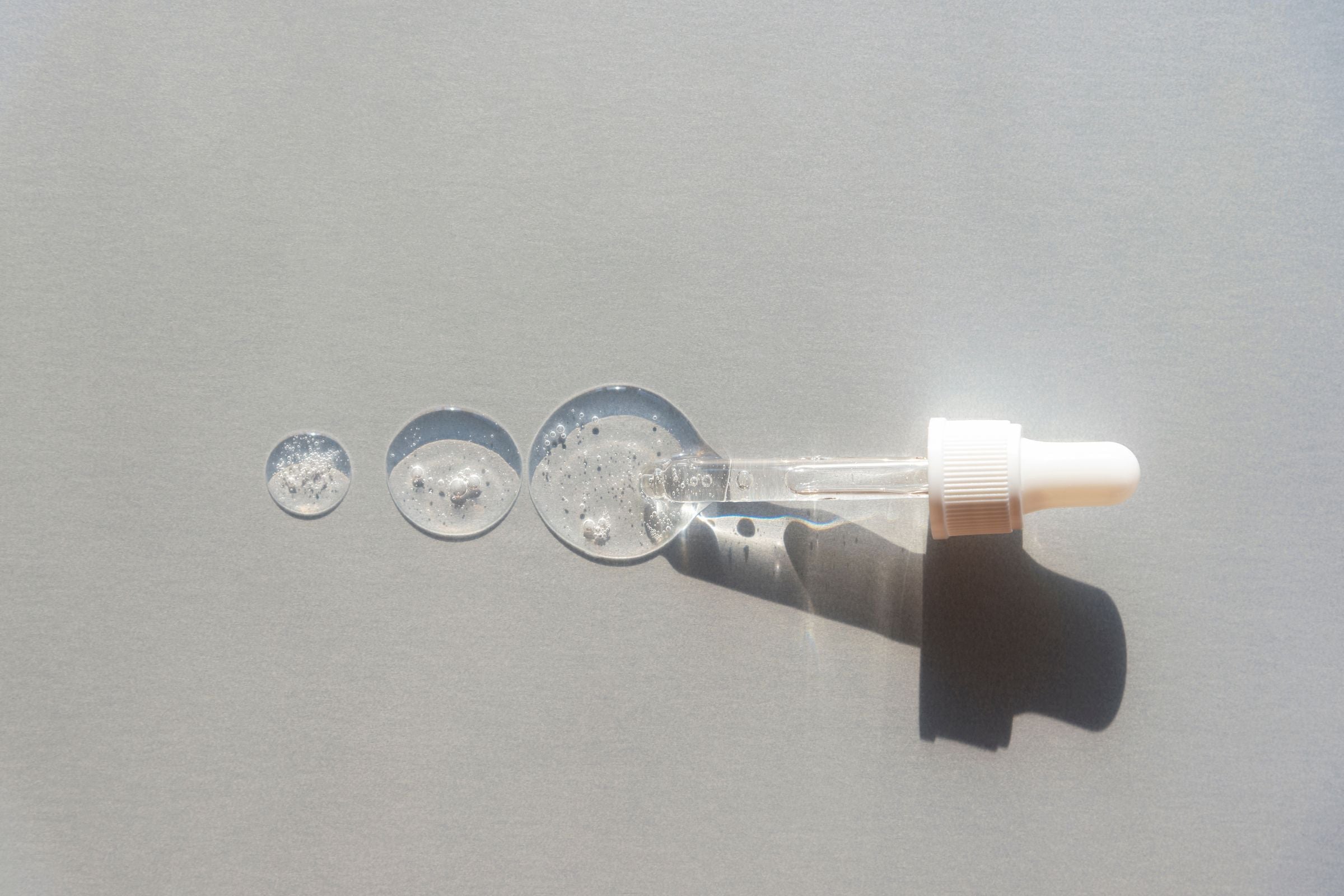 In the world of beauty care ingredients, some key ballers reign supreme in any anti-aging routine. You're probably familiar with retinol and hyaluronic acid (to name a few) and might even use them in your beauty arsenal.
There's another anti-aging all-star that's been flying a bit under the skin care radar that deserves some time in the limelight, especially if your goal is a firmer, more youthful complexion. Enter peptides! These mini-miracle-messengers have long been on our "radar love" as major couriers to encourage collagen to help with the signs of aging.
So, how do peptides support healthy skin, and how can we use them? Most importantly, do peptides really give you plump, youthful-looking skin? Let's find out!
An Introduction to Peptides
Peptides are no strangers to the beauty block. These collagen couriers are found in our bodies and have been floating around in the natural healthcare world for decades in the form of peptide powders ad supplements. But the emerging research on the benefits of peptides for skin is still quite recent, which explains their burst in popularity in skin care.
So, why are peptides pepping up the anti-aging beauty scene? As opposed to other skincare ingredients that can barely scrap the surface of our dermis, it's the makeup of peptides that allow them to dig deep under the skin's surface and deliver results. Let's delve more into these tiny but mighty skin superstars!
What Are Peptides?
Peptides, also known as collagen peptides, and, also referred to as "polypeptides," are basically a short chain of amino acids. Amino acids are the building blocks of proteins, including keratin, elastin, and, mostly, collagen – one of the most important materials in our skin. These proteins are responsible for the skin's texture and strength.
Where Are Peptides Found?
Our bodies produce collagen naturally. But the production slows down as we age over time. That leads to fine lines, wrinkles, and the skin's inability to 'bounce back', which can bring about skin sagging. While aging is perfectly natural and is a privilege to experience, it's certainly valid to want to age gracefully. That's where peptides can lend a helping amino acid hand - or 100.
What Do Peptides Do Overall?
Peptides, or these amino acid chains, are like the building blocks of our proteins required by the body to properly function and are needed for the skin and body; hair, muscles, ligaments, and tendons. Since peptides are teeny-tiny amino acid chains, they can penetrate the outer layer of skin and perform some anti-aging magic on our bodies and deeper layers of our dermis.
What Are the Peppy Perks of Peptides for Skin?
Peptides help the skin by forming an extra protective barrier around the skin. While our natural skin barriers protect us from pathogens, UV rays, pollutants, and more, they can sometimes weaken. Peptides help strengthen the barrier against this.
These tiny cell superstars also promote cellular repair, hydrate the skin, and provide antioxidant protection. And with their antimicrobial properties, peptide products can even help protect against acne!
Plant peptides are widely used in skincare, and are a popular option for vegan-friendly formulas. They can be found in peas, oat kernels, yeast, or for us – quinoa!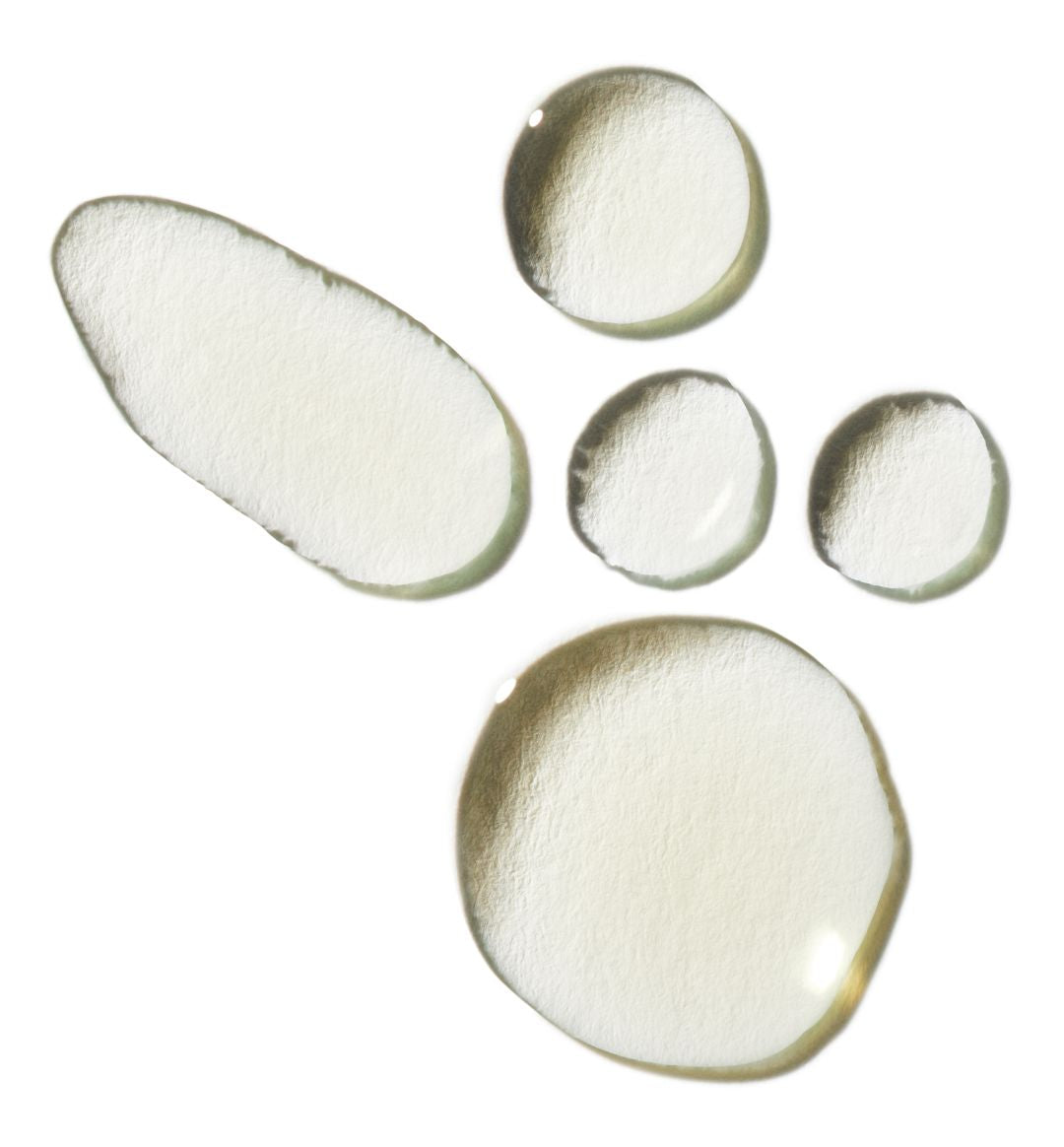 What Do Peptides Do for the Skin?
You have probably at least heard of peptides or perhaps you've seen them listed on product packages, but you may have no idea what they actually do, and why should we use them in the first place. As mentioned above, collagen production in our skin slows down over time. But how do peptides help?
Think of peptides as tiny cellular couriers to our skin cells, sending messages that enable them to communicate more efficiently. Peptides work a bit more like "signals" which alert your skin to trigger the healing process. And when the skin heals itself, it's going to create more collagen for making repairs.
Typically, peptides decrease by the classic aging factors in our environment. These include UV damage, stress, smoking, and free radicals. For those with premature aging in the skin, peptides can help alert it to create more collagen. That can help restore the skin barrier and promote plumpness.
In other words, peptides can direct skin cells to hold their horses on the signs of aging and encourage the dermis to act plump, bouncy, and firm. We're not going to be turning away these messengers!
Newsletter
Subscribe
for more blog updates and exclusive discounts
What Are the Different Types and Benefits of Peptides?
Here's a plot twist: not all peptides are created equal. There are hundreds of different peptides, each performing a unique function. Certain types of peptides are more effective for the skin and healing.
The most common are "signal" peptides, which work to promote the building of proteins like collagen and elastin. Signal peptides tell your skin cells to shift into repair mode so that they increase collagen production. For example, copper peptides activate wound healing, which, in turn, stimulates collagen production.
Some peptides specialize in delivering minerals to the skin. Those are known as "carrier" peptides. These peptides latch themselves onto another ingredient, like retinol, vitamin C, or a hydrator, to deliver it deeper into the skin cells for better and more effective absorption.
On the other hand, "enzyme inhibitor" peptides slow down the skin's collagen breakdown process. This slows down the loss of volume and elasticity in the skin. Enzyme inhibitors are often used in pigmentation treatments.
Finally, "neurotransmitter" peptides touted as "Botox-like," block the chemical reactions known to cause muscle contractions in the face, which can lead to fine lines, wrinkles, and expression lines. Let's just say neurotransmitter peptides have quite the fan base lately.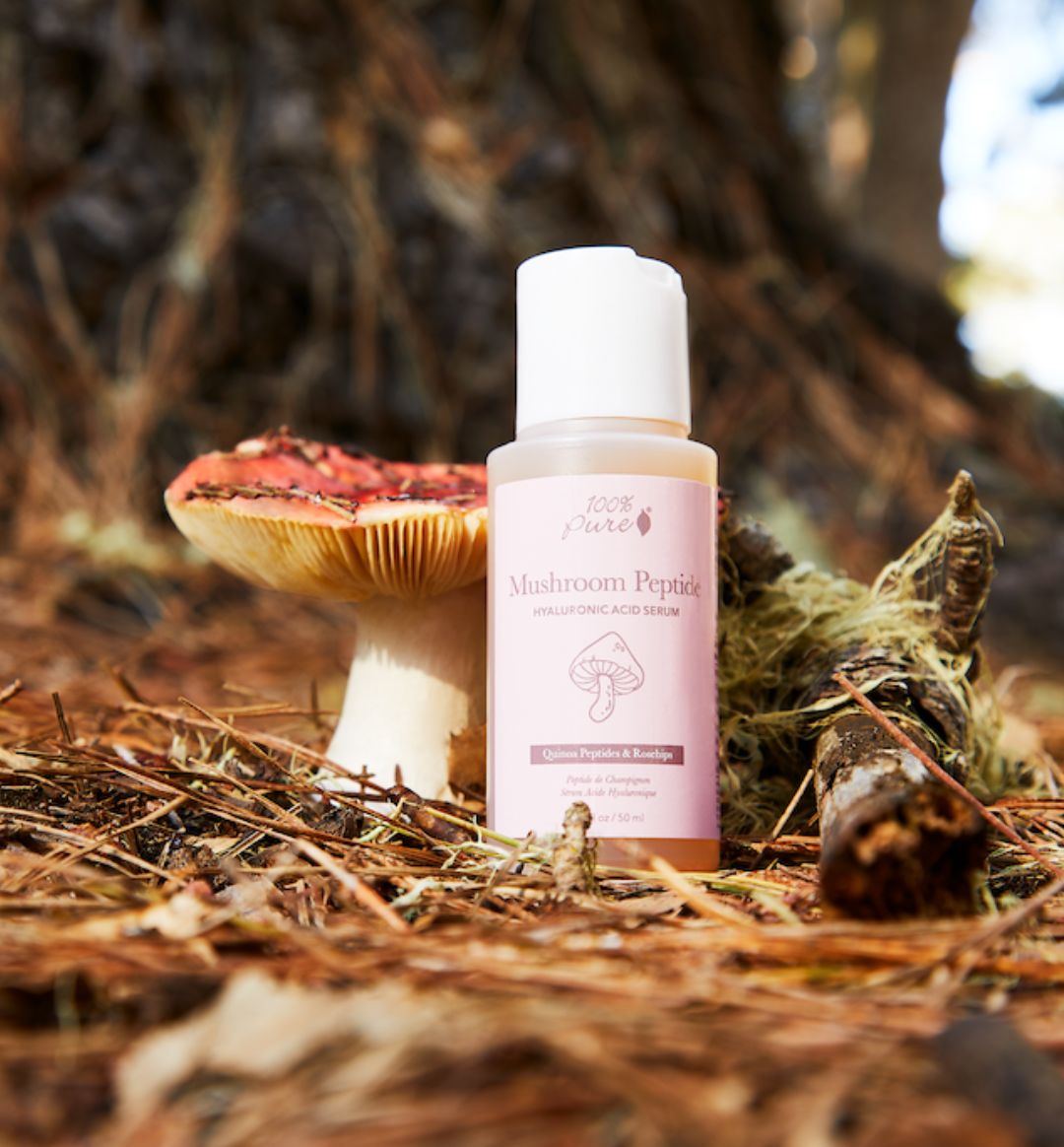 The Best Products with Peptides to Incorporate into Your Skin Care Routine
Ultimately, the products best for your daily regimen will depend on your skin type. Still, there are a few skincare staples everyone should try – and peptides are one of them!
Here are the best three daily products to boost your skincare routine. While most peptides in skincare are not vegan, we've made all our peptide products completely plant-based, made from quinoa, which improves skin resilience and firmness.
#1 100% PURE Mushroom Peptide Serum
We know their medicinal properties and as culinary delights – but as a skin care ingredient with peptides!? Yes, mushrooms and peppy peptides are setting off a 'shroom boom in this nourishing formula. Concentrated with 11 different skin-beneficial medicinal mushrooms, this serum deeply plumps and hydrates the skin, while peptides increase firmness and elasticity.
#2 Puristry Seaberry Moisturizer
If you've ever wanted a silky smooth facial moisturizer that doubles as a complexion booster, here's your answer! This anti-aging formula is non-greasy and flaunts a phytonutrient-rich anti-aging resume. This moisturizer creates profound hydration and vitality in the skin, thanks to quinoa peptides and powerful botanicals. Seaberry provides repairing properties, while bakuchiol and plant stem cells promote smoothing and radiance.
#3. Retinol PM Eye Cream
Since these peppy skin heroes help address fine lines and wrinkles, a great place to start using peptides is in an area that often shows the first signs of aging – our eyes. Our retinol eye formula features a potent concentration of age-correcting vitamins, stem cells, and peptides that promote collagen production, and elasticity, and lessen the appearance of fine lines and wrinkles.
This peptide eye cream also contains Pentapeptide-48. This is a vegan and clean synthetic blend of 5 ("penta") peptides, making this peptide eye cream even more worth adding to your nightly routine.
Hopefully, we've painted a picture of just how powerful peptides can be! While we know, peptides are essential throughout the body for biological functions, they can be quite effective in skin care, especially if you're looking to improve your skin's firmness and youthfulness.
However, it's important to choose where peptides will work best in your skin care regimen. Start with leave-on products like moisturizers and serums versus rinse-off formulas – and especially opt for natural formulas; hint, hint! Then, gradually move into more peptide-infused skin care for promoting plumper, more youthful skin all around.
We carefully hand-select products based on strict purity standards, and only recommend products we feel meet this criteria. 100% PURE™ may earn a small commission for products purchased through affiliate links.
The information in this article is for educational use, and not intended to substitute professional medical advice, diagnosis, or treatment and should not be used as such.
Sign up to our email newsletter for more blog updates and exclusive discounts.
< Older Post | Newer Post >