Men's Natural Skin Care Routine
How to choose the right products for your skin care routine. Crafted specifically for men's expectations.
Posted on April 19, 2017
Written by: Bart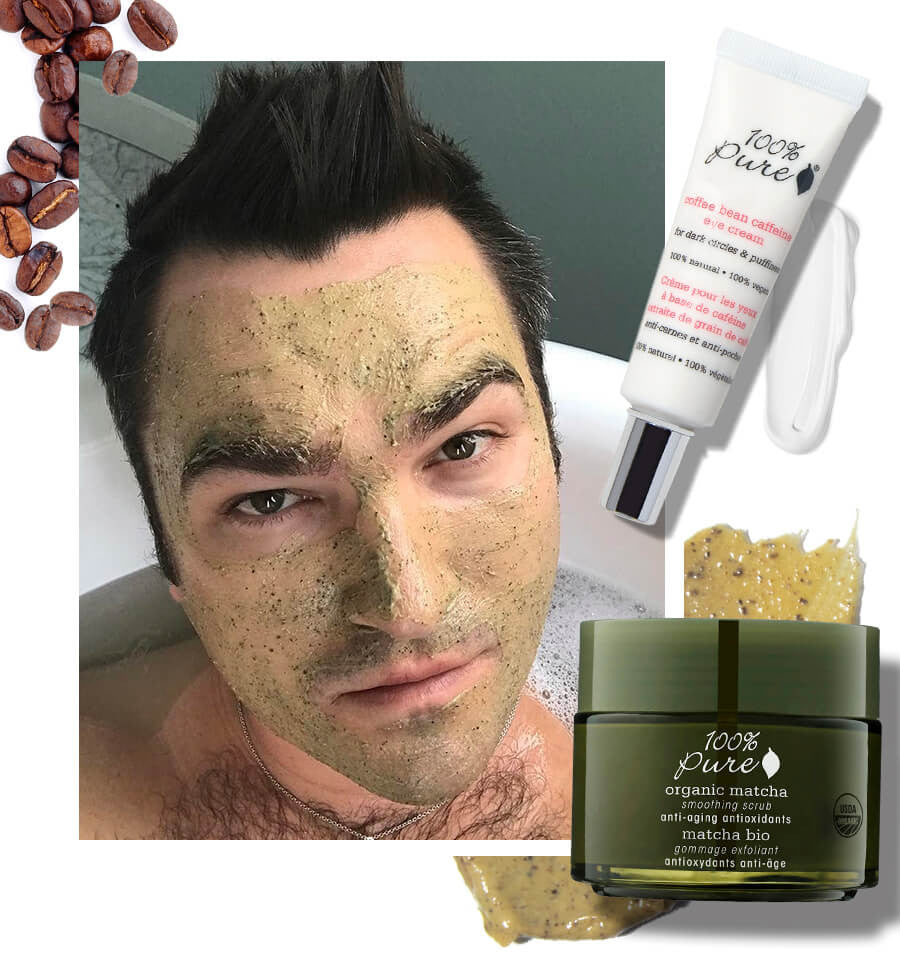 The beauty industry has never felt more inclusive than it is today. Male content creators dominate YouTube securing brand partnerships and promoting individuality. And while I applaud every single free spirit in the online world and beyond, I find the emphasis on skincare in the viral beauty space to be pretty... basic.
As a guy, when it comes to grooming, I promote simplicity but by no means does that mean ever cutting corners. A proper and concise men's skincare routine is an effective approach to achieve one's anti-aging goals and to maintaining those desired results. More like basics with benefits. The secret? Straightforward, active formulas applied consistency on your end. That means every day, twice a day. Capiche?
Completely gender neutral and studded with options for every skin type, concern and age group, 100% PURE first appeared on my skin-dar back in 2000. A massive fan and a loyalist all these years later, I continue to indulge in the impeccably formulated and innovative solutions. Conscious of our complexions, well-being, and the environment, this range is the ultimate gateway into the green area of grooming. Completely non-toxic, the ingredient decks resemble delicious vegan recipes, and while not edible, they are the superfoods my skin craves.
Whether you're a guy, have a guy, or need a gift for a guy, below are some of my all time favorite 100% PURE product recommendations within categories I see as non-negotiable.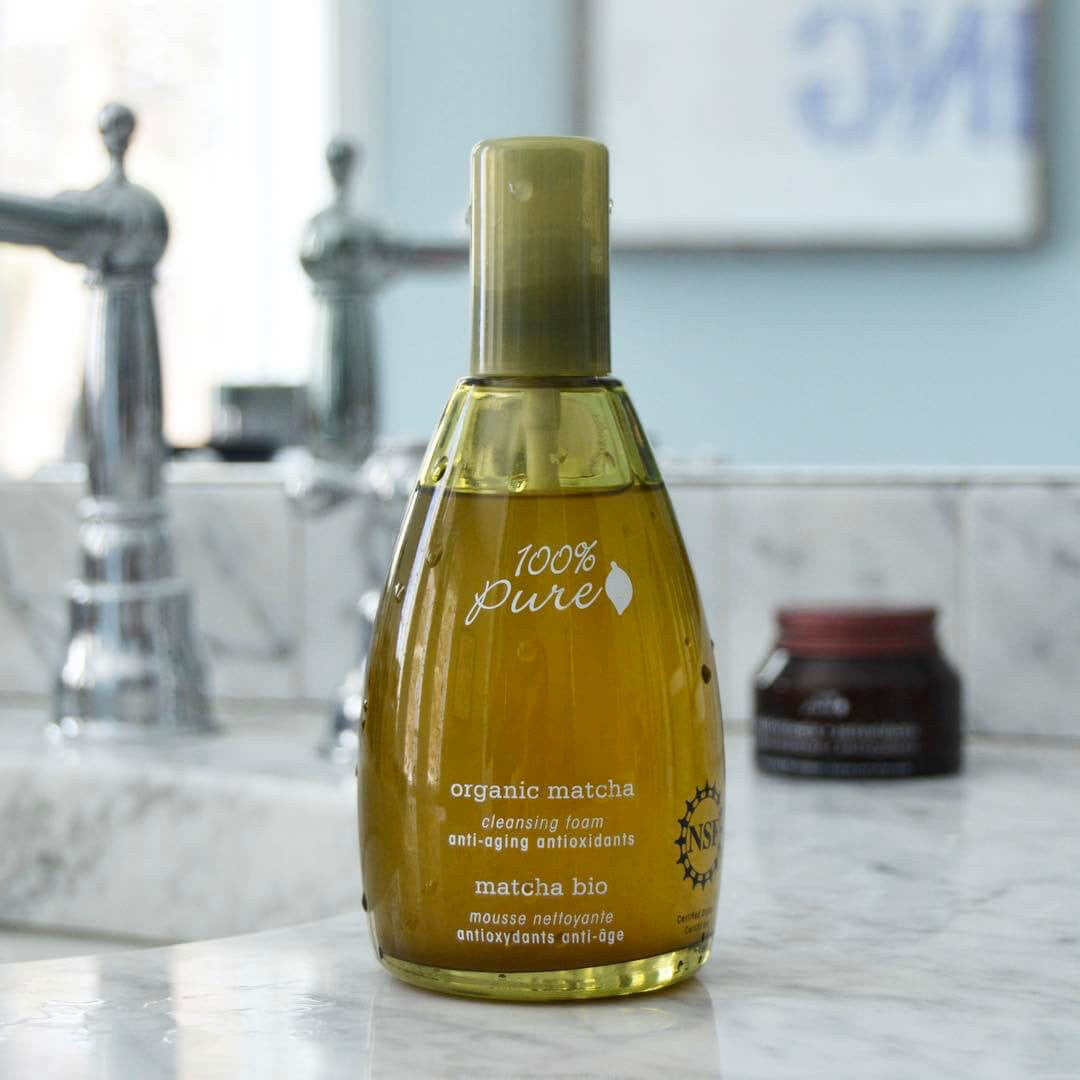 Cleansing: The Start and End to Your Day
Wash that face! Morning and night, every regimen should start with a gentle cleanse to rid your skin's surface of environmental pollutants, grime, and excess oil. This way, any treatment products that follow can actually do their job. Excel at it! Featuring a stately glass bottle (which add a classy touch to any guy owned and operated counter or shower) the Organic Matcha Anti-Aging: Antioxidant Cleansing Foam is probably my favorite offering from the extensive face wash line up.
Finding the perfect cleanser isn't easy but it isn't rocket science either. Two of the most important navigational pointers: make sure your face feels clean but that it never feels tight nor dry. It shouldn't burn, irritate your eyes, nor leave you looking red. Organic Matcha Cleansing Foam is fueled by natural cleansing agents as well as nourishing, soothing and protecting botanicals. It scores as low maintenance and highly effective. I struggle with congested pores, a slightly aggressive T-zone during the warmer months, and an often dull-looking complexion, and find this formula an all around winner.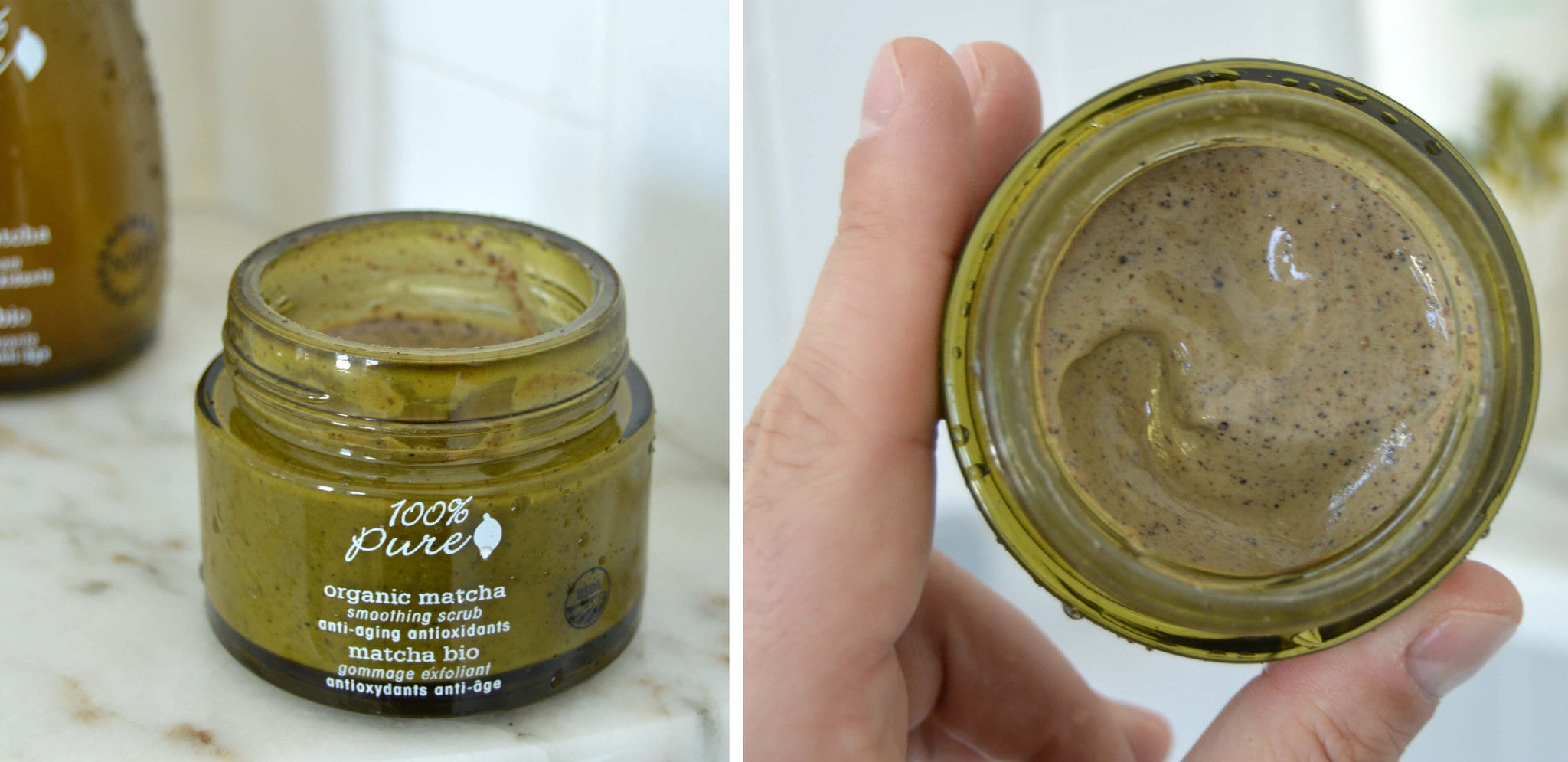 Exfoliating is Key
It's definitely true that guys exfoliate by shaving, but the entire upper part of a man's face also needs help sloughing off the dead cells if he is to achieve a bright, fresh appearance. That's where the jar of Organic Matcha Anti-Aging: Antioxidant Smoothing Scrub comes in.
This fresh smelling and slightly gritty cream can be applied to dry skin before you hop in the shower or on damp skin before you reach for the razor. Studded with enzymes and non-abrasive Jojoba beads, it promotes cellular turnover and lifts your facial hair for a closer shave. You don't need to exfoliate daily--twice a week will significantly brighten your complexion and make you look less tired. And let's not forget serums and moisturizer, which will help deliver a more noteworthy performance.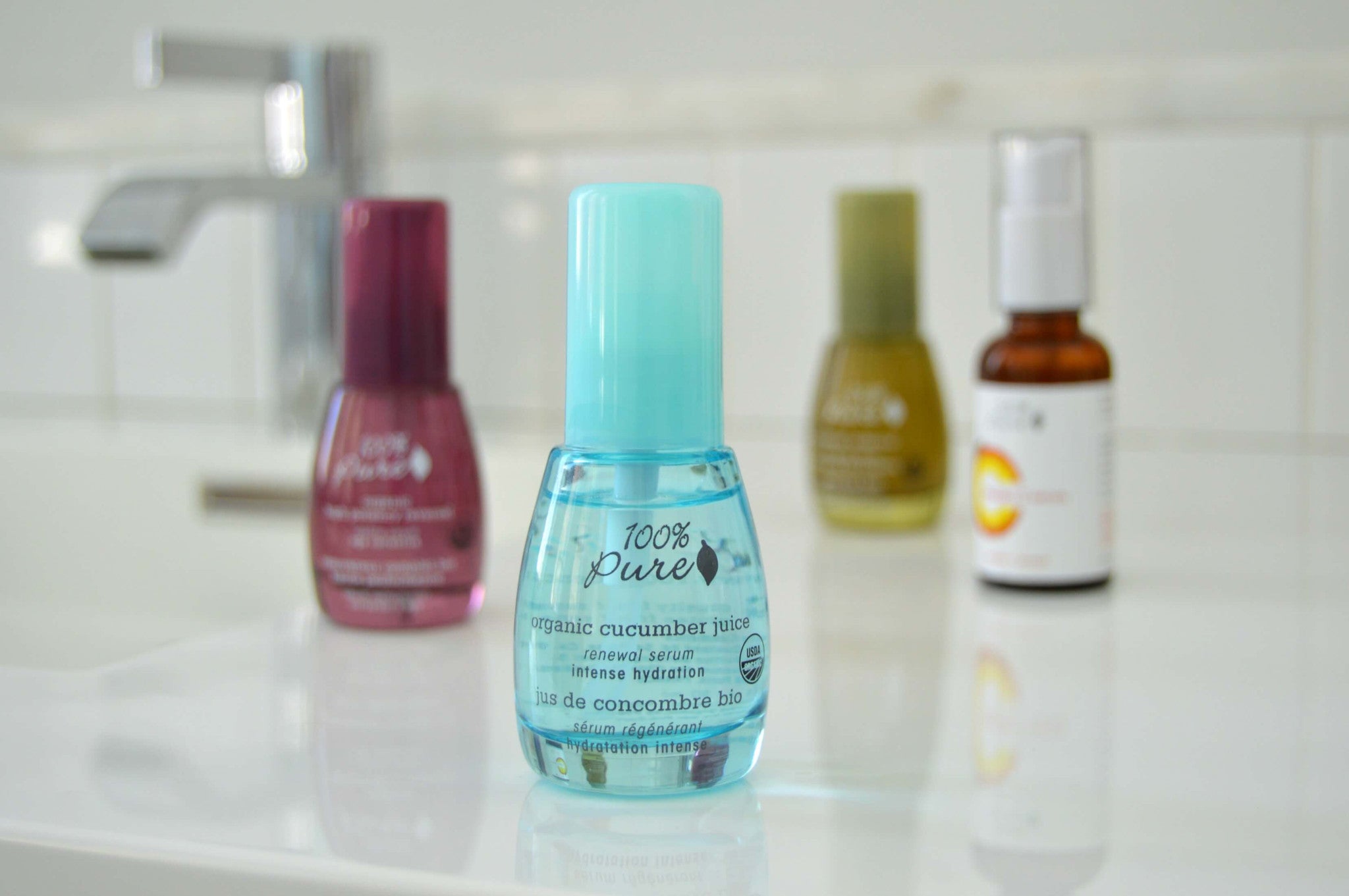 Using Serums
Known as the most potent formulas in skincare, serums concentrate active ingredients in a liquid like form to penetrate quickly and to deliver target specific benefits. Their powers range from correcting sun related hyperpigmentation to expression lines. They can even minimize the appearance of scars. Patience and diligence are key while experimenting with any serum - do not expect overnight miracles. While instant results may be exciting, allow three weeks of consistent use before admiring the truly remarkable difference in your skin.
Of all the 100% PURE formulas, the brand new Organic Cucumber Juice: Renewal Serum is the one I'd recommend for absolutely every guy. There is a chance you shave every morning and your skin may be prone to dryness or irritation. This ultra hydrating yet borderline weightless blend of Cucumber and Aloe Juice with countless plant oils and extracts soothes, refreshes, and deeply hydrates for hours. Loaded with powerful antioxidants, it also guards the skin against environmental aggressors, which accelerate the aging process. Keep in mind that phrases like 'free radical damage' or 'antioxidant protection' are not just industry buzzwords. Read ingredient decks and gravitate towards formulas that highlight Coenzyme Q10, Niacinamide, Alpha Lipoic Acid or Vitamin E. This gem has them all. And more.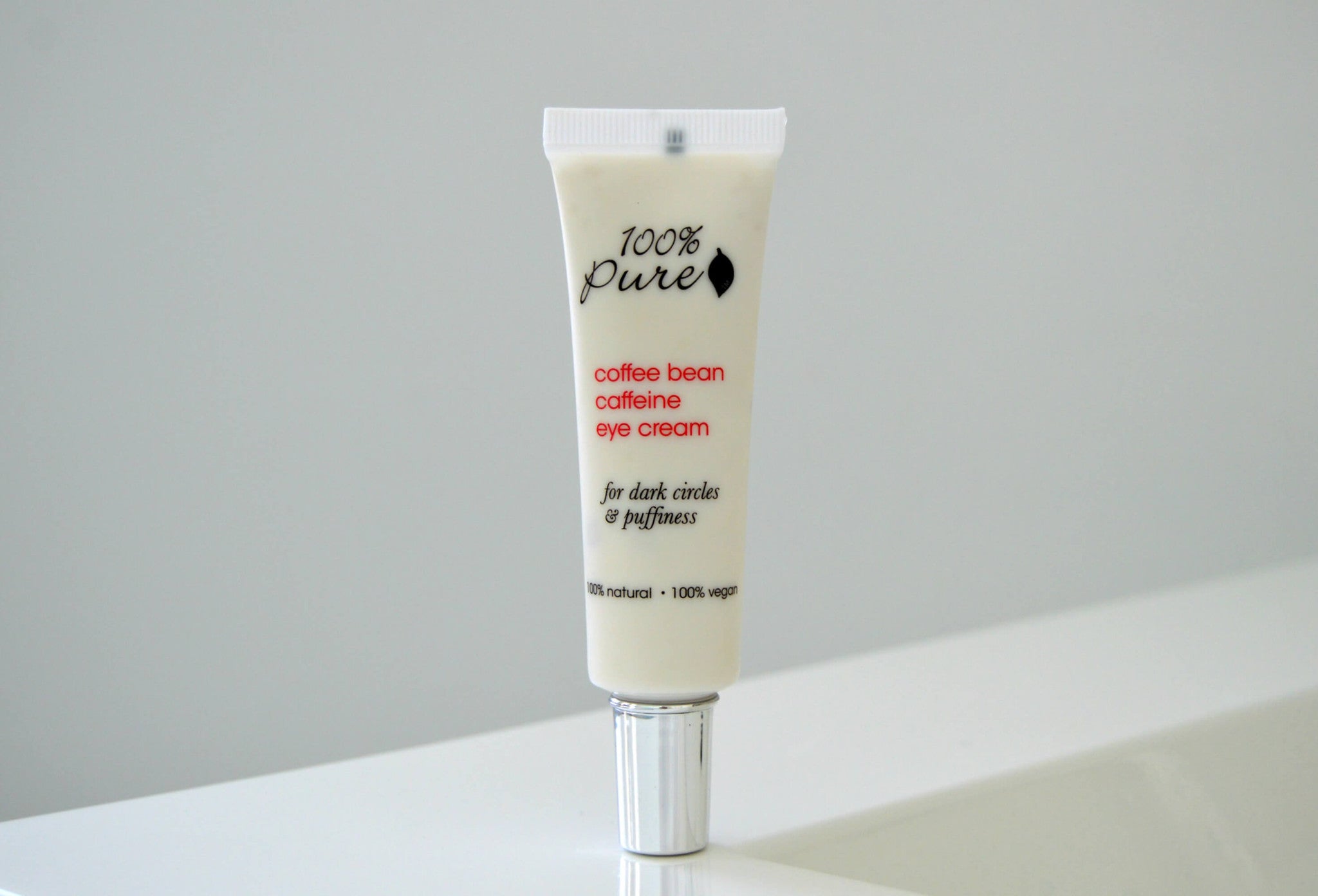 Why Eye Cream is Important
The need for a separate eye cream is heavily debated in the consumer segment of the beauty industry yet it is a debate in which I refuse to participate. Why? Because you need it. The skin around your eyes is much thinner than that which comprises the rest of your face. Some claim are there are no oil glands around the eyes, but there are. Just many fewer. What does that mean? Extra care and extra moisture. See? No pun intended but if you have eyes, you need an eye cream.
Side note: Coffee Bean Caffeine Eye Cream was my introduction to the brand over a decade ago. Luckily, the formula remains unchanged and this cult classic is among the very best on the market. Extremely lightweight, the whipped texture glides on smoothly (safe to use around the whole orbital area) and is completely traceless when applied. What does it do? Makes you look like you slept all night and didn't have any shots of tequila. Revived, refreshed, and bright-eyed, you can tackle the most mind-bending jet lag with this magic potion. Puffiness? Never. On particularly rough mornings, a thin layer across your entire face can act as the best recovery plan. The tube is at least twice the size of an industry standard eye cream, so there's no need to ration it either.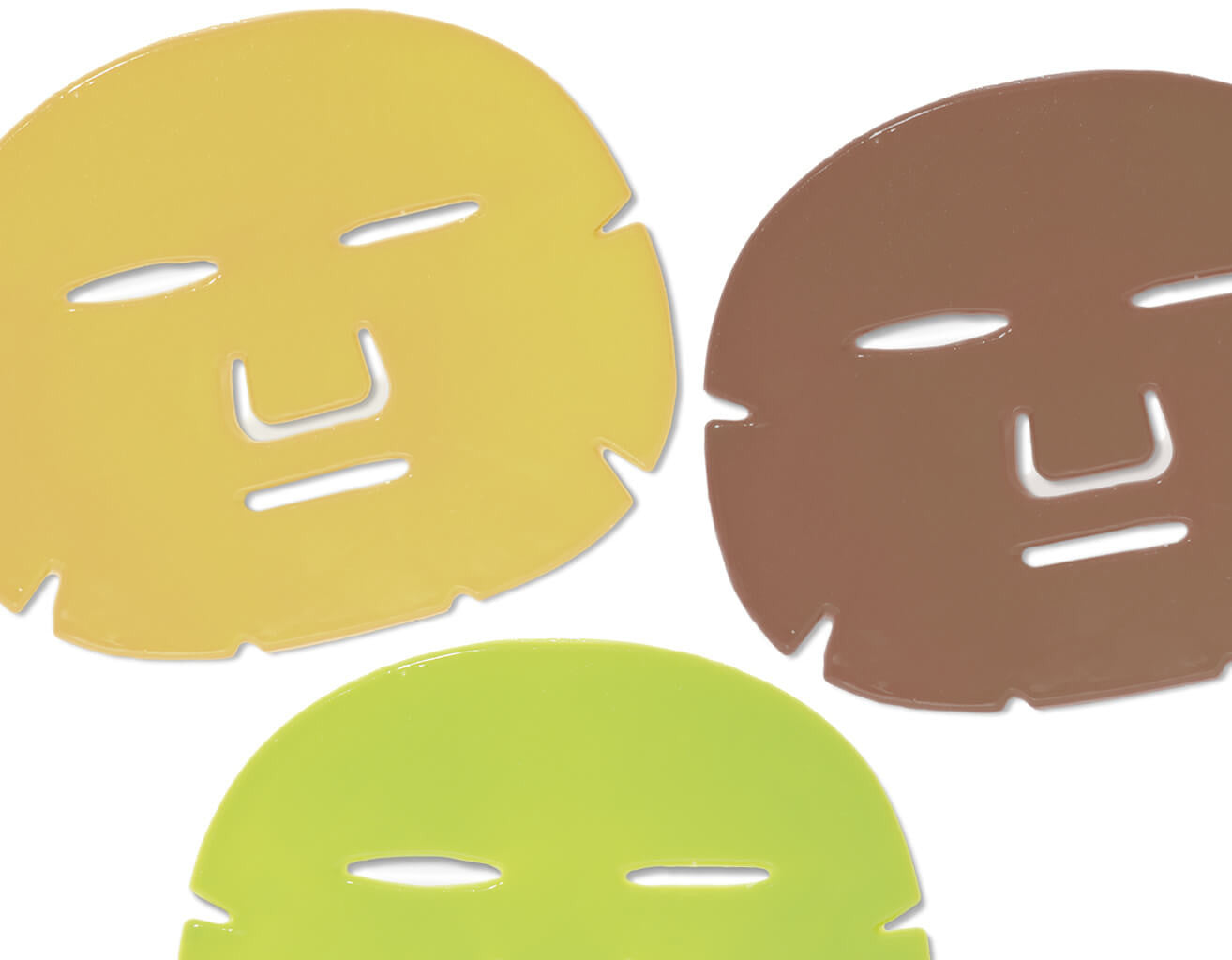 Don't be Afraid of a Face Mask
If you're the kind of guy who imagines a towel turban, cucumber slices, and a pink robe at the sound of 'face mask', let's leave those visuals behind in the 1980s where they belong. In 2017, things have definitely become more Mask 4 Masc. Always great to have on hand, the Hydrogel Sheet Masks are among my all time favorites for a quick pre-event revival or after a long haul flight.
Pro Tip: if you use a serum, put it on prior to your mask as it will propel the active ingredients more efficiently into the skin, thereby maximizing its benefits.
If I had to pick a favorite, it would be the one with Caffeine Mask (it addresses skin fatigue) with Green Tea Water Bomb Mask (intensely soothing) coming in a close second. If you're battling loss of firmness, go with the Ginseng Collagen Boost Mask. The great news is that they all significantly increase the skin's hydration levels and require no rinsing nor instructions to use. Unwrap a single mask, lay it flat over your face, relax for 20 minutes, and discard. Composed of 95% Organic Aloe Water and 5% vegetable cellulose, the plump cut-out will actually shrink as it forces its ingredients into the skin. When the sheet turns from cardboard thick to paper thin, remove it, and continue your skincare regimen.
We carefully hand-select products based on strict purity standards, and only recommend products we feel meet this criteria. 100% PURE™ may earn a small commission for products purchased through affiliate links.
The information in this article is for educational use, and not intended to substitute professional medical advice, diagnosis, or treatment and should not be used as such.
Sign up to our email newsletter for more blog updates and exclusive discounts.
< Older Post | Newer Post >