Cruelty-Free Beauty Spotlight: @wifelife
We tapped Rhian of @wifelife to give us her cruelty-free beauty breakdown
Posted on July 15, 2018
Written by: 100% PURE®
For this sultry day-to-night makeup look, Rhian is wearing cruelty-free makeup from 100% PURE: Pretty Naked II, Maracuja Mascara in Black Tea, and Pomegranate Oil Anti-Aging Lipstick in Peony, and Long Last Liquid Liner in Black Tea.
If there's one thing we love, it's ladies who speak up for animal rights. One of the lovely ladies representing the cruelty-free beauty movement is Rhian of @wifelife. Rhian's blog and social media pages cover the best vegan and cruelty-free makeup and skin care products, while showcasing simple and stunning beauty looks. We caught up with this sweet, animal loving beauty babe to pick her brain on all things vegan and cruelty-free!
100% PURE: Tell us a little about yourself :)
@wifelife: My name is Rhian, I'm British but living in very Northern Michigan. I run a blog and YouTube channel specializing in cruelty-free and vegan beauty and lifestyle. I have 3 dogs, and I love to eat and explore the outdoors!
What is your personal beauty philosophy?
I would say my beauty philosophy is "minimum effort for maximum impact". Although I love the in depth, glamorous beauty routines; I do always revert back to keeping it simple and beautiful.
When and why did you start using natural and cruelty-free products?
I've been vegetarian my whole life. I later went vegan, and then extended that to my beauty products a few years ago now. It's a constant learning process, but brands like yourselves make it much easier to accomplish and still very fun.
Any advice for people looking to switch to natural, cruelty-free products?
Try not to get overwhelmed or be too hard on yourself, and be open to trying new things! Brands like 100% PURE don't scrimp on quality, so you still get to use amazing products while making the change.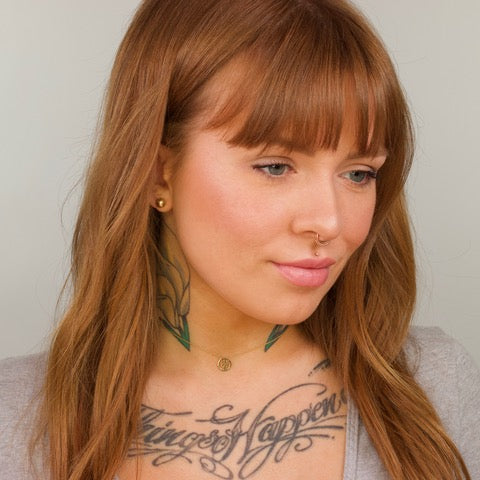 For this daytime 'no-makeup' makeup look, Rhian is wearing cruelty-free makeup from 100% PURE: Pretty Naked II, Maracuja Mascara in Black Tea, and Pomegranate Oil Anti-Aging Lipstick in Peony.
100% PURE: How did you find out about 100% PURE?
@wifelife: When I entered the cruelty free beauty community online, I kept seeing the brand more and more. People raved about the products! Then while visiting Tashina of Logical Harmony in California, she brought me to the store and I just totally fell in love with all of the gorgeous options.
What does your skin care routine look like?
Although I LOVE skincare, I do love to keep it simple and use really high quality products with great ingredients. I use the One Love Organics Easy Does It foaming cleanser morning and night, then I use the 100% PURE Fermented Rice Water Toner (life changing), followed up by the Ursa Major Recovering Cream. For the AM I finish with the 100% PURE Tomato Lycopene SPF 30 and in the evening I use the 100% PURE Multi-Vitamin + Antioxidant Potent PM Serum before my moisturizer.
✨ Our Fermented Rice Water Toner is an ultra hydrating toner packed with naturally brightening ingredients like sake, citrus, and licorice. This toner wipes away impurities while lightening dark spots and giving you a bright and glowing complexion.

✨ Tomato Lycopene SPF 30 is a lightweight, creamy natural sunscreen that doubles as a skin softening, anti-aging moisturizer.

✨ The best-selling Multi-Vitamin + Antioxidant Potent PM Serum is an anti-aging powerhouse that doesn't cut corners when it comes to firming, brightening, and returning youthful softness to skin.
If you had to cut down your daily makeup routine to just 5 minutes, what would that look like?
I'd use a light concealer, brow gel, mascara and a lipstick on my lips and cheeks. In fact, this is my typical day to day makeup!
Name one skincare product or ingredient that you can't live without!
I'd have to pick hyaluronic acid! It helps my skin feel plump and hydrated and just all around happier.
What are your top 3 100% PURE products?
Specifically the highlighter from the Pretty Naked II Palette, the Fermented Rice Water Toner, and Peony Pomegranate Lipstick.
✨ Illume highlighter from our Pretty Naked II Palette is a pale, dusty pink natural highlighter with pearly shimmer.

✨ Peony Pomegranate Oil Anti-Aging Lipstick a soft and pretty lipstick shade that will flatter basically any skin tone (@wifelife agrees). This true, pale pink lipstick has a glossy finish and is richly colored by fruits like pomegranate, raspberry, and peach.
What's one thing you wish people would pay more attention to in the beauty industry?
Cruelty-free status for sure. Unfortunately the term isn't very regulated so anyone can use it, but sites like Logical Harmony have great comprehensive lists explaining everything in great detail.
We couldn't agree more, Rhian! Cruelty-free beauty shouldn't be hard to find, and can be just as stunning as conventional makeup brands. We make it easy to shop cruelty-free makeup, and while we were at it, made it healthy for your skin, too. Join the cruelty-free movement -- your furry friends will thank you.
We carefully hand-select products based on strict purity standards, and only recommend products we feel meet this criteria. 100% PURE™ may earn a small commission for products purchased through affiliate links.
The information in this article is for educational use, and not intended to substitute professional medical advice, diagnosis, or treatment and should not be used as such.
Sign up to our email newsletter for more blog updates and exclusive discounts.
< Older Post | Newer Post >