How to Create a Home Spa Space
Everything you need for a relaxing home spa experience
Posted on September 9, 2021
Written by: 100% PURE ®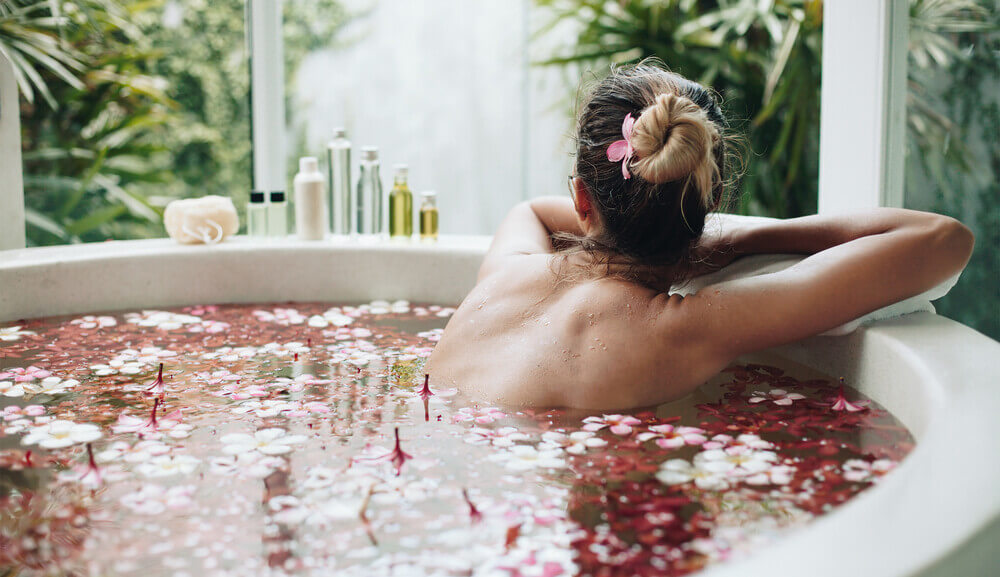 When we imagine a spa, we think of a faraway place with snuggly plush robes, light instrumentals, and a softly herbal fragrance filling the air. It's the place where we can forget our troubles for a little while and just breathe.
Well, what if we said this place doesn't have to be far away at all? To get there, all we need is a bit of imagination.
In the eternal spirit of treating ourselves, we're always looking for new ways to nurture our skin and souls. And sure, retail therapy works, but this time we've come up with the "treat yourself" moment that keeps on giving. Let's explore how to create a custom home spa.
What Is a Home Spa?
Much like every room and cabinet has a purpose in our homes, a home spa is an important factor of any sanctuary. And for those of us that don't have one, not to worry: we simply don't have one yet. Stay tuned for our tips on how to create your own beauty haven.
Our ideal home spa has a few requirements. It definitely requires some space and good lighting. Like any good spa, it has to be a place where we can treat every part of our bodies. Access to water and steam is important. And privacy is a must!
It should be a place for mind and body recovery. It's a place for us to clear our heads, center ourselves, and take care of ourselves physically.
Let's envision the perfect home spa. How can we get started?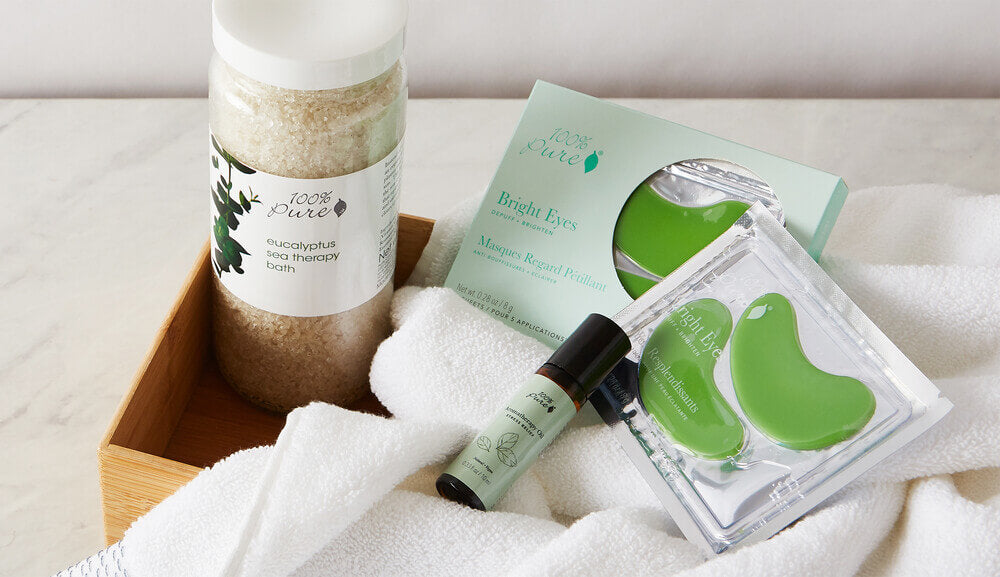 Tips & How-To's for Creating the Perfect Home Spa
No matter what kind of bathroom or spa space we have to work with, it can turn into something magical that perfectly suits our needs. We can't allow our creativity to be limited by space or lighting. Here's a simple guide to getting started on a beautiful beauty haven.
Tip 1: Find Inspiration
Inspiration is free and limitless. It's the perfect way to begin your project because it helps to spark new or unique ideas.
We like to search for inspiration in common ways, such as flipping through magazines or digging through hashtags on social media. A day at the museum or a fun night out at an art gallery can be equally stimulating.
And we can never discount the mega resource that is the internet. Some of our favorite ideas come from video creators!
We also like to find inspiration in more unconventional ways. You may enjoy bookmarking dreamy stays on Airbnb, scrolling through new listings on Zillow, or even going window shopping at your favorite home design stores.
Food for thought: think of a relaxing time and remember what about that place or memory-inspired comfort.
Tip 2: Make a List
Once we're inspired, we have to keep track of our ideas. There are lots of methods for this, but we've found a few mediums that work best.
We've tried a good old-fashioned pencil or pen and notebook as a classic way of noting our ideas. Saving ideas to our social media apps, like Instagram and Pinterest, is great for those of us that need visuals. And creating a vision board with magazine cutouts is an excellent way to keep the creative juices flowing. Whatever method we choose should be portable and able to be referenced easily.
The ideal list should include the types of things we want in our spa. Those may include a facial steamer, sugar body polish, or oil diffuser to set the mood.
We also want to consider the way we want our spa to look and feel. Sometimes this means saving links to actual items or curating an idea list full of photos and aesthetics for motivation.
Food for thought: what are some relaxing colors to include in our home spa?
Tip 3: Let's Get Sensual
A perfectly curated environment satisfies our senses. First, we need to find it visually appealing. Is there art on the walls? What about printed floor tiles or a cheeky rug?
Maybe we're able to incorporate a vintage framed mirror. Even a small touch like updating the hardware can make a great visual impact. This is especially important for spaces that aren't in a bathroom. Bringing the necessary water elements to us via a glass pitcher and bowl, for example, will feel and look luxurious while being an essential part of the space.
Along with the visuals comes the feel. Light fabrics that are airy create a peaceful environment and the illusion of more space. Softer, cozy fabrics can inspire feelings of comfort. Throwing in textural components with layered rugs, the shower treatment, and even the outfit we wear can dictate how we feel and how rejuvenating our experience can be.
Don't forget the sounds and the smells of your sanctuary. Do we create a custom Spotify playlist with acoustic versions of all of our favorite songs? Or are we softly playing nature sounds on our tablet for a combination of visual and audial satisfaction?
Along with music, a statement candle or diffuser sets the mood perfectly. Adding a string or two of fairy lights will lend a dash of magic to the atmosphere. And don't forget a comfy chair or bench so you can rest and relax while your treatments work!
Food for thought: what aromatherapy scent compliments our home spa vibe best?
Tip 4: Source & Gather
Now that we know the look that we're going for, we can focus on finding the items that fit our needs. This means recycling and repurposing things we might already have. It may also mean thrifting and shopping for new finds!
We like to start off by putting things aside that we might want to use or reuse. Making your own kit will make those spa evenings feel even more special. Grab a cute tote bag or adorable basket to layer things into.
Here's a short list of what we had handy already:
Vegan silk or linen pajamas

Plush slippers

Facial tools (think jade roller, gua-sha, etc)

Vintage tray (for organizing and displaying our facial tools)

Aromatherapy scented candle

Aloe vera plant (for vibes)
Food for thought: why not build a kit that travels, too, or can be gifted to a friend or partner for a lovely home spa night together?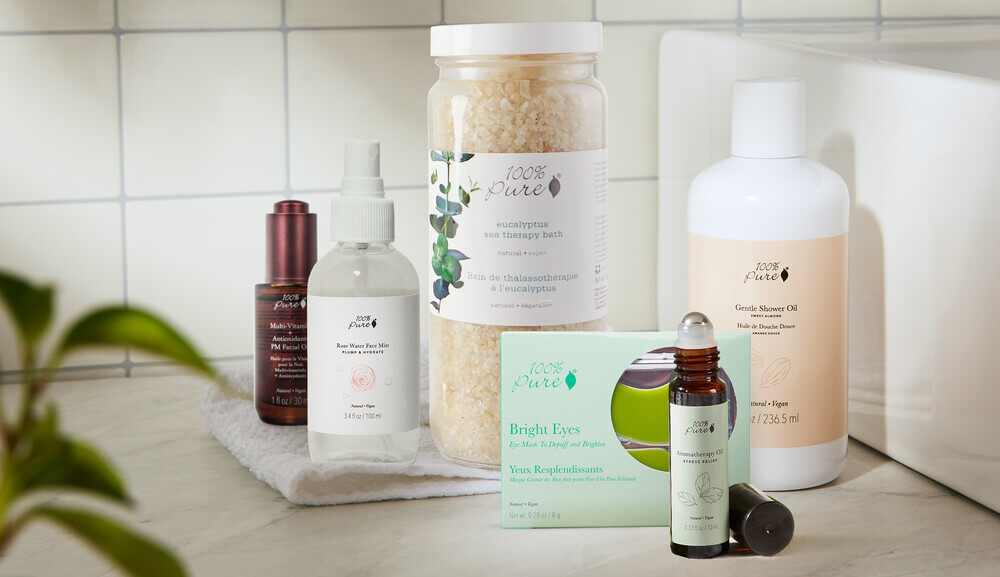 What Else You'll Need
Along with those few basics, there are certain items we need to stock our home haven with. Remember, if you're going to utilize steam in your routine, it's best to use it around non-porous surfaces that can easily be cleaned, or in rooms with windows. If your spa is in a spare room rather than a bathroom, turn on a dehumidifier after steam treatments to prevent moisture damage.
Here are some of our favorite go-to items that will carry you from the start of your routine to the fabulous finish:
Bath towels, locally sourced or organic cotton to replicate the spa feeling

Aromatherapy oil for clearing the mind and practicing mindfulness or meditation

Facial steamer to assist in our skincare routine

Headband and wrist cuffs for a neat and clean skin treatment

Gentle face wash for sensitive and normal skin types

Rejuvenating rose face mist for giving back to the skin

Hydrating face masks for sealing in moisture and healing benefits

Plush body sponge for a relaxing bubble bath wash

Calming bath salts, and a soothing body scrub featuring lavender or eucalyptus for relaxed skin, calming the body and mind

Luscious body cream for rejuvenating the skin and sealing in moisture

Cuticle oil or hand cream for a deeply moisturizing hand massage

And finally, an optional piece of candy or chocolate for a sweet spa finish.
We carefully hand-select products based on strict purity standards, and only recommend products we feel meet this criteria. 100% PURE™ may earn a small commission for products purchased through affiliate links.
The information in this article is for educational use, and not intended to substitute professional medical advice, diagnosis, or treatment and should not be used as such.
Sign up to our email newsletter for more blog updates and exclusive discounts.
< Older Post | Newer Post >