How Do Vitamin C Oils Compare to Serums?
Vitamin C oil for face vs. serums: choosing your best option
Posted on Feburary 23, 2022
Written by: 100% PURE ®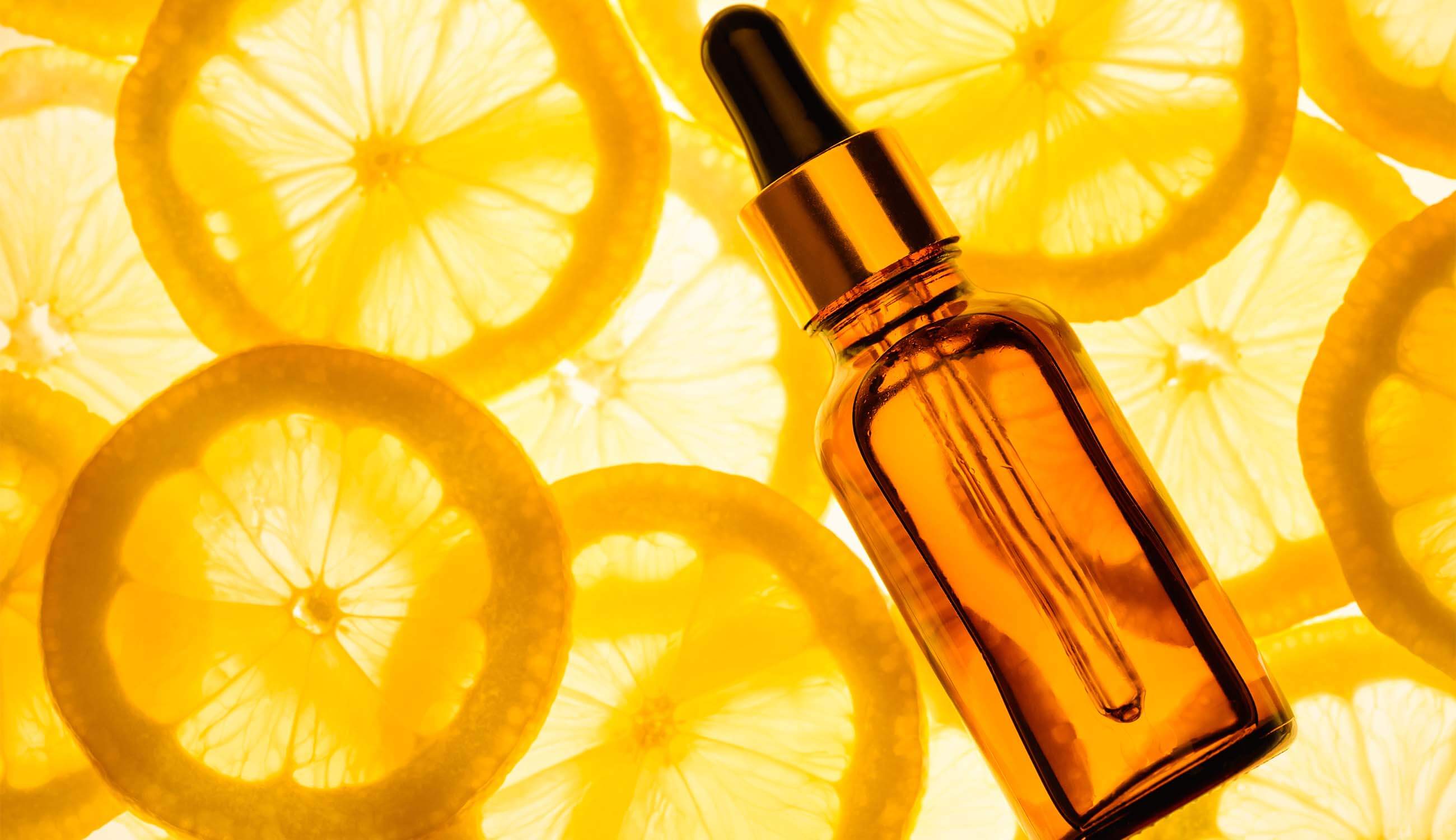 If you're in the know in the world of skin care, you're probably no stranger at all to vitamin C serums. With their widely-touted claims of brightening and anti-aging benefits, vitamin C serums are, in many ways, a staple in skin care.
And of course, there's a good reason why: vitamin C comes with a wide variety of different skin benefits. Those include hydration, soothing redness, evening out the skin tone, de-puffing the eyes, boosting collagen production, calming down sunburns, and even helping to prevent sagging.
While there's probably some degree of vitamin C in your diet, there's no way to guarantee it's affecting your skin. Using serums and other topical products is the most direct way to reap these benefits. We've written about the skin care benefits of vitamin C, but today, let's talk about the different ways you can apply vitamin C topically. Specifically, we're going to explore vitamin C oil for face and vitamin C serums.
So, how do these two products compare to each other? When we understand the purpose and benefits behind vitamin C serums and vitamin C oil for face, as well as how to get the most out of their benefits, we achieve a unique sense of knowledge about our skin care needs.
With the vast selection of clean beauty products to choose from, here are some tips for deciding which is right for you.
Vitamin C Oil: What Is It?
A vitamin C oil for face use is when you have a stabilized form of vitamin C (like ascorbic acid) suspended in a carrier oil or, in some cases, a blend of them. Due to their larger molecular weight, vitamin C face oils can't penetrate too deeply into the skin. However, they can supply the upper layers of skin with both nutrients and hydration.
Because of these properties, a vitamin C oil for face may make a suitable replacement for your daily moisturizer. But with that being said, let's get a bit more into the key benefits of vitamin C oil for face treatments.
Benefits of Vitamin C Oil for Face
While those of us from the 80s and 90s may still flinch at the word "oil," it's quickly gaining new popularity in skin care, not as something that may cause acne, but as something that could help it.
Facial oils such as vitamin C oils work in tandem with the skin's natural oils. They help to balance out complexion, lock in hydration, and slow down the rate at which the skin produces sebum.
On top of that, vitamin C oil for face is going to be rich in lipids, which are key in skin care for replenishing the moisture barrier, smoothing out texture, and softening the skin. As a result, the fatty content in vitamin C oil is going to keep your skin soft and plump, while the vitamin C helps foster a healthy glow. Talk about a double whammy!
What's more is that plant-based oils are typically rich in antioxidants, which is all the better for your skin. But how does vitamin C oil for face compare to vitamin C serums?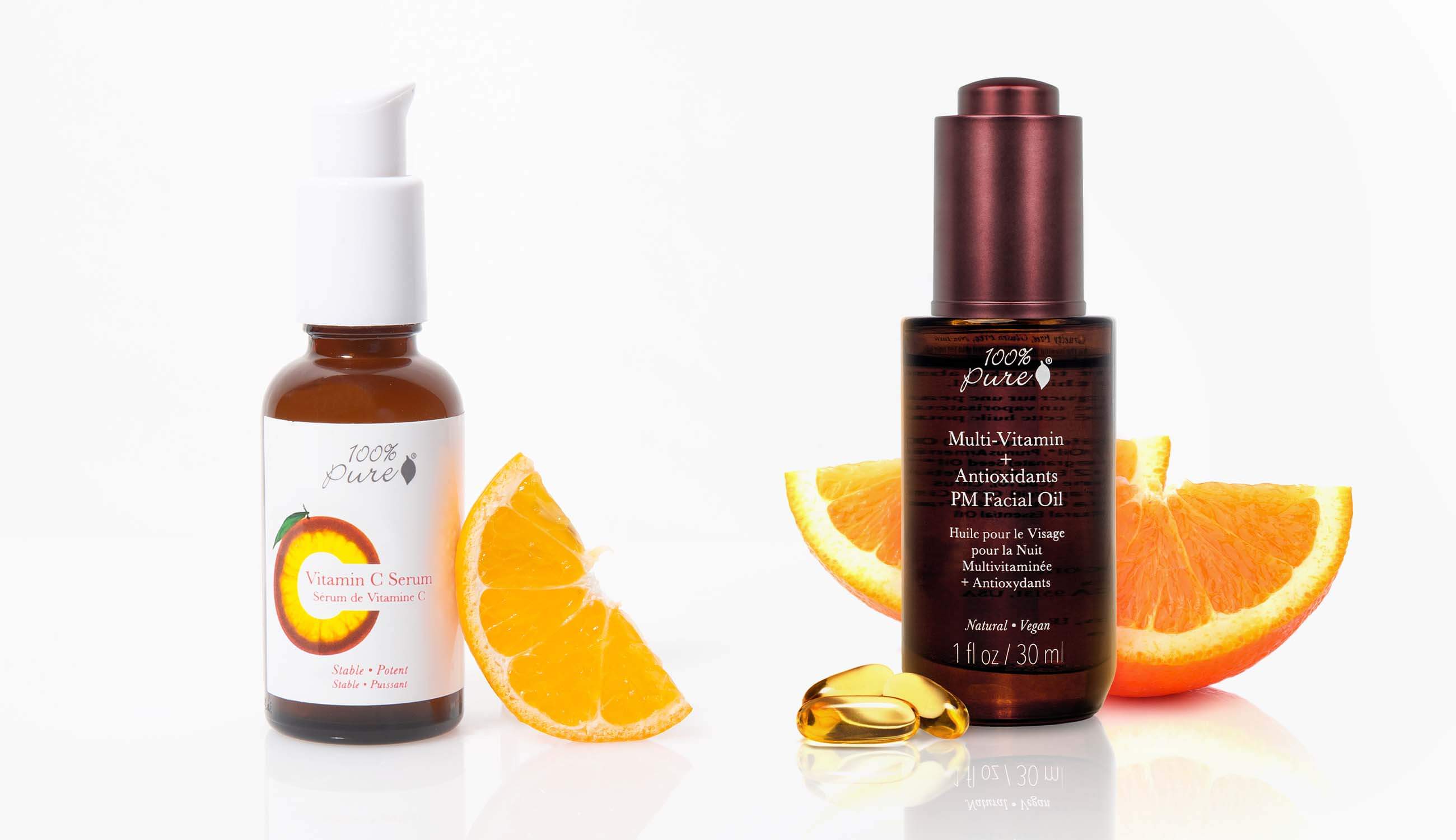 Vitamin C Serum Benefits and How They Compare to Vitamin C Oil
While vitamin C oils tend to have a molecular weight that's on the heavier side, vitamin C serums are created with a very light molecular weight. They're designed to penetrate the skin layers, delivering ingredients meant to target specific issues.
Basically, this is all to say that vitamin C serums are a lot like supplements for your skin. And with their lightweight consistency, you can deliver a lot of ingredients to your skin more effectively, whether those ingredients are peptides, glycolic acid, or, of course, vitamin C.
However, vitamin C serums aren't as moisturizing as vitamin C oils. While they can penetrate deeper into your skin than vitamin C oils, there's a greater risk for trans-epidermal water loss. But with vitamin C oils, you're creating a sort of seal around your skin. That keeps all of your skin care goodies sitting tight in the dermal layer.
With all this said, though, you're probably still wondering: should I use a vitamin C oil or a vitamin C serum?
Which Should You Choose: Vitamin C Oil or Vitamin C Serum?
So, which one is going to be best for you and your skin: vitamin C oil or vitamin C serum? To be clear, both types of vitamin C hold their own benefits (surprise, surprise).
Serums are something that anyone can really benefit from. They come in a wide range of different formulations and consistencies. They can help repair and protect the skin, and they can dive deep into the layers of the skin.
Vitamin C oils, meanwhile, aren't going to penetrate too deeply. Instead, they stay at the upper layers of the skin. If your skin is often dry, or if you live in an area with cold, dry air, this could be just what you need.
If you do decide to use a vitamin C oil for face, make sure to consider the kind of oil you're going to be using. For instance, jojoba oil is a lightweight oil that's suitable for acne-prone, oily, and combination skin. We love jojoba so much, we made it one of the first ingredients in our Multi-Vitamin + Antioxidants PM Facial Oil.
Another good oil to look for is squalane, which is typically derived from olives (not to be confused with the shark-derived squa-lene. Squalane is lightweight like jojoba oil, but it's a bit more nourishing and hydrating. That makes it particularly helpful for those with acne-prone, oily, and dry skin types. We especially love it in Klur Unseasonal Kind Face Oil, which is made with vitamin C and CoQ10.
Whether you choose a vitamin C serum or a vitamin C oil for face care, walk away with this one piece of advice with vitamin C: make sure to layer your skin care properly. When using a vitamin C serum, follow up with a moisturizer. Meanwhile, vitamin C oil can be used as the last step in a routine.
We carefully hand-select products based on strict purity standards, and only recommend products we feel meet this criteria. 100% PURE™ may earn a small commission for products purchased through affiliate links.
The information in this article is for educational use, and not intended to substitute professional medical advice, diagnosis, or treatment and should not be used as such.
Sign up to our email newsletter for more blog updates and exclusive discounts.
< Older Post | Newer Post >