Embrace Your Natural Beauty: The Benefits of Using Natural Body Wash for Sensitive Skin
Why it's best to use natural ingredients in body washes, how they differ from traditional formulas, and the best body wash for your skin type
Posted on May 5, 2023
Written by: 100% PURE®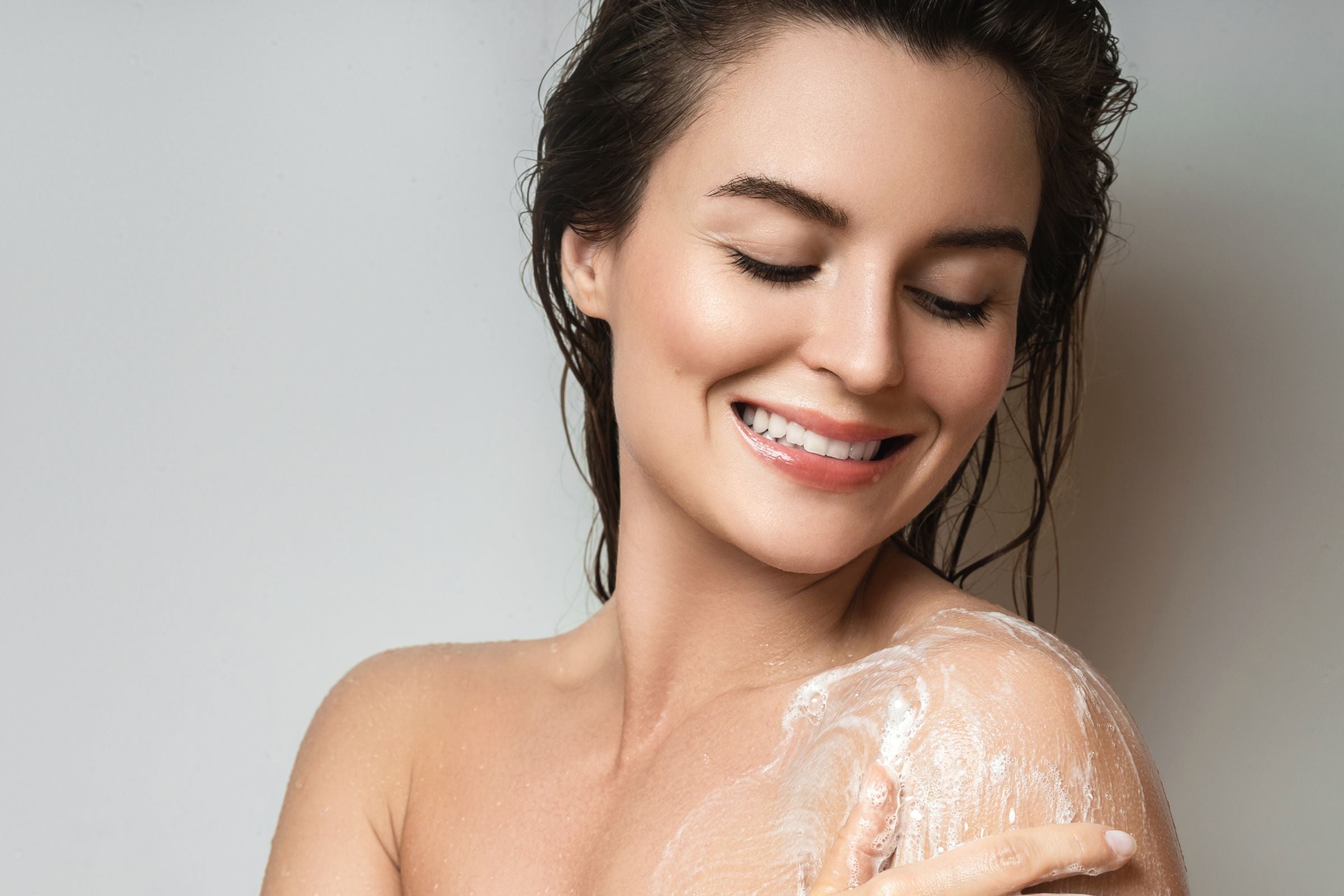 If you have sensitive skin, then you've likely found that trying to choose the best body wash at random can be a minefield. Choose poorly and you could end up with fiery, inflamed skin and explosive itching. Harsh toxins, synthetic colors, fragrances, and fillers galore are to blame for bursting your bubble.
Want a natural body wash that will put out the inflamed skin? We're spilling the bubbles on a little secret that makes our natural body wash formulas conditioning, mega natural, and beneficial for your sensitive skin. We know you'll feel inspired to make the switch to a better – and safer - washing routine!
What Are Natural Body Washes?
We've said it before – skin is our largest organ. As arguably one of the most important "organs" we have, what's just as important as what we put on it – and that's if you have normal skin. But when you have sensitive skin, anything from environmental pollutants or the wind blowing too strongly to body care products can aggravate your skin.
Nothing can help you pass go and collect calm skin better than finding the best natural body wash that can lather and luxuriate your skin with supportive vitamins and nutrients without bringing the ingredient 'storm' to the calmness. Natural body washes have hydrating and moisturizing ingredients that can help reinforce your compromised skin barrier. And, they don't stop there!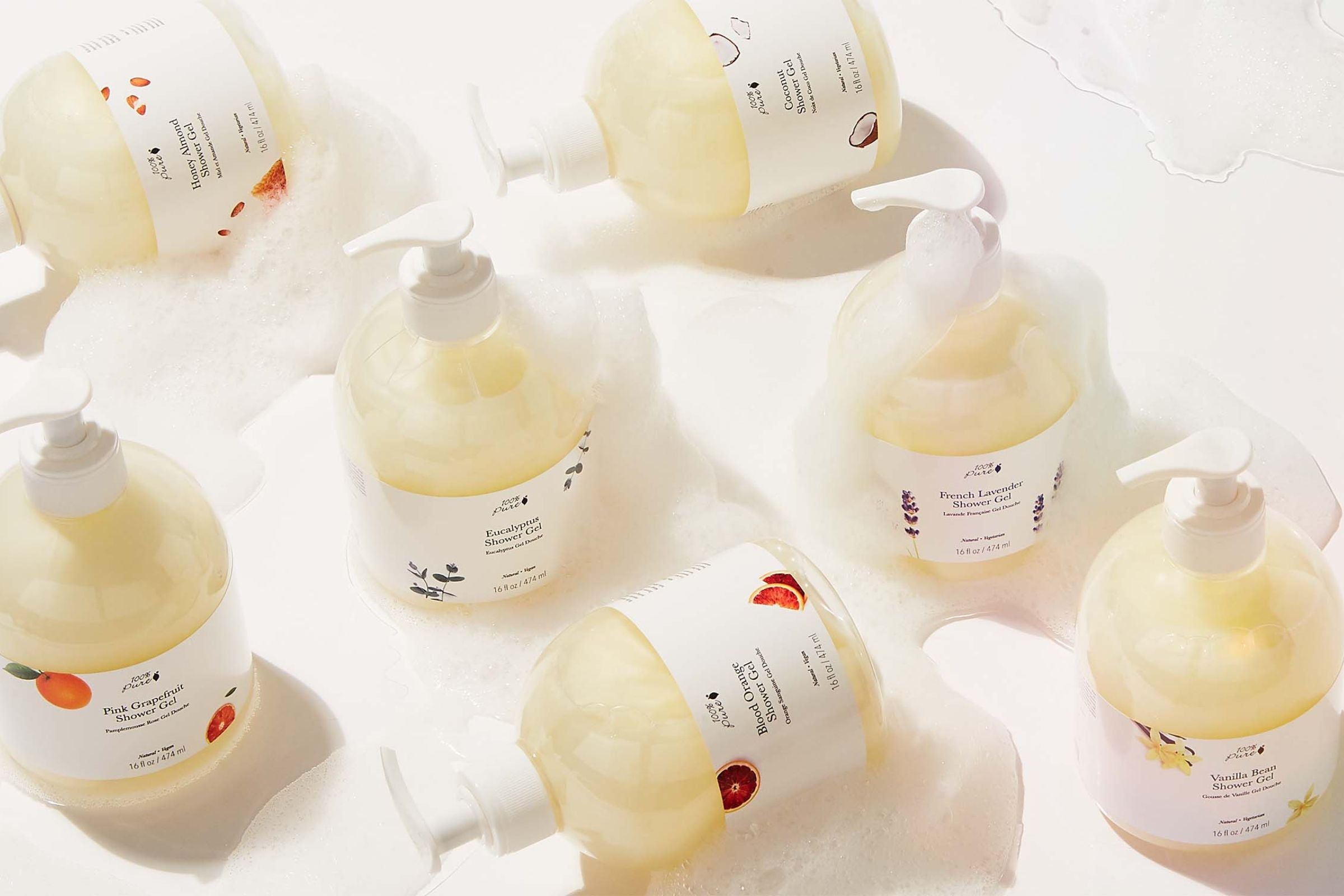 Benefits of Using a Natural Body Wash for Sensitive Skin
If you're looking for a way to burst the bubble on mainstream body washes and kick your skin sensitivities down the drain, a natural body wash might be the sudsing solution you've been searching for. They're loaded with safe, wholesome ingredients that can heal and nourish sensitive skin – and that's just the tip of the sustainable bottle top of skin-efits!
#1. Hydration Hero

A natural body wash features effective, hydrating ingredients. Hyaluronic acid, aloe, cactus, and other ingredients that provide hydration to the skin are beneficial to skin that is sensitive because if the lipid barrier is compromised, it is much easier for transdermal water loss to occur. This means that the skin will lose some of its much-needed hydration, therefore it should be replenished with hydrating ingredients.
#2. Super Soother

A natural body wash is null and void of harmful ingredients that can anger sensitive skin. Rather, soothing ingredients are infused into natural body washes like chamomile, calendula, and aloe, just to name a few. These all-stars are super for soothing inflamed, irritated, sensitive skin.
#3. Mega Moisturizers

Sensitive skin needs a healthy moisture balance so it doesn't further dry out, exasperating skin sensitivity. A natural body wash has moisturizing ingredients like coconut oil, argan oil, olive oil, and avocado butter. These nourishing ingredients contain important vitamins like A and E and help to repair the lipid barrier of the skin. These mega-moisturizers also help to seal in hydration, slowing the process of transdermal water loss.
How do Natural Body Washes Differ from Traditional Body Washes?
We'd hate to burst your bubble, but your fave body wash from those seemingly never-ending store shelves is more of a dud than it is a healthy sud. Many traditional body washes contain harmful ingredients, harsh toxins, synthetic colors and fragrances, and fillers galore. Using the wrong body wash can strip your skin of its natural protective oils, causing dehydration, irritation, and dryness – something sensitive-skin warriors do not need more of.
Traditional body washes also contain complicated mumbo jumbo and most of it, the average person can't even identify without a secret decoder. Of what we can decipher, nothing on the formula label looks particularly nutritious or healthy for us - or our skin. Rarely do we see real, natural, effective ingredients, like vitamin E or certified organic or 'void of harmful chemicals' anywhere on the labels
Natural body washes are (safe) and suds-rific with anti-inflammatory ingredients like aloe to relieve any skin irritation while being infused with more hydrating all-stars like humectants or hyaluronic acid to help seal in moisture levels for balanced, happy skin. To create a physical barrier to lock in moisture, a natural body wash has ceramides to increase the skin's hydration and barrier function.
To top off the best natural body wash, it will be infused with the likes of skin-soothing oils and vitamins, such as coconut or olive oils and vitamin E, and finished with the bliss of natural scents like rose or citrus. When you get out of the shower, you should feel refreshed and moisturized with happy skin.
Newsletter
Subscribe
for more blog updates and exclusive discounts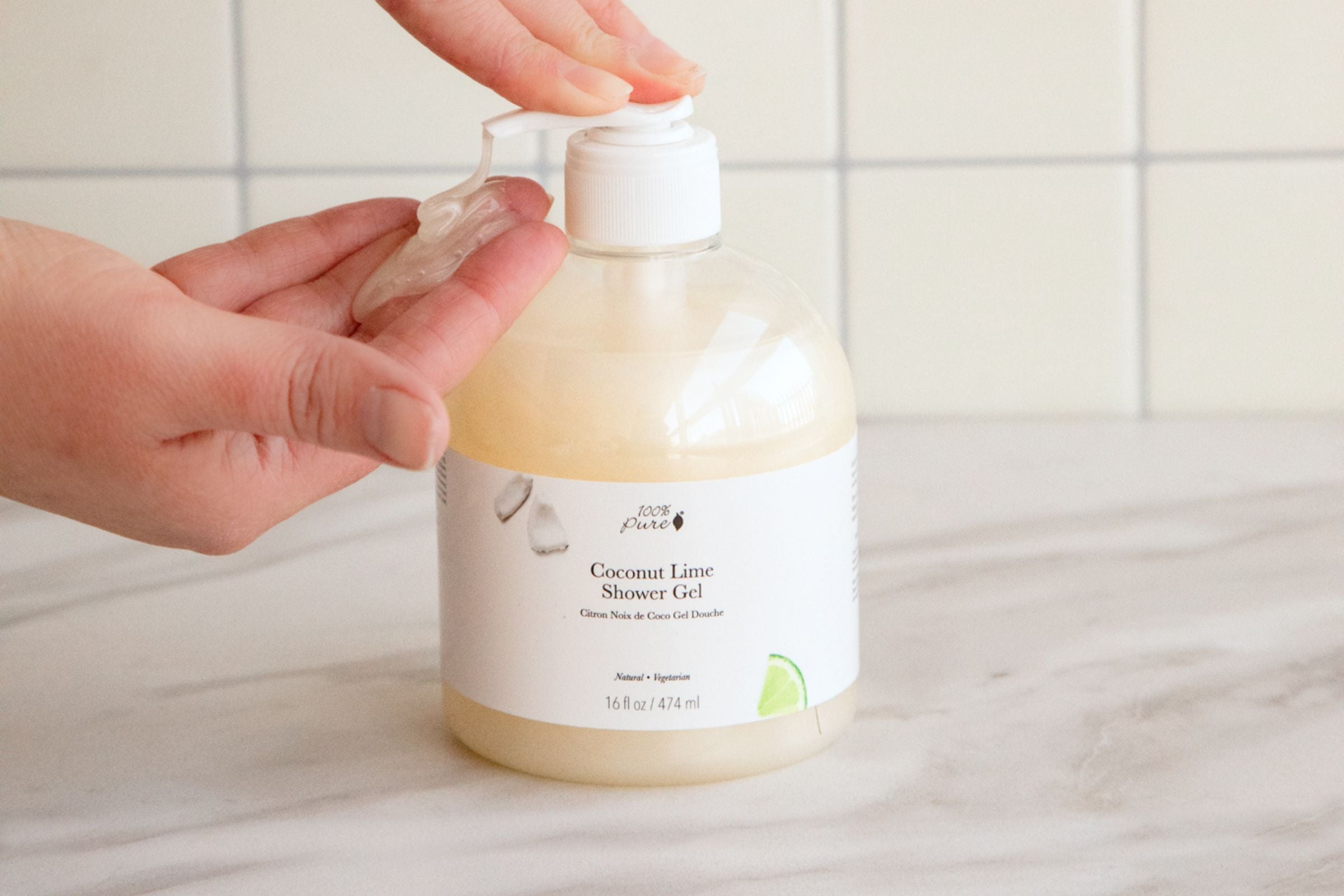 Choosing the Right Natural Body Wash for Your Skin Type
Less is more for those with sensitive skin. Look for simple product labels with ingredients you can understand without a secret decoder. Sure, you'll need to exercise some caution and choose your best natural body wash wisely.
That's why we always use natural ingredients that are gentle on the skin and crucial for skin health. We all know that sensitive skin needs essential nutrients to stay soft, smooth, and balanced – something that traditional body washes can't fulfill. However, at 100% PURE, we can attain this level of natural and excellence, and we create with our natural body washes, as well as ALL our products with the same level of excellence and trust.
We're not ones to gate-keep on skin goodness! So, without further ado, here are our best natural body washes for sensitive skin:
French Lavender Shower Gel

Our shower body wash gels have real ingredients, like the fresh lavender, thyme, and oregano in our French Lavender Shower Gel. This floral treat is perfect for skin types with body acne, eczema, or sensitive skin, as the herbs inside are soothing for these kinds of skin conditions. This is probably the most classic, classy scent of all for a soothing shower experience: French Lavender. Therapeutic and calming on the skin, the gel can help treat irritated, itchy skin and helps heal dryness and sensitivities for calmed, balanced skin.
Sweet Almond Gentle Shower Oil

A two-for-one product that doesn't compromise on our skin's needs by even a single inch, this oil-based body cleanser makes the skin feel as soft as silk. Anti-aging ingredients like apricot oil and vitamin E work to heal and repair skin for the best-looking and feeling skin long-term. Almond and coconut make a sweet duet with lots of richness for all the hydration, moisture, and conditioning that our skin could need. Together this blend leaves us with a sparkly, shiny glow and a squeaky clean that's still soft and supportive on our skin.
Honey Almond Shower Gel

Looking for a rich, softly scented shower gel that blends perfectly with your body lotion and perfume? Our Honey Almond Shower Gel features real almond extract and lavender honey and is perfect to use year around. It soothes dry, flaky skin in the harshness of winter, yet keeps skin perfectly smooth and moisturized after long summer days in the sun.
Coconut Lime Shower Gel

Speaking of sunshine, looking for the perfect summer scent? Drape yourself in the scents of the tropics with our Coconut Lime Shower Gel. In addition to the aloe and saponified coconut oil for the perfect gel texture, this shower gel includes fresh bright key lime and lavender honey. This coconut lime shower gel smells like waking up in Hawaii and brings up all the feels when your work bae gets a whiff at the water cooler.
Can Natural Body Wash Make a Difference?
Are you lathering up with skin-happy ingredients, or just using the same old body wash that leaves your skin feeling stripped, squeaky, and ultra-sensitive? Furthermore, what does it mean to use a natural body wash?
At 100% PURE, it means caring for our bodies the best we can, inside and out. We think so much about what goes on in our bodies that we can sometimes forget about what goes on the outside. Our brand upholds the philosophy that our skin functions as our biggest organ. To properly care for it, a healthy body wash is the best option to lather and luxuriate the skin with supportive vitamins and nutrients.
The shower sensations don't stop there; the creams and oils in our shower gels treat the skin with nutrients and vitamins supporting supple skin, skin health, and a deeply moisturized glow. Maintaining the skin's moisture barrier is important for any skin type, especially sensitive skin types. To leave your skin feeling nourished and moisturized after cleansing, be sure to skip those synthetic ingredients and opt for something a little more luxurious. For all the hard work it does, your skin deserves it!
Regular body cleansing with skin-happy ingredients is important for maintaining balanced, healthy-looking skin, especially if you're a sensitive-skin warrior. We understand that dealing with any kind of skin-related issue is never ideal.
Shopping for body wash can be scary if you suffer from sensitive skin. We hope with these tips and knowing what ingredients to look for and avoid in the best body wash, you can step out of the shower and be well on your way to calmer, happier, and harmonious healthy skin.
We carefully hand-select products based on strict purity standards, and only recommend products we feel meet this criteria. 100% PURE™ may earn a small commission for products purchased through affiliate links.
The information in this article is for educational use, and not intended to substitute professional medical advice, diagnosis, or treatment and should not be used as such.
Sign up to our email newsletter for more blog updates and exclusive discounts.
< Older Post | Newer Post >