Double Cleansing for Summer
Say goodbye to bacteria by adding double cleansing to your summertime skincare routine.
Posted on May 23, 2022
Written by: 100% PURE®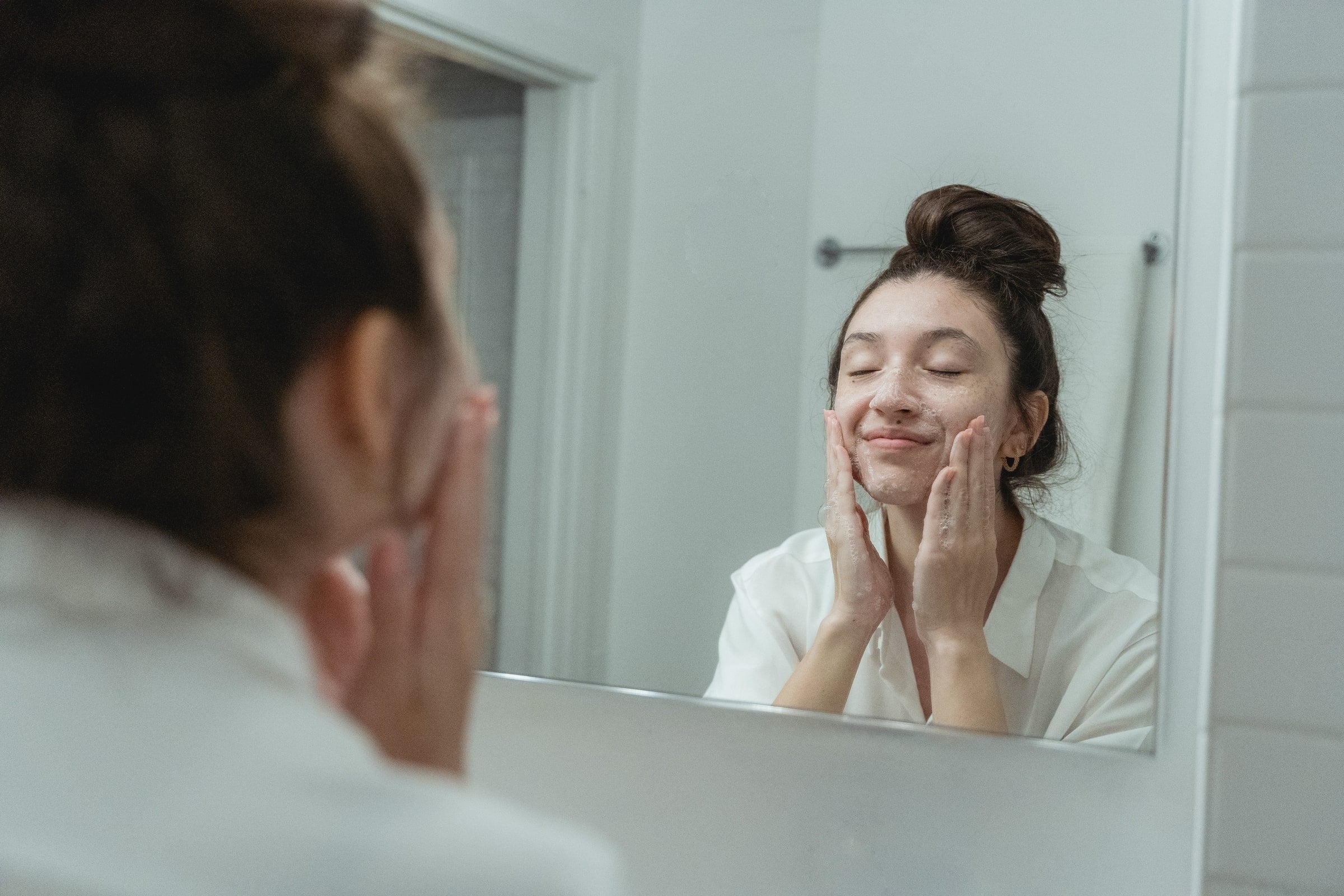 Back in the day, there was once a time when we all thought swiping a makeup wipe across the face was enough to cleanse our skin. In fact, for some of us, this might have been our entire skincare routine.
Not to worry, though–this is a safe place for skincare lovers everywhere, and we're all here to improve our self-care routines as we learn to take better care of ourselves.
And in that spirit, we thought that today would be a great day to go over double cleansing. While double cleansing has been popularized for quite some time at this point, not all of us have tried it just yet.
But for those who have, there are plenty of individuals who will go as far to call it a life-changing step.
So without further ado, let's break down double cleansing, and why it's perfect for your summertime skincare routine.
What is Double Cleansing? Is it Effective?
So, what exactly is double cleansing? And does it really work?
As you might have guessed already, double cleansing is a method of cleansing that involves two steps: an oil-based cleanser, such as a cleansing oil or cleansing balm, and a water-based cleanser, whether it's a foam, gel, etc. If you've never double cleansed before, there's a good chance that this cleanser can be the one you're already using.
Double cleansing works by effectively eliminating the grime, and here's why: the first cleansing step, which is oil-based, is going to draw out those impurities that are also oil-based, which includes residual sunscreen, sebum, and pollutants from your environment. Then, that second cleansing step helps eliminate everything else, including dirt and sweat.
Think about it: when we don't properly cleanse on a regular basis, grime from our world can deposit into your skin, not to mention the sunscreen, makeup, and sweat. This buildup can become trapped in the pores, leading to clogging and enlarged pores, while the complexion might become noticeably dull.
But when we double cleanse, we're drawing impurities out of the skin like a magnet, and it can do wonders for our skin in the long run.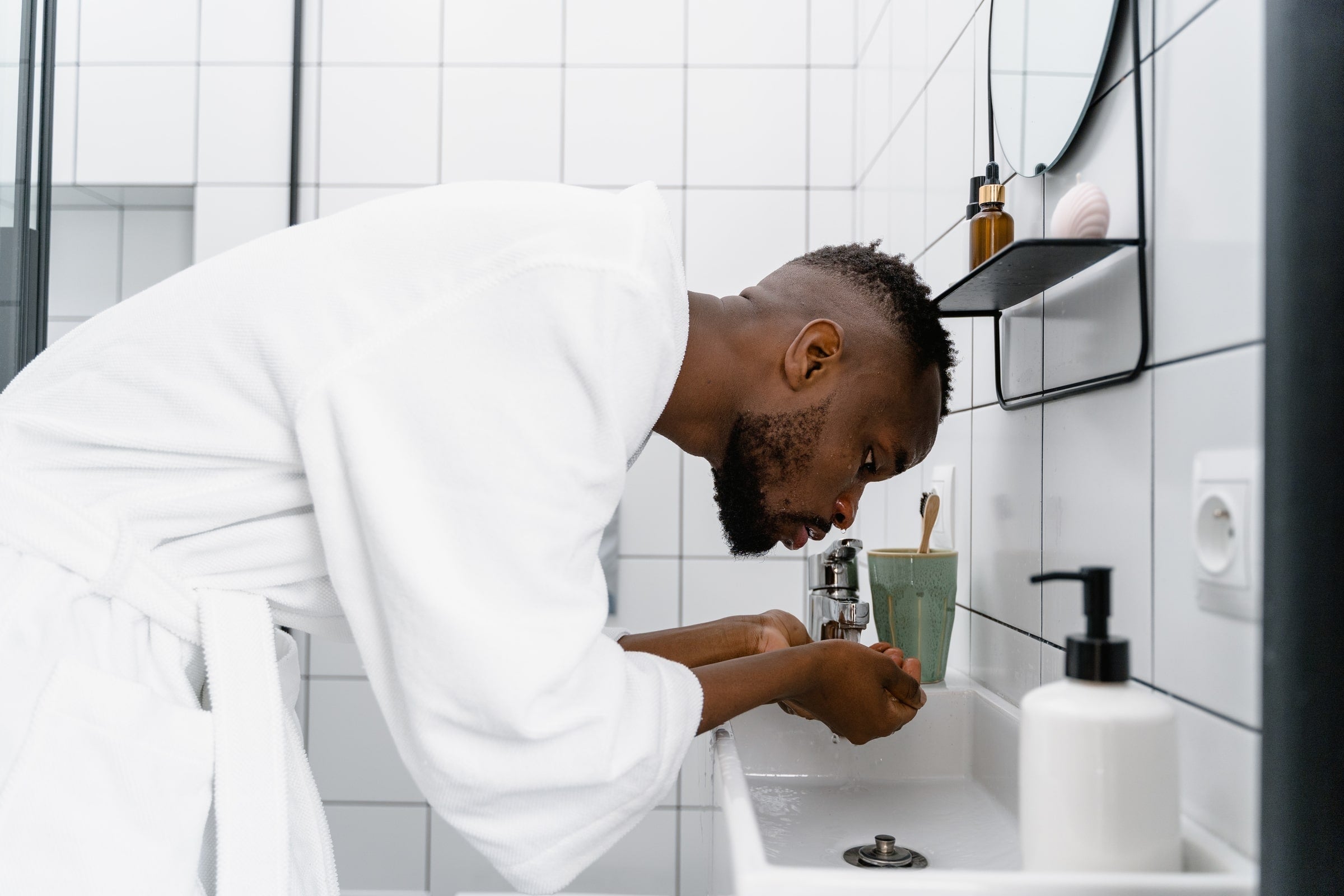 Reasons to Double Cleanse This Summer
Now, you may be wondering: why should I do more for my skincare? Aren't makeup wipes enough?
While double cleansing may mean a few more steps in your skincare routine, it's absolutely worth it. Makeup wipes, on the other hand, not only create waste, but they're actually not very effective for removing makeup.
Newsletter
Subscribe
for more blog updates and exclusive discounts
As a matter of fact, makeup wipes may be doing your skin more harm than good. Not only are makeup wipes made with solutions you're not so familiar with, but when you apply one to your skin, makeup, sunscreen and dirt is dragged all over your skin.
While these wipes may lift some impurities from your skin, it's ultimately going to do more harm than good.
On top of that, makeup wipes are single-use items, and we're trying to get as much use out of our skincare these days as possible.
And with summer in full swing, you need a solid cleansing step that's going to eliminate all of the sweat, sunscreen and grime that accumulates on our skin during some fun in the sun.
Because it's so thorough for removing both water and oil-based residue on the skin, double cleansing can help combat the pollutants you're exposed to throughout the day–especially for those of us that live in urban areas, where car exhaust, soot, and car exhaust contributes to pollution for our skin even more.
And not only will double cleansing keep your skin clean, but it will also help soothe and relax it. And thanks to the use of cleansing oils, double cleansing is a fantastic way to remove makeup and sunscreen without stripping the acid mantle or disrupting the skin barrier. And depending on the type of cleanser you use to follow up on your oil cleanser, you can make your double cleanse even more gentle.
That being said, you might have those nights when you need a quick makeup remover fix before bed–maybe you got back from a music festival, or maybe you had one too many summer cocktails. An effective, more sustainable solution is some reusable cotton pads and a micellar water; it won't be as thorough as double cleansing, but in a pinch, it's a wonderful alternative to makeup wipes.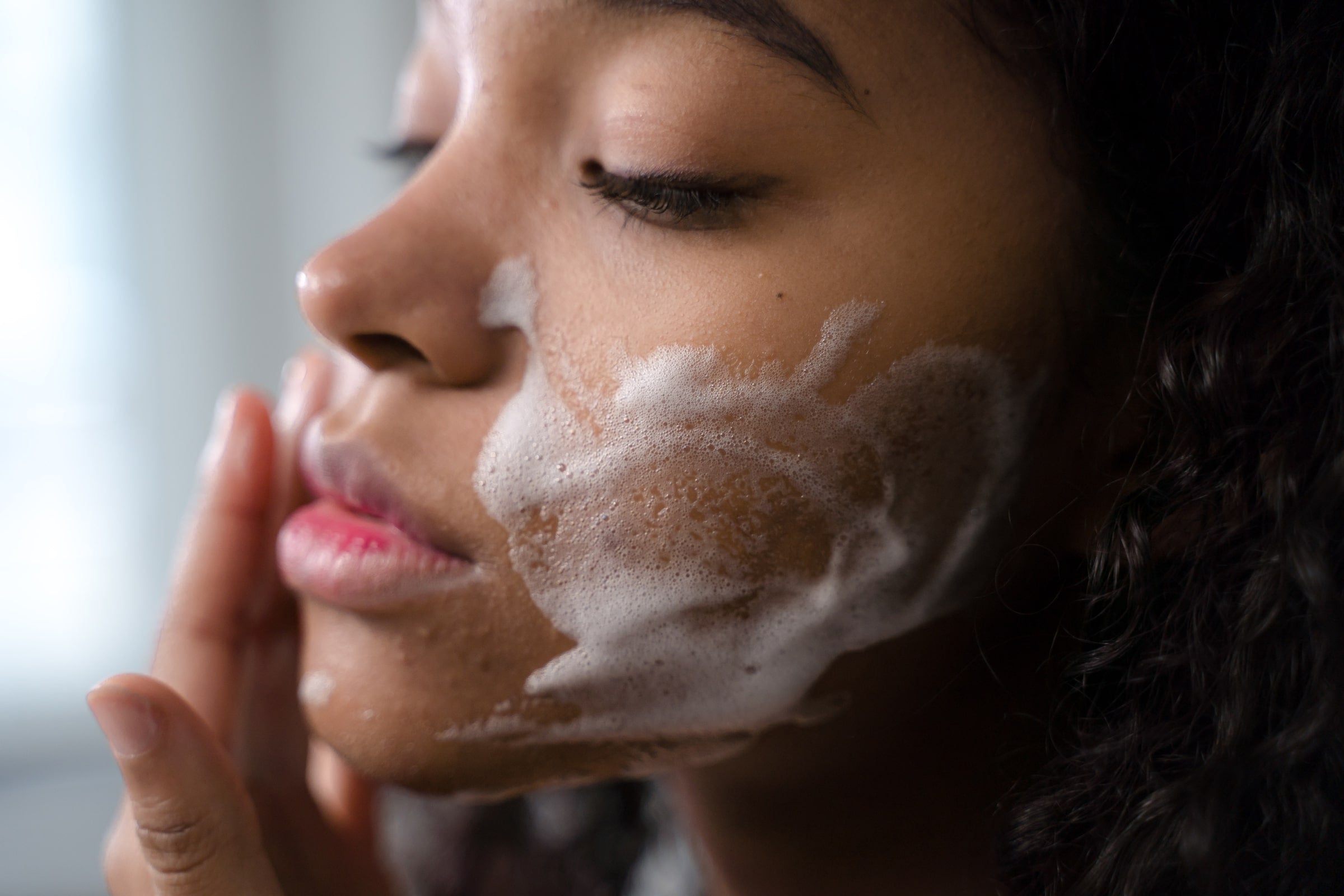 Steps to Double Cleanse
If you choose to incorporate double cleansing as part of your skincare routine, we recommend that you opt for an extra gentle oil-based cleanser, like our Blood Orange Cleansing Balm. Cleansing balms melt slowly, and gently massaging a cleansing balm into your skin will feel like a soothing, luxurious experience at the end of the day, especially during the summer months.
As for your second-step cleanser, we recommend any type of water-based formula, and whether you choose a foam like our Green Tea Cloud Foam Cleanser, or something gently exfoliating like our Pore Detox Herbal Cleanser, it's ultimately up to you.
We recommend that you keep your double cleansing step in the evening, and to simply splash your face with water in the morning, or use one gentle, water-based cleanser.
To begin, dispense your cleansing oil or scoop out about a teaspoon of your cleansing balm, depending on which type you have. Without wetting the skin, massage the cleanser into your skin in gentle circular motions for about 30 seconds to a minute, avoiding the mouth. When oil cleansing, there is no need for an additional makeup remover, so go ahead and massage (very gently) over the eyes to free up any mascara or eyeshadow. With a cloth, wipe away any residual cleanser, if necessary.

Next, take your second-step cleanser and apply it to damp skin. Similar to the oil cleanser, gently massage in circular motions, but avoid the eyes this time.

Rinse your skin and pat dry with a towel. Follow up with your skincare routine as normal.
It's important to know that it'll probably take a few days of double cleansing before you start to notice the difference in your skin, whether you're looking to clarify, brighten, or tighten.
We carefully hand-select products based on strict purity standards, and only recommend products we feel meet this criteria. 100% PURE™ may earn a small commission for products purchased through affiliate links.
The information in this article is for educational use, and not intended to substitute professional medical advice, diagnosis, or treatment and should not be used as such.
Sign up to our email newsletter for more blog updates and exclusive discounts.
< Older Post | Newer Post >