Calendula - The Sensitive Skin Savior!
How this calming flower can help sensitive skin – plus the best skin savers with calendula to soothe and nourish skin
Posted on December 27, 2022
Written by: 100% PURE ®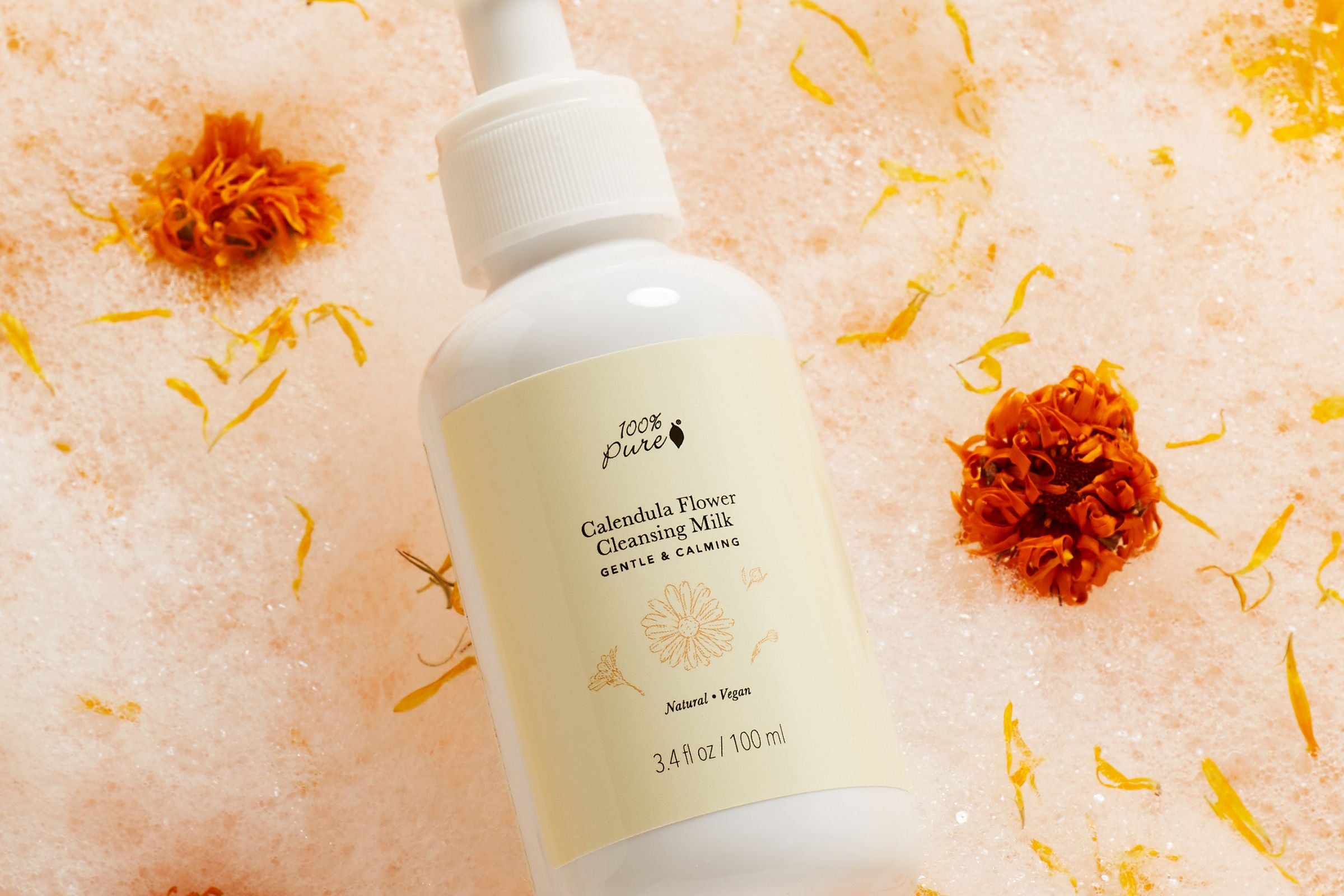 What a dull place it would be to have a world without flowers. Vibrant, delicate, and oh-so fragrant, these blossoming wonders are one of the best features in our homes and gardens. But what about using flowers for their healing powers in our skin care regimen? Enter calendula!
When pursuing gentle skin care, we always try to seek out a natural solution first, and the calendula flower ranks top for its calming beauty benefits for any-bud-y full of reasons!
Time to shine some "light" on calendula that's not only gentle on skin, but may also offer healing effects and deep nourishment.
What Is Calendula?
Most of us have stopped and smelled the roses or blew out the white puffballs of the dandelions like birthday candles. But what about the calendula flower, and on that seed of a thought, what is it?
Calendula, Calendula officinalis, also known as pot marigold, is native to northern Mediterranean countries. It belongs in the marigold family – those cherry, pom-pom flowers most commonly in vibrant yellow and orange colors.
The main difference is calendula displays long and straight petals and the blooms are rather flat and bowl-shaped. These bright beauties have a pleasantly herbaceous aroma and are popular decorative plants in the home or garden. So, move over orchids!
Calendula is no new plant on the old garden block. This flowering plant, which is native to the Mediterranean regions, has been used since the 12th century for medicinal purposes. In fact, calendula has been used by early Romans and Christians as 'Mary's Gold' and in Ayurvedic and Unani systems of alternative medicine to help treat burns, cuts, minor infections, and skin inflammation.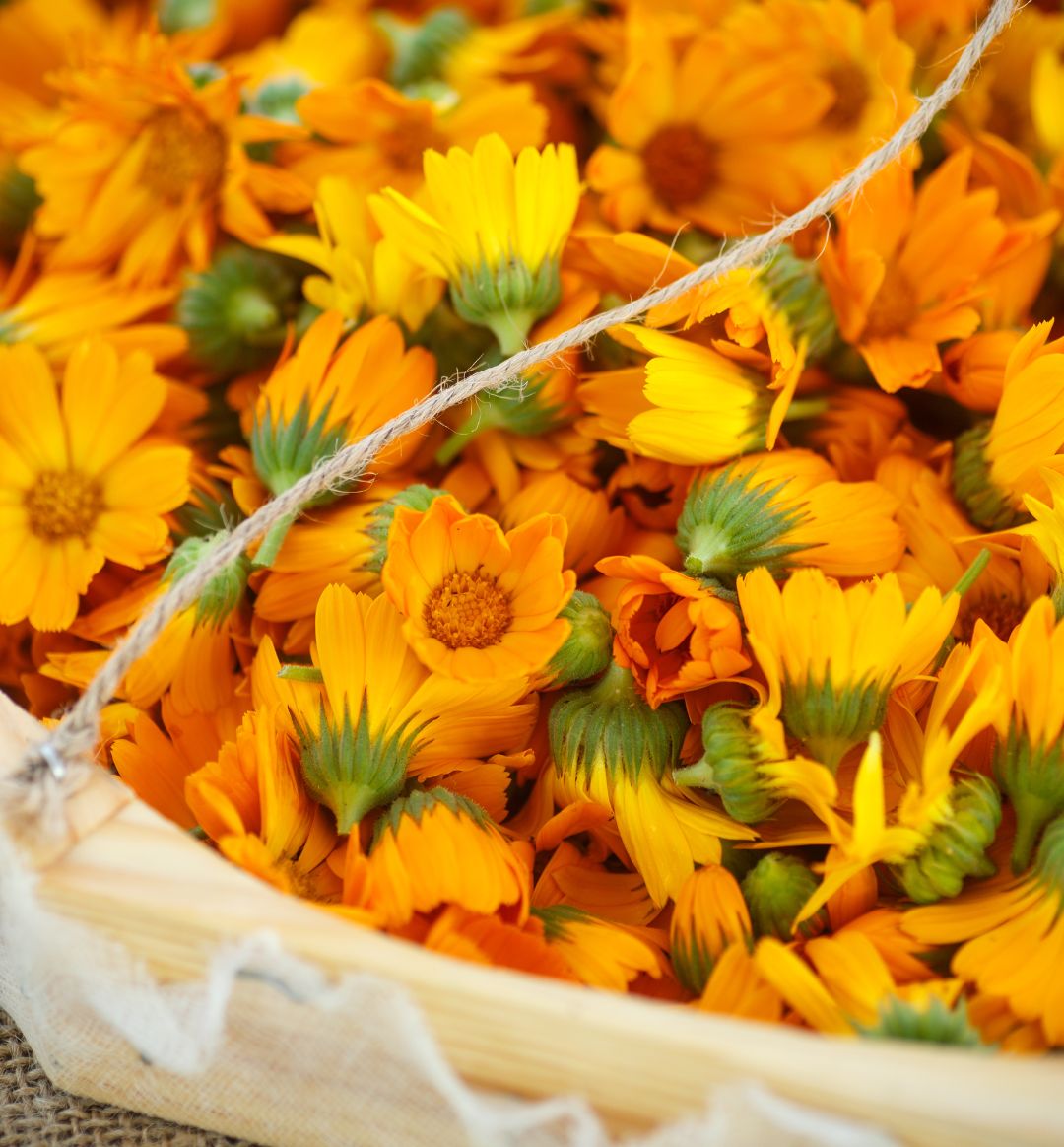 Calendula Benefits for Skin
Calendula is far more than just a pretty petal face. Let's just say this flower power is not your typical "garden variety" and lays ground for bragging rights among the plant arena. It ranks well in the A-plus categories of anti-inflammatory, antibacterial, antifungal, antioxidant, and anti aging properties – plus other skin-efits!
Let's take a closer look at calendula's beauty benefits for the skin!
#1. Anti-inflammatory

Inflammation can cause a myriad of skin nuisances. In fact, you can typically blame inflammation for breakouts, rosacea, eczema, sensitivity, even a breakdown of collagen. The bright side of the calendula flower is all these inflammatory skin conditions can benefit from its soothing A-game – and that's its anti-inflammatory properties!
Thanks to calendula's potent dose of flavonoids, which are super antioxidants known for their soothing effects among others, the flowering plant can soothe and reduce skin redness, inflammation, and irritation. And when it comes to treating breakouts, calendula's gentle nature means it won't dry your skin out and it's safe to use with other acne-fighting ingredients.
#2. Antibacterial

Any skin infection, irritation, acne, and breakouts are no walk in the garden. But if you're wandering through a patch of calendulas, they got your back and your face! These bright botanicals have natural antibacterial properties, which makes them all-stars for helping to fight breakouts and acne and preventing bacterial skin infections.
#3. Antifungal

With calendula's anti-inflammatory and antibacterial powers, add potent antifungal properties and you have a trifecta of A-plus benefits for the skin. Its antifungal properties make it useful in healing wounds, and soothing eczema, and it can even help treat and soothe diaper rash.
#4. Antioxidant

If you can be-leaf this, the calendula petals contain five compounds: Oleanolic acid, lupeol, quercetin, alpha amyrin, and beta amyrin. These compounds are known to provide antioxidant protection.
Calendula is also rich in antioxidants; particularly flavonoids, which are helpful for protecting skin against free radical damage. This plant is rich in hydrating linoleic acid, and can help skin cells absorb nutrients from your skin care products more efficiently.
#5. A-plus moisturizing

These are the times your skin needs a little extra TLC, especially during the moisture-sapping cold months, which put our precious skin more at risk for itchy, red, flaky, and uncomfortable, tight-feeling complexions. No fear – calendula wears a cape, too!
The flowering superhero ingredient can come to the aid of dry and sensitive skin and help repair the skin's natural barrier. This is due to calendula's high concentration of fatty acids that help to moisturize and hydrate your skin. That means calendula can help you kick dry skin to the garden curb!
#6. Anti-aging

Speaking of adequate moisture, proper skin hydration contributes to radiant skin every day – not just the cold months! But it's important for other reasons, too, and that's lines and wrinkles! That's right, well-hydrated skin can also help with the signs of skin aging, since parched skin can exasperate fine lines, texture differences, and wrinkling.
Since calendula gives skin cells the ability to absorb nutrients and hold onto water longer, using products with this anti-aging superstar can lead to smoother, more supple, and more nourished skin. And we just so happen to have these products! More on that soon!
#7. Skin-soothing

A well-known benefit of calendula is its ability to help reduce irritation, and this is particularly beneficial for those with sensitive skin. Calendula's skin-soothing benefits are due to its anti-inflammatory properties, as well as its ability to limit trans-epidermal water loss, which in turn strengthens the skin's defenses or barrier against potential irritants.
In short, your skin has a natural barrier that helps keep hydration in and undesirables like pollution and environmental irritants out. This barrier can become compromised for a variety of reasons including harsh weather and leave you with dry skin that's easily irritated. Calendula will help lessen the symptoms and feel of skin irritation and discomfort.
#8. Free-radical fighting

Calendula is rich in antioxidant compounds, including flavonoids, polyphenols, and carotenoids. These antioxidants help neutralize and protect skin from free radical damage, which can lead to premature aging like increased fine lines and wrinkles, hyperpigmentation, and dullness.
Calendula can help counteract this damage and lessen the appearance of dullness, fine lines, and wrinkles, which keeps it functioning optimally and looking its best.
Newsletter
Subscribe
for more blog updates and exclusive discounts
Are There Side Effects to Calendula?
One of the perks we love about calendula is that it provides a myriad of beauty benefits described above while being super gentle on your skin! In fact, it's so gentle that studies suggest it's safe for babies when used as a diaper cream or baby lotion as well as for folks with sensitive skin.
Another reason we love calendula as an ingredient in skin care products is that it comes straight from nature. It's precisely why we use it in our cult-favorite calming formulas. And we also believe that nature knows best.
With that being said, calendula is a great option for most skin types. However, there is a chance of allergic contact dermatitis to calendula if you have an allergy to ragweed, daisies, and chrysanthemums. If you're allergic to these plants (or any in the Asteraceae family) you might want to do a patch test to make sure that calendula is safe for you.
But as always, if you're concerned about any potential breakouts or adverse side effects, you'll want to also consult a licensed skin professional about using products with calendula.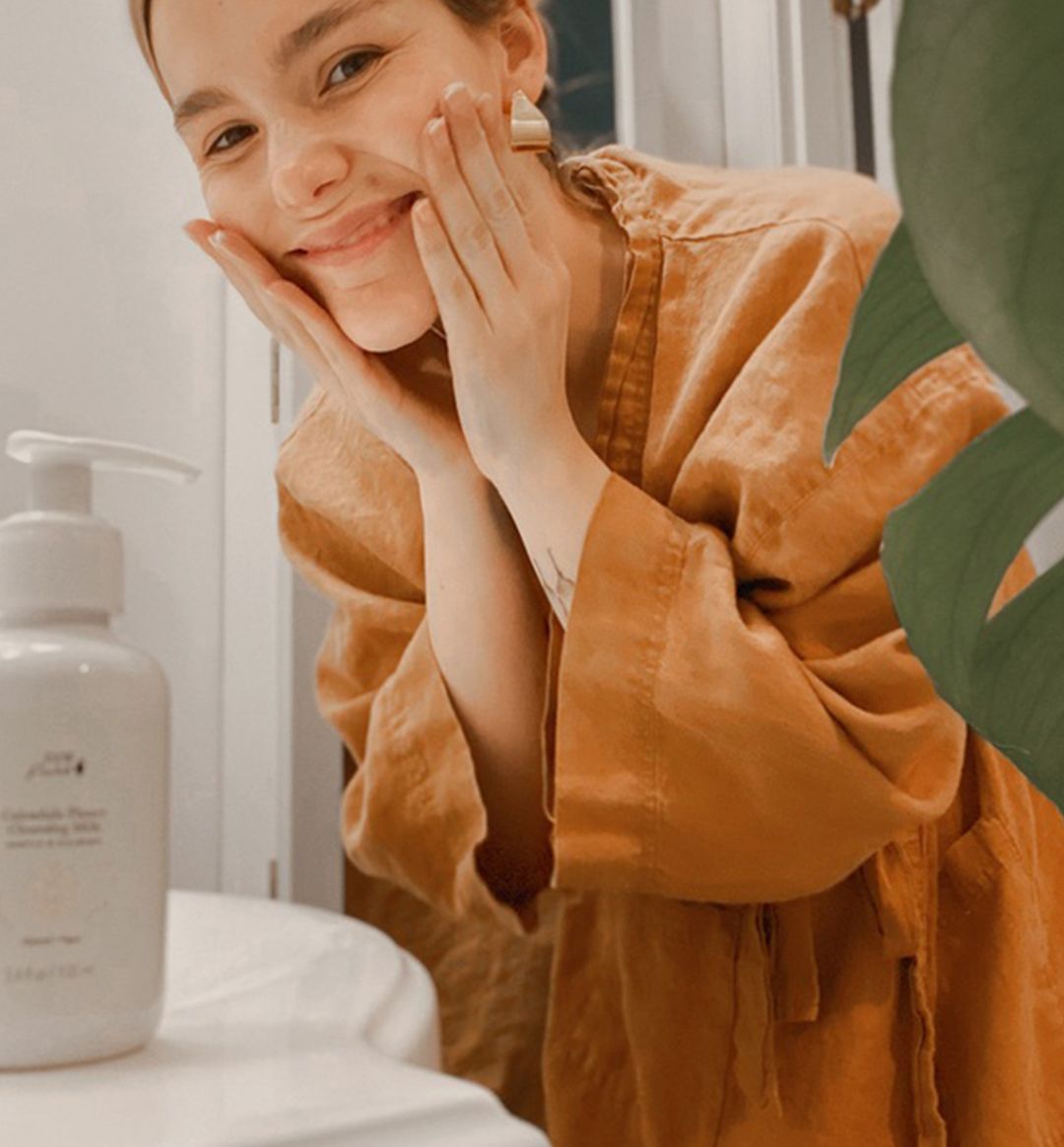 The Best Calendula Skin Care Products
Whether you have sensitive skin or your precious dermis has been irritated by environmental or weather culprits, the key to a calm and soothed complexion is the skin multi-tasking properties of calendula.
Without further ado, here are some skin-soothing, ultra-calming formulas featuring calendula that you might have wished you added to your skin care routine before now.
Calendula Flower Cleansing Milk

We'll never get over just how creamy and luxurious cleansing milks feel on the skin. A single pump of this floral fantasy delivers milky hydration that smooths over the skin like early morning mist, addressing any imbalances on the surface first. Calendula flower, the star of the show, is known for diminishing inflammation and encouraging collagen production.
Made with the addition of skin-calming chamomile and aloe, this silky-smooth milk cleanser gently sweeps away dirt and impurities without stripping skin of essential moisture. The addition of redness-reducing rose hydrosol balances the skin. For any dryness or sensitivity, the finishing touch of skin-conditioning sea buckthorn oil will leave your skin looking supple and radiant.
Lavender Oat Milk Soothing Cleanser

This unique powder formula features the gently exfoliating properties of baking soda and colloidal oatmeal, which can bring relief to irritated or congested skin. Green clay absorbs excess oil without leaving the skin feeling stripped or dry. A blend of calendula, geranium, coneflower, and chrysanthemum flowers are designed to deeply soothe and purify normal to acne prone skin.
The addition of lavender helps soothe inflamed or irritated skin while coconut milk softens the skin with its rich fatty acid content, while supporting healthy collagen levels with an abundance of vitamin C. Flaxseed oil supports hydration with high levels of omega-3 fatty acids, and can be especially helpful for those with rosacea and sensitive skin.
Matcha Oat Milk Nourishing Mask

This deeply nourishing, softening mask is concentrated with restorative and skin-beneficial nutrients. Beta glucan-rich colloidal oats soothe and moisturize; coconut milk softens and fortifies; calendula calms; hyaluronic acid plumps skin with hydration; rice ceramides increase suppleness, and organic matcha green tea restores and protects against environmental damage.
Cucumber Cloud Foam Cleanser

This ultra-hydrating cucumber face wash for dry or oily skin replenishes thirsty skin cells with cucumber juice, aloe, and rose hydrosol. Pillowy soft foam sweeps away dirt and oil, while soothing dry skin with calendula and chamomile flowers. This refreshing cucumber cleanser is free of sulfates, parabens, and artificial dyes.
Rose Hyaluronic Acid Serum

This skin super-serum features balancing rose hydrosol and hyaluronic acid to restore youthful bounce and elasticity to the face. A light gel texture instantly quenches dry skin, while botanical infusions of chamomile and calendula calm the complexion. Beta glucan and sodium PCA support a toned, youthful appearance by banishing redness and protecting essential moisture levels in the skin.
One of the reasons we love calendula as an ingredient in skincare products is that it comes straight from nature. And we believe that nature knows best. Let's throw some shade away from roses, and be sure to smell ALL the flowers along the way
We carefully hand-select products based on strict purity standards, and only recommend products we feel meet this criteria. 100% PURE™ may earn a small commission for products purchased through affiliate links.
The information in this article is for educational use, and not intended to substitute professional medical advice, diagnosis, or treatment and should not be used as such.
Sign up to our email newsletter for more blog updates and exclusive discounts.
< Older Post | Newer Post >