How To Remove Blackheads Safely and Effectively
The best ways to safely remove blackheads for good with natural acne treatments
Posted on December 25, 2022
Written by: 100% PURE ®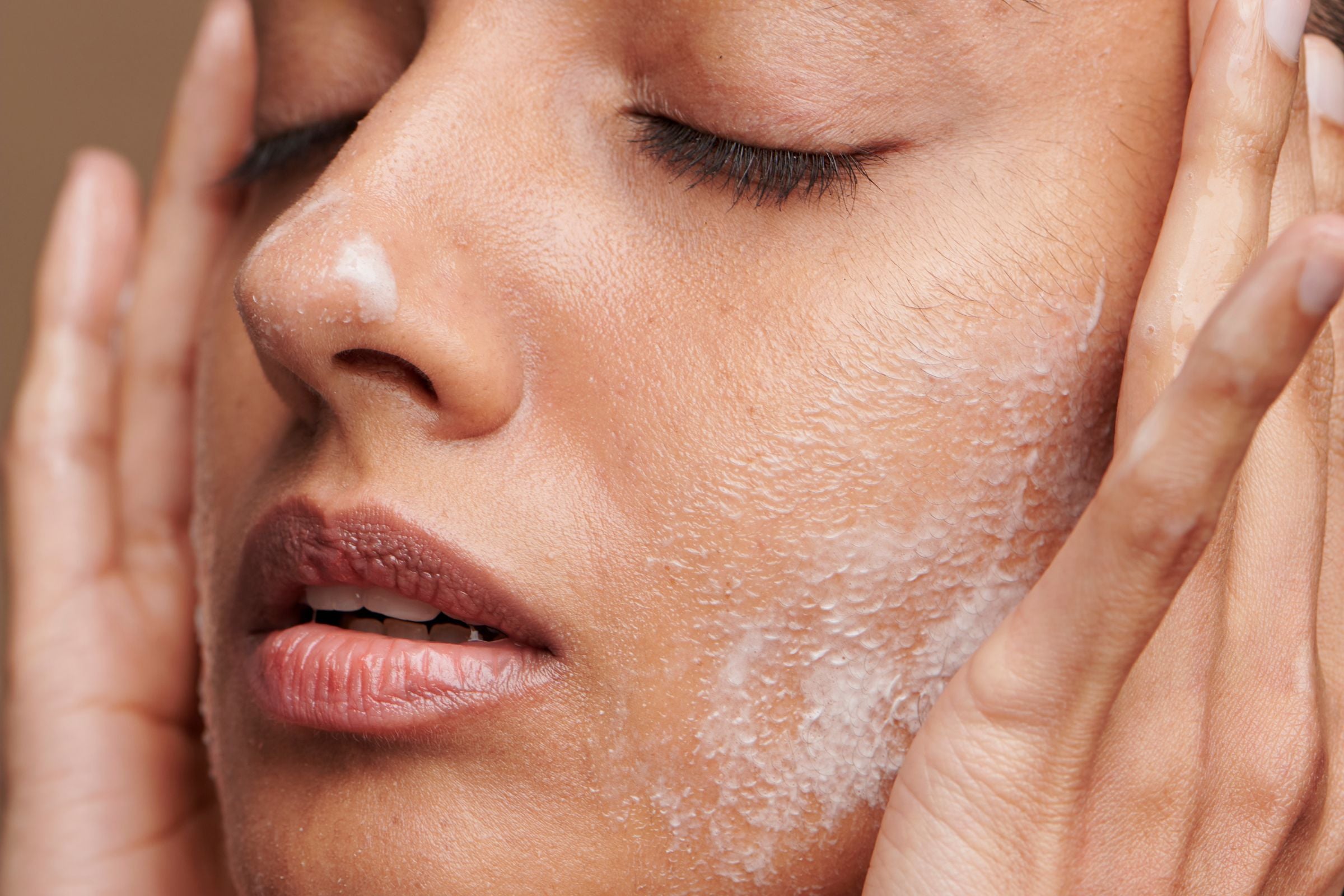 Acne comes in many shapes, sizes, and colors. The skin offenders might be an inflamed pimple, a big blemish, or practically span the color grid. Take blackheads – those pesky, dirty-looking dots that we squeezed with ease with a 20x magnifying mirror as teenagers.
Unfortunately, many of us have been plagued by blackheads since youth. Between mask wearing to an overproduction of oil, we may feel compelled to take matters into our hands to defeat these black specks – much to the detriment of our skin.
Believe it or not, there are right and wrong ways to remove your blackheads. First, let's gain a better understanding of the causes of blackheads, before we march bravely into the realm of blackhead removal and natural acne treatments to keep them at bay.
What Are Blackheads?
If you've ever been nose-to-mirror attempting to squeeze your blackheads only to be left with nail indentations on your skin, you're not alone! No matter which way you approach skin care, we're all fans of being blemish-free - which makes the seize-and-squeeze method so tempting. How come they look like dirt, especially when we keep our skin pretty clean?
To understand these darkened pore-cloggers, let's learn what they actually are. A blackhead is similar to any breakout or pimple that forms on your skin. Now imagine that the very peak of that bump is black and the core of it is pulsing with discomfort – that is a blackhead.
Technically a blackhead is a breakout that forms a plug of sorts, generally in a hair follicle. The plug consists of sebum or oil produced by our own skin and as it remains stuck, the surface of the oil oxidizes and turns dark or black - hence the term blackhead.
How Do Blackheads Form?
Most of us have some sort of idea about what causes our breakouts, like stress, poor diet, and hormones. But blackheads are caused by one thing, and one thing alone: a plug of oil. When pores become clogged by oils – or dirt and dead skin cells - they become exposed to oxygen or "oxidize". Hence, they take on that familiar dark color that gives them the infamous name of 'blackhead'.
Unlike whiteheads, which are associated with acne, they create closed pores. However, blackheads have open surfaces. Blackheads are less likely than whiteheads to cause inflammation, but excessively clogged pores may irritate the skin over time. This makes learning how to safely and effectively clear out your pores daily very beneficial.
Are Blackheads Common?
It's true that these pesky, dark dots like to party in areas with a high concentration of sebaceous glands like our chin and nose – more on that soon! But more people are noticing a correlation between wearing a mask and having worsened blackheads. How can it be that this shielded area of our face from environmental elements is behaving like it hasn't seen a cleanser in weeks?
Well, since there's no ventilation under your face mask, heat and sweat get trapped along with any dirt, oil, and bacteria. The skin above sends the message, 'hey, I need moisture up here!' As a result, more and more oil builds up, but the plug keeps it trapped, which triggers blackheads.
In addition to the high-traffic of oil under your mask, other areas of high concentration of sebaceous glands like our chin and nose are more prone to blackheads. This is why clearing out your blackheads is so important. Plus, knowing how to tackle them safely and correctly will lead to less nail indentations, skin damage, or worse, scarring.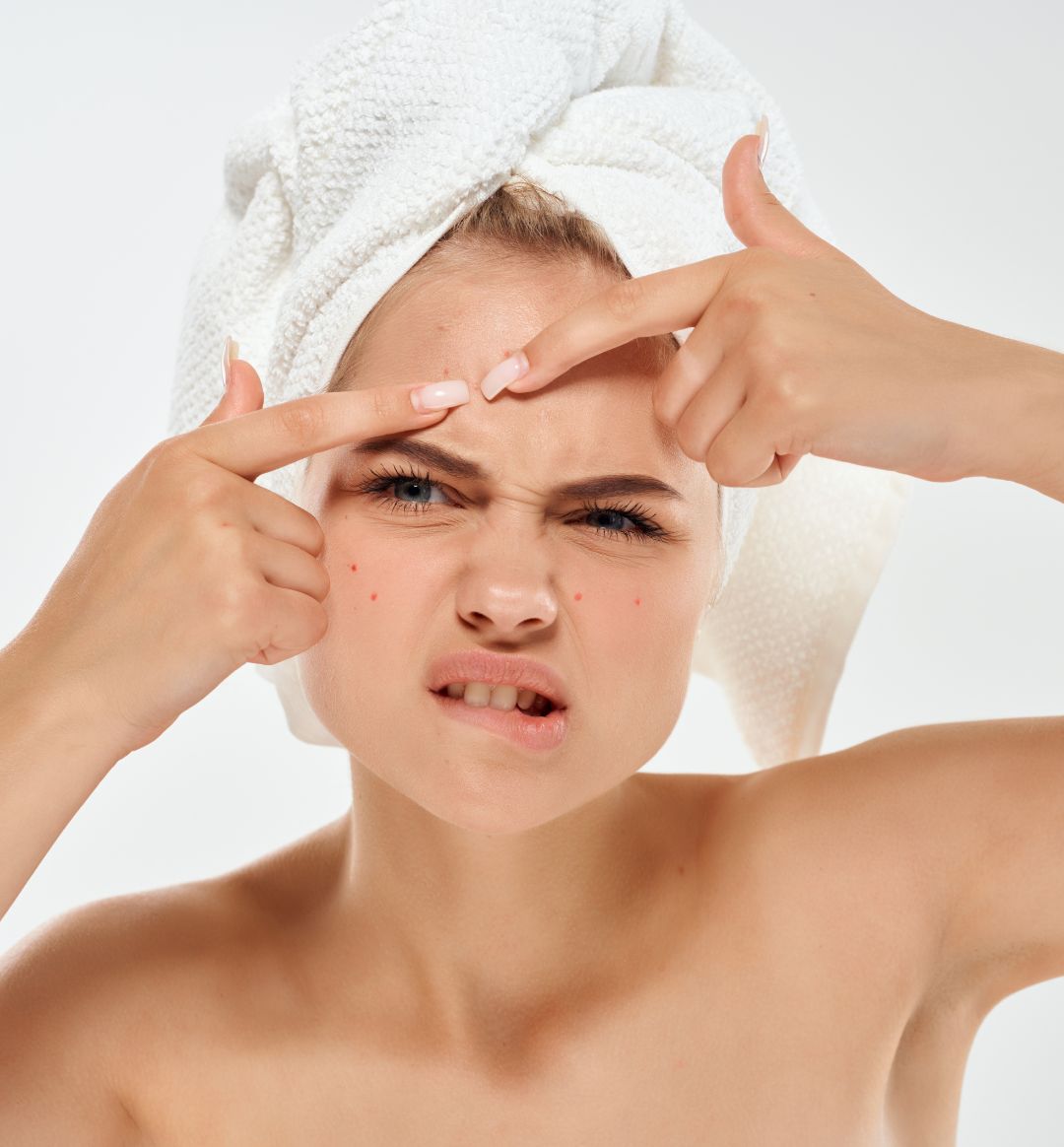 How to Remove Blackheads on the Nose?
Do blackheads have a 'mind' of their own as far as why they plague such a delicate area as our nose? While it's true that these pesky pore-cloggers like to party in high-oil areas, they like to go a deviant step forward and latch onto our sensitive nose area.
Not only does our nose have a unique shape – as opposed to a more navigable flat surface like our cheeks - it's also a goldmine of sebaceous glands and excess oil. Therefore, our nose has a higher potential for blackheads and clogged pores. And it's more difficult to remove the deep black specks that plague it.
But have no fear – we have your back and your nose! Let's look at how to get rid of blackheads the best way.
#1: Exfoliate Regularly
To keep blackheads in check, employ the power of exfoliation. Exfoliation is the process of removing dead skin cells as well as trapped oil and dirt from the surface of your skin and pores. Depending on your skin type and level of exfoliation, you have the options from powder cleansers to fruit acids. These exfoliants allow for a brighter, clearer complexion free of unsightly blackheads.
#2: Cleanse Daily
While it's important that you maintain an exfoliating regimen in order to prevent the onslaught of blackheads, remember that your nose and lower face are covered by a mask. It's just as important that you cleanse twice daily with a high-quality, non-comedogenic, natural cleanser every day.
#3: Use Non-Comedogenic Products
You don't have to stop using makeup, but try to use non comedogenic skin care products and cosmetics that won't clog your pores. This includes routinely using an acne-fighting moisturizer to keep your skin from over-producing oil if it senses it's too dry. Be sure to remove your "day" at the end of each day.
Newsletter
Subscribe
for more blog updates and exclusive discounts
What Are the Best Products to Remove Blackheads – And Prevent Them?
Regular cleansing and skin care are necessary to safely and effectively remove blackheads and to help prevent them. Let's look at how to get rid of blackheads the best way. Start with a consistent cleansing regimen, incorporate ultra-fine scrubs, and use natural acne treatments.
Check out these few tweaks to your skin care routine that can help remove blackheads the right way.
Cleanse Every Day
Washing your face is important for clearing away surface debris, which eventually clogs the pores. You want a cleanser to sweep away makeup, dead skin cells, oil, bacteria, and toxins, to start. Choose a cleanser with natural ingredients that won't strip your skin, made without sulfates and detergents.
Our Tea Tree & Willow Acne Clear Cleanser checks every box for oily, acne-prone, and large-pore complexions. It sweeps away unwanted impurities and soothes red, inflamed skin with calming witch hazel and willow. This cleanser uses salicin – a gentler alternative to salicylic acid – to help purge and unclog pores.
Tone More Often
Using a toner – or more specifically, a Tea Tree & Willow Clarifying Astringent – is a great way to minimize and detox pores. They shrink pores by constricting them, which also stops the secretion of excess sebum. Astringents can also dry out excess oil in the skin, thanks to their component of tea tree, witch hazel, or other antibacterial herbs. For those of us that are breakout prone, astringents can reduce acne with their antiseptic and antibacterial properties.
Moisturize Daily
Our Tea Tree Balancing Moisturizer is a lightweight, quick-absorbing moisturizer concentrated with acne-fighting herbs to refresh, soothe, and balance oily or acnegenic skin. Our tea tree oil face moisturizer replenishes essential hydration with soothing aloe, while calming inflamed skin with cooling peppermint oil and antibacterial tea tree.
Exfoliate Regularly
Exfoliating a few times a week removes dead skin buildup, which causes pores to stretch out. Make sure you choose a nourishing exfoliator or scrub with no harsh synthetic exfoliants: enter the award-winning Acai Pulp Facial Scrub. This facial scrub harnesses the power of grape seeds and acai pulp to buff away bumps, flakes, and surface toxins.
Employ the Power of Tea Tree
Tea tree oil is also one of our favorites, because it's one of the few essential oils you can apply directly to skin undiluted. But we like it best as a team player herbal acne remedies!
You'll find an especially concentrated amount of tea tree oil in our Tea Tree Concentrated Spot Treatment. You can use it to soothe active blemishes and fade acne scars, thanks to a potent blend of tea tree oil, neem, and witch hazel.
You'll also find tea tree oil in our Anti-Acne Mask, which is a clarifying sheet mask made with antibacterial and anti-inflammatory botanicals to soothe and calm active blemishes, while purifying pores to prevent future breakouts.
Use a Scrub
Feeling more like a microdermabrasion scrub, our Matcha Oat Face Scrub uses exfoliating matcha powder and colloidal oatmeal to soften the complexion. This formula features small particles and might be more appealing to those seeking light to medium exfoliation in the quest of how to get rid of blackheads.
As simple as this form of acne is to understand like a blackhead, it's not so easy to remove or prevent it. Since blackheads are caused by a plug of oil, they can happen in a variety of places – basically anywhere on your body that produces its own oil and contains a hair follicle.
Hopefully, with these tips and recommendations, you can keep these darkened, pesky dots at bay so you can enjoy a clear, happy complexion that you deserve. Regular skin cleansing is important to maintaining balanced, healthy-looking skin. Plus, it equally helps to know how to safely remove blackheads.
We hope you enjoyed finding out about how to get rid of blackheads and some of our rising superstar natural cleansers and treatments to help keep your skin glowing! For blackheads that are more mischievous, don't rule out seeing your skin care doctor.
PRO-TIP: Don't Rule Out a Professional Consultation
Aside from these DIY blackhead removal methods, a visit to a professional is also a potential option. Your dermatologist can help determine how to get rid of blackheads and what level of extraction your skin needs. Among a variety of options, they may recommend a chemical peel for your pores.
We carefully hand-select products based on strict purity standards, and only recommend products we feel meet this criteria. 100% PURE™ may earn a small commission for products purchased through affiliate links.
The information in this article is for educational use, and not intended to substitute professional medical advice, diagnosis, or treatment and should not be used as such.
Sign up to our email newsletter for more blog updates and exclusive discounts.
< Older Post | Newer Post >