Boost Your Anti-Wrinkle Efforts with a Resveratrol Cream
How this red-wine derived ingredient can lend a helping hand
Posted on February 18, 2020
Written by: 100% PURE ®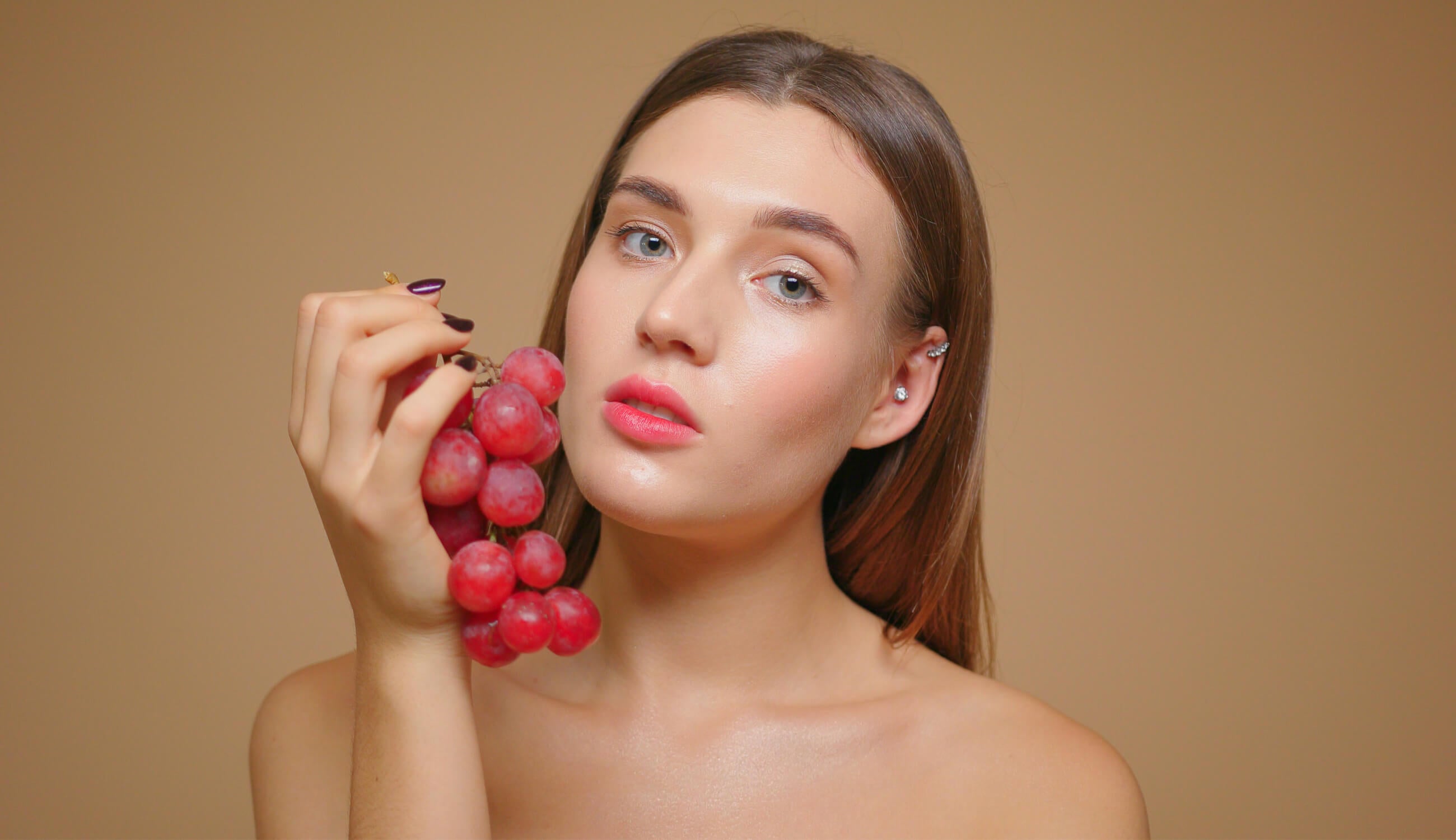 You might already know about the resveratrol in your red wine and grape skin – but did you know that resveratrol is a topical treatment, too? While eating fruits and nuts is a great way to get your antioxidant fix, a resveratrol cream might be a secret weapon in your skin care strategy.
A cream allows you to apply this potent antioxidant directly to your skin; the potential for visible benefits in the form of softer, healthier skin is better with topical treatments. Let's find out how this antioxidant cream can boost your skin health and appearance!
Why Resveratrol?
Resveratrol is a polyphenol: a powerful type of antioxidant. This polyphenol is commonly found in red wine, grapes, peanuts, and dark chocolate. Resveratrol-rich foods are delicious, but did you know this free radical fighter can also lower your risk of a heart attack? Consuming these foods regularly might just lead to a healthier heart.
But why include resveratrol in skin care? We're glad you asked! A resveratrol cream is beneficial for a few reasons:
#1: Fights free radicals
Perhaps resveratrol's most important benefits are its antioxidant properties. Damage from free radicals can degrade collagen and elastin in our skin, and antioxidants prevent free radical molecules from damaging these precious components.
By pairing an antioxidant treatment with sunscreen, we can further protect skin elasticity and protect our skin's collagen stores. An easy way to incorporate this treatment into your routine is by using a resveratrol-enriched primer; just be sure to choose one that's silicone-free!
#2: Occlusive
A cream tends to be heavier and richer because of the oil and butter content, making it perfect for nighttime use. Ingredients like avocado oil and shea butter prevent precious hydration from leaving your skin. At night, your skin is busy repairing itself – give your skin the support it needs!
A richer resveratrol cream is especially important for dry and aging skin types. These skin types have more difficulty retaining moisture, leading to more pronounced fine lines and wrinkles.
#3: Increases skin suppleness
Not only do butters and oils seal moisture into your skin, they help soften your wrinkles. Increasing hydration to the skin will also help to reduce the appearance of wrinkles, by plumping and promoting skin density. Applying a resveratrol PM cream can mean softer, smoother, and more hydrated skin when you wake.
#4: Gentler on the skin
Many sensitive skin types find that resveratrol is a gentler alternative to ingredients like retinol. Retinol is great for many skin types, but it can cause redness and irritation for others. Plus, it can increase sun sensitivity. So if you can't use this ingredient, don't fret; a resveratrol cream can do major heavy lifting as an anti-wrinkle treatment.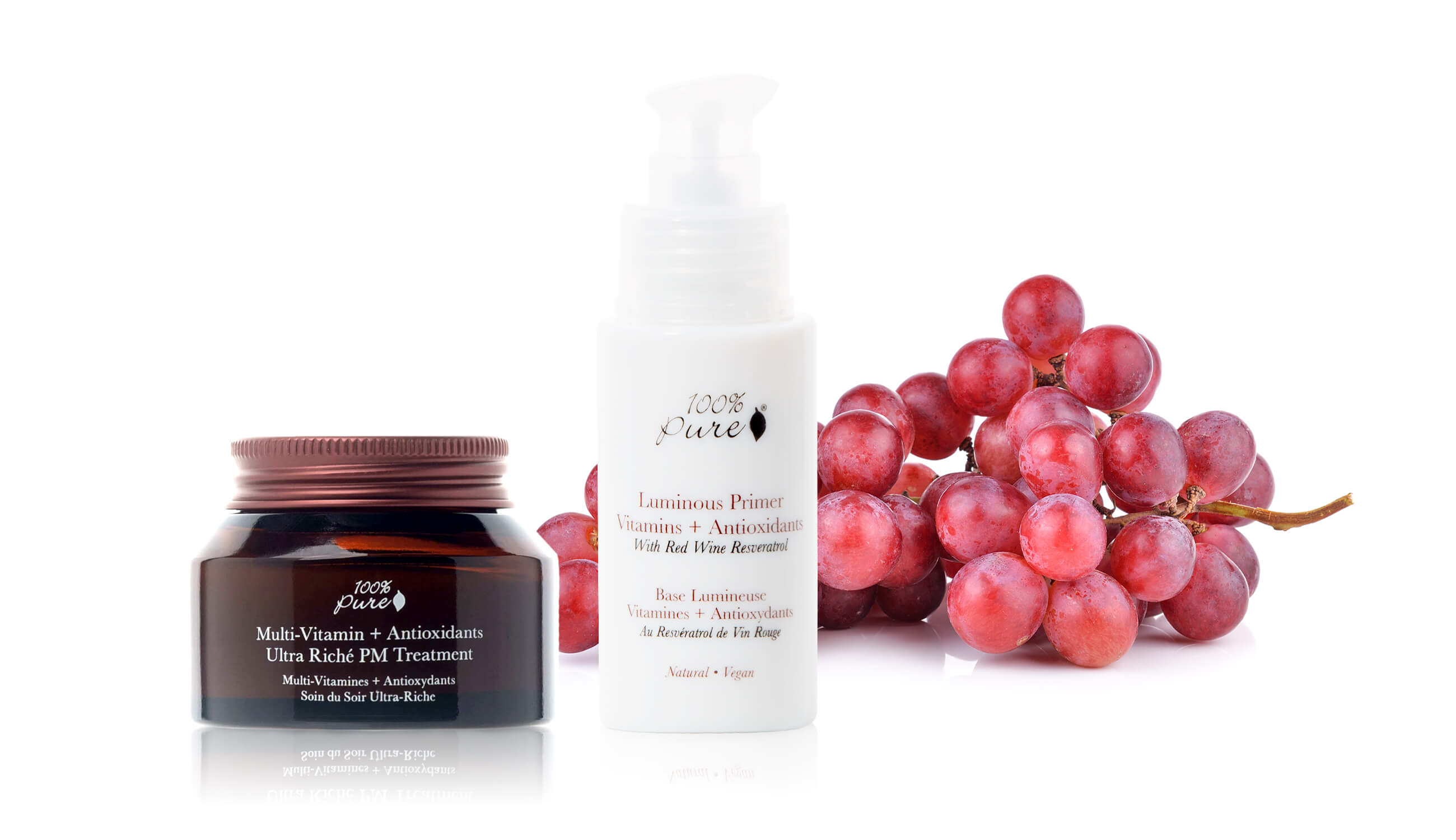 Our Favorite Resveratrol Products
For you multi-taskers out there, the Luminous Primer is a convenient way to incorporate antioxidants into your morning routine. Instead of applying a separate product, you have a 2-in-1 – a primer and resveratrol-rich cream. Vitamin C and vitamin E team up with resveratrol for more power against sun and environmental damage, while aloe leaf extract keeps your skin soothed and hydrated.
Our Multi-Vitamin + Antioxidants Ultra Riché PM Treatment is an amazing nighttime option for incorporating resveratrol into your routine. Resveratrol's skin-protecting superpowers work in unison with other antioxidants and moisturizing elements. Vitamin A, niacinamide, and vitamin C provide further protection from free radical damage, while avocado oil and shea butter help seal in moisture from glycerin and pro-vitamin B5.
3 Tips for Use
To get the most out of your resveratrol cream, here are 3 tips to keep in mind:
#1: Use resveratrol cream in your evening routine
Using heavy creams during the day isn't always ideal, especially while you're sweating, wearing makeup, and being active. Instead, opt to use your resveratrol cream at night. Your skin is facing little to no disruptions at night, so this is the ideal time to use heavier products.
#2: Save your cream for last
Since creams are occlusive, they can prevent your other active ingredients from penetrating your skin. To prevent this, you should use your products from thinnest to thickest. Your resveratrol cream might very well be your thickest product; if this is the case, use it last.
#3: Keep skin damp
Your resveratrol face cream will be more hydrating if your skin is damp. Since your cream seals in moisture, you'll be preventing that hydration from leaving your skin. This is exactly what your skin needs, especially if it's dry or aging. Try applying your cream after a hydrating rose water toner or facial mist.
If you want to increase your skin's polyphenol intake, a resveratrol cream is a great way to go. Looking for other ingredients to boost your anti-wrinkle routine? Check out our posts on the 9 Top Anti-Aging Ingredients in Natural Skin Care and a 6-Step Anti-Aging Routine. Love polyphenols? Get acquainted with green tea EGCG!
We carefully hand-select products based on strict purity standards, and only recommend products we feel meet this criteria. 100% PURE™ may earn a small commission for products purchased through affiliate links.
The information in this article is for educational use, and not intended to substitute professional medical advice, diagnosis, or treatment and should not be used as such.
Sign up to our email newsletter for more blog updates and exclusive discounts.
< Older Post | Newer Post >