6 Clean-Burning Fall Candles
Our top picks for fall candles made with natural, clean-burning wax
Posted on September 23, 2021
Written by: 100% PURE ®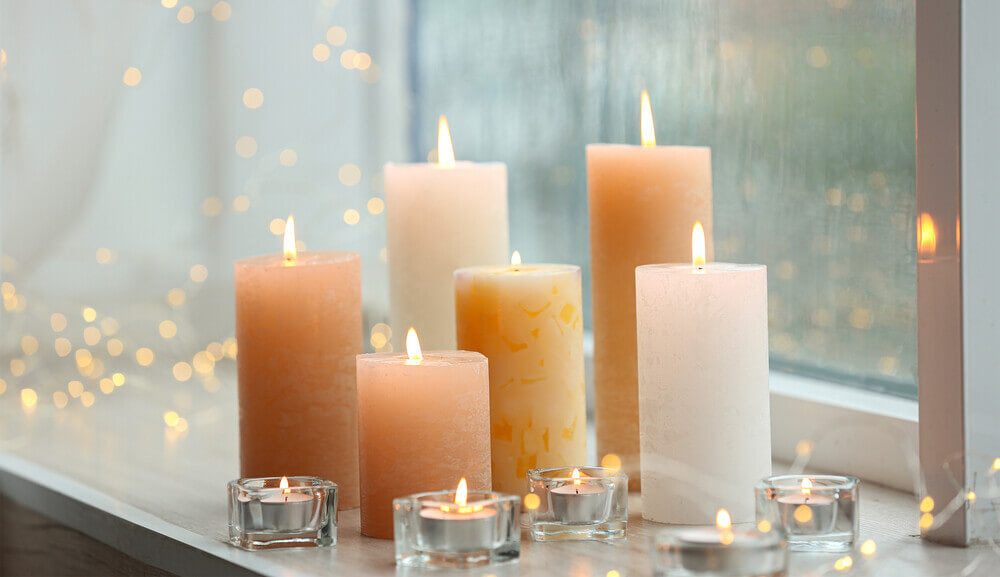 With the weather cooling down and holidays around the corner, it's safe to say that the fall mood is upon us. That means breaking out the sweaters, spooky movies, and (of course), bringing on all of the pumpkin and apple drinks.
But does anything scream "fall vibes" more than a fall candle? Scents like nutmeg, cedar, and pumpkin pie do wonders for the atmosphere in our homes. However, not all fall candles are created equal. Unfortunately, there are plenty of fall candles that are made with harmful toxins that can pollute the air and our bodies.
Before you treat your senses to your next fall candle, check out our guide below. We're going to let you know what makes a clean-burning fall candle and what really doesn't.
Ingredients to Avoid in Fall Candles
Paraffins
Whether it was a $3 candle from the local bargain bin or a votive from a high-end boutique, chances are you've encountered paraffin candles. Paraffin is one of the most common candle waxes thanks to its steady burn and low cost. But unfortunately, paraffin wax has a bit of a dirty background.
Paraffin waxes are petroleum by-products. Paraffin is derived from the gunk at the bottom of crude oil barrels. It undergoes intensive processing to remove its naturally occurring toxins, like benzene and toluene.
But even after it's refined, it's suspected that these trace toxins can still be released when paraffin candles are burned. Some of these chemicals are potentially harmful to reproductive, developmental, and respiratory health.
As the final product of petroleum, paraffin is not biodegradable and ultimately not environmentally friendly. Its production releases pollutants that are harmful to humans and the environment.
Phthalates
Phthalates are chemicals meant to make plastic more durable, but you'll also find them in synthetic fragrances. Phthalates are potentially dangerous because of their links to reproductive disruption and birth defects.
Some of the most common phthalates take the names of dibutyl phthalate (DBP), di-n-octyl phthalate (DNOP), and diisononyl phthalate (DiNP).
Lead Wicks
This is one you shouldn't have to worry about anymore, but it's still helpful to know about the existence of lead wicks. Lead-core wicks are known to release 5 times the amount of lead into the air. They even exceed EPA pollution standards for outdoor air.
Luckily, lead-core wicks were banned from being manufactured or imported into the United States in 2003. But if you're shopping abroad, keep in mind that they can still be found in some countries, such as China and Taiwan.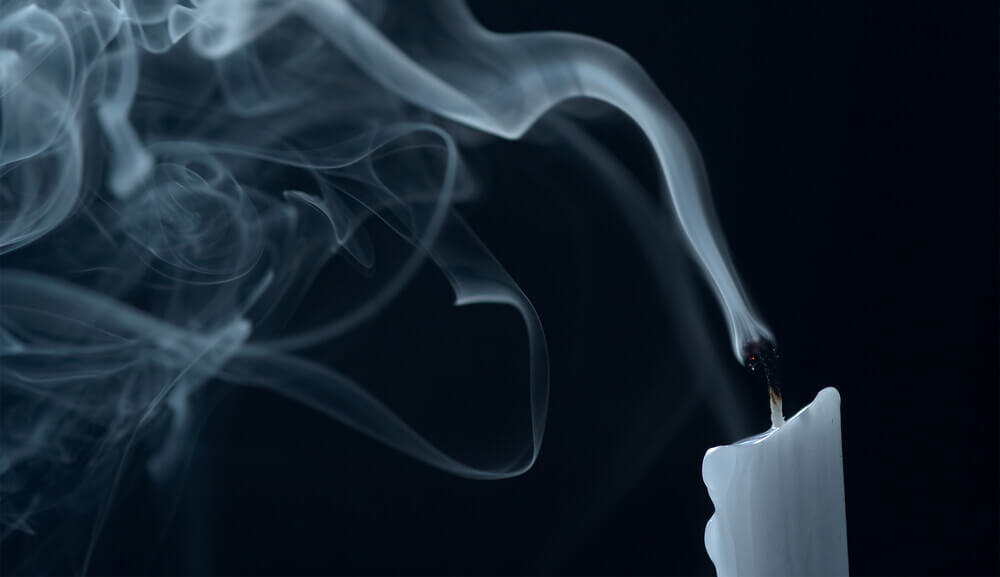 Artificial Fragrance: Why It Stinks
Now, there's one candle ingredient to avoid that really deserves its own category: artificial fragrance. Natural fragrances typically consist of plant-based extracts and essential oils. However, a single artificial fragrance can contain as many as 3,000-5,000 different chemicals. These include formaldehyde, esters, alcohol, and petroleum distillates. And when these artificial fall candles are lit, all of these chemicals are subsequently released into the air.
We all love a fall candle with a scent that fills the room. But it's important to understand how air pollution can occur in a small space. When fall candles with artificial fragrance are burned, air pollutants can accumulate within a space over time. The ensuing onset of pollutants has been known to result in headaches, dizziness, allergy symptoms, asthma attacks, respiratory tract infections, and cancer.
What Makes a Clean-Burning Candle?
After reading our candle ingredient exposé, you may be wondering: are there clean alternatives to paraffin? The answer is a resounding yes! When we talk about clean-burning fall candles, we're talking about candles made with either soy or beeswax.
Beeswax is the oldest known material used for candles, and remains one of the cleanest options. Beeswax is natural, free of toxins, and makes fall candles that provide slow burn. It's considered the cleanest burning candle wax, as it acts as a natural air purifier.
Meanwhile, soy wax is made from hydrogenated soybean oil – making it the top vegan candle wax option. While this is a plus, soy has a few downsides. Perhaps the most glaring issue is that soy wax doesn't work on its own. It usually requires the addition of some paraffin. But while soy certainly has its issues, it's still a better option than pure paraffin.
6 Clean-Burning Candles for Fall
We realize how hard it can be to live clean; we already had to assess our food, makeup, and skin care. But now we have to scrutinize every candle we buy, too?!
To cut through the noise, we put together a list of our favorite clean-burning fall candles. Our top picks are cruelty-free, phthalate-free, and dye-free. They're also made of either soy or beeswax.
#1: Homesick Pumpkin Picking
For a more classic fall candle, this soy candle from Homesick is the perfect pumpkin scent. With base notes of vanilla, tonka bean, and sugar, mid notes of ginger, cinnamon, and clove, and top notes of pumpkin and nutmeg, "Pumpkin Picking" is sure to get you into the fall mood.
#2: Public Goods Cedar & Suede
When the weather gets cool, there's just something appealing about a fall candle with a more masculine scent. That's why we love the candle "Cedar and Suede" from Public Goods. It features notes of amber, cedarwood, oakmoss, and leather.
#3: Heretic Slightly Bitter
If you're over the pumpkin and spice varieties, Heretic's soy candle in the scent "Slightly Bitter" exudes a blend that diverts from the traditional fall candle scents. You'll notice bright botanicals like grapefruit, cassis berries, tomato leaf, and petitgrain while staying true to fall.
#4: Brooklyn Candle Studio: Catskills Escapist Candle
Want to bring in the outdoors while staying cozy? Brooklyn Candle Studio's "Catskills Escapist" candle includes notes of juniper, cedar, and cypress to summon the atmosphere of hikes in the woods. You'll feel like you're in the forest during an autumn rainstorm, stepping on crunchy pine needles.
#5: Illume Good Natured Soy Ceramic Candle in Olive Leaf & Lemon
Need a sunny, refreshing pick-me-up? Check out Illume's Good Natured Soy Ceramic Candle in Olive Leaf and Lemon. Transport yourself to the Mediterranean for an afternoon with this bright citrus fragrance of lemon, lime, olive, and coriander. This fall candle is made with coconut wax and food-grade fragrances.
#6: Otherland Rattan
There's something about gourmand scents that wrap us in as much warmth as our favorite cardigans. That's why we love the Rattan candle from Otherland. With notes of sandalwood, golden amber, and warm musk, this coconut and soy wax blend candle envelops us in sweetness.
We carefully hand-select products based on strict purity standards, and only recommend products we feel meet this criteria. 100% PURE™ may earn a small commission for products purchased through affiliate links.
The information in this article is for educational use, and not intended to substitute professional medical advice, diagnosis, or treatment and should not be used as such.
Sign up to our email newsletter for more blog updates and exclusive discounts.
< Older Post | Newer Post >