5 Reasons Why You Need to Add a Makeup Blender to Your Beauty Arsenal
Everything you need to know about how to use a Makeup Blender for all its worth.
Posted on August 16, 2022
Written by: 100% PURE®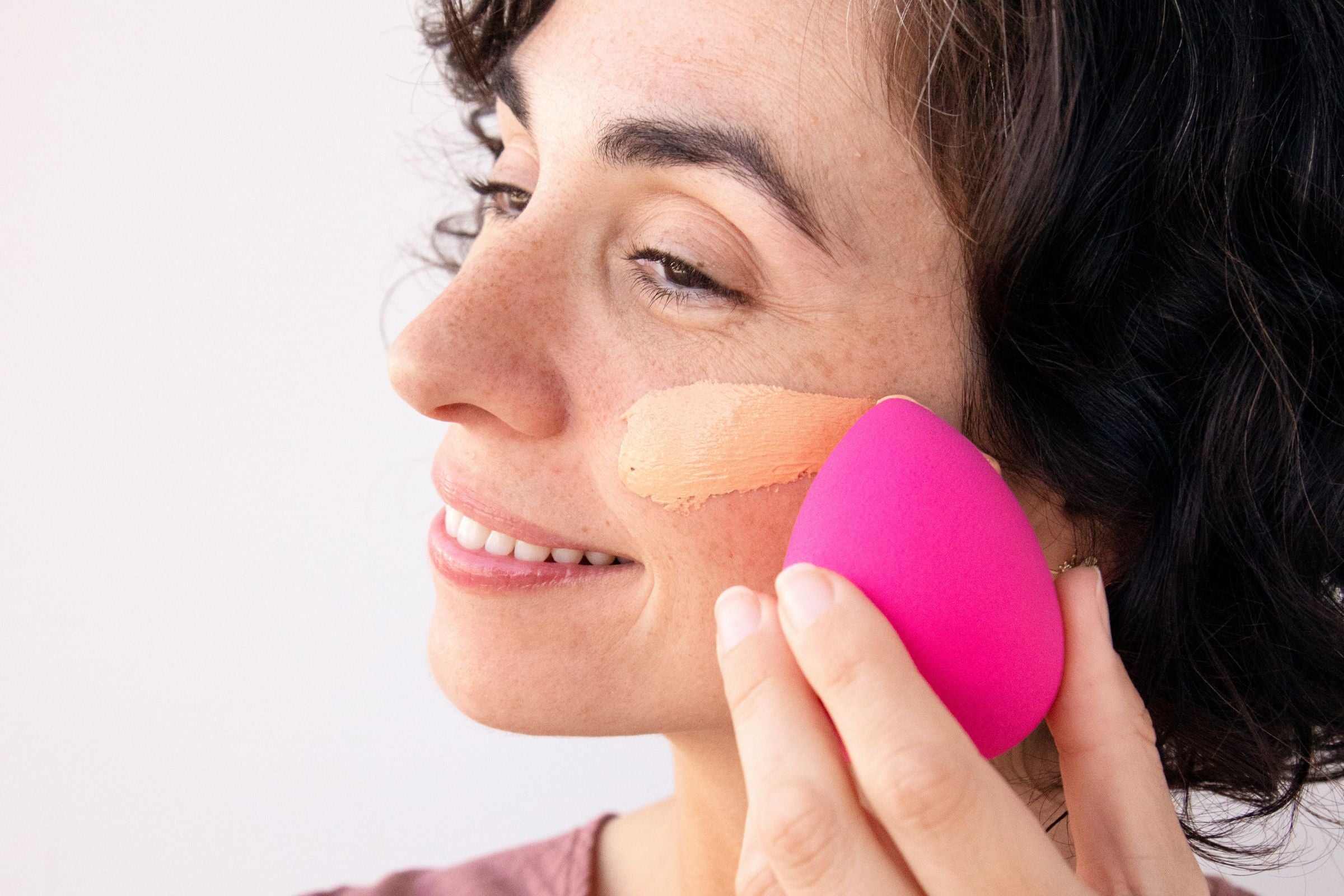 While makeup blenders are hardly a new kind of beauty tool, it's still a new concept to many individuals–especially for those of us who learned makeup application during Y2K, when we were caking on foundation with those wimpy little sponge wedges.
So what is a makeup blender, and why should we use them now?
A makeup sponge, also known as a makeup blender or beauty blender, is a soft, spongey tool that's meant for the application of liquid and cream makeup products.
Makeup blenders are sold from a number of different vendors, and they can consist of many different materials, but we recommend steering clear of latex, which is irritating for many people.
At 100% Pure, we created a latex-free makeup blender that's not only safe and effective, but creates a true-to-skin finish with its unique, seamless texture and feel. Today, we're discussing how a makeup blender can create the perfect makeup finish, and how to do so.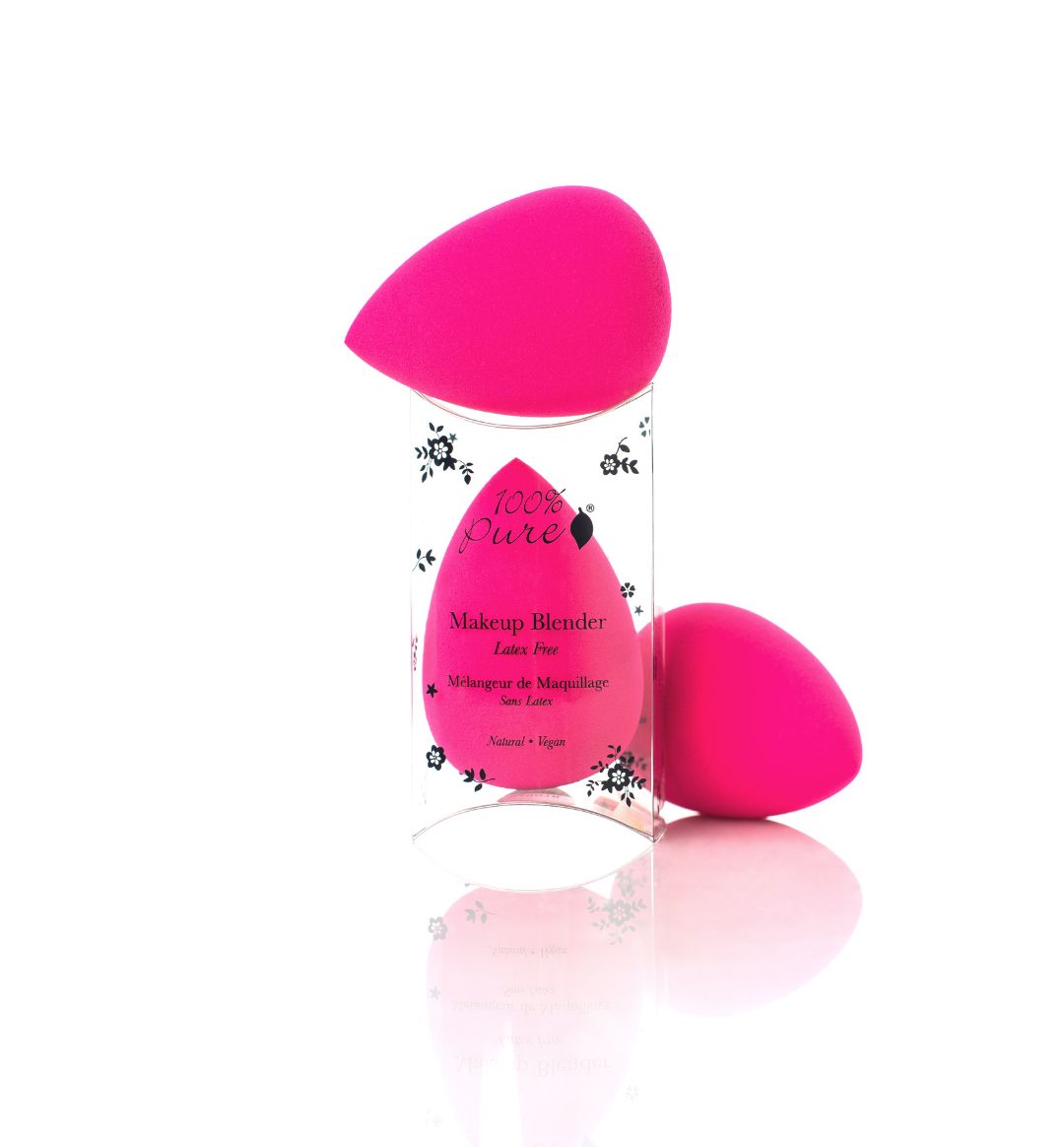 Benefits of Using a Makeup Blender
Here are some reasons why we love using makeup sponges, and why our Non Latex Makeup Blender is our go-to tool for foundation, concealer, and everything in between!
Newsletter
Subscribe
for more blog updates and exclusive discounts
Multipurpose and Versatile
Generally, makeup blenders are marketed for the use of foundation. But as you'll quickly find, these cute little sponges truly pack a punch when it comes to their versatility. Aside from foundation, makeup blenders can also be used for concealer, setting powder, contouring, and even applying skincare!
And this can make them especially appealing for those just starting out with makeup, since they can be used in place of a number of brushes.
Beginner Friendly
As mentioned above, makeup blenders are super beginner-friendly–not only because they're so versatile, but also because they're foolproof, and don't need a whole lot of practice to achieve a flawless foundation finish.
Great For All Skin Types
If your skin is on the dry side, or even if you have textured skin (like most individuals), you might feel like every foundation is too cakey for your skin.
However, it might not be your foundation that's at fault, but rather, your method of application. While most brushes drag product across the skin, makeup blenders lightly push the makeup for an extra-smooth, polished look that looks good on every skin type.
Flawless and Natural Look
While brushes can often lead to streaks, smudges and caking, a makeup blender's spongy texture helps it absorb any excess product, making it all the easier for you to blend your makeup.
Even better, a damp blender will help give the skin a cake-free, dewy finish in a matter of seconds.
Easy Cleaning
If you're sick of washing yet another set of makeup brushes each week for foundation alone, we have great news: makeup blenders are easy to clean!
With a bar soap or chlorine-free, alcohol-free dish soap, here's how to get your makeup blender squeaky clean in minutes:
Saturate your sponge in cold (not hot) water, and lather it with the soap, making sure to focus on areas with the most staining.

Place the sponge under running water and thoroughly squeeze until the tap runs clear and the sponge is no longer foamy or sudsy when rinsed.

Gently press the sponge on a dry towel and allow it to air dry.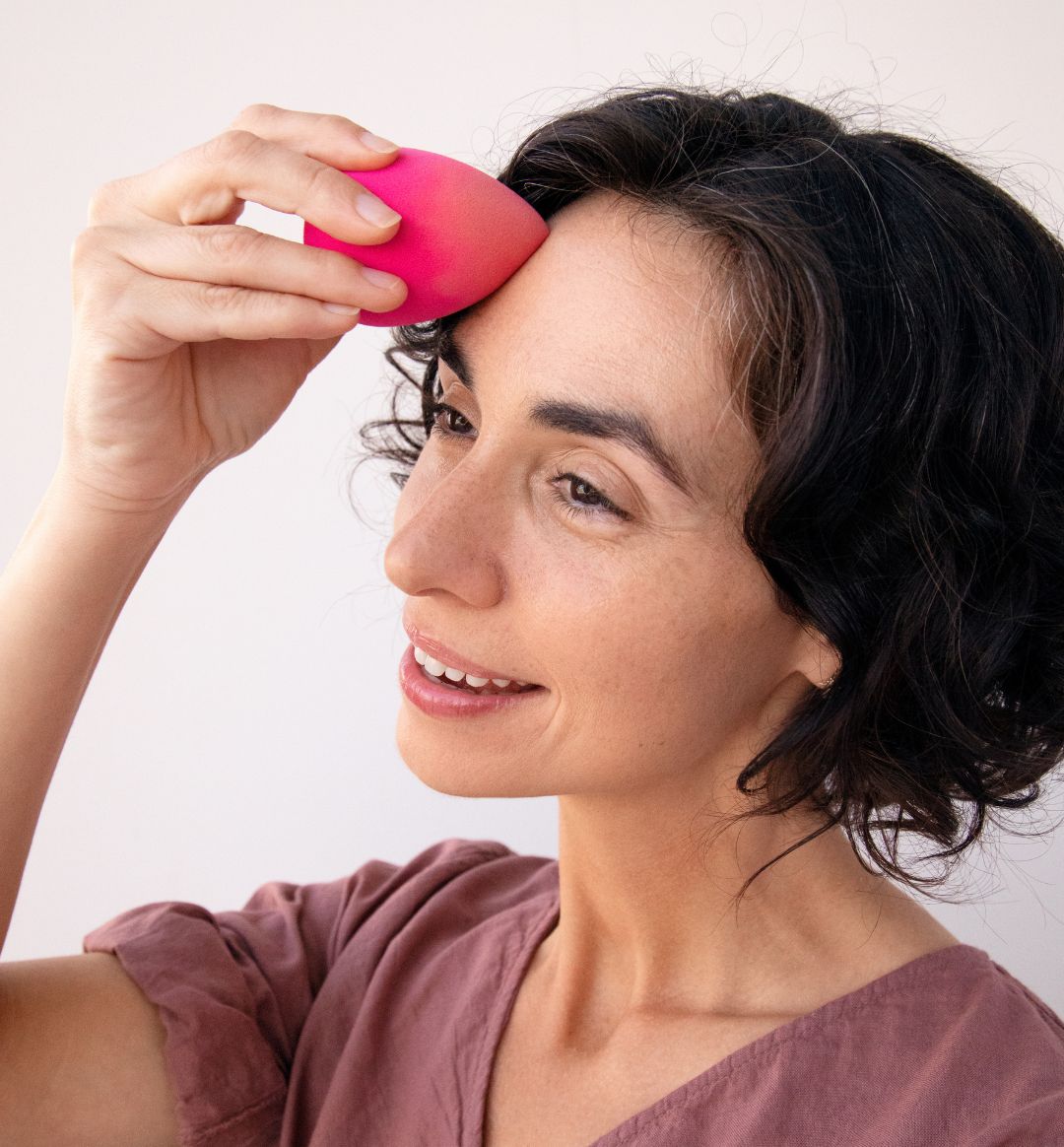 How To Use a Makeup Blender
Before we get into it, we can't stress the versatility of makeup blenders–they can be used for just about any kind of makeup!
But for the sake of learning, let's focus today on makeup blenders for flawless foundation application.
Before you even pop off the lid of your favorite foundation, here's a pro tip: moisten the beauty blender sponge by soaking it in cold water, or by spritzing it with a setting spray. When damp, a makeup sponge will give you a sheer, dewy finish without using up all of your product.
Next, it's important to make sure that the sponge is damp, and not wet. In other words, proceed to gently squeeze out all the excess water from the blender, taking care not to be too harsh on the tool itself.
Now for the application, it's recommended that you avoid any heavy-handed motions, and that you don't just drag your makeup blender across your skin in this way.
When using your makeup blender, it's recommended that you instead adopt a bouncing motion, lightly patting and blending the foundation on your skin to give it a uniform, flawless coverage and diffused finish.
To follow up with concealer, simply apply the product beneath the eye area with your ring finger, before using the pointed edge of the makeup blender to seamlessly blend your concealer with the base foundation.
Now, it's time to set your look. To do so, press the rounded part of the sponge into your setting powder before stippling it over the concealer. This will not only set your makeup for longer-lasting wear, but it will also help prevent any smudging, crinkling or smearing.
We carefully hand-select products based on strict purity standards, and only recommend products we feel meet this criteria. 100% PURE™ may earn a small commission for products purchased through affiliate links.
The information in this article is for educational use, and not intended to substitute professional medical advice, diagnosis, or treatment and should not be used as such.
Sign up to our email newsletter for more blog updates and exclusive discounts.
< Older Post | Newer Post >