Maracuja Air Cushion Foundation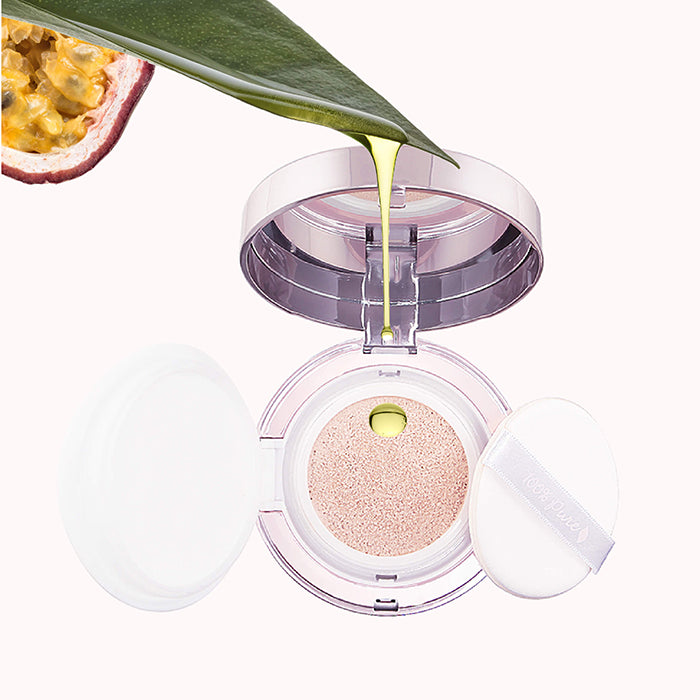 Our new maracuja air cushion foundation is a weightless veil that gives you a flawless sheer complexion with a silky finish. Now you may be wondering, isn't Maracuja oil only found in skin care products? Well in fact you are correct, but we have combined the benefits of skin care products into our foundation to give you a radiant look while nourishing your skin.
Growing in the tropics of South America there blooms the luscious passion fruit. As delicious as the fruit is, it is in the uneaten seeds that contain a cosmetic luxury, the maracuja oil. Extracted from the seeds, it contains many nutrients that are essential for younger healthier skin. The oil acts as an emollient, which penetrates deep into the skin to deliver hydration and allows its nutrients to transform its appearance. Potent antioxidants start fighting sun causing free radical damage while Coenzyme Q10 helps maintain skin's natural collagen and elastin levels to keep skin looking plump and firm.
We wanted a foundation to complement maracuja oil's nourishing benefits so we created a formula that would allow the skin to breathe and mimic the look of a bare face. Its sheer coverage washes over the face like watercolors, distributing a subtle amount of coverage, but with an airy and weightless feel. In the heat of the summer, your skin won't look greasy or heavy. Our formula is 100% natural, colored from fruit pigments, and free of synthetic chemicals, artificial fragrances, chemical preservatives or any other toxins.
By pressing the specially made puff into the moistened cushion, the perfect amount of product is applied every time and additional coverage can be achieved with added layers. Gently pat onto the skin to blend and touch up throughout the day.
Gabby Aikawa
Bio Chemist / 100% Pure Product Development
We carefully hand-select products based on strict purity standards, and only recommend products we feel meet this criteria. 100% PURE™ may earn a small commission for products purchased through affiliate links.
The information in this article is for educational use, and not intended to substitute professional medical advice, diagnosis, or treatment and should not be used as such.
Sign up to our email newsletter for more blog updates and exclusive discounts.
< Older Post | Newer Post >