https://purity-res.cloudinary.com/image/fetch/q_auto:best,f_auto,fl_lossy,w_auto,c_limit,dpr_auto/https://cdn.shopify.com/s/files/1/0648/1955/products/c0e296e9a66648f666509dc59b0390d5.png?v=1532043595
https://purity-res.cloudinary.com/image/fetch/q_auto:best,f_auto,fl_lossy,w_auto,c_limit,dpr_auto/https://cdn.shopify.com/s/files/1/0648/1955/products/kBgN60jQ2q7azwAkgvmw.jpg?v=1546984128
https://purity-res.cloudinary.com/image/fetch/q_auto:best,f_auto,fl_lossy,w_auto,c_limit,dpr_auto/https://cdn.shopify.com/s/files/1/0648/1955/products/tsmewIxgS6TXtYGodsbI.jpg?v=1546984128
https://purity-res.cloudinary.com/image/fetch/q_auto:best,f_auto,fl_lossy,w_auto,c_limit,dpr_auto/https://cdn.shopify.com/s/files/1/0648/1955/products/62q4GmPtR6qtwJf0psjJ.jpg?v=1546984128
https://purity-res.cloudinary.com/image/fetch/q_auto:best,f_auto,fl_lossy,w_auto,c_limit,dpr_auto/https://cdn.shopify.com/s/files/1/0648/1955/products/GEAemJsaQciCUgNZONBK.jpg?v=1546984128
https://purity-res.cloudinary.com/image/fetch/q_auto:best,f_auto,fl_lossy,w_auto,c_limit,dpr_auto/https://cdn.shopify.com/s/files/1/0648/1955/products/9TDhVjYjQhOS4JHRrkd8.jpg?v=1546984128
https://purity-res.cloudinary.com/image/fetch/q_auto:best,f_auto,fl_lossy,w_auto,c_limit,dpr_auto/https://cdn.shopify.com/s/files/1/0648/1955/products/SFPitMn6QCe0dnInWKVN.jpg?v=1546984128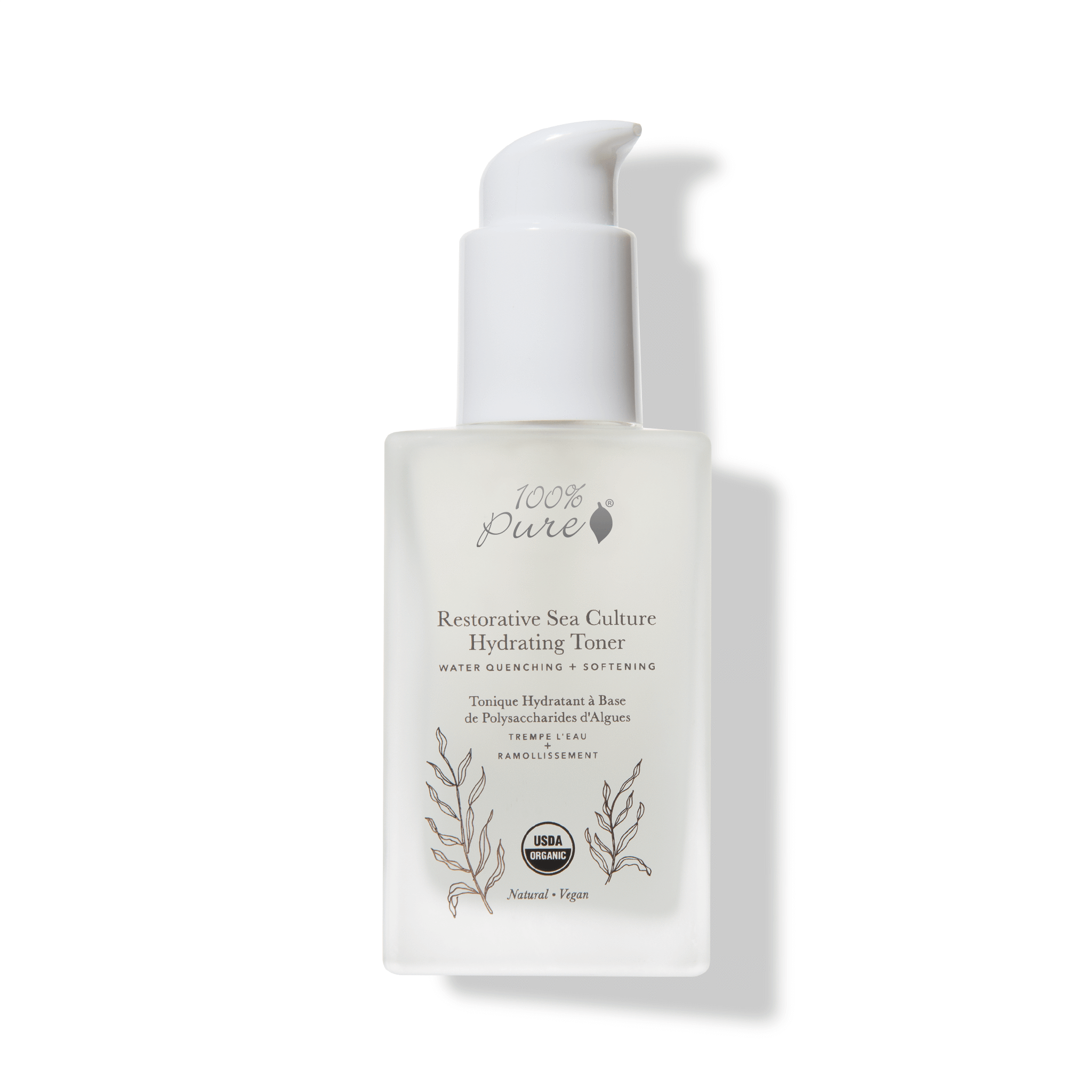 Restorative Sea Culture Hydrating Toner
Natural

Vegan

Cruelty Free

Gluten Free
Water-drenching facial toner softens, plumps, and hydrates skin using a base of gelatinous algin from mineral-rich seaweed sourced from pure, unpolluted waters.
For Normal, Dry Skin Types

Intensely water-drenching elixir softens, plumps, and hydrates thirsty skin using a base of gelatinous chia and algin from seaweed. Seaweed from unpolluted waters retains the purest sea minerals and nutrients for your skin.

Directions

After cleansing, pump half dollar sized amount onto clean hands and pat onto face (including eye lids / around eyes) and neck. Or, pump onto cotton pad and gently sweep onto skin and neck.

Every ingredient we use is beneficial, here are a few:

Glycerin

Glycerin locks in moisture and reduces fine lines.

Hyaluronic Acid

Hyaluronic Acid encourages collagen production and improves skin hydration.

Algae

Algae locks in moisture and nutrients.

Sea Kelp

Sea Kelp enriches skin and hair with essential minerals.

Chia Seed Water

Chia Water moisturizes and heals.

Complete list of ingredients:

Organic Salvia Hispanica (Chia) Water, Organic Hamamelis Virginiana (Witch Hazel), Organic Glycerin, Organic Laminaria (Algae) Extract, Hydrolyzed Candida Saitoana (Yeast Ferment), Organic Macrocystis Pyrifera (Sea Kelp) Extract, Organic Lonicera Japonica (Honeysuckle) Flower Extract, Xanthan Gum, Hyaluronic Acid, Organic Essential Oil Blend: Citrus Aurantium Bergamia (Bergamot) Fruit Oil, Cedrus Atlantica (Cedarwood) Bark Oil, Vetivera Zizanoides (Vetiver) Root Oil, Citrus Sinensis (Blood Orange) Oil, Salvia Officinalis (Sage) Oil, Lavandula Angustifolia (Lavender) Oil
Customer Reviews
skin
toner
face
one
way
smell
products
moisturizer
pump
hydration
Best Accident!
My mom ordered this product by accident...and we ended up loving it! I have oily skin, and this has just enough moisturizer to keep it happy. I don't use it every day but I don't know what I would do without it!
great base toner
This toner brings such a refreshing splash of hydration after cleansing! It is a great base to build upon...the serum I use next just blends so well with the toner, as does my moisturizer. I've tried other toners, and this one is by far the best yet!
Super hydrating
Smells amazing. Feels like you're actually feeding your skin with "beneficial" ingredients. I would recommend this product.
M
05/26/2019
Meredith
Amazing!
This was one of the first products I tried and I. Love. It. When I got about halfway through the bottle I went ahead and ordered more just so I'd be sure not to run out. :) I have dry, sensitive skin and I've had trouble finding products that won't cause an allergic reaction. When I use this on a regular basis I can tell my skin looks better. If I get lazy or forgetful and skip a few days, I can tell a difference in how my skin looks. This stuff is so hydrating - I just love it. I also love the smell and the fact that it's in a glass bottle and not plastic.
love the toner
I really love this toner. I do want to try other toners but I have dry skin and this seems to help with my dry skin. I hated the smell but I am getting use to it and now, I feel like it smells great.
Complete the Package
Continue Shopping →