https://cdn.no-toxic.com/q_auto:best,f_auto,fl_lossy,w_auto,c_limit,dpr_auto/v1594331721/products/1CCBML-PARENT/1CCBML_Matte_Lipstick_Swatch_On_Arm
https://cdn.no-toxic.com/q_auto:best,f_auto,fl_lossy,w_auto,c_limit,dpr_auto/l_Badges:badges,w_0.3,y_-0.3,x_0.34,fl_relative,pg_name:2019-think-dirty/v1574894833/products/1CCBMLPP/1CCBMLPP_Matte_Lipstick_Prickly_Pear_Primary
https://cdn.no-toxic.com/q_auto:best,f_auto,fl_lossy,w_auto,c_limit,dpr_auto/v1574894833/products/1CCBMLPP/1CCBMLPP_Matte_Lipstick_Prickly_Pear_Swatch
https://cdn.no-toxic.com/q_auto:best,f_auto,fl_lossy,w_auto,c_limit,dpr_auto/l_Badges:badges,w_0.3,y_-0.3,x_0.34,fl_relative,pg_name:2019-think-dirty/v1574894935/products/1CCBMLSBC/1CCBMLSBC_Matte_Lipstick_Strawberry_Cactus_Primary
https://cdn.no-toxic.com/q_auto:best,f_auto,fl_lossy,w_auto,c_limit,dpr_auto/v1574894935/products/1CCBMLSBC/1CCBMLSBC_Matte_Lipstick_Strawberry_Cactus_Swatch
https://cdn.no-toxic.com/q_auto:best,f_auto,fl_lossy,w_auto,c_limit,dpr_auto/l_Badges:badges,w_0.3,y_-0.3,x_0.34,fl_relative,pg_name:2019-think-dirty/v1574895061/products/1CCBMLCB/1CCBMLCB_Matte_Lipstick_Catus_Bloom_Primary
https://cdn.no-toxic.com/q_auto:best,f_auto,fl_lossy,w_auto,c_limit,dpr_auto/v1574895061/products/1CCBMLCB/1CCBMLCB_Matte_Lipstick_Catus_Bloom_Swatch
https://cdn.no-toxic.com/q_auto:best,f_auto,fl_lossy,w_auto,c_limit,dpr_auto/l_Badges:badges,w_0.3,y_-0.3,x_0.34,fl_relative,pg_name:2019-think-dirty/v1574895176/products/1CCBMLPC/1CCBMLPC_Matte_Lipstick_Pink_Canyon_Primary
https://cdn.no-toxic.com/q_auto:best,f_auto,fl_lossy,w_auto,c_limit,dpr_auto/v1574895176/products/1CCBMLPC/1CCBMLPC_Matte_Lipstick_Pink_Canyon_Swatch
https://cdn.no-toxic.com/q_auto:best,f_auto,fl_lossy,w_auto,c_limit,dpr_auto/l_Badges:badges,w_0.3,y_-0.3,x_0.34,fl_relative,pg_name:2019-think-dirty/v1574895295/products/1CCBMLP/1CCBMLP_Matte_Lipstick_Protea_Primary
https://cdn.no-toxic.com/q_auto:best,f_auto,fl_lossy,w_auto,c_limit,dpr_auto/v1574895295/products/1CCBMLP/1CCBMLP_Matte_Lipstick_Protea_Swatch
https://cdn.no-toxic.com/q_auto:best,f_auto,fl_lossy,w_auto,c_limit,dpr_auto/l_Badges:badges,w_0.3,y_-0.3,x_0.34,fl_relative,pg_name:2019-think-dirty/v1574895350/products/1CCBMLMI/1CCBMLMI_Matte_Lipstick_Mirage_Primary
https://cdn.no-toxic.com/q_auto:best,f_auto,fl_lossy,w_auto,c_limit,dpr_auto/v1574895351/products/1CCBMLMI/1CCBMLMI_Matte_Lipstick_Mirage_Swatch
https://cdn.no-toxic.com/q_auto:best,f_auto,fl_lossy,w_auto,c_limit,dpr_auto/l_Badges:badges,w_0.3,y_-0.3,x_0.34,fl_relative,pg_name:2019-think-dirty/v1574896408/products/1CCBMLS/1CCBMLS_Matte_Lipstick_Sonora_Primary
https://cdn.no-toxic.com/q_auto:best,f_auto,fl_lossy,w_auto,c_limit,dpr_auto/v1574896408/products/1CCBMLS/1CCBMLS_Matte_Lipstick_Sonora_Swatch
https://cdn.no-toxic.com/q_auto:best,f_auto,fl_lossy,w_auto,c_limit,dpr_auto/l_Badges:badges,w_0.3,y_-0.3,x_0.34,fl_relative,pg_name:2019-think-dirty/v1574896491/products/1CCBMLCAS/1CCBMLCAS_Matte_Lipstick_Cassia_Primary
https://cdn.no-toxic.com/q_auto:best,f_auto,fl_lossy,w_auto,c_limit,dpr_auto/v1574896492/products/1CCBMLCAS/1CCBMLCAS_Matte_Lipstick_Cassia_Swatch
https://cdn.no-toxic.com/q_auto:best,f_auto,fl_lossy,w_auto,c_limit,dpr_auto/l_Badges:badges,w_0.3,y_-0.3,x_0.34,fl_relative,pg_name:2019-think-dirty/v1574896573/products/1CCBMLPPK/1CCBMLPPK_Matte_Lipstick_Plume_Pink_Primary
https://cdn.no-toxic.com/q_auto:best,f_auto,fl_lossy,w_auto,c_limit,dpr_auto/v1574896573/products/1CCBMLPPK/1CCBMLPPK_Matte_Lipstick_Plume_Pink_Swatch
https://cdn.no-toxic.com/q_auto:best,f_auto,fl_lossy,w_auto,c_limit,dpr_auto/l_Badges:badges,w_0.3,y_-0.3,x_0.34,fl_relative,pg_name:2019-think-dirty/v1574896657/products/1CCBMLSS/1CCBMLSS_Matte_Lipstick_SandstonePrimary
https://cdn.no-toxic.com/q_auto:best,f_auto,fl_lossy,w_auto,c_limit,dpr_auto/v1574896657/products/1CCBMLSS/1CCBMLSS_Matte_Lipstick_Sandstone_Swatch
https://cdn.no-toxic.com/q_auto:best,f_auto,fl_lossy,w_auto,c_limit,dpr_auto/l_Badges:badges,w_0.3,y_-0.3,x_0.34,fl_relative,pg_name:2019-think-dirty/v1574896735/products/1CCBMLAG/1CCBMLAG_Matte_Lipstick_Agave_Primary
https://cdn.no-toxic.com/q_auto:best,f_auto,fl_lossy,w_auto,c_limit,dpr_auto/v1574896737/products/1CCBMLAG/1CCBMLAG_Matte_Lipstick_Agave_Swatch
https://cdn.no-toxic.com/q_auto:best,f_auto,fl_lossy,w_auto,c_limit,dpr_auto/l_Badges:badges,w_0.3,y_-0.3,x_0.34,fl_relative,pg_name:2019-think-dirty/v1574896813/products/1CCBMLSA/1CCBMLSA_Matte_Lipstick_Sahara_Primary
https://cdn.no-toxic.com/q_auto:best,f_auto,fl_lossy,w_auto,c_limit,dpr_auto/v1574896813/products/1CCBMLSA/1CCBMLSA_Matte_Lipstick_Sahara_Swatch
https://cdn.no-toxic.com/q_auto:best,f_auto,fl_lossy,w_auto,c_limit,dpr_auto/l_Badges:badges,w_0.3,y_-0.3,x_0.34,fl_relative,pg_name:2019-think-dirty/v1574896850/products/1CCBMLMO/1CCBMLMO_Matte_Lipstick_Mojave_Primary
https://cdn.no-toxic.com/q_auto:best,f_auto,fl_lossy,w_auto,c_limit,dpr_auto/v1574896850/products/1CCBMLMO/1CCBMLMO_Matte_Lipstick_Mojave_Swatch
https://cdn.no-toxic.com/q_auto:best,f_auto,fl_lossy,w_auto,c_limit,dpr_auto/l_Badges:badges,w_0.3,y_-0.3,x_0.34,fl_relative,pg_name:2019-think-dirty/v1574896906/products/1CCBMLM/1CCBMLM_Matte_Lipstick_Marrakesh_Primary
https://cdn.no-toxic.com/q_auto:best,f_auto,fl_lossy,w_auto,c_limit,dpr_auto/v1574896906/products/1CCBMLM/1CCBMLM_Matte_Lipstick_Marrakesh_Swatch
https://cdn.no-toxic.com/q_auto:best,f_auto,fl_lossy,w_auto,c_limit,dpr_auto/l_Badges:badges,w_0.3,y_-0.3,x_0.34,fl_relative,pg_name:2019-think-dirty/v1574896949/products/1CCBMLNO/1CCBMLNO_Matte_Lipstick_Nopal_Primary
https://cdn.no-toxic.com/q_auto:best,f_auto,fl_lossy,w_auto,c_limit,dpr_auto/v1574896949/products/1CCBMLNO/1CCBMLNO_Matte_Lipstick_Nopal_Swatch
https://cdn.no-toxic.com/q_auto:best,f_auto,fl_lossy,w_auto,c_limit,dpr_auto/v1594174431/products/1CCBMLNO/1CCBMLNO_Matte_Lipstick__Nopal_Look
https://cdn.no-toxic.com/q_auto:best,f_auto,fl_lossy,w_auto,c_limit,dpr_auto/l_Badges:badges,w_0.3,y_-0.3,x_0.34,fl_relative,pg_name:2019-think-dirty/v1574897005/products/1CCBMLSAV/1CCBMLSAV_Matte_Lipstick_Savanna_Primary
https://cdn.no-toxic.com/q_auto:best,f_auto,fl_lossy,w_auto,c_limit,dpr_auto/v1574897005/products/1CCBMLSAV/1CCBMLSAV_Matte_Lipstick_Savanna_Swatch
https://cdn.no-toxic.com/q_auto:best,f_auto,fl_lossy,w_auto,c_limit,dpr_auto/l_Badges:badges,w_0.3,y_-0.3,x_0.34,fl_relative,pg_name:2019-think-dirty/v1574897053/products/1CCBMLC/1CCBMLC_Matte_Lipstick_Currant_Primary
https://cdn.no-toxic.com/q_auto:best,f_auto,fl_lossy,w_auto,c_limit,dpr_auto/v1574897053/products/1CCBMLC/1CCBMLC_Matte_Lipstick_Currant_Swatch
https://cdn.no-toxic.com/q_auto:best,f_auto,fl_lossy,w_auto,c_limit,dpr_auto/l_Badges:badges,w_0.3,y_-0.3,x_0.34,fl_relative,pg_name:2019-think-dirty/v1574897094/products/1CCBMLCA/1CCBMLCA_Matte_Lipstick_Cacti_Primary
https://cdn.no-toxic.com/q_auto:best,f_auto,fl_lossy,w_auto,c_limit,dpr_auto/v1574897094/products/1CCBMLCA/1CCBMLCA_Matte_Lipstick_Cacti_Swatch
https://cdn.no-toxic.com/q_auto:best,f_auto,fl_lossy,w_auto,c_limit,dpr_auto/l_Badges:badges,w_0.3,y_-0.3,x_0.34,fl_relative,pg_name:2019-think-dirty/v1574897151/products/1CCBMLBO/1CCBMLBO_Matte_Lipstick_Blood_Orange_Primary
https://cdn.no-toxic.com/q_auto:best,f_auto,fl_lossy,w_auto,c_limit,dpr_auto/v1574897152/products/1CCBMLBO/1CCBMLBO_Matte_Lipstick_Blood_Orange_Swatch
https://cdn.no-toxic.com/q_auto:best,f_auto,fl_lossy,w_auto,c_limit,dpr_auto/l_Badges:badges,w_0.3,y_-0.3,x_0.34,fl_relative,pg_name:2019-think-dirty/v1574897199/products/1CCBMLH/1CCBMLH_Matte_Lipstick_Hyacinthus_Primary
https://cdn.no-toxic.com/q_auto:best,f_auto,fl_lossy,w_auto,c_limit,dpr_auto/v1574897200/products/1CCBMLH/1CCBMLH_Matte_Lipstick_Hyacinthus_Swatch
https://cdn.no-toxic.com/q_auto:best,f_auto,fl_lossy,w_auto,c_limit,dpr_auto/l_Badges:badges,w_0.3,y_-0.3,x_0.34,fl_relative,pg_name:2019-think-dirty/v1574897254/products/1CCBMLWC/1CCBMLWC_Matte_Lipstick_WinecupPrimary
https://cdn.no-toxic.com/q_auto:best,f_auto,fl_lossy,w_auto,c_limit,dpr_auto/v1574897254/products/1CCBMLWC/1CCBMLWC_Matte_Lipstick_Winecup_Swatch
https://cdn.no-toxic.com/q_auto:best,f_auto,fl_lossy,w_auto,c_limit,dpr_auto/l_Badges:badges,w_0.3,y_-0.3,x_0.34,fl_relative,pg_name:2019-think-dirty/v1574897295/products/1CCBMLDR/1CCBMLDR_Matte_Lipstick_Desert_Rose_Primary
https://cdn.no-toxic.com/q_auto:best,f_auto,fl_lossy,w_auto,c_limit,dpr_auto/v1574897296/products/1CCBMLDR/1CCBMLDR_Matte_Lipstick_Desert_Rose_Swatch
https://cdn.no-toxic.com/q_auto:best,f_auto,fl_lossy,w_auto,c_limit,dpr_auto/l_Badges:badges,w_0.3,y_-0.3,x_0.34,fl_relative,pg_name:2019-think-dirty/v1574897374/products/1CCBMLOAS/1CCBMLOAS_Matte_Lipstick_Oasis_Primary
https://cdn.no-toxic.com/q_auto:best,f_auto,fl_lossy,w_auto,c_limit,dpr_auto/v1574897375/products/1CCBMLOAS/1CCBMLOAS_Matte_Lipstick_Oasis_Swatch
https://cdn.no-toxic.com/q_auto:best,f_auto,fl_lossy,w_auto,c_limit,dpr_auto/l_Badges:badges,w_0.3,y_-0.3,x_0.34,fl_relative,pg_name:2019-think-dirty/v1574897414/products/1CCBMLA/1CCBMLA_Matte_Lipstick_Aubergine_Primary
https://cdn.no-toxic.com/q_auto:best,f_auto,fl_lossy,w_auto,c_limit,dpr_auto/v1574897415/products/1CCBMLA/1CCBMLA_Matte_Lipstick_Aubergine_Swatch
Fruit Pigmented® Cocoa Butter Matte Lipstick
Fruit Pigmented®

Natural

Vegan

Cruelty Free

Gluten Free

Made in USA
For All Skin Types
Full Coverage
Matte Finish

An innovative matte lipstick formula that keeps lips moisturized all day long while providing stunning, long-lasting color. Formulated with chocolate and antioxidant-rich fruit pigments like cherry, blueberry, and peach. Made with a nourishing blend of cocoa butter, shea butter, and vitamin E to moisturize and protect delicate lips from dryness.

Coverage

Finish

Shade Chart

Prickly Pear

A vibrant coral pink, matte, opaque, & long-wearing lipstick.

Strawberry Cactus

A peachy pink coral

Cactus Bloom

A vibrant red orange, matte, opaque & long-wearing lipstick.

Pink Canyon

A dusty pink, matte, opaque, & long-wearing lipstick.

Protea

A neutral berry red with fuschia undertone

Mirage

A cool, deep dusty pink.

Sonora

An orange red, matte, opaque, & long-wearing lipstick.

Cassia

A neutral, deep antique pink.

Plume Pink

A nude pink mauve

Sandstone

A camel nude, matte, opaque & long-wearing lipstick.

Agave

A warm, chocolatey nude-brown.

Sahara

A neutral, deep nude.

Mojave

A warm clay-brown.

Marrakesh

A vibrant fuchsia, matte, opaque & long-wearing lipstick.

Nopal

A neutral, deep, vibrant ruby.

Savanna

A pink mauve cocoa

Currant

A berry red, matte, opaque & long-wearing lipstick.

Cacti

A cool toned sepia-brown.

Blood Orange

A classic brick red, a matte, opaque, & long-wearing lipstick.

Hyacinthus

A deep berry purple, matte, opaque, & long-wearing lipstick.

Winecup

A cool toned, antique berry.

Desert Rose

A raspberry jam red

Oasis

A berry wine

Aubergine

A deep eggplant, matte, opaque, & long-wearing lipstick.

Directions

Apply to clean, dry lips directly from tube for a soft, natural finish. To achieve a more professional finish, use a lip brush.

Every ingredient we use is beneficial, here are a few:

Cherry

Cherry protects and heals skin with antioxidants.

Pomegranate

Pomegranate reduces wrinkles and brightens.

Blueberry

Blueberry nourishes and protects skin from signs of aging.

Grape

Grape fights signs of aging with resveratrol.

Cocoa Butter

Cocoa Butter softens and moisturizes.

Complete list of ingredients:

Theobroma Cacao (Organic Cocoa) Seed Butter, Butyrospermum Parkii (Shea Butter), Extracts of Prunus Cerasus (Cherry) Fruit, Prunus Domestica (Plum) Fruit, Vitis Vinifera (Cabernet Grape) Fruit, Rubus Idaeus (Raspberry) Fruit, Vaccinium Angustifolium (Blueberry) Fruit, Rubus Fruticosus (Blackberry) Fruit, Prunus Persica (Peach) Fruit, Prunus Armeniaca (Apricot) Fruit, Solanum Lycopersicum (Tomato) Fruit/Leaf/Stem, Punica Granatum (Pomegranate), Cacao (Chocolate), Rosa Centifolia (Rose Petals) Flower, Lavandula Angustifolia (Lavender) Flower/Leaf/Stem, Oryza Sativa (Rice Starch), Tocopherol (Vitamin E), Euphorbia Cerifera (Candelilla) Wax, Silica, Rosmarinus Officinalis (Rosemary) Leaf Extract
By using hashtag #100percentpure or #nodirtybeauty, I hereby grant to 100% PURE (Purity Cosmetics), it subsidiaries, agents and affiliates, the unlimited worldwide, perpetual, unending right to use, reproduce, distribute, and convey my image/photograph in any format or medium now known or subsequently developed, to modify and edit my image/photograph, to combine my image/photograph with other images, video, audio, text and other media, to create derivative works incorporating, including or based on my image/photograph. This grant shall be construed broadly.
---
Customer Reviews
Write a Review
Ask a Question
Filter Reviews:
color
Cassia
look
skin
texture
lip balm
ingredients
pink
shade
skin tone
07/09/2020
Annaleise G.
United States
07/06/2020
Michelle M.
United States
Cocoa butter matte lipstick
Love this lipstick! Long lasting and really rich vibrant color!
07/05/2020
Paulina M.
United States
07/03/2020
Kaitlynn C.
United States
Amazing lipstick!!!
I got the color Currant, and I absolutely love it! It's a raspberry color on me, it stays and it doesn't feel super drying. Plus it stains my lips which I love!!! My lips are left a beautiful stain and the lipstick smells Heavenly!!! Def recommend!
07/02/2020
Jillian L.
United States
Favorite lipsticks ever!!
This lipstick was the first product I purchased from 100% Pure & I immediately fell in love!! Now I have 12 different colors with 3 more on the way! The color pay off is amazing, they stay on all day, & people often inquire on where I purchased my lipstick from & I am proud to say 100% Pure!! (The color in the picture is Sonora)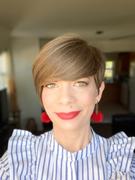 USE IT WITH
Continue Shopping →
Pick Up In-Store
Available for Pick Up In-Store at these locations. Please verify store location and operating hours prior to placing order.
Westfield Galleria at Roseville
1151 Galleria Boulevard, Roseville, CA
(916) 367-4446
Open hours:

In Stock: