https://purity-res.cloudinary.com/image/fetch/q_auto:best,f_auto,fl_lossy,w_auto,c_limit,dpr_auto/https://cdn.shopify.com/s/files/1/0648/1955/products/Kl2GbVesRaWlRAHTOaST_83fbe164-01da-443f-a4ff-18def9280b9d.png?v=1537463943
https://purity-res.cloudinary.com/image/fetch/q_auto:best,f_auto,fl_lossy,w_auto,c_limit,dpr_auto/https://cdn.shopify.com/s/files/1/0648/1955/products/rvnLVWoTpzbV7KZG51zA_a586b336-ebaf-479d-821c-1024544263b2.png?v=1537463943
https://purity-res.cloudinary.com/image/fetch/q_auto:best,f_auto,fl_lossy,w_auto,c_limit,dpr_auto/https://cdn.shopify.com/s/files/1/0648/1955/products/3Sq7kSOkSeiGm9o4UA8d_fc5797a2-9a69-412c-b3f7-546b967f4c0f.png?v=1537463943
https://purity-res.cloudinary.com/image/fetch/q_auto:best,f_auto,fl_lossy,w_auto,c_limit,dpr_auto/https://cdn.shopify.com/s/files/1/0648/1955/products/UV4gkqrXQ4q1v65DIEh3_6c11795e-0885-4671-934c-2876f10e6e42.png?v=1537463943
https://purity-res.cloudinary.com/image/fetch/q_auto:best,f_auto,fl_lossy,w_auto,c_limit,dpr_auto/https://cdn.shopify.com/s/files/1/0648/1955/products/C3IbNDYSvOHA7JuA7Jk1_d6e807e2-6e8b-41c9-9d03-b5229c0ce57a.png?v=1537463943
https://purity-res.cloudinary.com/image/fetch/q_auto:best,f_auto,fl_lossy,w_auto,c_limit,dpr_auto/https://cdn.shopify.com/s/files/1/0648/1955/products/UHclmM5oTXSTxUCWRCy4_06546363-357c-4d93-b3f5-84821c0acdce.png?v=1537463943
https://purity-res.cloudinary.com/image/fetch/q_auto:best,f_auto,fl_lossy,w_auto,c_limit,dpr_auto/https://cdn.shopify.com/s/files/1/0648/1955/products/M8mVnXAqRkqwxfK6d0GT_aefad2da-8921-495e-9515-59e92a6daa16.png?v=1537463943
https://purity-res.cloudinary.com/image/fetch/q_auto:best,f_auto,fl_lossy,w_auto,c_limit,dpr_auto/https://cdn.shopify.com/s/files/1/0648/1955/products/D59UFh7gSzqvSAYZXkY1_964d9c1c-044f-4c70-93c8-87bb263bb0eb.png?v=1537463943
https://purity-res.cloudinary.com/image/fetch/q_auto:best,f_auto,fl_lossy,w_auto,c_limit,dpr_auto/https://cdn.shopify.com/s/files/1/0648/1955/products/C9vujtPNTK8BIfZzQAZg_7bc7326d-8bdb-4477-9c31-d8ed5ecd0743.png?v=1537463943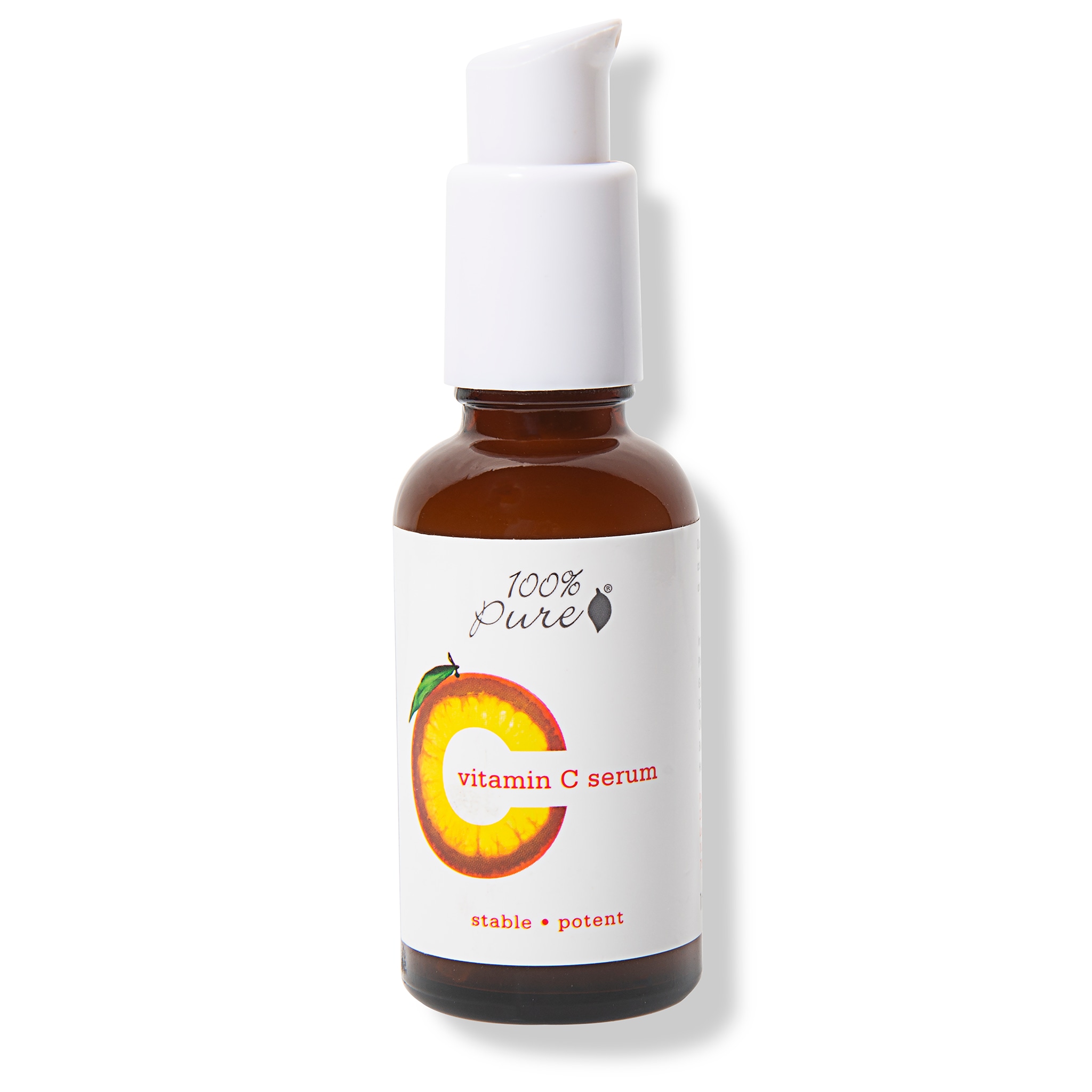 Vitamin C Serum
Natural

Vegan

Cruelty Free

Gluten Free
Lightweight, stabilized Vitamin C Serum helps firm and brighten skin tone while promoting collagen production. Can be worn alone or with other treatments.
Directions

Apply a small amount after cleansing, before moisturizing on slightly damp skin. Most effective when used in PM.

Every ingredient we use is beneficial, here are a few:

Alpha Lipoic Acid

Alpha Lipoic Acid lessens signs of aging.

SOD

SOD promotes strong skin cell health.

Green Apple

Green Apple evens skin tone and texture.

Vitamin E (Tocopherol)

Vitamin E restores and protects from free radical damage.

Vitamin C

Vitamin C brightens, boosts collagen and elastin production.

Complete list of ingredients:

Aloe Barbadensis Leaf (Organic Aloe Gel)*, Vitamin C (Magnesium Ascorbyl Phosphate), Loofah Cylindrica (Vegetable Cellulose), Vitamin E (Tocopherol), Xanthan Gum, Pyrus Malus Fruit (Green Apple) Extract, Vitis Vinifera Fruit (Grape) Extract, Vitamin B5 (Panthenol), Superoxide Dismutase (Antioxidant), Alpha Lipoic Acid, Brassica Oleracea Italica (Broccoli) Seed Oil, Linum Usitatissimum (Flax Seed) Oil, Oenothera Biennis (Evening Primrose) Oil, Canadian Salix Alba Bark (Willow Bark) Extract, Hamamelis Virginiana Water (Witch Hazel), Ethyl Hexyl Glycerin * Certified Organic
By using hashtag #100percentpure or #nodirtybeauty, I hereby grant to 100% PURE (Purity Cosmetics), it subsidiaries, agents and affiliates, the unlimited worldwide, perpetual, unending right to use, reproduce, distribute, and convey my image/photograph in any format or medium now known or subsequently developed, to modify and edit my image/photograph, to combine my image/photograph with other images, video, audio, text and other media, to create derivative works incorporating, including or based on my image/photograph. This grant shall be construed broadly.
---
Vitamin C Serum
has a rating of
4.7
stars based on
621
reviews.
Customer Reviews
skin
serum
face
products
bottle
results
vitamin C
acne scars
Vitamin C Serum
moisturizer
03/19/2019
cinthya
Verified Buyer
I love this product!
I have ordered about 4 or 5 bottles so far and I will continue ordering this product from now on. It has done wonders for my skin. The reason I did not give this 5 stars is due to the pump. The most recent bottle that I've ordered has a pump that does not work. I'm pumping it like a maniac trying to get product out, and I had to do the same with last few bottles, but my most recent bottle has a pump that does not work at all. I have to remove the pump completely. Please, @100%pure fix this problem. It's very frustrating for me. :(
Amazing!
I absolutely LOVE this stuff! It makes my skin look so fresh and glowing. The more I use it the better my skin looks!
Lightweight and Effective
The Vitamin C is not greasy or sticky but feels great on the skin. And it absorbs quickly.
Skin improvement
YES, my skin is brighter. I love this product. Two pumps in the morning are enough for me, combined with some raspberry seed oil for SPF and wrinkle-prevention. I will definitely buy it again.
Great product!
I love the vitamin C serum, it is one of my favourite products ever. I have combination skin and this is works great for me as on overnight treatment. I have purchased multiples of it and I have been really happy with it. With my last order the plastic cap of the bottle was fragile and leaky, and I have raised it customer service. Their response was great and hopefully the problem with packaging has been fixed.
Complete the Package
Continue Shopping →