https://purity-res.cloudinary.com/image/fetch/q_auto:best,f_auto,fl_lossy,w_auto,c_limit,dpr_auto/https://cdn.shopify.com/s/files/1/0648/1955/products/1If9e4KvSt6ueNilH0Q1_e11e6c0d-006f-472b-a2a0-1d41dde63d61.png?v=1536274665
https://purity-res.cloudinary.com/image/fetch/q_auto:best,f_auto,fl_lossy,w_auto,c_limit,dpr_auto/https://cdn.shopify.com/s/files/1/0648/1955/products/1twPG6qR7mbFeFjgyYwS_5e0ff5ea-ed1e-4814-9fc3-c6d38a739ba4.png?v=1536274665
https://purity-res.cloudinary.com/image/fetch/q_auto:best,f_auto,fl_lossy,w_auto,c_limit,dpr_auto/https://cdn.shopify.com/s/files/1/0648/1955/products/a9jLLFl6SKWyMHls8zED_9df1aa2c-3a37-4257-ace4-e905824acd74.png?v=1536274665
https://purity-res.cloudinary.com/image/fetch/q_auto:best,f_auto,fl_lossy,w_auto,c_limit,dpr_auto/https://cdn.shopify.com/s/files/1/0648/1955/products/EE3ZvhHsSjiDR9guincl_23e38da5-3fc0-4b1a-ad13-aafac544b825.png?v=1536274665
https://purity-res.cloudinary.com/image/fetch/q_auto:best,f_auto,fl_lossy,w_auto,c_limit,dpr_auto/https://cdn.shopify.com/s/files/1/0648/1955/products/67stMFtJSim3qXgQSP0p_6a7660fe-ea8f-4a48-bc99-f3ea965e28b2.png?v=1536274665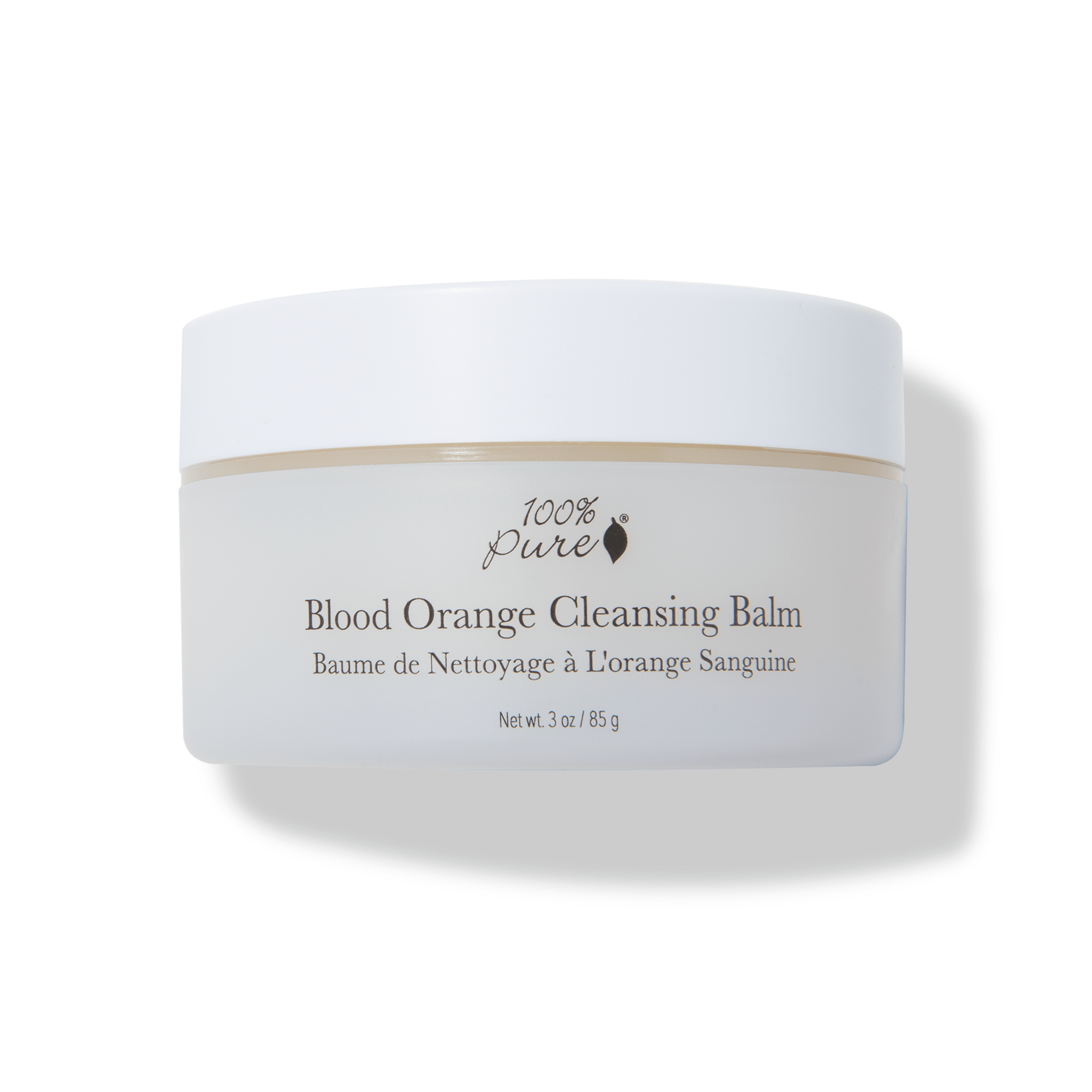 Blood Orange Cleansing Balm
Natural

Cruelty Free

Gluten Free
Purifying balm gently cleanses while leaving skin soft and supple. Coconut and olive oils melt on contact to sweep away stubborn makeup, debris, and impurities.
For All skin Types, Normal, Dry Skin Types

Directions

Scoop out a half dollar amount of cleansing balm with a clean spoon onto your fingers. Emulsify formula by rubbing between fingers; friction and heat will melt the balm. Massage formula in circular motions, directly onto dry skin (even eye area). Wipe away clean with a dampened, warm face towel (rinsing towel in between wipes). All traces of makeup and impurities will be rinsed clean while your skin is left glowing, soft and supple.

Every ingredient we use is beneficial, here are a few:

Olive Oil

Olive Oil moisturizes and repairs free radical damage.

Olive Leaf Oil

Olive Leaf Oil soothes and nourishes with antioxidants.

Coconut Oil

Coconut Oil deeply moisturizes.

Avocado Oil

Avocado Oil softens and moisturizes.

Blood Orange Essential Oil

Blood Orange Essential Oil soothes skin with calming aroma.

Complete list of ingredients:

Persea Gratissima (Organic Avocado) Oil, Cocos Nucifera (Organic Coconut) Oil, Olea Europaea (Organic Olive) Leaf Oil, Olea Europaea (Organic Olive) Oil, Cera Alba (Organic Beeswax), Citrus Aurantium Dulcis (Blood Orange Essential Oil) Fruit, Polyglyceryl-3 Palmitate (Derived from Coconuts)
By using hashtag #100percentpure or #nodirtybeauty, I hereby grant to 100% PURE (Purity Cosmetics), it subsidiaries, agents and affiliates, the unlimited worldwide, perpetual, unending right to use, reproduce, distribute, and convey my image/photograph in any format or medium now known or subsequently developed, to modify and edit my image/photograph, to combine my image/photograph with other images, video, audio, text and other media, to create derivative works incorporating, including or based on my image/photograph. This grant shall be construed broadly.
---
Blood Orange Cleansing Balm
has a rating of
4.6
stars based on
335
reviews.
Customer Reviews
skin
makeup
cleanser
face
balm
Cleansing Balm
products
Pure
mascara
smell
Great for makeup removal!
I use this at night to remove my makeup - including eye makeup - and follow up with the Argan cleanser. It is super gentle and effective
M
02/03/2019
May
It's ok
The product is ok but I can get my makeup removed using other oils, nothing special. It's good but I can live without it.
Love it!
This is hands down the best make up remover I've ever used. It wipes away the mascara and eyeliner that usually remains even after a good facial wash in the shower. Smells amazing!
CH
01/11/2019
Christina Hreha
Surprisingly effective
Originally I started using this cleanser after removing my eye make up with almond oil and cotton balls. Then I read that this can be used to remove make up. What a game changer. I went in thinking it would do an ok job with that but that I would need to go back and remove the excess make up after the cleanser. I was proved wrong! It removed my hearty mascara which usually takes a few coats of almond oil and still has excess after normal skin washing! Not only that, this cleanser left my lashes so soft! I just massaged into my skin, focusing on my lashes and removed with a warm washcloth. No more stubborn mascara left. This saves me on buying cotton balls too! I really want to go towards less waste in my skincare routine and this helps. I love this cleanser and am glad I got it in a gift set this year.
Amazing!
I work as a flight attendant so my skin gets really dry. Plus, I love hot showers. This melts my make up off, leaves my skin clean, yet it doesn't feel dry.
Complete the Package
Continue Shopping →