https://purity-res.cloudinary.com/q_auto:best,f_auto,fl_lossy,w_auto,c_limit,dpr_auto/v12/products/1CFF-PARENT/1CFF-PARENT_Fruit_Pigmented®_Healthy_Foundation_Swatch_on_Skin
https://purity-res.cloudinary.com/q_auto:best,f_auto,fl_lossy,w_auto,c_limit,dpr_auto/v12/products/1CFFCAR/1CFFCAR_Fruit_Pigmented®_Healthy_Foundation:_Alpine_Rose_Primary
https://purity-res.cloudinary.com/q_auto:best,f_auto,fl_lossy,w_auto,c_limit,dpr_auto/v12/products/1CFFCC/1CFFCC_Fruit_Pigmented®_Healthy_Foundation_-_Créme_Primary
https://purity-res.cloudinary.com/q_auto:best,f_auto,fl_lossy,w_auto,c_limit,dpr_auto/v12/products/1CFFCWP/1CFFCWP_Fruit_Pigmented®_Healthy_Foundation__-_White_Peach_Primary
https://purity-res.cloudinary.com/q_auto:best,f_auto,fl_lossy,w_auto,c_limit,dpr_auto/v12/products/1CFFCS/1CFFCS_Fruit_Pigmented®_Healthy_Foundation:_Sand_Primary
https://purity-res.cloudinary.com/q_auto:best,f_auto,fl_lossy,w_auto,c_limit,dpr_auto/v12/products/1CFFCPB/1CFFCPB_Fruit_Pigmented®_Healthy_Foundation_-_Peach_Bisque_Primary
https://purity-res.cloudinary.com/q_auto:best,f_auto,fl_lossy,w_auto,c_limit,dpr_auto/v12/products/1CFFCGP/1CFFCGP_Fruit_Pigmented®_Healthy_Foundation_-_Golden_Peach_Primary
https://purity-res.cloudinary.com/q_auto:best,f_auto,fl_lossy,w_auto,c_limit,dpr_auto/v12/products/1CFFCT/1CFFCT_Fruit_Pigmented®_Healthy_Foundation_-_Toffee_Primary
https://purity-res.cloudinary.com/q_auto:best,f_auto,fl_lossy,w_auto,c_limit,dpr_auto/v12/products/1CFFCM/1CFFCM_Fruit_Pigmented®_Healthy_Foundation_-_Mousse_Primary
https://purity-res.cloudinary.com/q_auto:best,f_auto,fl_lossy,w_auto,c_limit,dpr_auto/v12/products/1CFFCO/1CFFCO_Fruit_Pigmented®_Healthy_Foundation__-_Cocoa_Primary
Fruit Pigmented® Healthy Foundation
Fruit Pigmented®

Natural

Vegan

Cruelty Free

Gluten Free
For Normal, Oily, Combination Skin Types
Full Coverage
Matte Finish

Complexion-perfecting natural foundation enriched with antioxidant-packed superfruits, vitamins, and other skin-nourishing nutrients. Creamy liquid formula sets with a pristine matte finish for soft, velvety smooth skin. Gorgeous fruit pigments and rice powder deliver 100% opacity, ideal for absolute full coverage of dark circles or hyperpigmentation, controlled shine, and balanced excess oil.

Coverage

Finish

Shade Chart

Alpine Rose

Fair with cool undertone

Créme

Fair with warm undertone

White Peach

Light with warm undertone

Sand

Light medium with neutral undertone

Peach Bisque

Medium with olive undertone

Golden Peach

Medium tan with warm undertone

Toffee

Tan with neutral undertone

Mousse

Tan dark with warm undertone

Cocoa

Deep with neutral undertone

Directions

Dot on forehead, cheeks, nose, and chin. Blend outwards with your fingers or with a brush. Can apply second layer on areas that need more coverage.

Every ingredient we use is beneficial, here are a few:

Goji Berry

Goji Berry boosts collagen production and skin elasticity.

Acai

Acai heals and protects with antioxidants.

Coffee Cherry

Coffee Cherry fights and lessens wrinkles.

Elderberry

Elderberry clarifies skin and prevents fine lines.

Mangosteen

Mangosteen tightens skin and lessens wrinkles.

Complete list of ingredients:

Aloe Barbadensis (Organic Aloe Juice) Leaf Extract*, Oryza Sativa (Rice) Starch, Titanium Dioxide, Zinc Oxide, Extracts of Prunus Persica Fruit (Peach), Prunus Armeniaca Fruit (Apricot), Theobroma Cacao (Cocoa Bean) and Lycium Barbarum Fruit (Goji Berry), Euterpe Oleracea Pulp (Acai) Oil, Punica Granatum Fruit Extract (Pomegranate Oil), Tocopherol (Vitamin E), Sodium Ascorbate (Vitamin C), Euphorbia Cerifera (Candelilla) Wax, Extracts of Camelia Sinensis Leaf Ferment (White Tea), Coffea Arabica (Coffee Cherry), Aristotelia Chilensis (Maqui Berry), Vitis Vinifera Skin (Muscadine Grape), Garcinia Mangosteen Peel (Mangosteen), Malpighia Punicifolia Fruit (Acerola), Sambucus Canadensis (Elderberry), Citrus Grandis (Grapefruit) Seed, Lonicera Caprifolium Flower and Lonicera Japonica (Honeysuckle) Flower Extract *Certified Organic
By using hashtag #100percentpure or #nodirtybeauty, I hereby grant to 100% PURE (Purity Cosmetics), it subsidiaries, agents and affiliates, the unlimited worldwide, perpetual, unending right to use, reproduce, distribute, and convey my image/photograph in any format or medium now known or subsequently developed, to modify and edit my image/photograph, to combine my image/photograph with other images, video, audio, text and other media, to create derivative works incorporating, including or based on my image/photograph. This grant shall be construed broadly.
---
Customer Reviews
Filter Reviews:
color
products
skin
coverage
face
foundation
makeup
ingredients
shade
shades
12/07/2019
Uyen-Linh D.
United States
From oil queen to matte goddess!
I have skin that can get extremely oily by the end of the day. I recently purchased the 'healthy foundation' and added it as the last step of my morning skincare routine since it's such a clean product. It has a very thick/creamy consistency. It goes on immediately matte and stays that way all day long. It has reduced my oiliness by 80%. I absolutely love this foundation.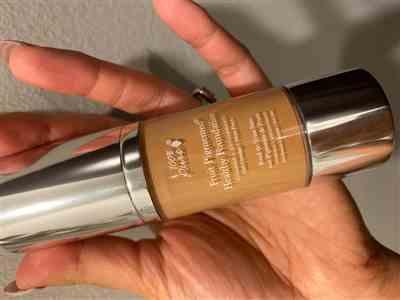 12/06/2019
Peggy S.
United States
Best
Have used this foundation for several years. Alpine rose is perfect color for me and blends so that it doesn't look like I'm wearing makeup.
12/04/2019
Rachel M.
United States
Great Foundation!!
Great coverage and love that it has no harsh chemicals!!
12/03/2019
Debbie D.
United States
My new Foundation
Really like this product. Goes on smooth, is easy to remove and it is clean.
12/03/2019
Lisa C.
United States
Feels nice on skin
Goes on beautifully and feels silky on the skin. The coverage seems adequate as well. The only negative is that it's really hard to find the right color match. I thought going one shade darker from my initial choice would do, but i may have needed to darken it by 2 shades instead. I really don't know. I appreciate the wonderful complete satisfaction guarantee that 100 percent pure offers but I feel guilty using it in this manner.
USE IT WITH
Continue Shopping →