https://purity-res.cloudinary.com/image/fetch/q_auto:best,f_auto,fl_lossy,w_auto,c_limit,dpr_auto/https://cdn.shopify.com/s/files/1/0648/1955/products/HVVAxhCDRC66noh8CKr8_446baf7f-def3-41c1-95de-437d27bf92c6.png?v=1537565088
https://purity-res.cloudinary.com/image/fetch/q_auto:best,f_auto,fl_lossy,w_auto,c_limit,dpr_auto/https://cdn.shopify.com/s/files/1/0648/1955/products/QRSbmfl2RYfEAO74w1PQ_fe7066f6-03d7-4158-9c88-3f3f5d9ddbb1.png?v=1537565088
https://purity-res.cloudinary.com/image/fetch/q_auto:best,f_auto,fl_lossy,w_auto,c_limit,dpr_auto/https://cdn.shopify.com/s/files/1/0648/1955/products/1vHwBJrHRoeLEAx2l8kO_2af71a7a-8a76-4dba-8e7f-271574b53806.png?v=1537565088
https://purity-res.cloudinary.com/image/fetch/q_auto:best,f_auto,fl_lossy,w_auto,c_limit,dpr_auto/https://cdn.shopify.com/s/files/1/0648/1955/products/0af1l102SmyhS7pC5oGA_f072ecb8-6476-465b-8931-8946c034395c.png?v=1537565088
https://purity-res.cloudinary.com/image/fetch/q_auto:best,f_auto,fl_lossy,w_auto,c_limit,dpr_auto/https://cdn.shopify.com/s/files/1/0648/1955/products/Es12qBdcTaO4msyrAgVQ_f6ab1c9b-b642-4ce1-b04d-7aca82b7412f.png?v=1537565088
https://purity-res.cloudinary.com/image/fetch/q_auto:best,f_auto,fl_lossy,w_auto,c_limit,dpr_auto/https://cdn.shopify.com/s/files/1/0648/1955/products/lCIpTU3lRnSBwVx9bNqg_dd6620a2-b29f-4687-b0b9-fceea244141b.png?v=1537565088
https://purity-res.cloudinary.com/image/fetch/q_auto:best,f_auto,fl_lossy,w_auto,c_limit,dpr_auto/https://cdn.shopify.com/s/files/1/0648/1955/products/lF0U197WQ4CVuIvyePMQ_0b03858e-31ec-460c-a014-1d40b158c0cc.png?v=1537565088
https://purity-res.cloudinary.com/image/fetch/q_auto:best,f_auto,fl_lossy,w_auto,c_limit,dpr_auto/https://cdn.shopify.com/s/files/1/0648/1955/products/9Lc7UHX9RuMEQ8tpggVA_c2603b86-41d1-43b5-8021-4a81627b8322.png?v=1537565088
https://purity-res.cloudinary.com/image/fetch/q_auto:best,f_auto,fl_lossy,w_auto,c_limit,dpr_auto/https://cdn.shopify.com/s/files/1/0648/1955/products/ocYRkfnoQhCUa2shnnA0.png?v=1537565088
https://purity-res.cloudinary.com/image/fetch/q_auto:best,f_auto,fl_lossy,w_auto,c_limit,dpr_auto/https://cdn.shopify.com/s/files/1/0648/1955/products/1rkvZ5vtSG2ikYkJtCua_82bcf731-188e-46aa-8edf-d4c1b5fec089.png?v=1537565088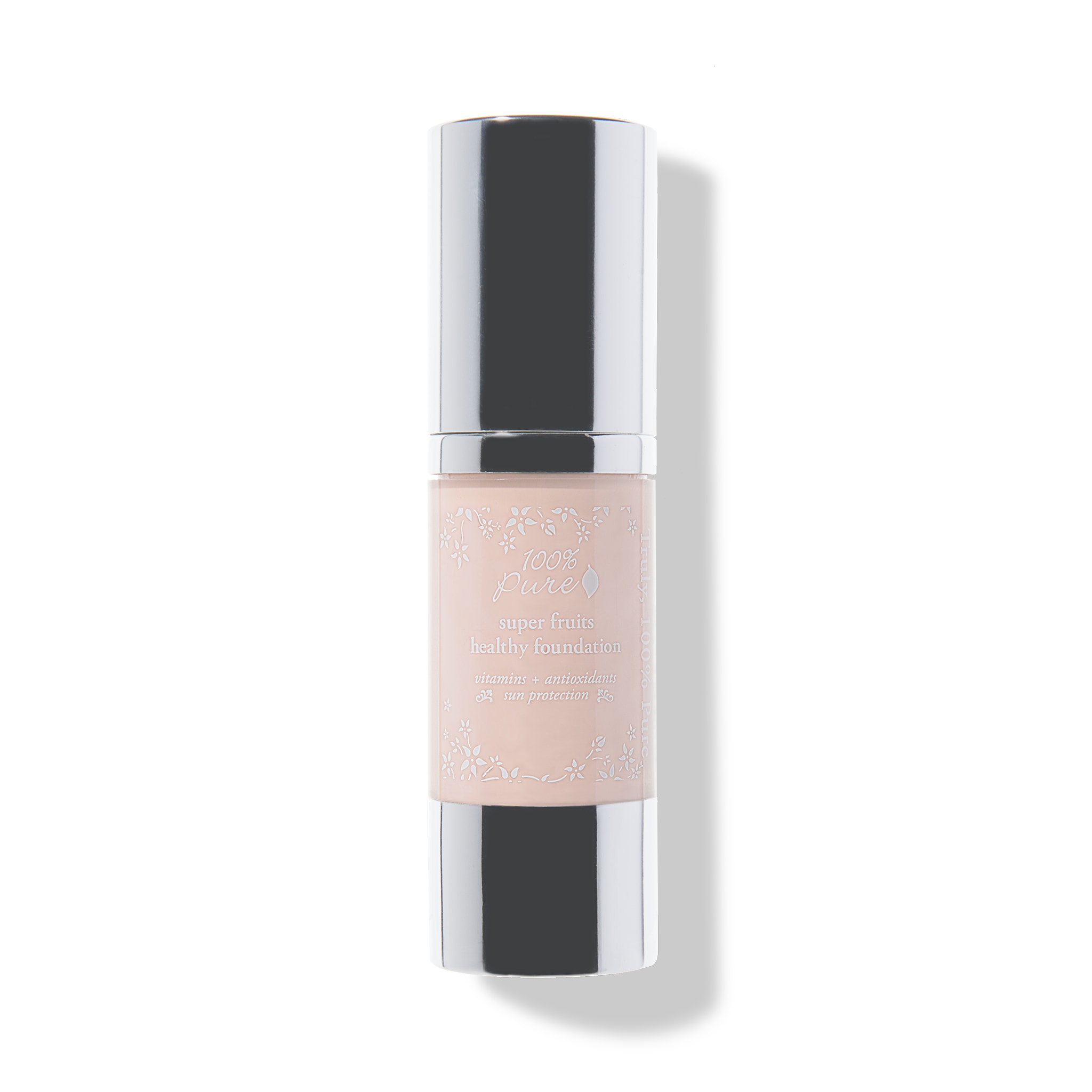 Fruit Pigmented® Healthy Foundation
Fruit Pigmented®

Natural

Vegan

Cruelty Free

Gluten Free
Full coverage fruit pigmented® liquid foundation with soothing aloe, antioxidant-rich superfruit oils, oil-absorbing rice powder, and a flawless matte finish.
For Normal, Dry, Combination Skin Types
Full Coverage
Matte Finish

Complexion-perfecting natural foundation enriched with antioxidant-packed superfruits, vitamins, and other skin-nourishing nutrients. Creamy liquid formula sets with a pristine matte finish for soft, velvety smooth skin. Gorgeous fruit pigments and rice powder deliver 100% opacity, ideal for absolute full coverage of dark circles or hyperpigmentation, controlled shine, and balanced excess oil.

Coverage

Finish

Shade Chart

Alpine Rose

Fair with cool undertone

Créme

Fair with warm undertone

White Peach

Light with warm undertone

Sand

Light medium with neutral undertone

Peach Bisque

Medium with olive undertone

Golden Peach

Medium tan with warm undertone

Toffee

Tan with neutral undertone

Mousse

Tan dark with warm undertone

Cocoa

Deep with neutral undertone

Directions

Dot on forehead, cheeks, nose, and chin. Blend outwards with your fingers or with a brush. Can apply second layer on areas that need more coverage.

Every ingredient we use is beneficial, here are a few:

Goji Berry

Goji Berry boosts collagen production and skin elasticity.

Acai

Acai heals and protects with antioxidants.

Coffee Cherry

Coffee Cherry fights and lessens wrinkles.

Elderberry

Elderberry clarifies skin and prevents fine lines.

Mangosteen

Mangosteen tightens skin and lessens wrinkles.

Complete list of ingredients:

Aloe Barbadensis (Organic Aloe Juice) Leaf Extract*, Oryza Sativa (Rice) Starch, Titanium Dioxide, Zinc Oxide, Extracts of Prunus Persica Fruit (Peach), Prunus Armeniaca Fruit (Apricot), Theobroma Cacao (Cocoa Bean) and Lycium Barbarum Fruit (Goji Berry), Euterpe Oleracea Pulp (Acai) Oil, Punica Granatum Fruit Extract (Pomegranate Oil), Tocopherol (Vitamin E), Sodium Ascorbate (Vitamin C), Euphorbia Cerifera (Candelilla) Wax, Extracts of Camelia Sinensis Leaf Ferment (White Tea), Coffea Arabica (Coffee Cherry), Aristotelia Chilensis (Maqui Berry), Vitis Vinifera Skin (Muscadine Grape), Garcinia Mangosteen Peel (Mangosteen), Malpighia Punicifolia Fruit (Acerola), Sambucus Canadensis (Elderberry), Citrus Grandis (Grapefruit) Seed, Lonicera Caprifolium Flower and Lonicera Japonica (Honeysuckle) Flower Extract *Certified Organic
Fruit Pigmented® Healthy Foundation
has a rating of
4.4
stars based on
1582
reviews.
Customer Reviews
foundation
skin
coverage
makeup
face
color
moisturizer
ingredients
foundations
peach
Perfect
Texture, coverage and color are perfect for me. Love the dispenser too.
Great coverage
Overall, I love this foundation. I've been using it for over a year now. It doesn't make my skin break out, and it has a good amount of coverage, without looking overdone. Lately I have had trouble with it not smoothing out as eevenly as I would like. It's not a new bottle, so I think it's due to something in my environment or a change in my complexion. I've started adding a drop of squalene oil right before I apply, and I'm very happy with the results.
04/30/2019
Jaleesa Trussell
The Best Natural Foundation thus far!
I got referred to this brand by my sister because she knows how much I appreciate natural makeup. I wanted to find something that would give the coverage I needed with the safety of coming in contact with my children's skin. YES YES YES! You have my business for life!
M
04/27/2019
Maga2004
Ahmazing!!!!
I purchased Healthy Foundations not really knowing what to expect. I live in Florida, and summers bere are brutal on your makeup. I initially dotted this on with my fingertips and ended using too much; it looked chalky and thick in certain areas. I then decided to use just a very small amount, dotted around my face, then used a 100% pure foundation brush to smooth it out. It is Perfect! I just dot a little more on where I need it and blend again. It quickly dries to a beautiful matte finish.
Holy Grail
I have extremely extremely sensitive skin. Literally anything and everything breaks me out, doesn't matter if it's natural or synthetic - for instance specific oils and butters break me out even though natural. This is the one foundation that does not break me out and I absolutely adore it. I refuse to use any other skin base cosmetic product! I just mix it with a bit of Rosehip Seed Oil and use a sponge to blend it in. Result: so many compliments on my skin. Thank you 100% pure!
Complete the Package
Continue Shopping →