https://purity-res.cloudinary.com/image/fetch/q_auto:best,f_auto,fl_lossy,w_auto,c_limit,dpr_auto/https://cdn.shopify.com/s/files/1/0648/1955/products/6HpyGCGS3OsfJsVsZTDW_145506cb-0032-4f38-9c04-50f6b32a15a9.png?v=1545091854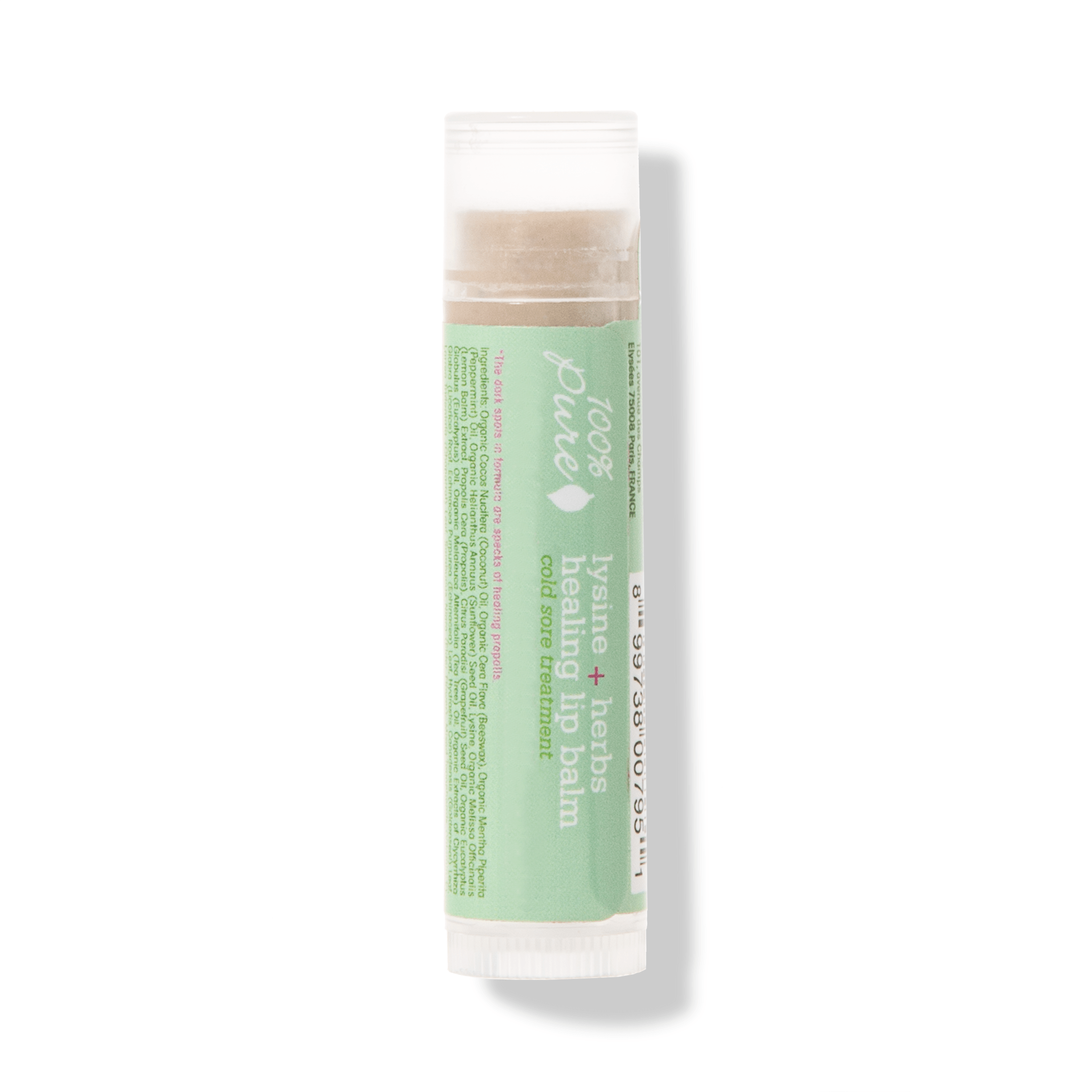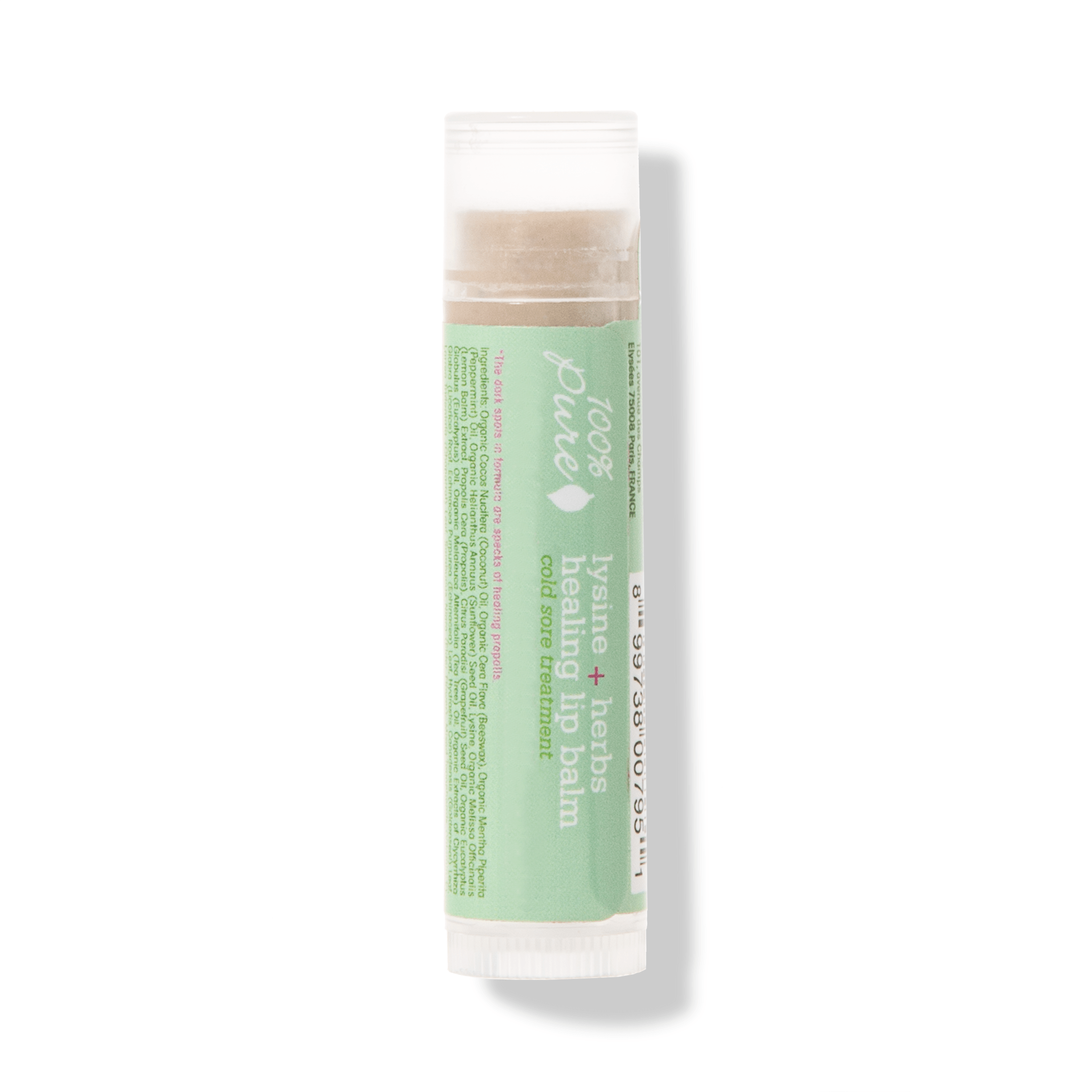 Lysine + Herbs Lip Balm
Fruit Pigmented®

Natural

Cruelty Free

Gluten Free
Lip treatment made with hydrating coconut and soothing lysine: an amino acid that alleviates burning, itching, and irritation associated with cold sores.
Directions

Use on cold sores or dry, chapped, or cracked lips.

Every ingredient we use is beneficial, here are a few:

Propolis

Propolis heals and soothes.

Echinacea

Echinacea moisturizes and reduces inflammation.

Tea Tree

Tea Tree clears impurities and tones.

Lemon Balm

Lemon Balm softens and soothes.

Lysine

Lysine promotes smoothness and firmness.

Complete list of ingredients:

Cocos Nucifera (Organic Coconut) Oil*, Cera Flava (Organic Beeswax)*, Mentha Piperita (Organic Peppermint) Oil*, Helianthus Annuus (Organic Sunflower) Seed Oil*, Lysine, Melissa Officinalis (Organic Lemon Balm) Extract*, Propolis Cera (Propolis), Citrus Paradisi (Grapefruit) Seed Oil, Eucalyptus Globulus (Organic Eucalyptus) Oil*, Melaleuca Alternifolia (Organic Tea Tree) Oil*, Extracts of Clycyrrhiza Glabra (Organic Licorice) Root*, Echinacea Purpurea (Echinacea) Leaf, Larrea Tridentata (Chaparral) Leaf, Sambucus Nigra (Elder Flower), Mixed Tocopherols (Vitamin E) * Certified Organic
By using hashtag #100percentpure or #nodirtybeauty, I hereby grant to 100% PURE (Purity Cosmetics), it subsidiaries, agents and affiliates, the unlimited worldwide, perpetual, unending right to use, reproduce, distribute, and convey my image/photograph in any format or medium now known or subsequently developed, to modify and edit my image/photograph, to combine my image/photograph with other images, video, audio, text and other media, to create derivative works incorporating, including or based on my image/photograph. This grant shall be construed broadly.
---
Lysine + Herbs Lip Balm
has a rating of
4.8
stars based on
279
reviews.
Customer Reviews
Awesome Lip Balm!
Shipped very fast. I get cold sores frequently and I already had one when I used this, but it worked very quickly. I will use this at the first sign of the tingling. I am very satisfied with this product and the company! Thank you so much!
LIFESAVER
I literally only use this lip balm; it smells amazing, is so soft, and really moisturizes. While I am not prone to too many cold sores, I do have the virus and occasionally have a mild flare-up, but since using this lip balm (in addition to adding pure lemon balm to my lips when I am sick, exposed to extremes in weather, or am overly chapped), and taking a daily monoluarin and L lysine tablet, I literally have not had a single flare-up in I don't even know how long. This is a miracle I would recommend to anyone, a decent price for what you get, and super nice-smelling, too. Very natural. Will never use another!
12/03/2018
DIONNE J.
United States
Good
Feel so good on my lips and it helps with my dry lips
11/21/2018
Paula M.
United States
Excellent
I have been buying it for awhile for my daughter (who loves it) so I bought one to try for myself. I love it . Your lips are nicely hydrated, and protected from cold sores. 5 star review from me
11/21/2018
Christie L.
United States
Best chapstick ever!!
Love this lip balm! Take it everywhere with me especially since Michigan has been so cold lately! No recent out breaks and the smell of it is great :) Will definitely be buying more.
Complete the Package
Continue Shopping →