https://purity-res.cloudinary.com/image/fetch/q_auto:best,f_auto,fl_lossy,w_auto,c_limit,dpr_auto/https://cdn.shopify.com/s/files/1/0648/1955/products/0PlCsGTTKWu0Ohntfhxs_07489d13-4cb7-497b-84b6-799287f39e41.png?v=1541697848
https://purity-res.cloudinary.com/image/fetch/q_auto:best,f_auto,fl_lossy,w_auto,c_limit,dpr_auto/https://cdn.shopify.com/s/files/1/0648/1955/products/Grr0uam3R3OzFEr1ldNH_33754ede-0332-4b3c-858a-8043aea174c2.png?v=1541697848
https://purity-res.cloudinary.com/image/fetch/q_auto:best,f_auto,fl_lossy,w_auto,c_limit,dpr_auto/https://cdn.shopify.com/s/files/1/0648/1955/products/vfsMRqYlQfGLLg6q7SKc_e495b220-817e-423b-84d7-55a88e1ae9a4.png?v=1541697848
https://purity-res.cloudinary.com/image/fetch/q_auto:best,f_auto,fl_lossy,w_auto,c_limit,dpr_auto/https://cdn.shopify.com/s/files/1/0648/1955/products/zfAxUScgS8C2PTIjZW4m_96c7c9b3-5648-4d2b-a851-d3e8278d3ea2.png?v=1541697848
https://purity-res.cloudinary.com/image/fetch/q_auto:best,f_auto,fl_lossy,w_auto,c_limit,dpr_auto/https://cdn.shopify.com/s/files/1/0648/1955/products/dmtF6AHQHODEte1u29Jn_e7a8d74c-aa99-434a-a0c9-dfae083670c6.png?v=1541697848
https://purity-res.cloudinary.com/image/fetch/q_auto:best,f_auto,fl_lossy,w_auto,c_limit,dpr_auto/https://cdn.shopify.com/s/files/1/0648/1955/products/ynanELlSQq4hAceqOSYA_069a0b02-0516-4e6c-8eee-18d1632c6b17.png?v=1541697848
https://purity-res.cloudinary.com/image/fetch/q_auto:best,f_auto,fl_lossy,w_auto,c_limit,dpr_auto/https://cdn.shopify.com/s/files/1/0648/1955/products/xpwfADtyTD671VB3ifiB_c360be09-ca93-4183-83c5-5fbfd2bb4f16.png?v=1541697848
https://purity-res.cloudinary.com/image/fetch/q_auto:best,f_auto,fl_lossy,w_auto,c_limit,dpr_auto/https://cdn.shopify.com/s/files/1/0648/1955/products/nwcjGRAkQWmDyqeD73bQ_4e6eec11-37ba-4459-a441-b506d9b554f1.png?v=1541697848
https://purity-res.cloudinary.com/image/fetch/q_auto:best,f_auto,fl_lossy,w_auto,c_limit,dpr_auto/https://cdn.shopify.com/s/files/1/0648/1955/products/XjJRxWewQGmnDJaCXxtI_5a45c582-d528-451f-8084-48784ef57d76.png?v=1541697848
https://purity-res.cloudinary.com/image/fetch/q_auto:best,f_auto,fl_lossy,w_auto,c_limit,dpr_auto/https://cdn.shopify.com/s/files/1/0648/1955/products/3Fpl3CQjSVugMEtQovdC_97630a65-f4ab-4f1b-833c-1dcc520ccb81.png?v=1541697848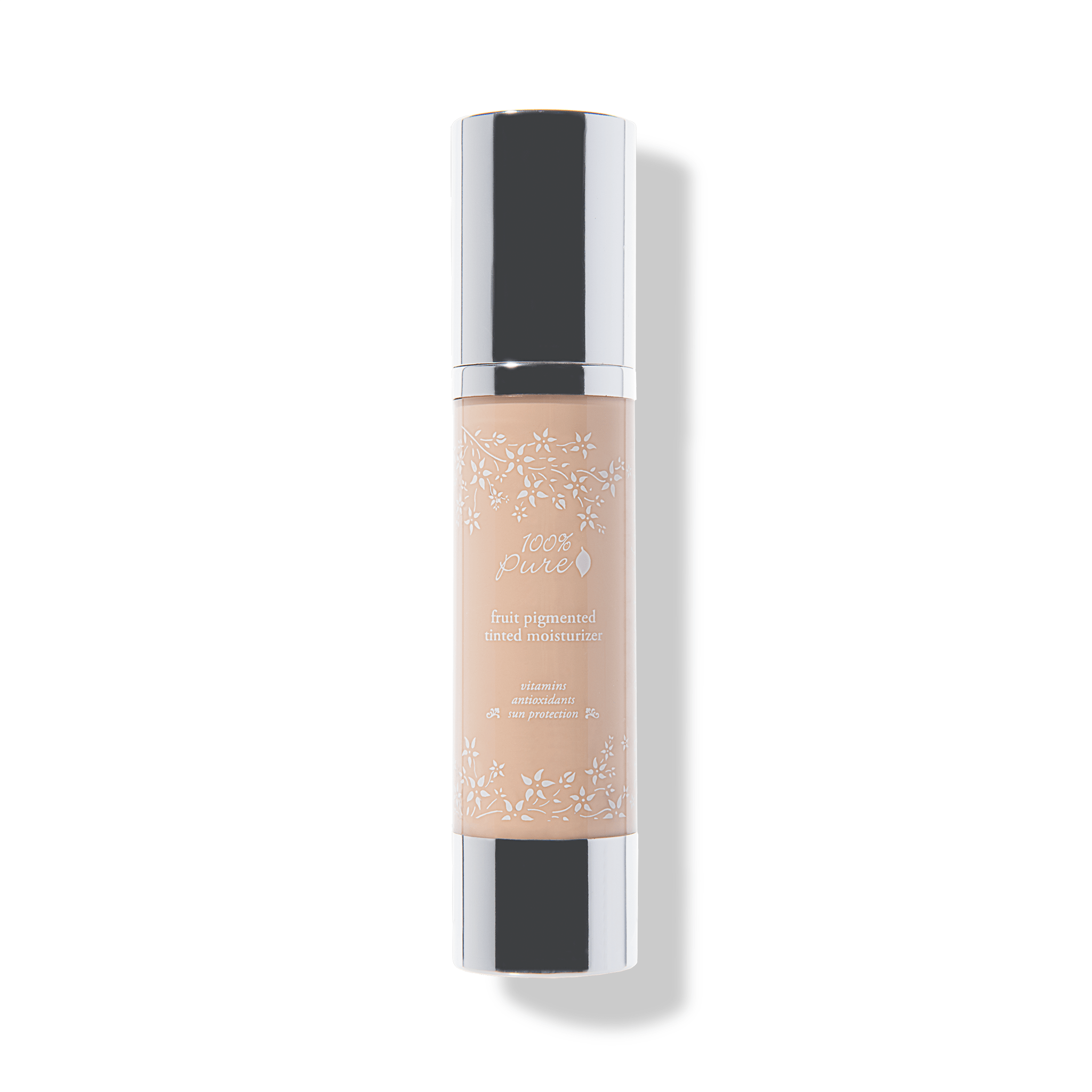 Fruit Pigmented® Tinted Moisturizer
Fruit Pigmented®

Natural

Vegan

Cruelty Free

Gluten Free
Ultra hydrating tinted moisturizer made with aloe and cucumber juice, pigmented by fruit. Refreshes skin while providing dewy, light-medium coverage.
For Normal, Dry, Combination Skin Types
Sheer to Medium Coverage
Dewy Finish

Moisturizing formula colored from fruit and vegetable pigments for a flawless complexion. Organic white tea, acai oil, pomegranate oil, vitamins and antioxidants deliver necessary, skin-beneficial nutrients for the most healthy skin.

Coverage

Finish

Shade Chart

Cocoa

Deep with warm red undertone

Mousse

Deep with neutral undertone

Toffee

Tan with warm peach undertone

Golden Peach

Medium with cool undertone

Peach Bisque

Medium with warm golden undertone

Sand

Medium with warm peach undertone

White Peach

Light with warm peach undertone

Créme

Light with warm golden undertone

Alpine Rose

Light with cool undertone

Directions

Using fingers, dot around face and blend outwards, working into the skin. For use with a brush, dot around face and buff outwards from center. Layer for more coverage.

Every ingredient we use is beneficial, here are a few:

Goji Berry

Goji Berry boosts collagen production and skin elasticity.

Peach

Peach protects skin from UV rays with antioxidants.

Pomegranate Seed Oil

Pomegranate Seed Oil combats aging and repairs dry skin.

Acai Oil

Acai Oil conditions with antioxidants.

White Tea

White Tea combats sun damage with antioxidants.

Complete list of ingredients:

Aloe Barbadensis (Organic Aloe) Leaf Juice*, Cucumis Sativus (Cucumber) Juice, Euterpe Oleracea (Acai Berry) Fruit Oil, Punica Granatum (Pomegranate) Seed Oil, Oryza Sativa (Rice) Starch, Extracts of Prunus Persica (Peach) Fruit, Camellia Sinensis (Organic White Tea) Leaf*, Prunus Armeniaca (Apricot) Fruit, Daucus Carota Sativa (Carrot) Root, Punica Granatum (Pomegranate), Theobroma Cacao (Cocoa Bean), Lycium Chinense (Goji Berry) Fruit and Solanum Lycopersicum (Tomato) Fruit/Leaf/Stem, Tocopherol (Vitamin E), Sodium Ascorbate (Vitamin C), Extracts of Euphorbia Cerifera Cera (Candelilla Wax), Rosmarinus Officinalis (Rosemary) Leaf, Origanum Vulgare (Oregano) Leaf, Thymus Vulgaris (Thyme) Flower/Leaf, Lonicera Caprifolium Flower, Lonicera Japonica (Honeysuckle) Flower Extract, Hydrastis Canadensis (Goldenseal), Cinnamomum Zeylanicum (Cinnamon) Bark *Certified Organic ACTIVE INGREDIENTS: 15% Titanium Dioxide and 10% Zinc Oxide
By using hashtag #100percentpure or #nodirtybeauty, I hereby grant to 100% PURE (Purity Cosmetics), it subsidiaries, agents and affiliates, the unlimited worldwide, perpetual, unending right to use, reproduce, distribute, and convey my image/photograph in any format or medium now known or subsequently developed, to modify and edit my image/photograph, to combine my image/photograph with other images, video, audio, text and other media, to create derivative works incorporating, including or based on my image/photograph. This grant shall be construed broadly.
---
Fruit Pigmented® Tinted Moisturizer
has a rating of
4.4
stars based on
963
reviews.
Customer Reviews
01/23/2019
Cynthia Graves
Perfect Match!
I love the finish, and the shade I purchase, Alpine Rose, is an authentic match to my fair skin with pink undertones. So glad 100 Percent Pure includes those of us with pink undertones in its color choices because a lot of brands overlook us. I find it just a wee bit thick, so I add a drop of water to it and it applies like a dream. Perfect coverage! And it lasts a long time!
Perfect Match for My Skin Tone
I have sensitive skin that reacts to the harsh ingredients used in so many skin care brands so I opted for a natural product. The sales clerk in my local store was able to find a perfect match for my golden olive Southern Italian/Greek skin tone in the Peach Bisque shade! The product is moisturizing and provides enough coverage for day time. This is now my go-to product in lieu of foundation! No matter how rushed my mornings are - I always have time to throw on a few drops over my sunblock. Finally a product that matches a warm complexion and has no irritating chemicals and no breakouts!
01/20/2019
Jenessah S.
United States
The prefect discovery package
I've really enjoyed the Tinted moisturizer 4PK set. It was a nice way to figure out my best color, and also discover if my overly sensitive skin would react to the product, all without spending too much out of the gate on a test.
01/03/2019
Shawndra C.
United States
Tinted mousturizer
I really like it as a moisturizer under my foundation. It's a tad bit greasy. But it's the closest thing I found to perfect.
Love it!
I was worried this was going to be too dewy for me but it actually has a gorgeous finish! The coverage corrects any redness on my face and looks very natural. My favorite face product so far.
Complete the Package
Continue Shopping →