https://purity-res.cloudinary.com/image/fetch/q_auto:best,f_auto,fl_lossy,w_auto,c_limit,dpr_auto/https://cdn.shopify.com/s/files/1/0648/1955/products/RgWv4ioHSl6gsbFjpQ83.jpg?v=1540592420
https://purity-res.cloudinary.com/image/fetch/q_auto:best,f_auto,fl_lossy,w_auto,c_limit,dpr_auto/https://cdn.shopify.com/s/files/1/0648/1955/products/e0zVoKNxRSKx1biF1Na4.jpg?v=1540592420
https://purity-res.cloudinary.com/image/fetch/q_auto:best,f_auto,fl_lossy,w_auto,c_limit,dpr_auto/https://cdn.shopify.com/s/files/1/0648/1955/products/NUuYt3sTXWeQUNfb55tm.jpg?v=1540592420
https://purity-res.cloudinary.com/image/fetch/q_auto:best,f_auto,fl_lossy,w_auto,c_limit,dpr_auto/https://cdn.shopify.com/s/files/1/0648/1955/products/y1kQLQMHSA2iRxCGp5eQ.jpg?v=1540592420
https://purity-res.cloudinary.com/image/fetch/q_auto:best,f_auto,fl_lossy,w_auto,c_limit,dpr_auto/https://cdn.shopify.com/s/files/1/0648/1955/products/Z207HdTtGY4Zoi7rCRFg.jpg?v=1540592420
https://purity-res.cloudinary.com/image/fetch/q_auto:best,f_auto,fl_lossy,w_auto,c_limit,dpr_auto/https://cdn.shopify.com/s/files/1/0648/1955/products/fvkuLiGgTx2ZKB0g6GlQ.jpg?v=1540592420
https://purity-res.cloudinary.com/image/fetch/q_auto:best,f_auto,fl_lossy,w_auto,c_limit,dpr_auto/https://cdn.shopify.com/s/files/1/0648/1955/products/fJxcOWjRCG3ZUaWJ4U35.jpg?v=1540592420
https://purity-res.cloudinary.com/image/fetch/q_auto:best,f_auto,fl_lossy,w_auto,c_limit,dpr_auto/https://cdn.shopify.com/s/files/1/0648/1955/products/LVxEpwx9TXeDJoh4ByIA.jpg?v=1540592420
https://purity-res.cloudinary.com/image/fetch/q_auto:best,f_auto,fl_lossy,w_auto,c_limit,dpr_auto/https://cdn.shopify.com/s/files/1/0648/1955/products/AGIsXTzSI2nKCGqzz0S9.jpg?v=1540592420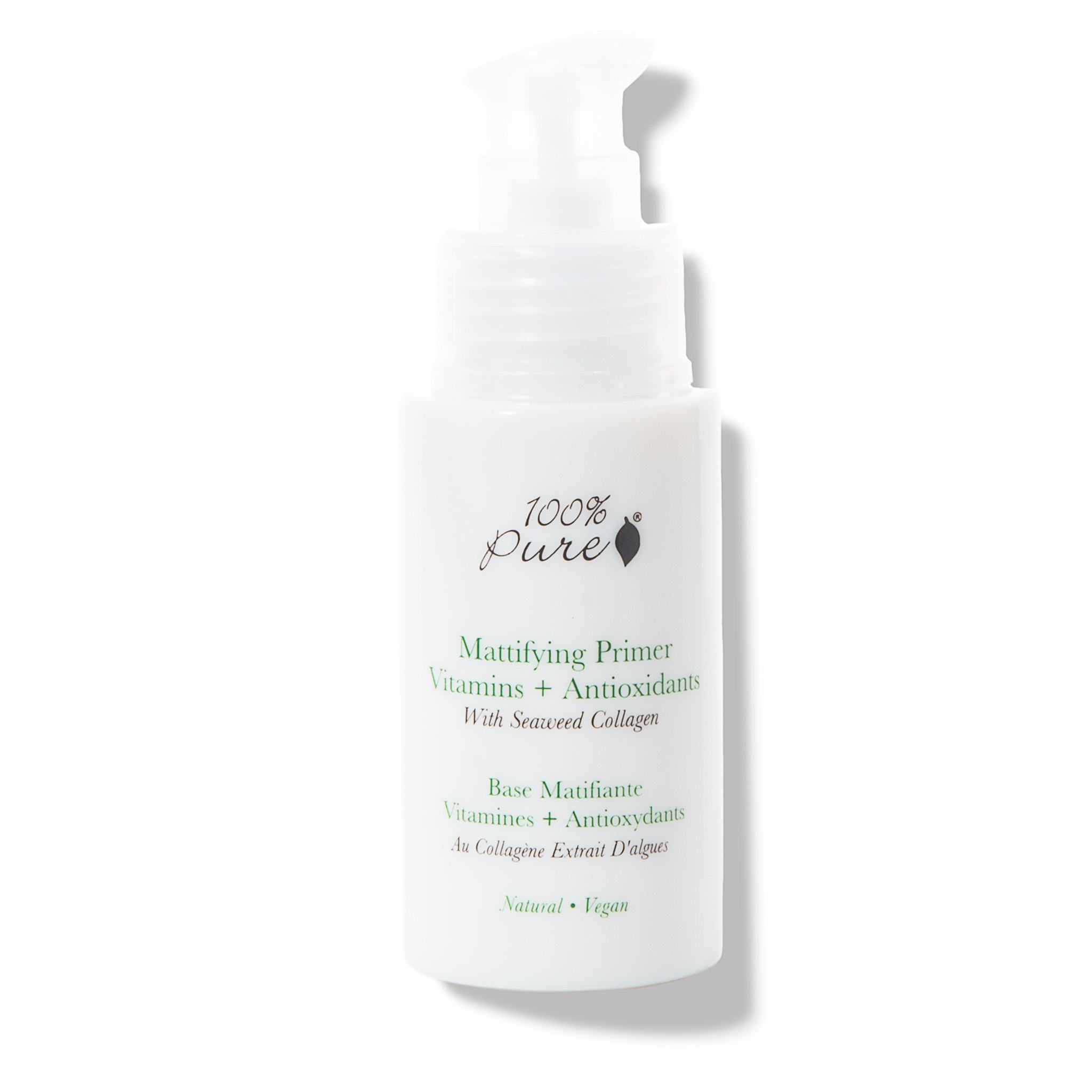 Mattifying Primer
Natural

Vegan

Cruelty Free

Gluten Free
Silicone-free primer infused with skin-plumping seaweed collagen for flawless, long lasting cosmetic application. Fills fine lines while minimizing shine.
For Oily, Normal, Combination Skin Types

Silicone-free primer infused with skin-plumping seaweed collagen makes cosmetic application flawless and last longer. It fills in lines for smoothness while keeping excess shine away.

Directions

Apply evenly to clean or moisturized skin. Allow to set for 90 seconds. Follow with your makeup application.

Every ingredient we use is beneficial, here are a few:

Tea Tree

Tea Tree clears impurities and tones.

Eucalyptus

Eucalyptus fights and prevents acne.

Seaweed Collagen

Seaweed Collagen boosts collagen production and elasticity.

Green Tea

Green Tea tones and protects with antioxidants.

Aloe Juice

Aloe Juice soothes and moisturizes.

Complete list of ingredients:

Aloe Barbadensis (Organic Aloe Juice) Leaf Extract*, Vegetable Glycerin, Olive Oil Squalane, Tocopherol (Vitamin E), Euphorbia Cerifera Cera (Candelilla Wax), Camellia Sinensis (Green Tea) Leaf Extract, Silica, Oryza Sativa (Rice) Starch, Fucus Vesiculosus (Seaweed) Collagen, Eucalyptus Globulus (Eucalyptus) Extract, Melaleuca Alternifolia (Tea Tree) Extract, Oregano Extract, Thyme Extract, Lonicera Caprifolium Flower and Lonicera Japonica (Honeysuckle) Flower Extract
By using hashtag #100percentpure or #nodirtybeauty, I hereby grant to 100% PURE (Purity Cosmetics), it subsidiaries, agents and affiliates, the unlimited worldwide, perpetual, unending right to use, reproduce, distribute, and convey my image/photograph in any format or medium now known or subsequently developed, to modify and edit my image/photograph, to combine my image/photograph with other images, video, audio, text and other media, to create derivative works incorporating, including or based on my image/photograph. This grant shall be construed broadly.
---
Mattifying Primer
has a rating of
4.6
stars based on
574
reviews.
Customer Reviews
primer
skin
makeup
face
foundation
mattifying primer
ingredients
products
shine
primers
a-ma-zing
I love the luminous primer, and I love this even more! it makes my skin feel so, so soft, and my makeup application is even better than with the luminous. As much as I love the luminous primer, I don't think I'll go back. everybody's skin is different, and mine likes this primer.
Wonderful Primer!
I am a huge fan of the luminous primer but I do have combination skin. I love to use the mattifying primer on my forehead and T-zone and luminous primer everywhere else and it works great! Not only is it a primer but a great skin treatment too!
02/03/2019
Patricia Orozco
Amazing
My skin loves this primer. Creates a perfect canvas for makeup
good, but...
But not necessary for using
silky smooth
I have extremely oily skin and this is my go to for special events. No shine, no sweat! Easily works for 8 hours!
Complete the Package
Continue Shopping →