https://purity-res.cloudinary.com/image/fetch/q_auto:best,f_auto,fl_lossy,w_auto,c_limit,dpr_auto/https://cdn.shopify.com/s/files/1/0648/1955/products/RgWv4ioHSl6gsbFjpQ83.jpg?v=1540592420
https://purity-res.cloudinary.com/image/fetch/q_auto:best,f_auto,fl_lossy,w_auto,c_limit,dpr_auto/https://cdn.shopify.com/s/files/1/0648/1955/products/e0zVoKNxRSKx1biF1Na4.jpg?v=1540592420
https://purity-res.cloudinary.com/image/fetch/q_auto:best,f_auto,fl_lossy,w_auto,c_limit,dpr_auto/https://cdn.shopify.com/s/files/1/0648/1955/products/NUuYt3sTXWeQUNfb55tm.jpg?v=1540592420
https://purity-res.cloudinary.com/image/fetch/q_auto:best,f_auto,fl_lossy,w_auto,c_limit,dpr_auto/https://cdn.shopify.com/s/files/1/0648/1955/products/y1kQLQMHSA2iRxCGp5eQ.jpg?v=1540592420
https://purity-res.cloudinary.com/image/fetch/q_auto:best,f_auto,fl_lossy,w_auto,c_limit,dpr_auto/https://cdn.shopify.com/s/files/1/0648/1955/products/Z207HdTtGY4Zoi7rCRFg.jpg?v=1540592420
https://purity-res.cloudinary.com/image/fetch/q_auto:best,f_auto,fl_lossy,w_auto,c_limit,dpr_auto/https://cdn.shopify.com/s/files/1/0648/1955/products/fvkuLiGgTx2ZKB0g6GlQ.jpg?v=1540592420
https://purity-res.cloudinary.com/image/fetch/q_auto:best,f_auto,fl_lossy,w_auto,c_limit,dpr_auto/https://cdn.shopify.com/s/files/1/0648/1955/products/fJxcOWjRCG3ZUaWJ4U35.jpg?v=1540592420
https://purity-res.cloudinary.com/image/fetch/q_auto:best,f_auto,fl_lossy,w_auto,c_limit,dpr_auto/https://cdn.shopify.com/s/files/1/0648/1955/products/LVxEpwx9TXeDJoh4ByIA.jpg?v=1540592420
https://purity-res.cloudinary.com/image/fetch/q_auto:best,f_auto,fl_lossy,w_auto,c_limit,dpr_auto/https://cdn.shopify.com/s/files/1/0648/1955/products/AGIsXTzSI2nKCGqzz0S9.jpg?v=1540592420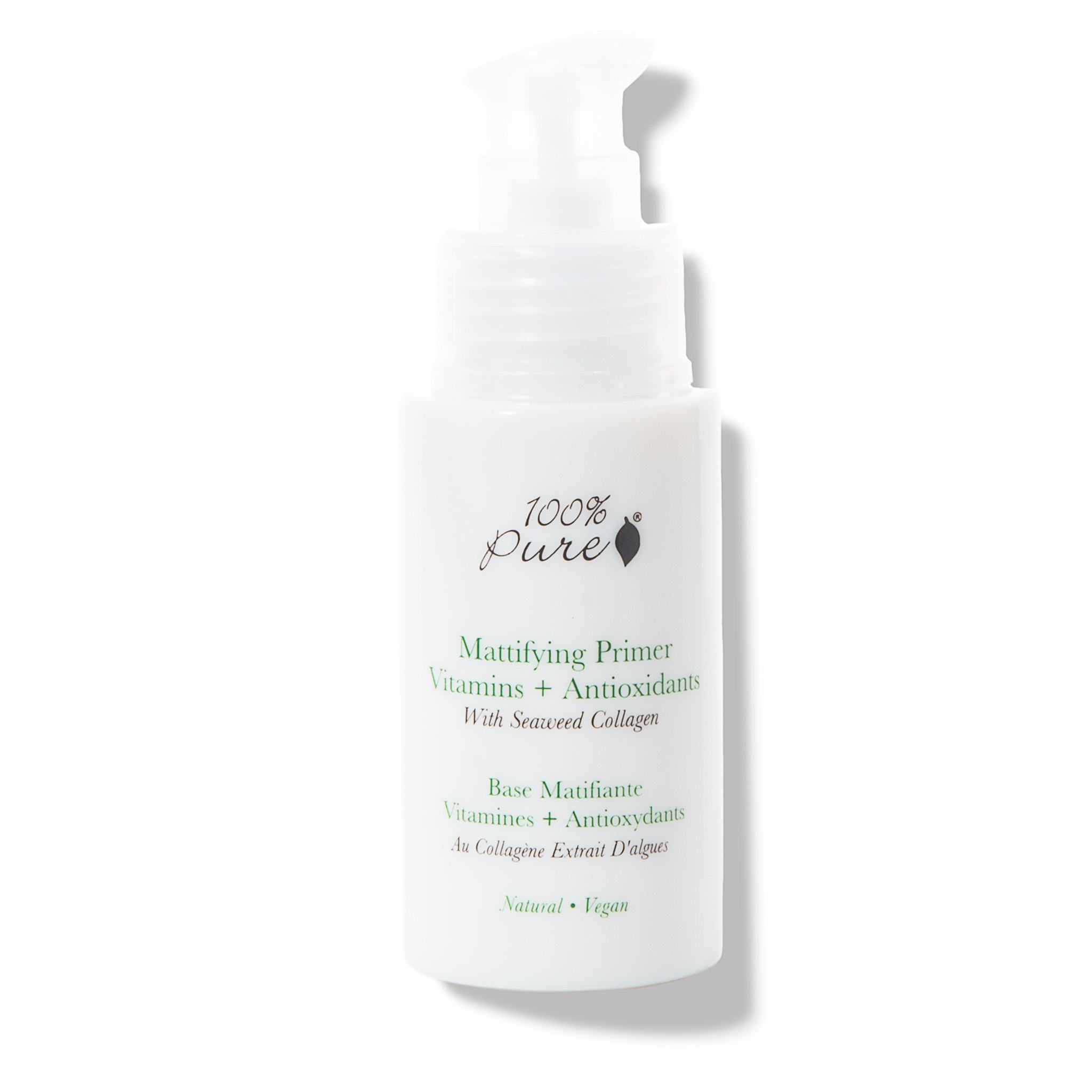 Mattifying Primer
Natural

Vegan

Cruelty Free

Gluten Free
Silicone-free primer infused with skin-plumping seaweed collagen for flawless, long lasting cosmetic application. Fills fine lines while minimizing shine.
For Oily, Normal, Combination Skin Types

A silicone-free, natural primer infused with skin-plumping seaweed collagen for flawless, long lasting cosmetic application. Skin healthy ingredients make this the perfect makeup primer for both face and eyes, to soften and smooth skin before you apply makeup. Made with seaweed for plumping and collagen-boosting, aloe for hydration, and eucalyptus for purifying oily and acne-prone skin.

Directions

Apply evenly to clean or moisturized skin. Allow to set for 90 seconds. Follow with your makeup application.

Every ingredient we use is beneficial, here are a few:

Tea Tree

Tea Tree clears impurities and tones.

Eucalyptus

Eucalyptus fights and prevents acne.

Seaweed Collagen

Seaweed Collagen boosts collagen production and elasticity.

Green Tea

Green Tea tones and protects with antioxidants.

Aloe Juice

Aloe Juice soothes and moisturizes.

Complete list of ingredients:

Aloe Barbadensis (Organic Aloe Juice) Leaf Extract*, Vegetable Glycerin, Olive Oil Squalane, Tocopherol (Vitamin E), Euphorbia Cerifera Cera (Candelilla Wax), Camellia Sinensis (Green Tea) Leaf Extract, Silica, Oryza Sativa (Rice) Starch, Fucus Vesiculosus (Seaweed) Collagen, Eucalyptus Globulus (Eucalyptus) Extract, Melaleuca Alternifolia (Tea Tree) Extract, Oregano Extract, Thyme Extract, Lonicera Caprifolium Flower and Lonicera Japonica (Honeysuckle) Flower Extract
Mattifying Primer
has a rating of
4.6
stars based on
599
reviews.
Customer Reviews
primer
skin
makeup
face
foundation
mattifying primer
ingredients
primers
products
pores
A little goes a long way!
This primer really helps to keep my makeup lasting all day! A little goes a long way and I love how smooth and gentle it is!
Love it!
This primer is wonderful! It does not leave my face feeling oily and yucky like other primers I used before discovering 100% Pure. You definitely have to set it sit for the minute and a half they say to, but it's a great time to stop and brush your teeth or fix your hair.
Primer
I like this primer. It's smooth and soft and doesn't clog pores. Just don't get it too near your eye area because if you have sensitive eyes it can actually give you a stye. Otherwise great product!
Best primer for my oily, Italian skin!!!
I just received this primer a few days ago. Oh my goodness! It beats all expectations! The first time I ever used a mattifying primer was 7 years ago from a company with infomercials. I've been using L'Oréal's and Revlon's primer but had no idea I was putting so much silicone and parabens on my face! (Remember it's the largest ***** you have connected to your blood stream!) I spent 3 days researching online to find safer ingredients. When this arrived, I was immediately anxious to try it. Put it on the back of my hand first and wow! I was impressed. Once I got this on my clean face, I knew I had found my solution. This is awesome! Be sure to wait 90 seconds to let it cure before finishing your makeup routine. I am impressed that it works so well without silicones and other harmful ingredients! I have oily, aging skin and this helps my face feel soft and smooths out my pores. I'm 64! Wish I'd had this decades ago!
Not for me
I wanted to love this but I just didn't. It felt nice when applying to the skin, but this primer did not do well with the makeup I use nor did it make my makeup last.
Complete the Package
Continue Shopping →