https://cdn.no-toxic.com/q_auto:best,f_auto,fl_lossy,w_auto,c_limit,dpr_auto/l_Badges:badges,w_0.3,y_-0.3,x_0.34,fl_relative,pg_name:2020-certclean-3rd-place/v1582238776/products/1CFPRGP/1CFPRGP_Rose_Gold_Palette_Primary
https://cdn.no-toxic.com/q_auto:best,f_auto,fl_lossy,w_auto,c_limit,dpr_auto/v1606940381/products/1CFPRGP/RoseGold_Palette_ArmSwatchTrio
Fruit Pigmented® Rose Gold Palette
Fruit Pigmented®

Natural

Vegan

Cruelty Free

Made in USA
Look and feel luxurious with this ultra-flattering rose gold treasure trove, featuring warm metallics and stunning shimmer from real gemstones. Pigmented from antioxidant-rich fruits, vegetables, and other skin beneficial plants. This deluxe palette features a highlighter, blush, and 3 eye shadows all made with skin-nourishing ingredients. Palette includes:

PRISM: Pale, rose gold highlighter with pearly shimmer.

PRIMP: Coppery rosy blush with slight golden shimmer.

LUSTER: Warm bronze eyeshadow with plum undertone and shimmer.

GLEAM: Pale, rose nude eyeshadow with pink undertone and shimmer.

GLIMMER: Rose gold eyeshadow with shimmer.

Directions

Use Rose Gold Palette for a complete makeup look! Using Cruelty Free Blush Brush F20, dust Primp blush onto the apple of each cheek. Follow by grabbing our Cruelty Free Angled Contour Brush F30, then gently brush Prism onto cheekbone, bridge of nose, and anywhere else you want to glow. Finish by using Cruelty Free Crease Brush E40, Flat Shader E30, and Smudger Brush E20 to apply stunning eye shadows to lids, brow bone, and waterline as desired.

Complete list of ingredients:

BLUSH Oryza Sativa (Rice) Starch, Rosa Canina (Rosehip) Seed Oil, Persea Gratissima Oil (Avocado Butter), Theobroma Cacao (Cocoa) Seed Butter, Pigment Extracts of Prunus Domestica Fruit (Plum), Punica Granatum (Pomegranate), Vaccinium Macrocarpon Fruit (Cranberry), Fragaria Vesca Fruit (Strawberry), Rubus Fruticosus Fruit (Blackberry), Rubus Idaeus Fruit (Raspberry), Prunus Serotina Fruit (Cherry), Prunus Armeniaca Fruit (Apricot) Prunus Persica Fruit (Peach), Daucus Carota Sativa Root (Carrot) and Solanum Lycopersicum Fruit/Leaf/Stem (Tomato), Punica Granatum (Pomegranate) Extract, Lycium Chinense Fruit (Goji Berry) Extract, Tocopherol (Vitamin E), Labradorite (Natural Mineral Stone), Moonstone (Natural Mineral Stone), Australian Opal (Natural Mineral Stone), Pyrite (Natural Mineral Stone), Sunstone (Natural Mineral Stone), May Contain Mica HIGHLIGHTER Oryza Sativa (Rice) Starch, Bamboo Silica, Persea Gratissima Oil (Avocado Butter), Theobroma Cacao (Cocoa) Seed Butter, Pigment Extracts of Punica Granatum (Pomegranate), Vaccinium Macrocarpon Fruit (Cranberry), Fragaria Vesca Fruit (Strawberry), Rubus Idaeus Fruit (Raspberry), Prunus Serotina Fruit (Cherry), Prunus Armeniaca Fruit (Apricot), Prunus Persica Fruit (Peach) and Vitis Vinifera Fruit, (Cabernet Grapes) and Matricaria Chamomilla Leaf (Chamomile), Punica Granatum (Pomegranate) Extract, Lycium Chinese Fruit (Goji Berry) Extract, Tocopherol (Vitamin E), Labradorite (Natural Mineral Stone), Moonstone (Natural Mineral Stone), Australian Opal (Natural Mineral Stone), Pyrite (Natural Mineral Stone), Sunstone (Natural Mineral Stone), May Contain Mica EYE SHADOWS Oryza Sativa (Rice Starch), Pigment Extracts of Daucus Carota Sativa Root (Carrot), Turmeric, Theobroma Cacao (Cocoa), Punica Granatum (Pomegranate), Rubus Fruticosus Fruit (Blackberry), Vaccinium Angustifolium (Blueberry), Billberry, Rubus Idaeus Fruit (Raspberry), Coffea Arabica (Coffee), Camellia Sinensis (Black Tea), Euterpe Oleracea (Açaí), Vanilla Planifolia (Vanilla), Lavandula Angustifoli (Lavender), and Solanum Lycopersicum Fruit/Leaf/Stem (Tomato), Activated Bamboo Charcoal, a-Tocopherol (Vitamin E), Rosa Canina (Rosehip) Oil, Punica Granatum (Pomegranate) Seed Oil, Persea Gratissima (Avocado) Butter, Theobroma Cacao (Cocoa) Butter, Red Wine Resveratrol (Wine), Labradorite (Natural Mineral Stone), Moonstone (Natural Mineral Stone), Australian Opal (Natural Mineral Stone), Pyrite (Natural Mineral Stone), Sunstone (Natural Mineral Stone), May Contain Mica

Natural ingredients may vary in color and consistency
By using hashtag #100percentpure or #nodirtybeauty, I hereby grant to 100% PURE (Purity Cosmetics), it subsidiaries, agents and affiliates, the unlimited worldwide, perpetual, unending right to use, reproduce, distribute, and convey my image/photograph in any format or medium now known or subsequently developed, to modify and edit my image/photograph, to combine my image/photograph with other images, video, audio, text and other media, to create derivative works incorporating, including or based on my image/photograph. This grant shall be construed broadly.
---
Customer Reviews
Write a Review
Ask a Question
Filter Reviews:
palette
colors
blush
Highlighter
skin
eyeshadows
shimmer
skin tone
eyes
glow
12/02/2020
Susan L.
United States
my second purchase of this
Love the colors in this; very neutral, which I love. Slavic ethnicity, natural blonde hair, very dark brown eyes, fairly light complexion, these colors work well for me.
12/02/2020
Jean M.
United States
Instantly bright eyes
These are the prettiest glowiest colors
11/30/2020
Daniella
United States
I love it!
I love the eye shadow shades, the blush, and the highlighter. It's fantastic!
11/29/2020
Suzie
Canada
Ok palette
The eye shadows are pigmented however the colors are very dark for rose gold shades. If you like your makeup more natural, you may not like this palette.
11/28/2020
Dennise
United States
Love the Golden colors!
I absolutely love this palette it is one of my favorites. I love all of 100% Pure palettes because they have everything you need, shadows, blush and highlighter and it's perfect for on the go or when traveling you can travel with less makeup in your bag. Plus the pigment is great I absolutely love all the palettes I have them all. Definitely try it you will love it this palette have unique shades that's why you will love it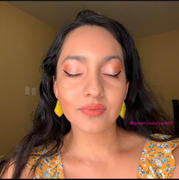 USE IT WITH
Continue Shopping →