https://purity-res.cloudinary.com/image/fetch/q_auto:best,f_auto,fl_lossy,w_auto,c_limit,dpr_auto/https://cdn.shopify.com/s/files/1/0648/1955/products/ur19cLYTF6DyHRNaGdsJ_9e7c3d35-c59b-4a81-924b-a276aac3e018.jpg?v=1550883134
https://purity-res.cloudinary.com/image/fetch/q_auto:best,f_auto,fl_lossy,w_auto,c_limit,dpr_auto/https://cdn.shopify.com/s/files/1/0648/1955/products/E5zcL0cMQhCdaDstZBpz_6dc4d13a-cbdd-4822-9246-d48f3793974c.png?v=1550883134
https://purity-res.cloudinary.com/image/fetch/q_auto:best,f_auto,fl_lossy,w_auto,c_limit,dpr_auto/https://cdn.shopify.com/s/files/1/0648/1955/products/KlSPR6S9SrG2NSQ3emF7_e69a5bce-8b0b-4249-a943-7037b5c859e9.jpg?v=1550883134
https://purity-res.cloudinary.com/image/fetch/q_auto:best,f_auto,fl_lossy,w_auto,c_limit,dpr_auto/https://cdn.shopify.com/s/files/1/0648/1955/products/q3itLTvPTUO7cIdniNaK_e9f62d51-c478-4144-a783-05b0f020aeb1.png?v=1550883134
https://purity-res.cloudinary.com/image/fetch/q_auto:best,f_auto,fl_lossy,w_auto,c_limit,dpr_auto/https://cdn.shopify.com/s/files/1/0648/1955/products/Iufkh9XtRRqXFPMPY4lW.png?v=1550883134
https://purity-res.cloudinary.com/image/fetch/q_auto:best,f_auto,fl_lossy,w_auto,c_limit,dpr_auto/https://cdn.shopify.com/s/files/1/0648/1955/products/OZ7tNh05QuqzCIHZpxyJ.png?v=1550883134
https://purity-res.cloudinary.com/image/fetch/q_auto:best,f_auto,fl_lossy,w_auto,c_limit,dpr_auto/https://cdn.shopify.com/s/files/1/0648/1955/products/EVG3dIGRZKjbb7dl7sUX.png?v=1550883134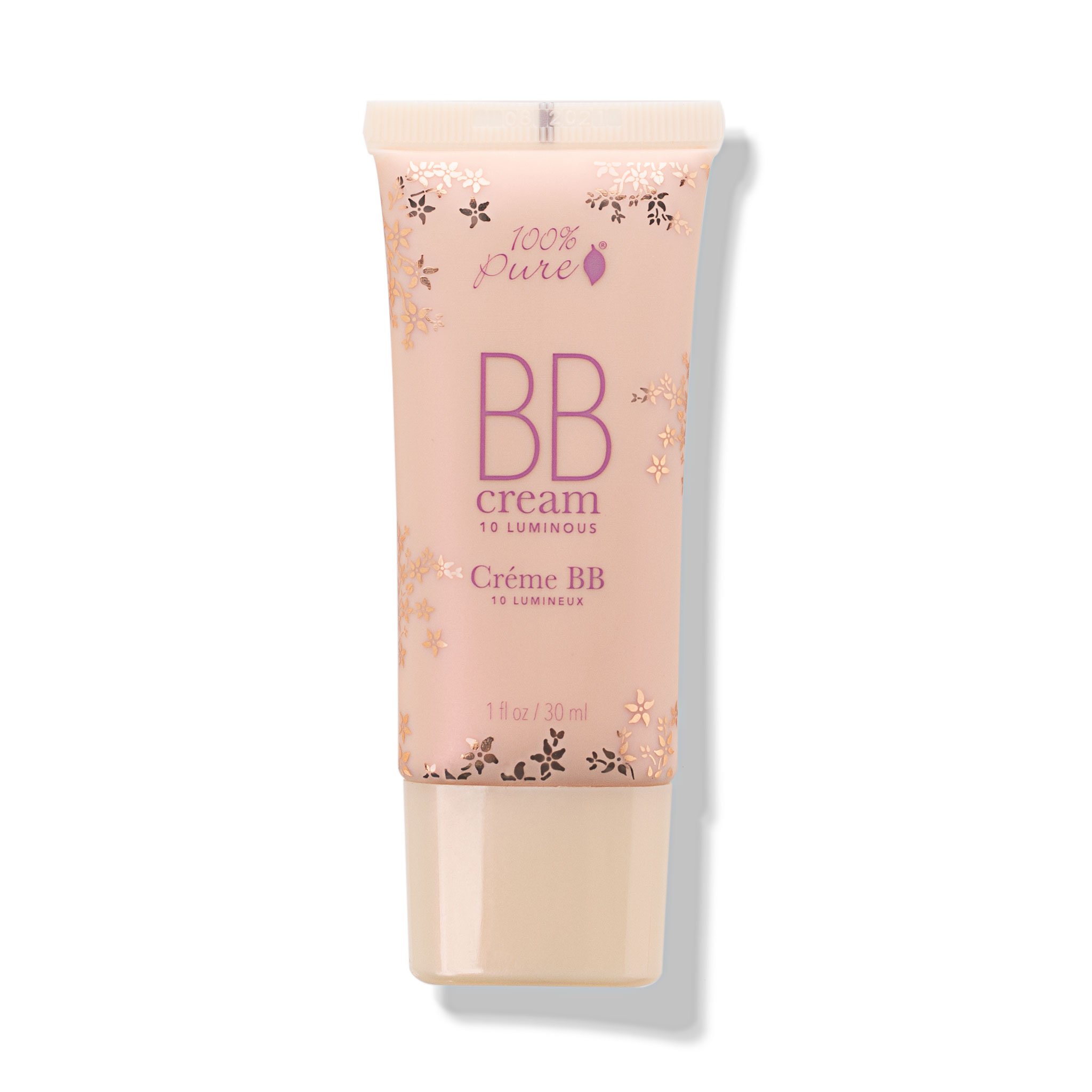 BB Cream
Fruit Pigmented®

Natural

Vegan

Cruelty Free

Gluten Free
Hydrating BB Cream foundation offers a dewy, luminescent finish and buildable light-medium coverage. Infused with skin soothing aloe, shea, and vitamin E.
For Normal, Dry Skin Types

Hydrating liquid-cream formula gives you a luminous complexion with buildable medium to full coverage and a dewy, natural finish. Thousands of light-reflective mineral pigments give skin a soft, incandescent glow.

Shade Chart

10 Luminous

Light with warm undertone

20 Aglow

Medium with warm undertone

30 Radiance

Tan with warm golden undertone

Directions

BB cream is a moisturizing skincare/makeup hybrid that is your primer, soothing treatment, concealer and foundation in one. After your normal skin care regimen, apply and blend well.

Every ingredient we use is beneficial, here are a few:

Raspberry Seed Oil

Raspberry Seed Oil protects from UVA and UVB rays.

Cherry

Cherry protects and heals skin with antioxidants.

Bilberry Seed Oil

Bilberry Seed Oil enriches with nutrients and fatty acids.

Shea Butter

Shea Butter deeply moisturizes and reinforces skin.

Cornflower Water

Cornflower tones and soothes skin.

Complete list of ingredients:

Aloe Barbadensis (Organic Aloe Juice) Leaf Extract, Centaurea Cyanus (Cornflower) Flower Water, Zinc Oxide, Caprylic/Capric Triglyceride (Derived from Coconut Oil), Sorbitan Sesquioleate (Derived from Sugar), Glycerin, Stearic Acid (Derived from Coconut), Silica, Leuconostoc/Radish Root Ferment Filtrate, Magnesium Stearate (Derived from Salt), Mica (Mineral), Sodium Phytate (Sodium Salt from Plant Seeds), Xanthan Gum (Non GMO), Simmondsia Chinensis (Jojoba) Seed Oil, Butyrospermum Parkii (Shea Butter), Vaccinium Myrtillus (Bilberry) Seed Oil, Lavandula Angustifolia (Lavender) Oil, Rosmarinus Officinalis (Rosemary) Leaf Extract, Prunus Avium (Sweet Cherry) Seed Oil, Prunus Cerasus (Bitter Cherry) Seed Oil, Punica Granatum (Pomegranate) Fruit Extract, Helianthus Annuus (Sunflower) Seed Oil, Rubus Idaeus (Raspberry) Seed Oil, Tocopherol (Derived from Rice Bran-Non GMO), Benzyl Alcohol (Plant derived), Dehydroacetic Acid, Potassium Sorbate (Salt of Sorbic Acid), Sorbic Acid (Derived from Sugar) May contain: Iron Oxides, (Non-Nano) Titanium Dioxide
Customer Reviews
one
products
look
skin
coverage
face
foundation
makeup
BB cream
Pure
Love!
I really like this foundation. It is think. I blend it in with my fingertips. It evens out my skin tone. I find it to be a nice coverage, but not a really full coverage. Which I am fine with.
Where's the SPF?
I've been using this BB cream for a really long time and love it, but what happened to the spf that used to be in it? Just repurchased and then realized that it no longer lists spf on it - possible deal breaker ;(
Healthy glow
I bought this product after complimenting a friend on her makeup and she told me she was wearing 100 percent pure's BB cream. I have tried so many foundations and this BB cream gives just the right amount of coverage with a healthy glow. I love this product and will not go without!
06/05/2019
Veronica White
Glad I tried it again
I purchased this product about a year ago maybe longer and at the time I had acne and acne scaring. I was hoping I could use this BB cream to help give a natural look while also building up coverage to hide my problem areas. Unfortunately It did not work and I returned it. Well I managed to heal my skin with oil cleansing and hemp oil moisturizing and my skin is in excellent condition now (it took about a year). So I decided to try the BB cream again. I am so glad that I did. It is so natural and beautiful giving a perfect amount of coverage to even skin tone and a slight dewy glow. This product is thick, however using only a little while dabbing it on with fingers works perfectly. Once you've dabbed on you can begin to spread with fingers. Definitely cannot use brush or sponge to apply or you are using too much product. The only reason I didn't give it 5 stars is because I wish it also contained a natural form of protection from the sun. I will definitely purchase this product again. If used the way BB cream should be used, and you can get over the thickness you will love this product as I do.
Best Everyday Skin Coverage!!!
I don't like the heaviness of foundation, so I decided to try the BB cream. It is perfect! I have some acne scarring and uneven skin tone and it covers it up well and adds a dewy look. I have combination skin and it doesn't make me feel too oily! The only downside is that it goes quickly. I use it everyday, so that could be the reason. If you're thinking about getting this- DO IT!
Complete the Package
Continue Shopping →