https://cdn.no-toxic.com/q_auto:best,f_auto,fl_lossy,w_auto,c_limit,dpr_auto/v1596227222/products/1CSWF-PARENT/1CFPWF_Full_Coverage_Water_Foundation_ArmSwatch
https://cdn.no-toxic.com/q_auto:best,f_auto,fl_lossy,w_auto,c_limit,dpr_auto/l_Badges:badges,w_0.3,y_-0.3,x_0.34,fl_relative,pg_name:2019-elite-beauty/v1582045931/products/1CFPWFN1.0/1CFPWFN1.0_Full_Coverage_Water_Foundation_Neutral_1.0_Primary
https://cdn.no-toxic.com/q_auto:best,f_auto,fl_lossy,w_auto,c_limit,dpr_auto/v1597195248/products/1CFPWFN1.0/1CFPWFN1.0_Full_Coverage_Water_Foundation_Neutral_1.0_Swatch
https://cdn.no-toxic.com/q_auto:best,f_auto,fl_lossy,w_auto,c_limit,dpr_auto/l_Badges:badges,w_0.3,y_-0.3,x_0.34,fl_relative,pg_name:2019-elite-beauty/v1582042819/products/1CFPWFC1.0/1CFPWFC1.0_Full_Coverage_Water_Foundation_Cool_1.0_Primary
https://cdn.no-toxic.com/q_auto:best,f_auto,fl_lossy,w_auto,c_limit,dpr_auto/v1597191702/products/1CFPWFC1.0/1CFPWFC1.0_Full_Coverage_Water_Foundation_Cool_1.0_Swatch
https://cdn.no-toxic.com/q_auto:best,f_auto,fl_lossy,w_auto,c_limit,dpr_auto/l_Badges:badges,w_0.3,y_-0.3,x_0.34,fl_relative,pg_name:2019-elite-beauty/v1582048489/products/1CFPWFW1.0/1CFPWFW1.0_Full_Coverage_Water_Foundation_Warm_1.0_Primary
https://cdn.no-toxic.com/q_auto:best,f_auto,fl_lossy,w_auto,c_limit,dpr_auto/v1597196005/products/1CFPWFW1.0/1CFPWFW1.0_Full_Coverage_Water_Foundation_Warm_1.0_Swatch
https://cdn.no-toxic.com/q_auto:best,f_auto,fl_lossy,w_auto,c_limit,dpr_auto/l_Badges:badges,w_0.3,y_-0.3,x_0.34,fl_relative,pg_name:2019-elite-beauty/v1582048924/products/1CFPWFW2.0/1CFPWFW2.0_Full_Coverage_Water_Foundation_Warm_2.0_Primary
https://cdn.no-toxic.com/q_auto:best,f_auto,fl_lossy,w_auto,c_limit,dpr_auto/v1597196189/products/1CFPWFW2.0/1CFPWFW2.0_Full_Coverage_Water_Foundation_Warm_2.0_Swatch
https://cdn.no-toxic.com/q_auto:best,f_auto,fl_lossy,w_auto,c_limit,dpr_auto/l_Badges:badges,w_0.3,y_-0.3,x_0.34,fl_relative,pg_name:2019-elite-beauty/v1582046340/products/1CFPWFN2.0/1CFPWFN2.0_Full_Coverage_Water_Foundation_Neutral_2.0_Primary
https://cdn.no-toxic.com/q_auto:best,f_auto,fl_lossy,w_auto,c_limit,dpr_auto/v1597195609/products/1CFPWFN2.0/1CFPWFN2.0_Full_Coverage_Water_Foundation_Neutral_2.0_Swatch
https://cdn.no-toxic.com/q_auto:best,f_auto,fl_lossy,w_auto,c_limit,dpr_auto/l_Badges:badges,w_0.3,y_-0.3,x_0.34,fl_relative,pg_name:2019-elite-beauty/v1582049779/products/1CFPWFW3.0/1CFPWFW3.0_Full_Coverage_Water_Foundation_Warm_3.0_Primary
https://cdn.no-toxic.com/q_auto:best,f_auto,fl_lossy,w_auto,c_limit,dpr_auto/v1597196291/products/1CFPWFW3.0/1CFPWFW3.0_Full_Coverage_Water_Foundation_Warm_3.0_Swatch
https://cdn.no-toxic.com/q_auto:best,f_auto,fl_lossy,w_auto,c_limit,dpr_auto/l_Badges:badges,w_0.3,y_-0.3,x_0.34,fl_relative,pg_name:2019-elite-beauty/v1582050717/products/1CFPWFW4.0/1CFPWFW4.0_Full_Coverage_Water_Foundation_Warm_4.0_Primary
https://cdn.no-toxic.com/q_auto:best,f_auto,fl_lossy,w_auto,c_limit,dpr_auto/v1597196425/products/1CFPWFW4.0/1CFPWFW4.0_Full_Coverage_Water_Foundation_Warm_4.0_Swatch
https://cdn.no-toxic.com/q_auto:best,f_auto,fl_lossy,w_auto,c_limit,dpr_auto/l_Badges:badges,w_0.3,y_-0.3,x_0.34,fl_relative,pg_name:2019-elite-beauty/v1582044714/products/1CFPWFC2.0/1CFPWFC2.0_Full_Coverage_Water_Foundation_Cool_2.0_Primary
https://cdn.no-toxic.com/q_auto:best,f_auto,fl_lossy,w_auto,c_limit,dpr_auto/v1597192000/products/1CFPWFC2.0/1CFPWFC2.0__Full_Coverage_Water_Foundation_Cool_2.0_Swatch
https://cdn.no-toxic.com/q_auto:best,f_auto,fl_lossy,w_auto,c_limit,dpr_auto/l_Badges:badges,w_0.3,y_-0.3,x_0.34,fl_relative,pg_name:2019-elite-beauty/v1582051153/products/1CFPWFW5.0/1CFPWFW5.0_Full_Coverage_Water_Foundation_Warm_5.0_Primary
https://cdn.no-toxic.com/q_auto:best,f_auto,fl_lossy,w_auto,c_limit,dpr_auto/v1597197030/products/1CFPWFW5.0/1CFPWFW5.0_Full_Coverage_Water_Foundation_Warm_5.0_Swatch
https://cdn.no-toxic.com/q_auto:best,f_auto,fl_lossy,w_auto,c_limit,dpr_auto/l_Badges:badges,w_0.3,y_-0.3,x_0.34,fl_relative,pg_name:2019-elite-beauty/v1582047628/products/1CFPWFO3.0/1CFPWFO3.0_Full_Coverage_Water_Foundation_Olive_3.0_Primary
https://cdn.no-toxic.com/q_auto:best,f_auto,fl_lossy,w_auto,c_limit,dpr_auto/v1597199201/products/1CFPWFO3.0/1CFPWFO3.0_Full_Coverage_Water_Foundation_Olive_3.0_Swatch
https://cdn.no-toxic.com/q_auto:best,f_auto,fl_lossy,w_auto,c_limit,dpr_auto/l_Badges:badges,w_0.3,y_-0.3,x_0.34,fl_relative,pg_name:2019-elite-beauty/v1582045303/products/1CFPWFC3.0/1CFPWFC3.0_Full_Coverage_Water_Foundation_Cool_3.0_Primary
https://cdn.no-toxic.com/q_auto:best,f_auto,fl_lossy,w_auto,c_limit,dpr_auto/v1597192111/products/1CFPWFC3.0/1CFPWFC3.0_Full_Coverage_Water_Foundation_Cool_3.0_Swatch
https://cdn.no-toxic.com/q_auto:best,f_auto,fl_lossy,w_auto,c_limit,dpr_auto/l_Badges:badges,w_0.3,y_-0.3,x_0.34,fl_relative,pg_name:2019-elite-beauty/v1582046765/products/1CFPWFN3.0/1CFPWFN3.0_Full_Coverage_Water_Foundation_Neutral_3.0_Primary
https://cdn.no-toxic.com/q_auto:best,f_auto,fl_lossy,w_auto,c_limit,dpr_auto/v1597195697/products/1CFPWFN3.0/1CFPWFN3.0_Full_Coverage_Water_Foundation_Neutral_3.0_Swatch
https://cdn.no-toxic.com/q_auto:best,f_auto,fl_lossy,w_auto,c_limit,dpr_auto/l_Badges:badges,w_0.3,y_-0.3,x_0.34,fl_relative,pg_name:2019-elite-beauty/v1582051536/products/1CFPWFW6.0/1CFPWFW6.0_Full_Coverage_Water_Foundation_Warm_6.0_Primary
https://cdn.no-toxic.com/q_auto:best,f_auto,fl_lossy,w_auto,c_limit,dpr_auto/v1597197572/products/1CFPWFW6.0/1CFPWFW6.0_Full_Coverage_Water_Foundation_Warm_6.0_Swatch
https://cdn.no-toxic.com/q_auto:best,f_auto,fl_lossy,w_auto,c_limit,dpr_auto/l_Badges:badges,w_0.3,y_-0.3,x_0.34,fl_relative,pg_name:2019-elite-beauty/v1582047917/products/1CFPWFO4.0/1CFPWFO4.0_Full_Coverage_Water_Foundation_Olive_4.0_Primary
https://cdn.no-toxic.com/q_auto:best,f_auto,fl_lossy,w_auto,c_limit,dpr_auto/v1597199288/products/1CFPWFO4.0/1CFPWFO4.0_Full_Coverage_Water_Foundation_Olive_4.0_Swatch
https://cdn.no-toxic.com/q_auto:best,f_auto,fl_lossy,w_auto,c_limit,dpr_auto/l_Badges:badges,w_0.3,y_-0.3,x_0.34,fl_relative,pg_name:2019-elite-beauty/v1582047137/products/1CFPWFN4.0/1CFPWFN4.0_Full_Coverage_Water_Foundation_Neutral_4.0_Primary
https://cdn.no-toxic.com/q_auto:best,f_auto,fl_lossy,w_auto,c_limit,dpr_auto/v1597195797/products/1CFPWFN4.0/1CFPWFN4.0_Full_Coverage_Water_Foundation_Neutral_4.0_Swatch
https://cdn.no-toxic.com/q_auto:best,f_auto,fl_lossy,w_auto,c_limit,dpr_auto/l_Badges:badges,w_0.3,y_-0.3,x_0.34,fl_relative,pg_name:2019-elite-beauty/v1582051761/products/1CFPWFW7.0/1CFPWFW7.0_Full_Coverage_Water_Foundation_Warm_7.0_Primary
https://cdn.no-toxic.com/q_auto:best,f_auto,fl_lossy,w_auto,c_limit,dpr_auto/v1597198719/products/1CFPWFW7.0/1CFPWFW7.0_Full_Coverage_Water_Foundation_Warm_7.0_Swatch
https://cdn.no-toxic.com/q_auto:best,f_auto,fl_lossy,w_auto,c_limit,dpr_auto/l_Badges:badges,w_0.3,y_-0.3,x_0.34,fl_relative,pg_name:2019-elite-beauty/v1582045590/products/1CFPWFC4.0/1CFPWFC4.0_Full_Coverage_Water_Foundation_Cool_4.0_Primary
https://cdn.no-toxic.com/q_auto:best,f_auto,fl_lossy,w_auto,c_limit,dpr_auto/v1597192390/products/1CFPWFC4.0/1CFPWFC4.0_Full_Coverage_Water_Foundation_Cool_4.0_Swatch
https://cdn.no-toxic.com/q_auto:best,f_auto,fl_lossy,w_auto,c_limit,dpr_auto/l_Badges:badges,w_0.3,y_-0.3,x_0.34,fl_relative,pg_name:2019-elite-beauty/v1582051985/products/1CFPWFW8.0/1CFPWFW8.0_Full_Coverage_Water_Foundation_Warm_8.0_Primary
https://cdn.no-toxic.com/q_auto:best,f_auto,fl_lossy,w_auto,c_limit,dpr_auto/v1597198858/products/1CFPWFW8.0/1CFPWFW8.0_Full_Coverage_Water_Foundation_Warm_8.0_Swatch
https://cdn.no-toxic.com/q_auto:best,f_auto,fl_lossy,w_auto,c_limit,dpr_auto/l_Badges:badges,w_0.3,y_-0.3,x_0.34,fl_relative,pg_name:2019-elite-beauty/v1582047414/products/1CFPWFN5.0/1CFPWFN5.0_Full_Coverage_Water_Foundation_Neutral_5.0_Primary
https://cdn.no-toxic.com/q_auto:best,f_auto,fl_lossy,w_auto,c_limit,dpr_auto/v1597195876/products/1CFPWFN5.0/1CFPWFN5.0_Full_Coverage_Water_Foundation_Neutral_5.0_Swatch
Fruit Pigmented® Full Coverage Water Foundation
Fruit Pigmented®

Natural

Vegan

Cruelty Free

Gluten Free

Made in USA
For Normal, Dry Skin Types
Full Coverage
Dewy Finish

Hydrating, skin-refreshing foundation gives you flawless full coverage and a satin, slightly dewy finish for a naturally glowing complexion. Concentrated with anti-aging red wine resveratrol and alpha lipoic acid, plus protective green tea and hydrating aloe. Superfruit oils of pomegranate and açai promote softer skin, while sustaining essential moisture. Colored with vitamin and antioxidant-rich fruit and plant pigments for gorgeous full coverage.

Coverage

Finish

Shade Chart

Neutral 1.0

Fair with neutral undertone

Cool 1.0

Fair with cool undertone

Warm 1.0

Fair with warm undertone

Warm 2.0

Fair with warm undertone

Neutral 2.0

Light with neutral undertone

Warm 3.0

Light with warm undertone

Warm 4.0

Light with warm undertone

Cool 2.0

Light with cool undertone

Warm 5.0

Medium with warm undertone

Olive 3.0

Medium with olive undertone

Cool 3.0

Medium with cool undertone

Neutral 3.0

Medium with neutral undertone

Warm 6.0

Tan with warm undertone

Olive 4.0

Tan with olive undertone

Neutral 4.0

Tan with neutral undertone

Warm 7.0

Dark with warm undertone

Cool 4.0

Dark with cool undertone

Warm 8.0

Deep with warm undertone

Neutral 5.0

Deep with neutral undertone

Directions

Dot onto forehead, cheeks, nose, and chin. Blend outwards using clean and slightly damp Non-Latex Makeup Blender. Finish by buffing with a clean Cruelty Free Stippling Brush around nose, eyes, and chin for an airbrushed finish.

Complete list of ingredients:

Aloe Barbadensis Leaf (Organic Aloe Juice)*, Rice Starch, Extracts of Prunus Persica (Peach) Fruit, Prunus Armeniaca (Apricot) Fruit, Daucus Carota (Carrot) Sativa Root Punica Granatum (Pomegranate), Theobroma Cacao (Cocoa Bean) and Solanum Lycopersicum (Tomato) Fruit/Leaf/Stem, Zinc Oxide, Plant Cellulose, Coffee Bean, Sunflower Lecithin, Euterpe Oleracea Pulp (Acai) Oil, Punica Granatum (Pomegranate) Seed Oil, Resveratrol (Red Wine Resveratrol), Alpha Lipoic Acid, Tocopherol (Vitamin E), Camellia Sinensis (Green Tea) Leaf Extract, Euphorbia Cerifera (Candelilla) Wax, Extracts of Rosmarinus (Rosemary) Officinalis Leaf, Origanum Vulgare (Oregano) Leaf, Thymus Vulgaris (Thymus) Flower/Leaf Extract, Vegetable Glycerin, Lonicera Caprifolium (Japanese Honeysuckle), Silica, Turmeric, Bamboo Charcoal, Indigo Oil * Certified Organic

Natural ingredients may vary in color and consistency
By using hashtag #100percentpure or #nodirtybeauty, I hereby grant to 100% PURE (Purity Cosmetics), it subsidiaries, agents and affiliates, the unlimited worldwide, perpetual, unending right to use, reproduce, distribute, and convey my image/photograph in any format or medium now known or subsequently developed, to modify and edit my image/photograph, to combine my image/photograph with other images, video, audio, text and other media, to create derivative works incorporating, including or based on my image/photograph. This grant shall be construed broadly.
---
Customer Reviews
Write a Review
Ask a Question
Filter Reviews:
foundation
skin
coverage
color
shade
face
finish
ingredients
makeup
primer
12/01/2020
Hannah G.
United States
Product good but pump broke
After only two uses the pump completely broke off so I'm not really able to use it. I did like the foundation but if I can't use it I suppose it doesn't matter.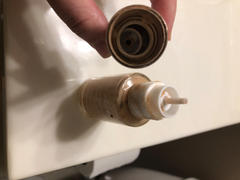 So sorry to hear about that! A Customer Service representative will be in contact with you about sending you a replacement pump.
11/29/2020
Lauren R.
United States
Amazing so far!!
I've just started using this foundation and let me just say, it gives a great first impression! Goes on like a dream, super lightweight but doesn't sacrifice coverage, blends well, hasn't clogged pores, and the color matches my skin tone well (cool 1.0). Overall I'm very happy with this foundation so far and am excited to keep using it!
11/27/2020
Sally B.
United States
Full coverage water foundation
This is my favorite foundation! Covers trouble spots and does not feel heavy. Love all 100% Pure products!
11/25/2020
urvi p.
United States
GREAT PRODUCT
Great foundation, goes on smooth, blends well, does not clog pores, color matches my skin tone well.
11/25/2020
Kiersten
United States
Used since launch
I've used this product since they launched it as a gift with purchase prior to the product launch. There were less colors then, but I fell in love! Now they've expanded and I cannot use a different foundation. The finish looks like skin. It's medium maybe semi full coverage. Won't cover tattoos or anything but it covers well. I just use a dab of color corrector or concealer on darker spots. it makes my skin look so healthy and IT DOES NOT BREAK ME OUT. And it's healthy. Win win.
USE IT WITH
Continue Shopping →