https://purity-res.cloudinary.com/image/fetch/q_auto:best,f_auto,fl_lossy,w_auto,c_limit,dpr_auto/https://cdn.shopify.com/s/files/1/0648/1955/products/Kl2GbVesRaWlRAHTOaST_83fbe164-01da-443f-a4ff-18def9280b9d.png?v=1537463943
https://purity-res.cloudinary.com/image/fetch/q_auto:best,f_auto,fl_lossy,w_auto,c_limit,dpr_auto/https://cdn.shopify.com/s/files/1/0648/1955/products/rvnLVWoTpzbV7KZG51zA_a586b336-ebaf-479d-821c-1024544263b2.png?v=1537463943
https://purity-res.cloudinary.com/image/fetch/q_auto:best,f_auto,fl_lossy,w_auto,c_limit,dpr_auto/https://cdn.shopify.com/s/files/1/0648/1955/products/3Sq7kSOkSeiGm9o4UA8d_fc5797a2-9a69-412c-b3f7-546b967f4c0f.png?v=1537463943
https://purity-res.cloudinary.com/image/fetch/q_auto:best,f_auto,fl_lossy,w_auto,c_limit,dpr_auto/https://cdn.shopify.com/s/files/1/0648/1955/products/UV4gkqrXQ4q1v65DIEh3_6c11795e-0885-4671-934c-2876f10e6e42.png?v=1537463943
https://purity-res.cloudinary.com/image/fetch/q_auto:best,f_auto,fl_lossy,w_auto,c_limit,dpr_auto/https://cdn.shopify.com/s/files/1/0648/1955/products/C3IbNDYSvOHA7JuA7Jk1_d6e807e2-6e8b-41c9-9d03-b5229c0ce57a.png?v=1537463943
https://purity-res.cloudinary.com/image/fetch/q_auto:best,f_auto,fl_lossy,w_auto,c_limit,dpr_auto/https://cdn.shopify.com/s/files/1/0648/1955/products/UHclmM5oTXSTxUCWRCy4_06546363-357c-4d93-b3f5-84821c0acdce.png?v=1537463943
https://purity-res.cloudinary.com/image/fetch/q_auto:best,f_auto,fl_lossy,w_auto,c_limit,dpr_auto/https://cdn.shopify.com/s/files/1/0648/1955/products/M8mVnXAqRkqwxfK6d0GT_aefad2da-8921-495e-9515-59e92a6daa16.png?v=1537463943
https://purity-res.cloudinary.com/image/fetch/q_auto:best,f_auto,fl_lossy,w_auto,c_limit,dpr_auto/https://cdn.shopify.com/s/files/1/0648/1955/products/D59UFh7gSzqvSAYZXkY1_964d9c1c-044f-4c70-93c8-87bb263bb0eb.png?v=1537463943
https://purity-res.cloudinary.com/image/fetch/q_auto:best,f_auto,fl_lossy,w_auto,c_limit,dpr_auto/https://cdn.shopify.com/s/files/1/0648/1955/products/C9vujtPNTK8BIfZzQAZg_7bc7326d-8bdb-4477-9c31-d8ed5ecd0743.png?v=1537463943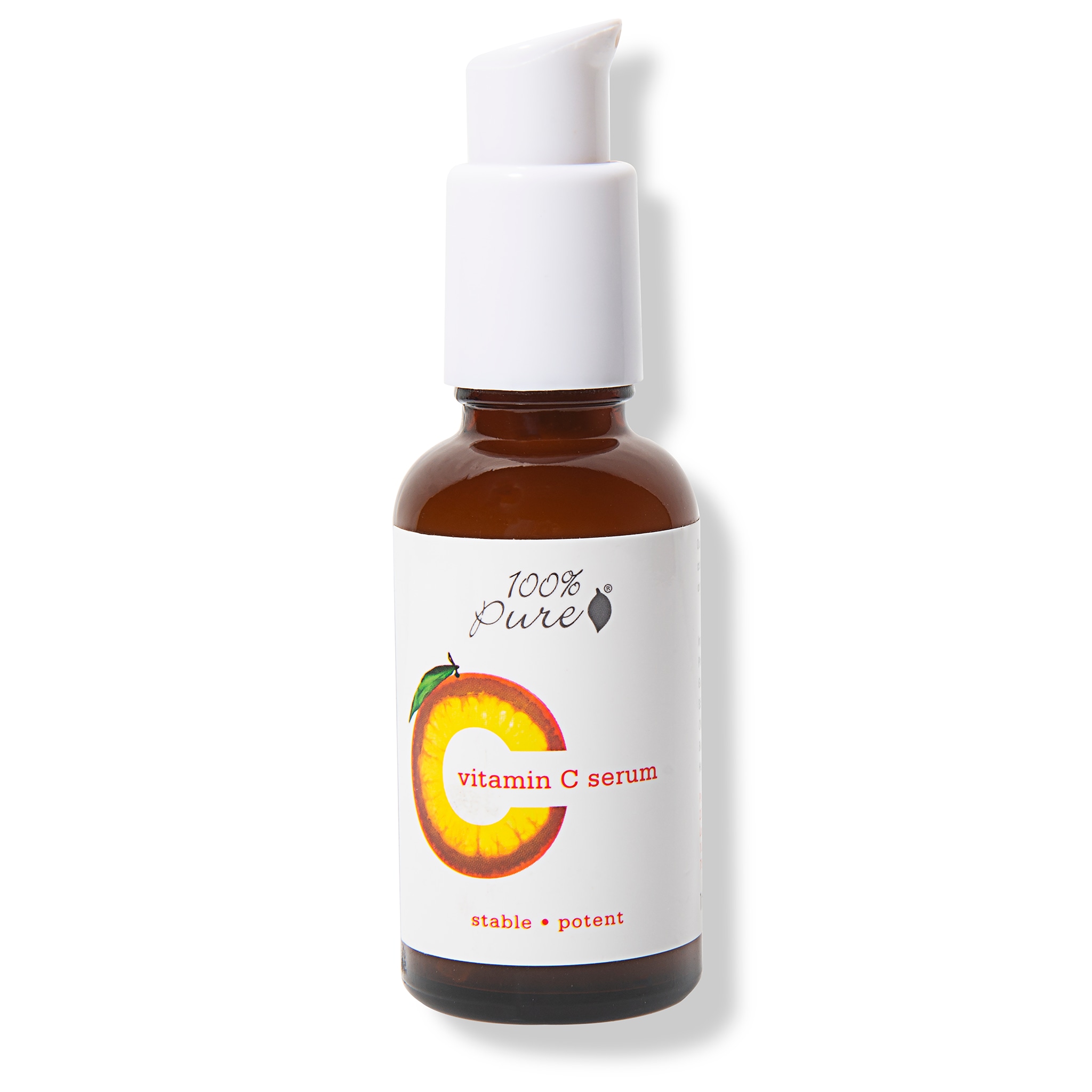 Vitamin C Serum
Natural

Vegan

Cruelty Free

Gluten Free
Lightweight, stabilized vitamin C serum helps firm and brighten skin tone while promoting collagen production, and deeply hydrating skin with soothing aloe.
Lightweight, stabilized vitamin C serum made in a base of hydrating and soothing aloe gel. This serum also helps to firm and brighten skin tone, while promoting collagen production. Includes radiance-boosting green apple and grape, plus alpha lipoic acid (ALA) for fighting oxidative damage that can prematurely age or darken the skin.

Directions

Apply a small amount after cleansing, before moisturizing on slightly damp skin. Most effective when used in PM.

Every ingredient we use is beneficial, here are a few:

Alpha Lipoic Acid

Alpha Lipoic Acid lessens signs of aging.

SOD

SOD promotes strong skin cell health.

Green Apple

Green Apple evens skin tone and texture.

Vitamin E (Tocopherol)

Vitamin E restores and protects from free radical damage.

Vitamin C

Vitamin C brightens, boosts collagen and elastin production.

Complete list of ingredients:

Aloe Barbadensis Leaf (Organic Aloe Gel)*, Vitamin C (Magnesium Ascorbyl Phosphate), Loofah Cylindrica (Vegetable Cellulose), Vitamin E (Tocopherol), Xanthan Gum, Pyrus Malus Fruit (Green Apple) Extract, Vitis Vinifera Fruit (Grape) Extract, Vitamin B5 (Panthenol), Superoxide Dismutase (Antioxidant), Alpha Lipoic Acid, Brassica Oleracea Italica (Broccoli) Seed Oil, Linum Usitatissimum (Flax Seed) Oil, Oenothera Biennis (Evening Primrose) Oil, Canadian Salix Alba Bark (Willow Bark) Extract, Hamamelis Virginiana Water (Witch Hazel), Ethyl Hexyl Glycerin * Certified Organic
Customer Reviews
one
products
acne scars
skin
serum
bottle
face
lot
way
results
Wow
I've been using vitamin C on my face for years. I've tried OLEHENDRIKSEN and a few other brands, but this is the first time I have actually felt the serum doing it's work right away. I got this as a sample with another order, and I am definitely going to be repurchasing it full size. Definitely recommend.
LOVE
I received a sample pack of this, and I know I will be ordering a full size version soon! I love how it makes my skin feel
06/04/2019
Raven Richardson
Excellent Serum
This serum has definitely improved the health of my face. It feels much softer and hydrated. Great used with a full regimen of healthy products like a toner and spf and not just on its own.
A must
After using 2 of the samples I really had to buy this. It actually does brighten your skin. I notice significant improvement around my nose and chin and around eyes .. I'm surprised How effective is actually was! If you feel like your face is like dark and sunken I would suggest this.
Seems to brighten!
I used this in conjunction with the PM serum along with another brand's toner, so I can't be positive what worked, but my skin seems to be brighter, so it was probably because of this serum. I am also not sure if this or the PM serum caused my face to burn and get red (I never get red!), but it doesn't take too long to subside. I wouldn't buy it again for this reason, but reviews don't seem to mention burning, so maybe it's just me.
Complete the Package
Continue Shopping →