The Caffeinated Miracle: Here's Why Everyone Loves 100% PURE's Coffee Bean Caffeine Eye Cream
Discover why this dark circle treatment has become a skincare sensation
Posted on July 19, 2023
Written by: 100% PURE®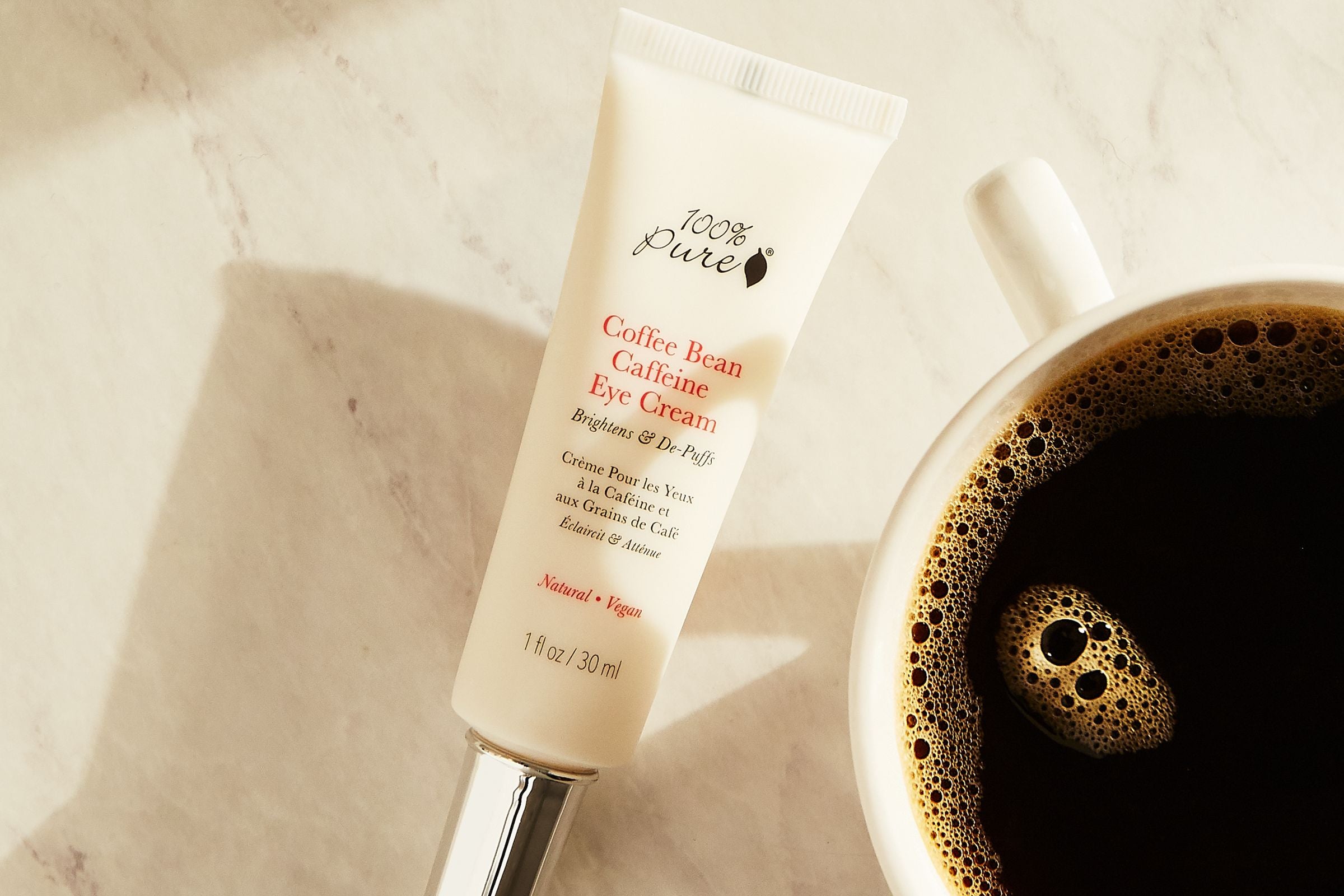 The skincare landscape has seen a seismic shift in recent years–as consumers become increasingly conscious of what they put on their skin, the demand for natural, effective, and pure products has skyrocketed.
Enter the 100% PURE Coffee Bean Caffeine Eye Cream, a product that has won over the hearts of skincare enthusiasts and garnered rave reviews from its dedicated following. This meticulously crafted eye cream harnesses the power of caffeine, antioxidants, vitamins, and a variety of other natural ingredients, working in harmony to provide remarkable benefits for the delicate skin around the eyes.
Its effectiveness in reducing puffiness, dark circles, and signs of aging, coupled with its refreshing scent and luxurious texture, has truly set it apart in the natural skincare market. In this article, we dive into the details of this adored eye cream, exploring its key ingredients, benefits, and the reasons behind its growing obsession. Buckle up and get ready to discover why everyone loves 100% PURE's Coffee Bean Caffeine Eye Cream.
Key Ingredients and Their Benefits
When it comes to skincare products, the key ingredients play a crucial role in delivering the desired results. In the case of 100% PURE's Coffee Bean Caffeine Eye Cream, the carefully selected ingredients work in harmony to provide remarkable benefits for the delicate skin around the eyes.
Coffee Beans: Reducing Puffiness and Dark Circles
At the heart of this miraculous eye cream lies the power of coffee beans. Caffeine, extracted from these beans, has gained immense popularity in skincare due to its remarkable properties. Caffeine is known for its ability to constrict blood vessels and reduce inflammation, making it an ideal ingredient for addressing puffiness and dark circles under the eyes. When applied topically, caffeine helps to visibly reduce swelling and improve the appearance of tired-looking eyes, providing a rejuvenating effect.
Vitamins and Antioxidants: Promoting Skin Health and Rejuvenation
In addition to caffeine, 100% PURE's Coffee Bean Caffeine Eye Cream is enriched with various vitamins and antioxidants that work synergistically to promote skin health and rejuvenation. Vitamins such as vitamins C, E, and K are essential in nourishing the delicate skin around the eyes.
Vitamin C, known for its brightening and antioxidant properties, helps to even out the skin tone and reduce the appearance of dark circles. It also supports collagen production, which contributes to the firmness and elasticity of the skin.
Vitamin E, a powerful antioxidant, helps to protect the skin from environmental damage caused by free radicals. Its moisturizing properties also help to keep the skin hydrated and supple.
Vitamin K, renowned for its ability to improve blood circulation, can aid in reducing the appearance of dark circles and under-eye discoloration. By strengthening the capillary walls, it minimizes the appearance of broken blood vessels and promotes a more revitalized look.
Other Natural Ingredients
The Coffee Bean Caffeine Eye Cream from 100% PURE also incorporates a range of other natural ingredients that provide additional nourishment and soothing effects to the delicate eye area. For example, rosehip oil, rich in essential fatty acids and antioxidants, helps to hydrate and regenerate the skin, diminishing the appearance of fine lines and wrinkles. Aloe vera, known for its soothing and hydrating properties, can calm inflammation and reduce puffiness, leaving the skin around the eyes refreshed and revitalized.
By combining these carefully selected natural ingredients, 100% PURE's Coffee Bean Caffeine Eye Cream delivers a powerful blend of benefits to address common concerns such as puffiness, dark circles, and tired-looking eyes. The caffeine derived from coffee beans works to reduce inflammation and promote a more awakened appearance. Vitamins and antioxidants provide essential nourishment and protect the delicate skin, while other natural ingredients contribute to the overall rejuvenation and soothing effects. With this remarkable formulation, the Coffee Bean Caffeine Eye Cream has rightfully gained popularity as a go-to solution for achieving refreshed and revitalized eyes.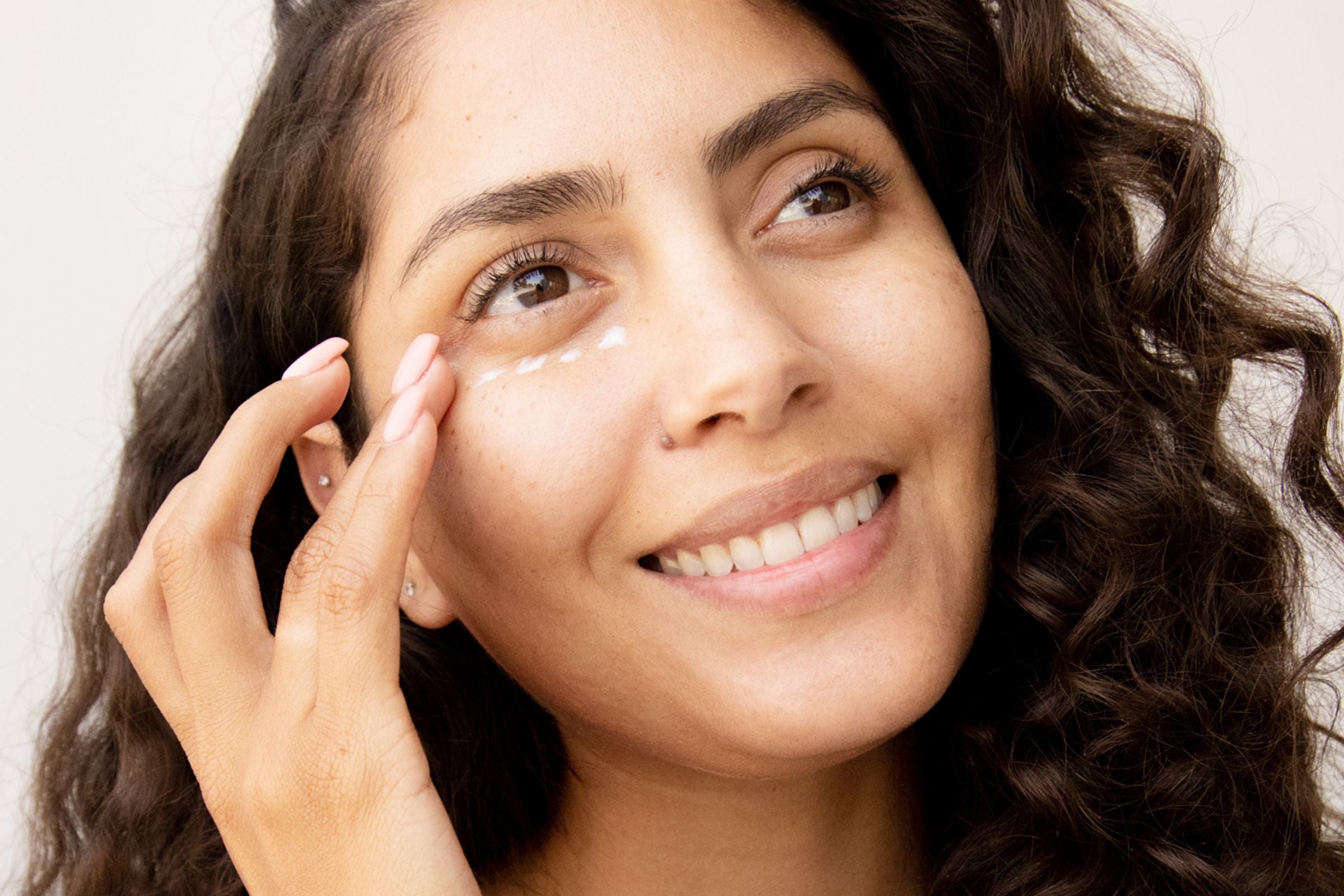 Why the Obsession?
Our Coffee Bean Caffeine Eye Cream has gained a devoted following and garnered countless positive user reviews. People are raving about this product for its remarkable effects on tired, dark circles, puffiness, and even aging eyes. Let's delve into some of the reasons why this eye cream has captured the hearts of so many.
Estrellita, a satisfied user, describes the eye cream as her go-to solution for tired eyes. She appreciates the product's effectiveness, noting that it surpasses anything else she has tried on the market. Estrellita also praises the cream's delightful aroma, which adds to the overall experience.
"This item has been my go-to for tired, dark circles, puffy eyes, and even aging eyes too. Although I'd prefer even more of a lighting effect with this product under my eyes; (almost everything else on the market that I once tried or wasn't too sure about, hasn't even held up in comparison to this product...A wonderful aroma as well!!!" -Estrellita
Amanda, another fan of the Coffee Bean Caffeine Eye Cream, emphasizes its smooth application and how it effortlessly melts into her skin. She has been using this eye cream exclusively for the past three months and cannot envision switching to another brand. The fact that the cream is all-natural and reasonably priced adds to its appeal for Amanda.
"This eye cream goes on so smoothly and literally melts into my skin. I've been using this every day for the past three months and I don't think I can use another one. Knowing that this cream is an all-natural plus not even being expensive is such a big plus!"
Polina, who had struggled to find a suitable eye cream for her sensitive eyes, finally discovered the perfect match with the Coffee Bean Caffeine Eye Cream. She testifies that this cream does not cause any burning sensation, unlike other products she has tried. Polina appreciates the cream's gentle nature and effectiveness, noting visible improvements even after several applications. Additionally, she highlights that a little goes a long way, making the cream last for an extended period.
"I tried and tested several eye creams which were supposed to be "gentle" for sensitive eyes, but all of them made the area under my eyes burn. But this cream does not burn my skin at all! It is very gentle and effective. I can notice a difference even after several applications. Also, the cream lasts a long time because one only needs a bit of it per application."
How to Use the Cream Effectively
To maximize the benefits of 100% PURE's Coffee Bean Caffeine Eye Cream, it is essential to follow the proper application technique. By incorporating this cream into your skincare routine, you can harness its potential to revitalize and rejuvenate the delicate skin around your eyes.
Here are step-by-step instructions for applying the cream effectively:
1. Start with a clean and dry face: Before applying the eye cream, ensure that your face is thoroughly cleansed and dried. This step removes any impurities or residues that may hinder the absorption of the product.
Newsletter
Subscribe
for more blog updates and exclusive discounts
2. Dispense a dime-sized amount: Squeeze a small amount of the cream onto your ring fingers. A dime-sized portion is usually sufficient to cover both eye areas adequately.
3. Gently apply to the eye area: With your ring fingers, gently dab the cream around the eye area, including the upper and lower lids. Avoid using excessive pressure or tugging at the skin, as the eye area is delicate and sensitive.
4. Pat and blend: Using a gentle patting motion, lightly tap the cream onto the skin. This technique helps to promote absorption and ensures even distribution. Additionally, gently blend the cream using small circular motions until it is fully absorbed.
5. Time of application: The 100% PURE Coffee Bean Caffeine Eye Cream can be used both in the morning and at night for optimal results. In the morning, applying the cream helps to awaken and refresh the eye area, reducing the appearance of puffiness and dark circles. During the night, the cream works to nourish and hydrate the skin while you sleep, promoting a more youthful and rested appearance.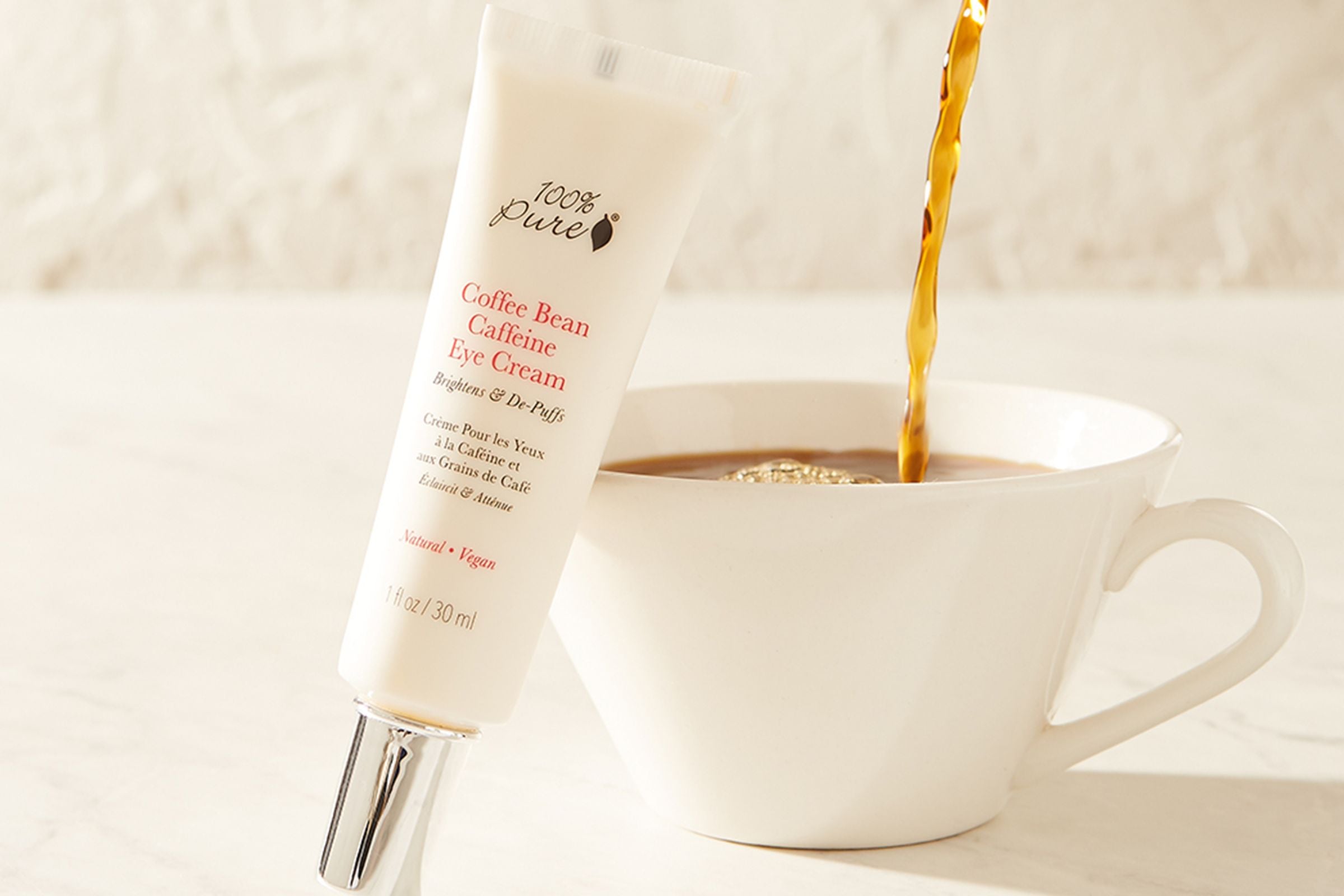 Frequently Asked Questions
Can this cream be used with other skincare products?
Absolutely, the 100% PURE Coffee Bean Caffeine Eye Cream can be incorporated into your existing skincare routine. It can be used alongside other products like cleansers, toners, serums, and moisturizers. It's important, however, to ensure that the eye cream is applied after lightweight products such as serums and before heavier products like moisturizers or oils to ensure optimal absorption.
How long does it take to see the results?
The time it takes to see results can vary between individuals based on their unique skin type and conditions. However, most users report noticing improvements in the reduction of puffiness and dark circles within a few weeks of consistent use. For more significant changes, like the reduction of fine lines and wrinkles, it might take a few months of regular use. Consistency is key when it comes to skincare.
Can I use this cream if I have sensitive skin?
100% PURE Coffee Bean Caffeine Eye Cream is formulated with natural ingredients that are generally well-tolerated by most skin types, including sensitive skin. However, as with any new skincare product, it's advisable to conduct a patch test on a small area of skin before using the product fully to ensure you don't have any adverse reactions to the ingredients.
Are there any possible side effects?
While this eye cream is crafted from natural ingredients and designed to be gentle on the skin, some individuals may still experience side effects. The most common side effects could be slight irritation, redness, or itching, particularly if you have very sensitive skin or an allergy to any of the ingredients. If you notice any adverse reactions, discontinue use immediately and consult a healthcare professional or dermatologist if symptoms persist.
Conclusion
In wrapping up, we've unpacked the multitude of benefits that 100% PURE's Coffee Bean Caffeine Eye Cream brings to the skincare table. The key components – caffeine, vitamins, antioxidants, and other natural ingredients – all merge to create an effective solution to common eye-area concerns such as puffiness, dark circles, and signs of aging.
User testimonials further underscore this cream's effectiveness, with consumers lauding its ability to rejuvenate tired-looking eyes, smooth fine lines, and even improve under-eye discoloration. Not to forget, the product's appealing aroma and its compatibility with sensitive skin have made it a crowd-pleaser among skincare aficionados.
Moreover, the guide on how to use the cream effectively reveals the simple steps to incorporate this product into your skincare routine. Whether applied in the morning to awaken the eyes or at night to nourish and hydrate, consistency and correct application are key to achieving the best results.
In light of all these attributes, it's clear why 100% PURE's Coffee Bean Caffeine Eye Cream has garnered a well-deserved following and established its place in the daily skincare regimen of many. As you navigate your unique skincare journey, it's worth considering if this product could be the perfect fit for your needs. After all, who doesn't crave a fresh, vibrant look around their eyes?
We carefully hand-select products based on strict purity standards, and only recommend products we feel meet this criteria. 100% PURE™ may earn a small commission for products purchased through affiliate links.
The information in this article is for educational use, and not intended to substitute professional medical advice, diagnosis, or treatment and should not be used as such.
Sign up to our email newsletter for more blog updates and exclusive discounts.
< Older Post | Newer Post >