Caffeine and Skincare: Beyond the Buzz
Understanding the impact of caffeine on skin health and its role in skincare products
Posted on July 18, 2023
Written by: 100% PURE®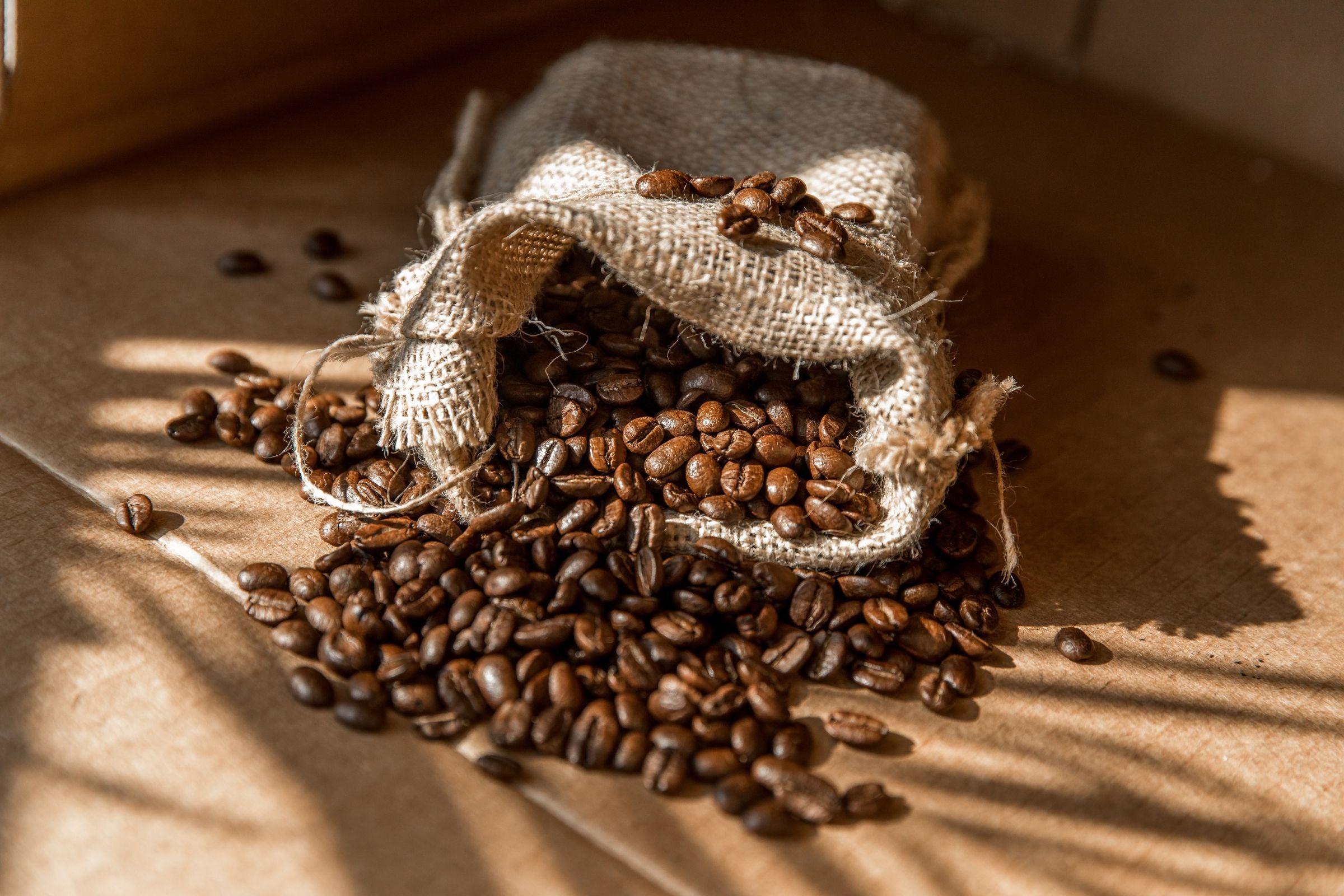 Many adults simply can't function without an infusion of caffeine in their systems. Thanks to the zing of energy that caffeinated beverages provide, we're able to function and play nice with others. If you can't start the day without wakey juice, there are other aspects of your life into which you can introduce a dose of caffeine. No, we're not talking tea – we're abuzz it's in your skincare routine.
That's right! While we know that caffeine can affect your mood and body, it can send a jolt of beauty benefits to your skin, too. We're diving deep into a double shot Americano to find out how caffeine boasts some surprising powers in your beauty routine. If that doesn't perk you up enough, we also have some caffeine-boosted skin products you'll love a latte!
What Is Caffeine?
Before we get down to the fine aromatic details, let's talk about where caffeine is and where it's commonly found. One of the perkiest benefits of caffeine is when ingested, it acts as a stimulant; lucky for us, it may have a similarly brightening effect on our skin.
Caffeine is naturally found in the fruit, leaves, and beans of coffee, cacao, and green tea plants. It's A-ntioxidant game: with beverages like coffee and green tea as well as cocoa in its corner, no other food can go toe to toe with caffeine.
We know caffeine has been used in products for years, and on a basic level, it makes sense. Think of what taking a few sips of your caffeinated beverage does to you. Those sips pep you up, boost your energy, and aid your concentration. So, surely a few drops of a caffeinated serum or eye cream would deliver a brew-tiful blend of skin-brightening and complexion-boosting bliss. And there's more!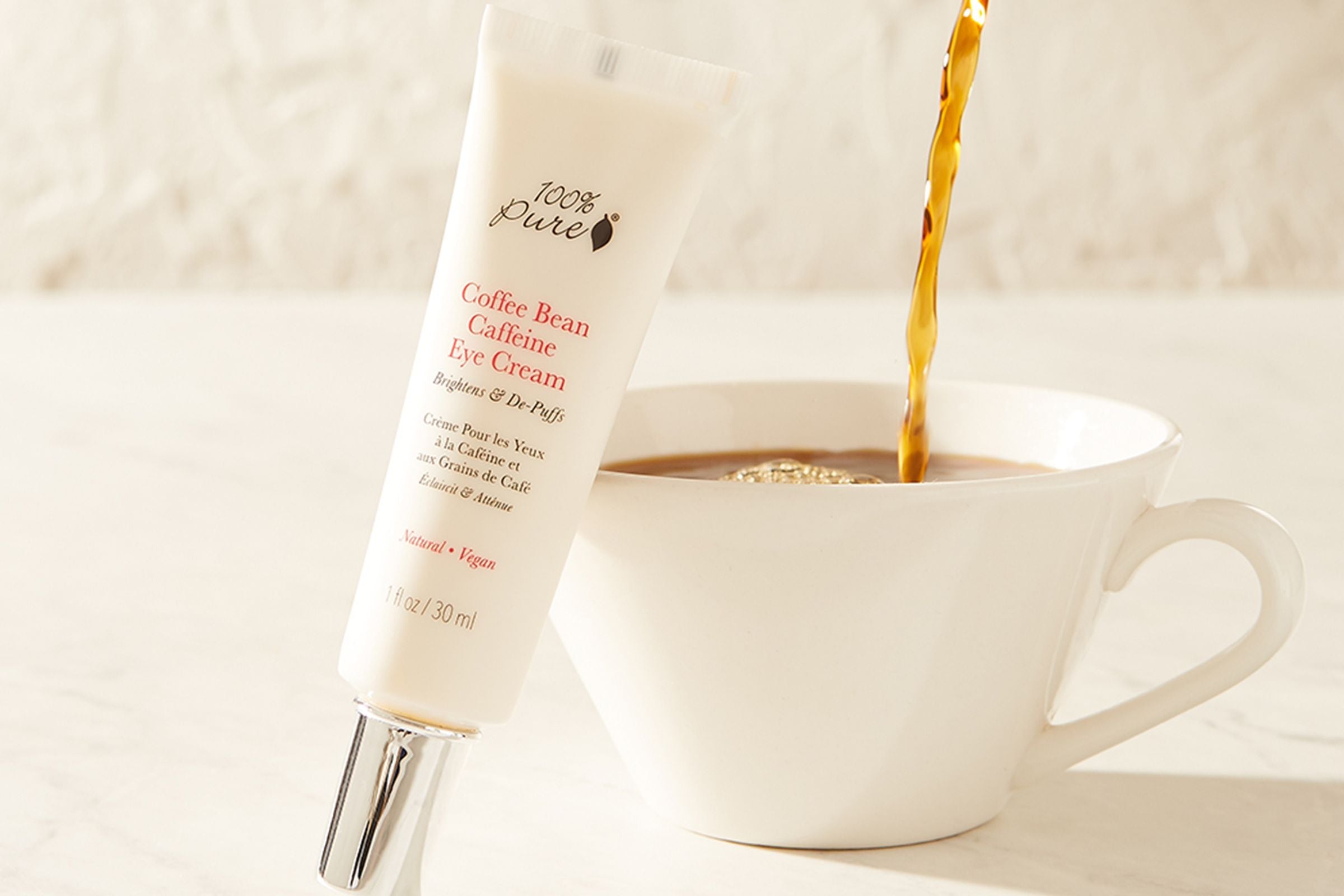 Benefits of Caffeine for Skin
Before we get down to the best skin care products with caffeine and how to incorporate them into your daily routine, let's talk about the beauty benefits that caffeine brings to the table or vanity. Come along while we provide some perks of caffeine for our skin!
Antioxidants
Coffee, black tea, and green tea all contain a plethora of antioxidants, which can help your skin cells fight off free radicals that contribute to skin damage and premature aging. Antioxidant components – like polyphenols, catechins, and flavonoids – can even be activated through brewing, so drink up!
Anti-inflammatory
Your morning cup of go-go juice contains the antioxidant ferulic acid, which is shown to have an anti-inflammatory effect on the body and skin. It also acts like other antioxidants in that it helps to fight the effects of damaging free radicals on the skin, like sun, pollution, and smoke.
Boosts and repairs
Caffeine is also high in niacin (vitamin B3), which helps the body's systems function properly. This wonder ingredient also promotes cellular turnover and can help repair sun damage while strengthening the skin barrier.
Reduces eye puffiness
Thanks to the antioxidant ferulic acid in caffeine, which is shown to have an anti-inflammatory effect, the super ingredient reduces puffiness and inflammation, especially under the eyes. Caffeine helps with dark circles, as it helps to improve circulation by constricting the blood vessels.
Tightens and improves skin
Since caffeine can penetrate the skin's barrier, it can help tighten skin, lessen the appearance the large pores, and improve skin texture.
UV protection
Antioxidants like polyphenols that are found in both coffee and green tea can be hugely protective against UV damage. Science suggests that these antioxidants may help to protect against ultraviolet (UV) rays and some signs of photo-aging linked to sun exposure. While sipping caffeine helps, you'll still need to apply your daily sunscreen!
Side Effects of Caffeine
Just as how we turn to caffeinated beverages for a quick pick-me-up, it's just a matter of time before we're in an energy slump again. Caffeine in skincare is no exception. Depending on your skincare concerns, caffeine works for a short time before it needs another shot of express-o on the double-o. For example, those with mild facial redness can benefit from caffeinated skincare products, while those with more persistent redness like rosacea might experience a rebound of redness sooner.
Caffeine in skincare is also a short-term – yet effective – solution for certain skin woes rather than a cure. For instance, due to its anti-inflammatory and vasoconstricting properties, caffeine offers a whole latte of benefits for puffy eyes or dark circles. However, if they're caused by genetics or excessive production of melanin, caffeine will need more reinforcers, such as vitamins C and E.
Since caffeine is not a miracle worker, but can work wonders to help reduce or lessen skin concerns, you should still invest in other skincare ingredients that work well with caffeine and target your specific skin issues long term. Examples include a cleanser with tea tree oil for breakouts, serums with vitamin C to brighten and even skin tone, plant-based retinol in moisturizers for wrinkles, and, of course, a broad-spectrum sunscreen.
It's important to note, that conventional skincare products with caffeine may irritate sensitive or reactive skin, causing redness from the increased blood flow, skin irritation, and dryness. Sticking with natural skin care products with caffeine is your better bet to avoid skin sensitivities and yield desired results. It's also a great idea to patch-test products first if you have sensitive skin.
How to Use Caffeine-Based Skincare Products
Are you ready to kick-start and rev up your daily routine even more? While we certainly don't discriminate against a caffeinated morning jolt for an energy boost, our skin needs its caffeine fix topically.
Here's what's on the menu: An appetizer of when to incorporate caffeine-based products into your skincare routine; an entree of how to properly use it; and a side of combining caffeine-based products with other skincare ingredients to energize the skin and optimize cellular energy and to help keep skin hydrated, conditioned and looking fresh.
Caffeinated skincare products are typically safe to use at any time, though if you're using them for tightening, brightening and the like, it's best to use them in the morning to perk up and freshen your complexion. In addition, due to caffeine's UV, free radicals, and environmental protection, it's beneficial to use caffeine-containing products in the morning, too.
Caffeine skincare products go on before makeup and should be applied in their traditional order or hierarchy for maximum benefits and effectiveness. For example, apply your caffeine-infused serum before your moisturizer and sunscreen. Don't forget dessert on the menu – a to-eye for caffeine eye cream!
What about the other ingredients in your skincare products - will they all play nicely? Let's delve a bit into the perfect blend of ingredients with caffeine that can do wonders when used together!
Caffeine + Niacinamide: Adding niacinamide, which helps restore the natural ceramides of skin and its anti-acne effect, makes a good moisturizer/ serum with barrier repair function in acne-prone skin.
Newsletter
Subscribe
for more blog updates and exclusive discounts
Caffeine + Glycerin+ Hyaluronic acid: Adding hyaluronic acid, and glycerin, which are humectants that attract water and moisturize the skin, also make for good moisturizers and help to improve the penetration of caffeine.
Caffeine + Vitamin C: Adding vitamin C, which itself is a c-elebrity antioxidant and has anti-pigmentation and anti-aging benefits, makes for a superstar antioxidant formula, providing a decrease in pigmentation, fine lines, and wrinkles, and helps makes the skin firmer.
Caffeine + Vitamin E: The marriage of caffeine with vitamin E makes a match made in matrimony heaven moisturizer with firming properties, antioxidants galore, and a whole latte love.
Caffeine+ Retinol: Retinol is known for its anti-aging properties. This combination is great for anti-aging creams, reducing fine lines and wrinkles, and provides firmness to the skin, making it a wonderful mix for under-eye lines as well as for the face and body.
However, it's important to exercise caution while using this combination as it may cause irritation and redness, especially for those with sensitive or reactive skin. Since conventional retinol tends to irritate or dry out skin, you might want to opt for a plant-based alternative like Backuhiol. This natural ingredient will lessen the appearance of fine lines, wrinkles, dryness, and much more without irritating the skin.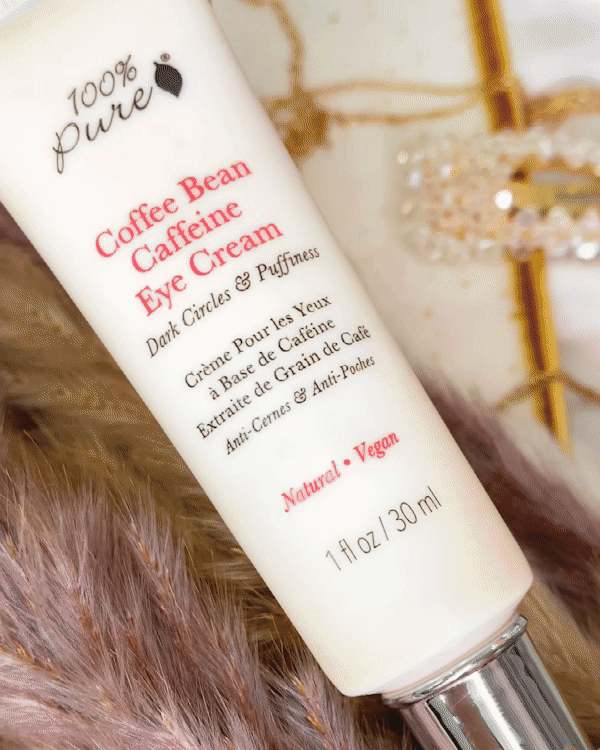 The Best Skincare Products with Caffeine
Why enjoy the skin-boosting powers of one caffeine-based product when you could have a trifecta of its all-star capabilities and skin-efits and not have to juggle your current skincare products with the addition of caffeine? We have a trio that ticks all the boxes on dullness, dark spots, aging concerns, and eye bags!
Coffee Bean Face Serum
The whole face gets a dreamy coffee treat with this restorative, brightening, tightening, and protecting face serum. Offering the same your-skin-but-better benefits of our new coffee bean moisturizer, this superstar serum was formulated to reverse sun damage and brighten and tighten your skin for an immediate healthy glow. Powered with a trifecta of skin-caffeinated goodness with green coffee extract, caffeine, and green tea EGCG, this serum boosts circulation for the skin and transforms the complexion for a healthy, vibrant glow!
Coffee Bean Face Cream
If we like something, we'll just make it in another category! Our best-selling eye cream gets a super stacked sister in this facial moisturizer. The whole face gets a creamy coffee treat with this restorative, brightening, and tightening facial cream. High in sunflower seed oil for potent vitamin E, this moisturizer was formulated to be gentle, deeply hydrating, and rejuvenating to counteract environmental damage and achieve age-defying skin. Powered with green coffee extract for the much-needed enhanced blood flow boost for the skin, this cream transforms the face for supple skin and a lively, healthy glow.
Coffee Bean Caffeine Eye Cream
The proof is in the numbers--not to mention the clinical studies. Our #1 hero skincare product, Coffee Bean Caffeine Eye Cream, is in a skincare category by itself. The cult-like following of our natural eye cream product is not to be taken lightly. There's a reason fans keep buying tube after tube: They've seen how powerfully it brightens and rejuvenates the under-eye area.
To get an accurate, unbiased idea of our eye cream's results, let's look at the clinical results. Of the participants who used our eye cream:
83% saw immediate reduction of puffiness
97% saw reduction of puffiness with continued use**
73% saw an immediate reduction of dark circles
87% saw reduction of dark circles with continued use**
** Results of an independent clinical 4-week study
Gentle, hydrating, and effective, our eye cream is an excellent option for beauty buyers of all skin types. Our "this is her" hero skincare ingredient, this dynamo of an eye cream does some serious heavy lifting. Shown to reduce discoloration for a bright and youthful eye, our crowd-favorite eye cream depuffs and hydrates for an undeniable difference. Both short- and long-term results for dull, tired-looking under-eyes, while helping to stave off future skin damage by delivering essential antioxidants to your skin.
Frequently Asked Questions
Can caffeine in skincare products have the same effect as consuming caffeine?
Caffeine has multiple benefits as an ingredient. No, it won't absorb through your skin and keep you awake at night, or act as a proxy for a cup of your go-go juice. It doesn't work the same as when you ingest caffeine. But perhaps when you use a skincare product that contains caffeine, your fast-beating heart might just skip a beat because of its super skin-efits for your complexion.
Can I use caffeine-based products if I have acne-prone skin?
As an all-natural ingredient, caffeine is suitable for all skin types. Whether you have dry skin, acne-prone skin, or sensitive skin, your skin will benefit from the smoothing and healing properties of caffeine. Just take some precautions and read the other ingredients in the product. Stick with reputable, natural skincare brands and patch-test if you do have acne-prone or sensitive skin just to be sure it's safe.
Are there any specific skincare ingredients that caffeine should not be combined with?
Avoid mixing caffeine with retinol if you have sensitive skin. Look for caffeine in natural skincare products from reputable brands that don't use harsh ingredients like parabens, sulfates, phthalates, mineral oils, or other toxic chemicals.
For most of us, sipping on a caffeinated beverage is a nonnegotiable and essential part of our daily routines. Who knew these magical drinks not only affect your mood and body, they affect your skin in grande? ways, too? We kind of knew all the buzz. Hopefully, with our tips and the benefits of caffeine, you'll make the superstar ingredient another non-negotiable in your skincare routine. Bottoms up!
We carefully hand-select products based on strict purity standards, and only recommend products we feel meet this criteria. 100% PURE™ may earn a small commission for products purchased through affiliate links.
The information in this article is for educational use, and not intended to substitute professional medical advice, diagnosis, or treatment and should not be used as such.
Sign up to our email newsletter for more blog updates and exclusive discounts.
< Older Post | Newer Post >