The 10 Best Face Serums For Every Skin Type
For clear, glowing, and radiant skin, incorporate one of these face serums into your daily beauty routine.
Posted on October 21, 2022
Written by: 100% PURE ®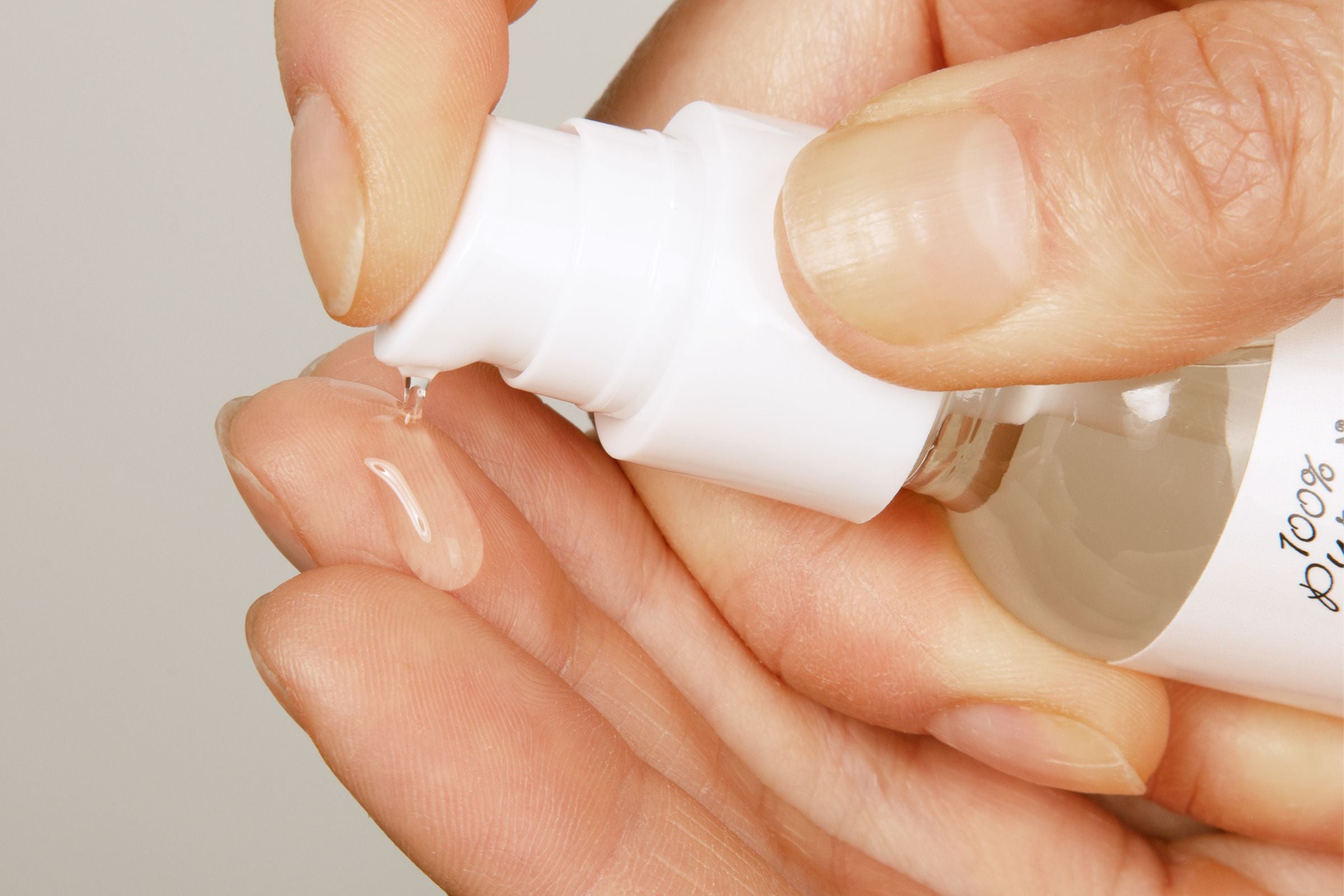 If you're a long-time lover of skincare, you've probably heard of the wonders a serum can do for your skin. With their concentrated ingredients and variety of formulas, serums are a fantastic way to customize your skincare routine to your needs, whether it's hydration, wrinkle care, or brightening.
But with all the options available, it's easy to get caught up in what's on Tik Tok and Instagram, and to lose sight of what face serum works best for you and your skin's needs.
Today, we're going back to basics with this list of the ten best serums for each skin type.
What is a Face Serum?
If you're not already familiar with face serums, this is a great place to start.
Face serums are lightweight, highly concentrated liquids that contain high levels of active ingredients, whether it's niacinamide, retinol, hyaluronic acid, or any kind of antioxidant. Widely regarded as skincare staples, face serums are often used to address specific skincare concerns.
Because of their lightweight, almost watery texture, you can layer serums on with ease, but it's important to choose something that caters to your skin needs.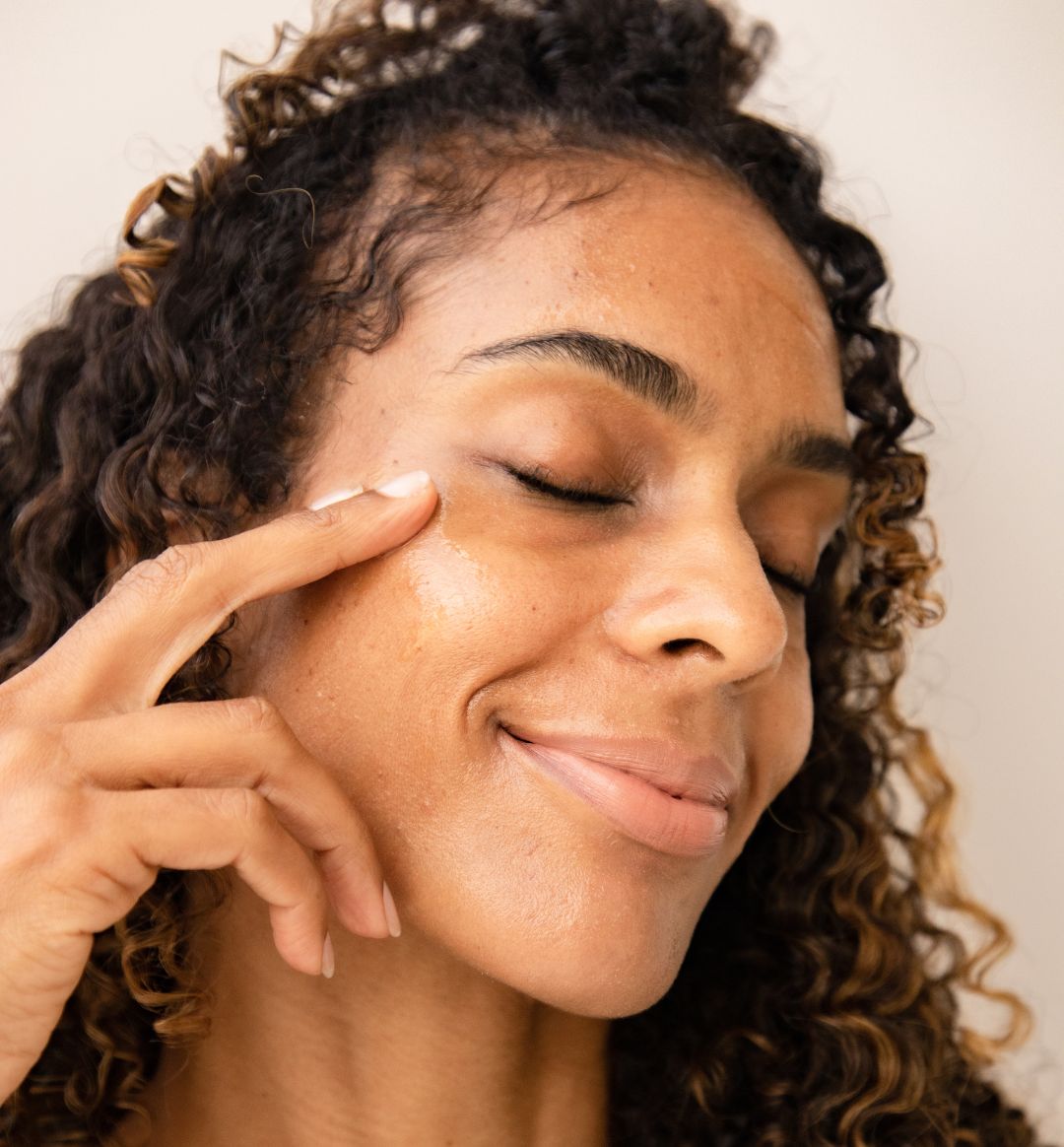 How to Use a New Serum
Anytime you introduce something new to your skincare routine, it's generally best to take things slowly. And with serums, this is no exception.
Especially for serums with highly active ingredients like vitamin C or retinol, it's smart to gradually phase your face serum into your skincare regimen, and gradually increase as needed. It's also generally advised to avoid using actives like retinol and AHAs together, as this can irritate the skin. Instead, try using your active serums on alternative days.
Choosing the Right Serum for Your Skin
When it comes to choosing the right face serum for your skin, there are tons of different options available–there are hydrating serums, acne-fighting serums, anti-aging serums and antioxidant serums.
Before you make your selection, consider the issues you want your serum to address. For instance, dry and dehydrated skin might benefit more from a hydrating serum, while oily or acne-prone skin types may do well with a lightweight formula. If you're not sure what your skin needs, or you have multiple issues to address, it's worth discussing with a dermatologist or esthetician.
The Best Serum for Daily Use
A daily serum should be something that's loaded with antioxidants, gentle, and hydrating to provide that healthy glow.
Our Black Tea Grass Jelly Anti-oxidant Serum is not your grandmother's cup of English Breakfast; it's made with pu'erh, a fermented black tea that's loaded with protective antioxidants to protect the skin from free radicals, while the plant saccharides in grass jelly hydrates and plumps the skin, making it perfect for flawless makeup application.
The Best Serum for Glowing Skin
Whether it's from a stressful week or a sudden change in diet, we all struggle with dull skin at one point or another. When dullness kicks in, we fight it with our tried and true Brightening Serum, which is made with plant-derived brightening ingredients like kojic acid, sake, fruit acids, licorice, vitamin C, and lemon juice.
The Best Serum for Acne-Prone Skin
When you're constantly dealing with acne and breakouts, it's important to find not only something that works, but something that's gentle on your skin and won't trigger further irritation.
In our Tea Tree Concentrated Spot Treatment, tea tree's antifungal, antimicrobial, and anti-inflammatory properties are ideal for fighting acne.
This powerful serum also features detoxifying herbs like neem, witch hazel and eucalyptus, which calm and clarify acne blemishes.
The Best Serum for Hydrating Skin
If your skin is flaky and rough, and feels especially sensitive after washing, it could be in need of some serious hydration. This is when a hydrating serum comes handy.
We love the way our Restorative Sea Culture Replenishing Serum rapidly quenches the skin with hydrating ingredients like chia seed water, squalane and glycerin, while seaweed polysaccharides and algae extract promote plumpness.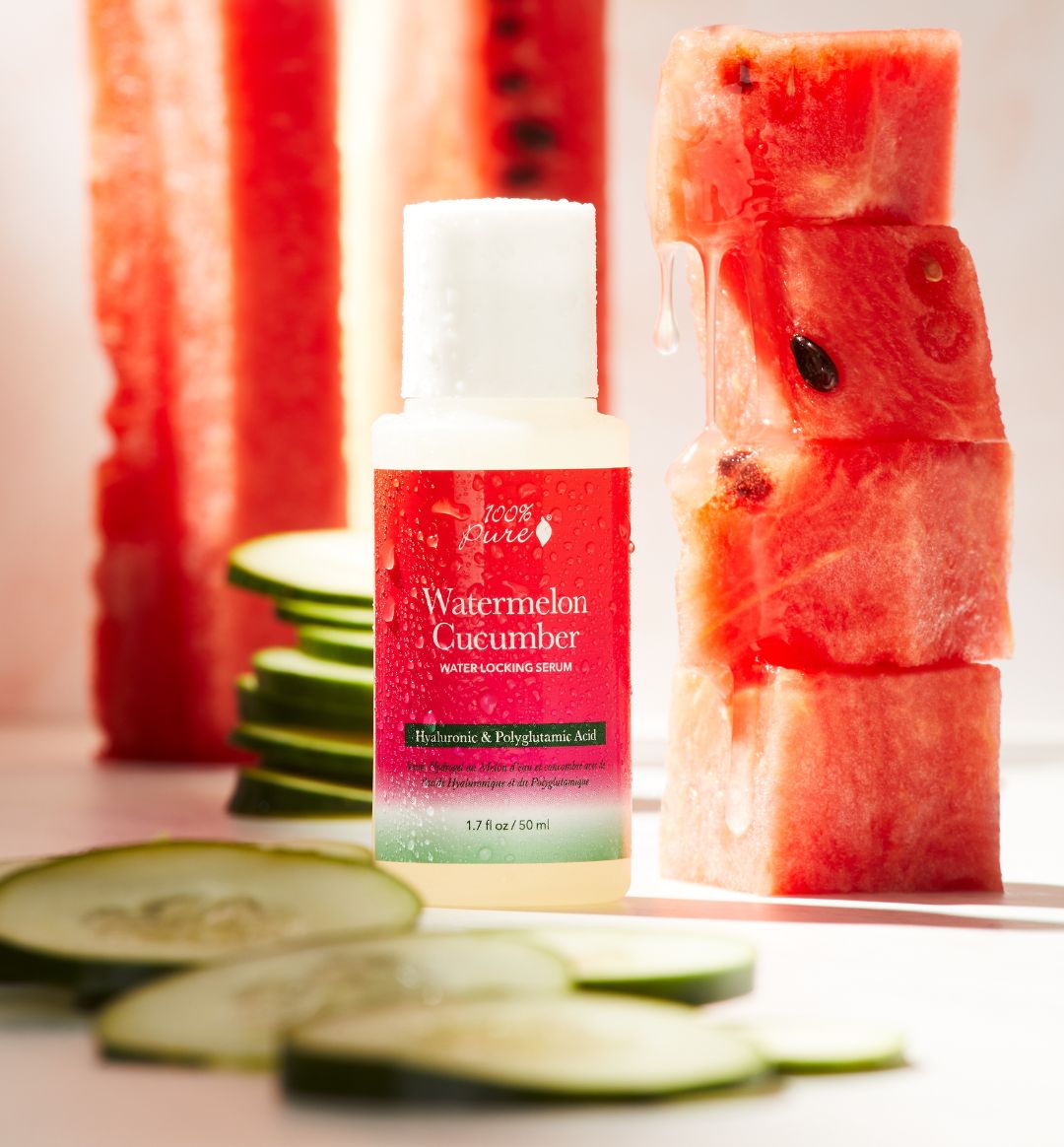 The Best Pre-Makeup Serum
Back in the day, it was all about makeup. But in recent years, skincare has grown so much in popularity, that the two share the limelight.
Naturally, this means that skincare and makeup sometimes blur the line between one another, and it's led to questions like "what makeup has skincare ingredients?" or "What is the best serum to apply before makeup?"
To answer this question, it's important to note what your skin needs: plumpness and hydration! When in doubt, look for ingredients like aloe, watermelon, cucumber, and hyaluronic acid. You can find all of these ingredients in our new Watermelon Cucumber Water Locking Serum! This serum is the perfect formula for locking in moisture and promoting water retention.
The Best Antioxidant Serum
Antioxidants are incredibly important for our skin because they can help protect it from the damaging free radicals we encounter in our day-to-day lives.
Antioxidants can be found in plant-based foods–especially ones with deep pigments like blueberries, spinach, and carrots. You can also find antioxidants for your skin in serums; we especially recommend those with a variety of antioxidants, like our Multi-Vitamin + Antioxidants Potent PM Serum​ ​.
The Best Serum for Dark Spots
Dark spots occur on the skin as a result of concentrated melanin in one particular area, and this can occur due to a variety of different causes.
In some cases, dark spots require treatments done by a dermatologist. But at home, you can potentially fade dark spots through gentle exfoliation. This is where our 10% Fruit Acids Apple Enzyme Resurfacing Serum comes in!
Made with kojic acid derived from sake, AHAs, and fruit-derived enzymes work together as an exfoliating powerhouse.
These ingredients work to tone out the skin, fade dark spots and acne scars, and speed up cellular regeneration for more beautiful skin.
The Best Serum for Oily Skin
Even oily skin types need hydration–especially in the colder months. Still, it's important to choose a serum that will provide just the right amount of hydration.
For oily skin types, hyaluronic acid makes a fantastic ingredient, since it penetrates the skin with lightweight hydration that won't clog pores. The lightweight gel formula of our Rose Hyaluronic Acid Serum is perfect for restoring moisture levels without leaving the skin feeling greasy. And for those who have both oily skin and redness, calendula and chamomile soothes the skin and calms complexion.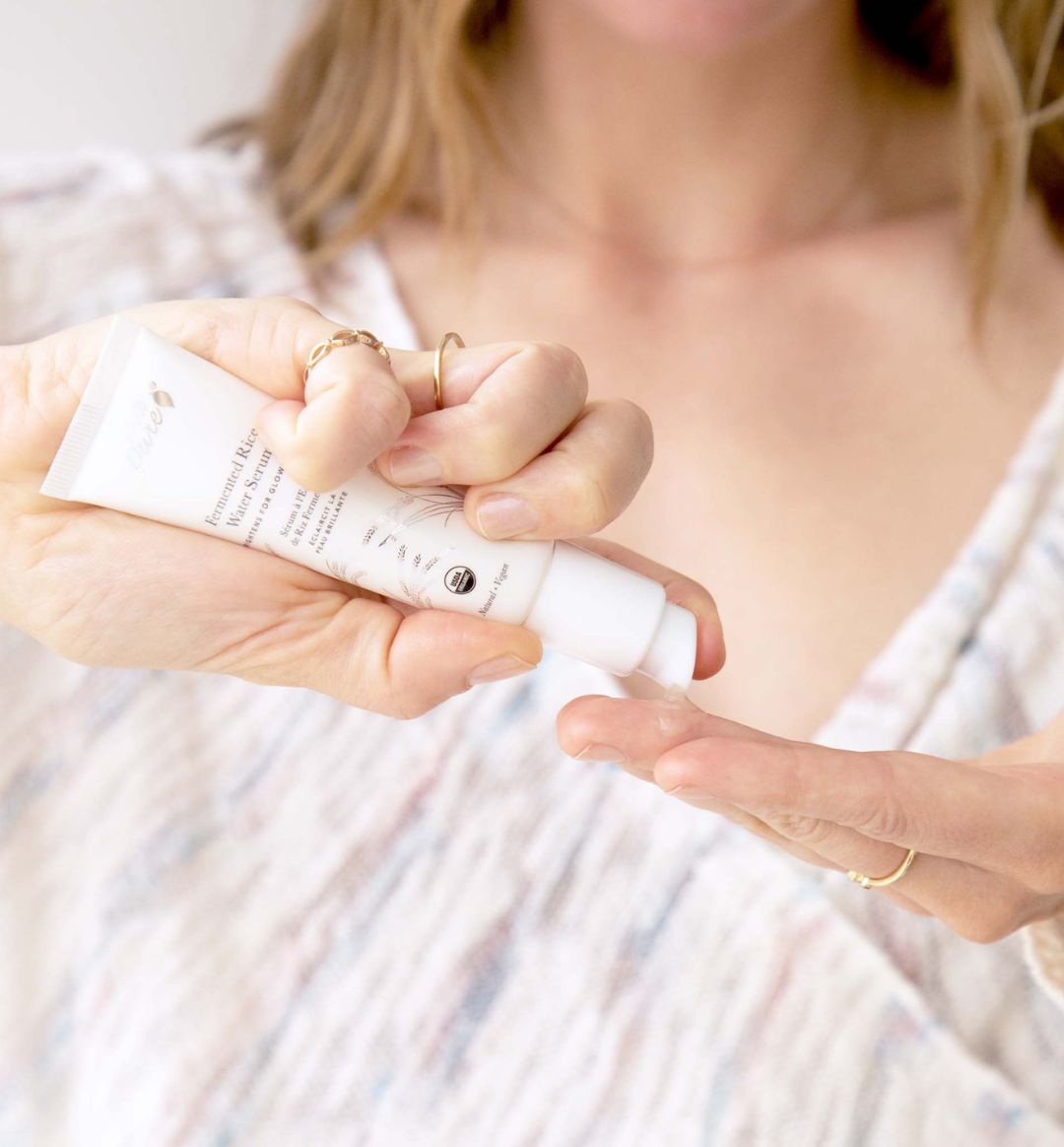 The Best Serum for Sensitive/Irritated Skin
When your skin is irritated and sensitive, it needs simple nourishment to calm it down.
The fermented rice water in our Fermented Rice Water Serum works to replace lost moisture, which promotes a glowing complexion in the skin. Meanwhile, a concentration of white mulberry, shiitake mushroom, licorice and citrus provides toning and brightening.
The Best Serum for Anti-Aging
There are many great ingredients for keeping the skin firm and elastic, and one of our favorites is EGCG, which you can read more about in our article on the benefits of green tea.
Our Green Tea EGCG Concentrate Serum contains the antioxidant epigallocatechin gallate, which is the active compound in green tea. The caffeine content in green tea can help slow signs of aging such as sagging skin, photodamage, dark spots, lines, and wrinkles.
We carefully hand-select products based on strict purity standards, and only recommend products we feel meet this criteria. 100% PURE™ may earn a small commission for products purchased through affiliate links.
The information in this article is for educational use, and not intended to substitute professional medical advice, diagnosis, or treatment and should not be used as such.
Sign up to our email newsletter for more blog updates and exclusive discounts.
< Older Post | Newer Post >