We took a detour into nature on our sustainable road trip to find an off-the-beaten path primitive hot spring in California for a detoxing and relaxing soak with our 100% PURE skincare products.
Posted on August 7, 2017
Written by: 100% PURE®
Going for a hot spring soak might be something that is just recently catching on in the US, but it's been a beloved pastime in many cultures for thousands of years. Besides the relaxing component of indulging in a long soak, there are actually a surprising amount of skin and health benefits, too. Good for the mind and body! If you'd rather not follow your GPS blindly into the woods to hopefully end up at a hidden hot spring, don't fret; there are plenty of easy to find day spas that use the same water by pumping it into a swimming pool (who wouldn't want poolside service while still getting the same benefits). Come along while we double down on nature's original day spa: hot springs! You can take time for a little #selfcare session by bringing along our friendly travel-sized 100% PURE natural skin care products.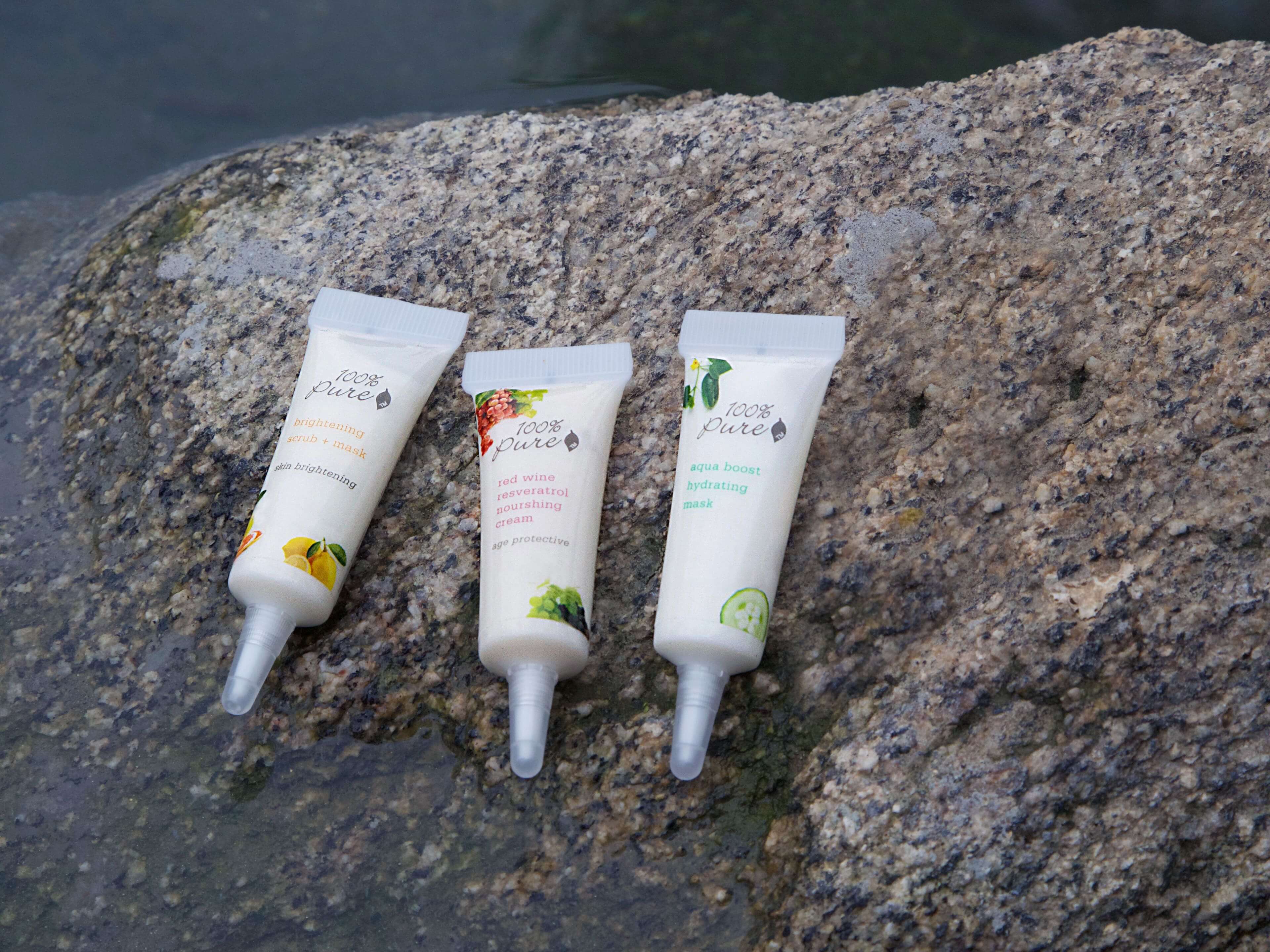 What is a Hot Spring?
Besides being a 24/7 free outdoor spa, natural hot springs are the result of spring water rising through the Earth's crust. On its journey to the surface, this water is collecting minerals as its temperature simultaneously rises thanks to Earth's internal heat (geothermal). Not all hot springs are created equal. Some hot springs are safe for bathing, running at about 107℉, while others springs are extremely hot, with temperatures soaring to over 201℉. Always swim at your own risk, follow marked signs, and read up on the hot spring before entering if they are not run by a professional facility that can help regulate the water temperature.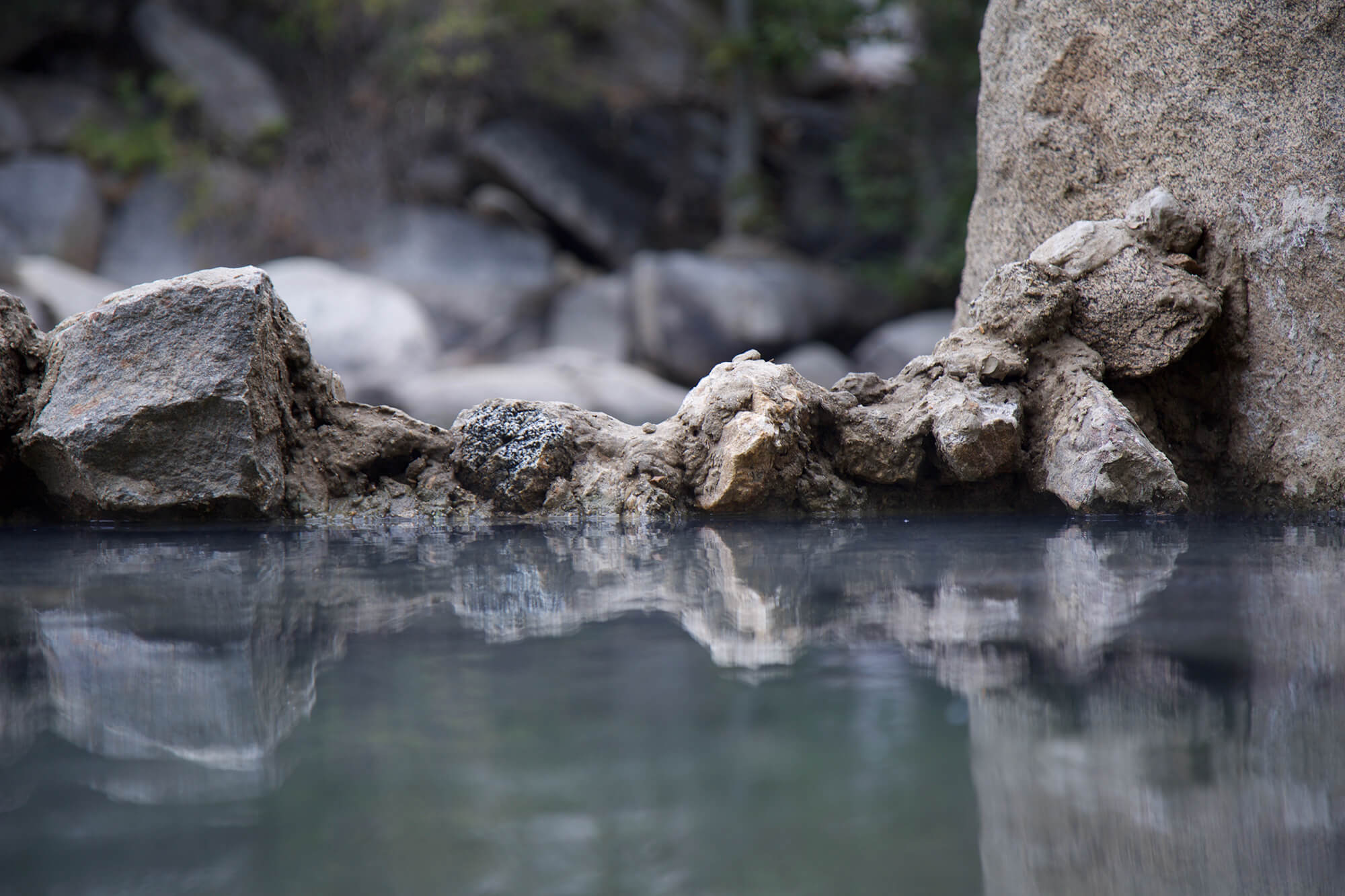 What's That Smell?
Yes, there's going to be a smell in most hot springs; that's most likely the sulfur (hydrogen sulfide). At first you may doubt your ability to inhale the wafts of egg-y air, but you'd be surprised how quickly you acclimate! Sulfur might be the most apparent to your nose, but it's only one of the minerals swirling around in this hot water pool. Which brings us to our next point: exactly what is in a natural hot spring water? You guessed it -- lots and lots of skin (and health) benefiting minerals.
Mineral Content in Hot Springs
While not all hot springs have the same mineral content, there are still many skin benefiting minerals present in pretty much any natural pool you dip into. If you're heading to a professional facility, they'll have exact readouts of a particular springs' minerals, along with their content stats. Here are some common minerals that are found in natural hot springs:
Calcium
Silica
Sulphate
Bicarbonate
Potassium
Magnesium
Carbonic Acid
Lithium
Boron
Sodium
Chloride
Cadmium
Zinc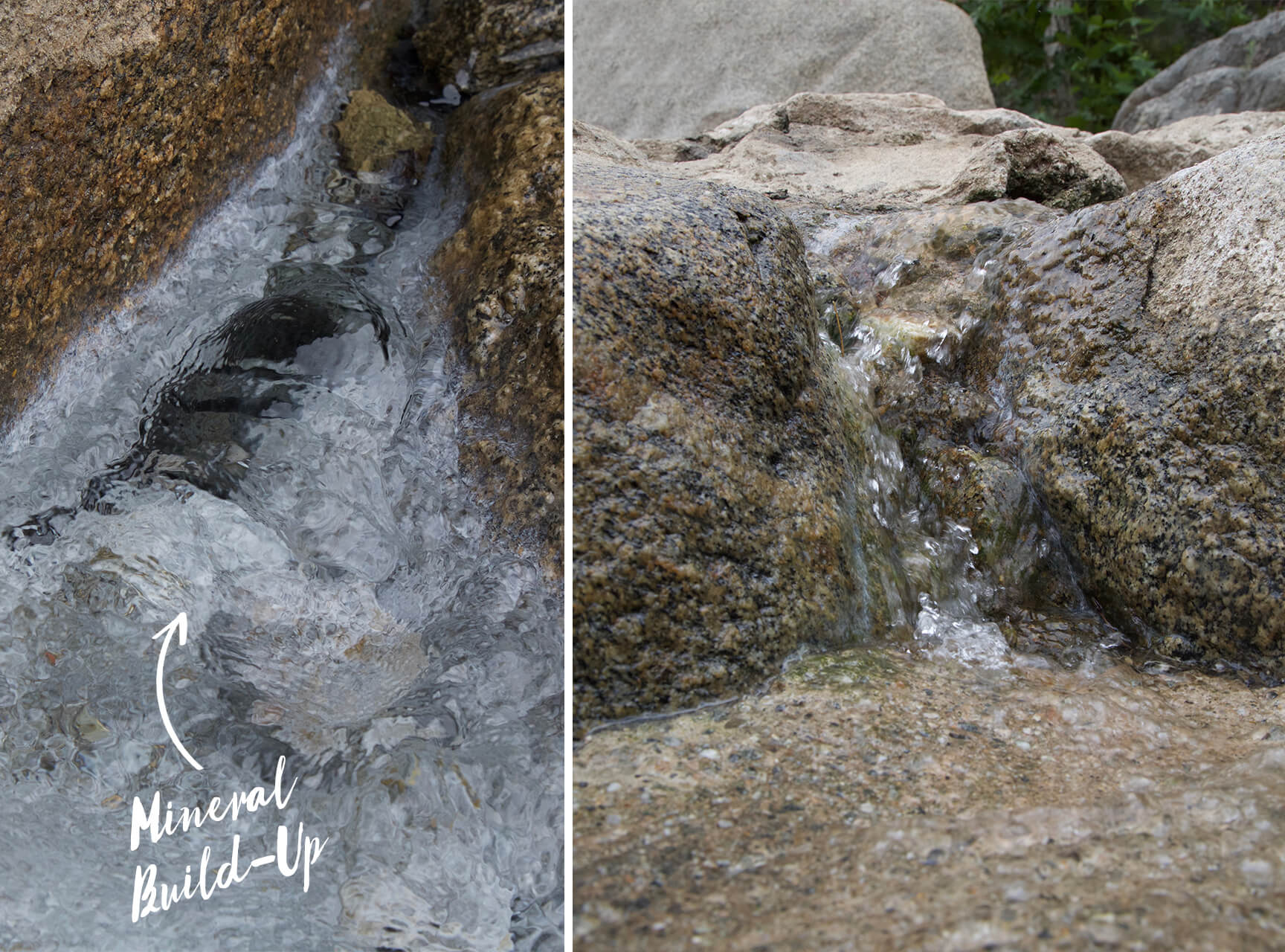 5 Benefits of Natural Hot Springs
Hot springs hold an especially high count of minerals and nutrients because of the warm water temperature. When water is heated, it's able to hold more dissolved solids than its cooler counterpart. By the time you finally get used to that sulfur smell, it's already been busy working magic on your skin.
Benefits #1:
Blood Circulation
While enjoying a soak session in a hot spring, your body is immersed in nutrient rich water that is getting absorbed through your skin. Minerals such a calcium and sodium bicarbonate are helping to gently stimulate your blood circulation, increasing blood flow (and oxygen) throughout your body. This act of gently boosting circulation helps to keep your heart healthy and strong.
Benefit #2:
Reduces Stress
Excess stress can be a killer... it harms your mind, body, and spirit with sometimes permanent effects. That's why it's important to take care of yourself and carve out some decompressing time to keep stress at bay. The soothing, warm waters will help melt away all those deadlines and looming chores (at least for the time being).
With the temperature cranked up, this benefit piggybacks on #2. By reducing stress, our muscles start to relax, and voila! One-way tickets to sleepy-town. The warming up process aids relaxation, and the soaking period sends a signal to your body it's time to wind down.
Benefit #4:
Relieves Pain
This benefit is pretty obvious, since using hot water as a method to relieve pain is nothing new. Whether it's a sports injury or arthritis, warm water can ease joints and make them feel better. The additional benefit of gently floating (weightlessness) also gives much needed relief to overworked joints and muscles.
Benefit #5:
Nourishes Skin
When it comes to nourishing skin minerals, there are a few key players within a hot spring's water; the heavy hitter is sulfur. Sulfur is in every cell of our body, so it's a natural fit when it comes to helping benefit our skin. It can benefit skin elasticity, as well as stronger hair and nails. Silica works to help smooth and soften skin ailments, and can also be found in high quantities in your average hot spring.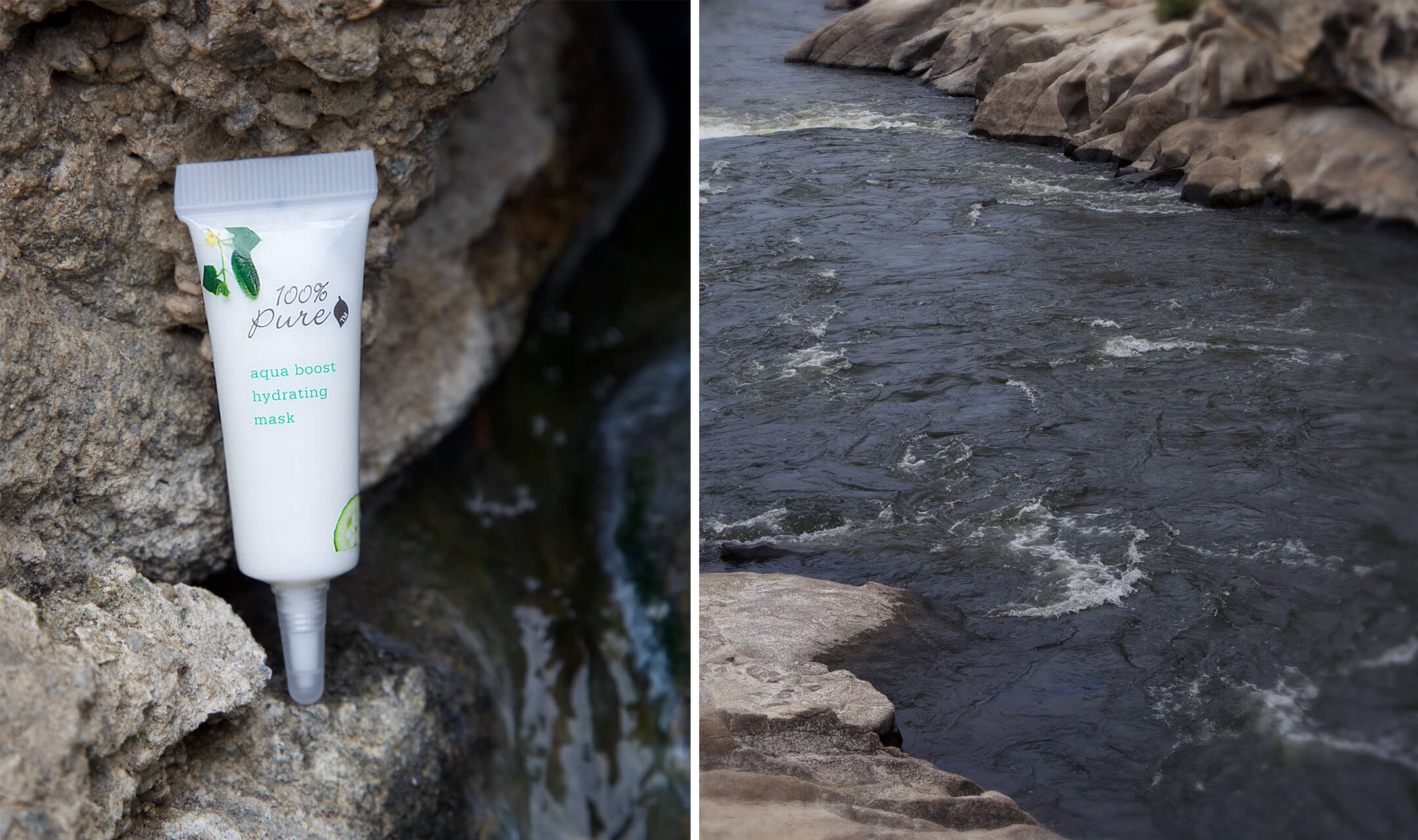 100% PURE How-To: Outdoor Spa Session
We just covered what the hot spring minerals are doing for your skin, so let's enhance this alfresco pamper session with travel-friendly 100% PURE natural skin care products. We've compiled a quick and easy guide on how to pamper yourself while in the wild. But if you aren't heading to the woods anytime soon, no worries! This pamper session is easily replicated at the gym, in a hotel room while traveling for business, or at home because you simply need a little extra TLC today.
Brightening Scrub + Mask 0.27 oz
In between just straight chilling out, move on to your next step of deeply hydrating your thirsty skin. We're here in the summer and Kern Valley is hot, hot, hot, which means our skin is feeling extra dry and looking dehydrated. We slathered on our Aqua Boost Hydrating Mask 0.3 oz to help deliver water to our dehydrated skin cells. We'll leave this natural mask on for about 30 minutes to help rejuvenate and plump tired skin.
Aqua Boost Hydrating Mask 0.3 oz
First, let's start with a freshly scrubbed face. We made sure to pack our mini Brightening Scrub + Mask 0.27 oz. This natural skincare product was formulated to work as a highly nourishing facial mask and as a gentle exfoliating scrub. Start your soak session with our skin brightening combo using jojoba beads to help buff away dull, bumpy and dead skin cells. Gently help to brighten your complexion with our vegan, natural ingredients like bearberry, kojic acid, sake, vitamin c, and lemon juice.
Red Wine Resveratrol Cream 0.3 oz
By now, you've probably been in and out of the pool for around an hour, and it's about time to wrap up this special outdoor spa session. We're completing our self care guide with our Red Wine Resveratrol Cream 0.3 oz. This vegan skin care product was specifically formulated to help protect against environmental damage, which can cause wrinkles, fine lines, and loss of elasticity. We've packed this travel size moisturizer full of protective and nourishing antioxidants, vitamins, and beneficial red wine resveratrol to help keep your skin healthy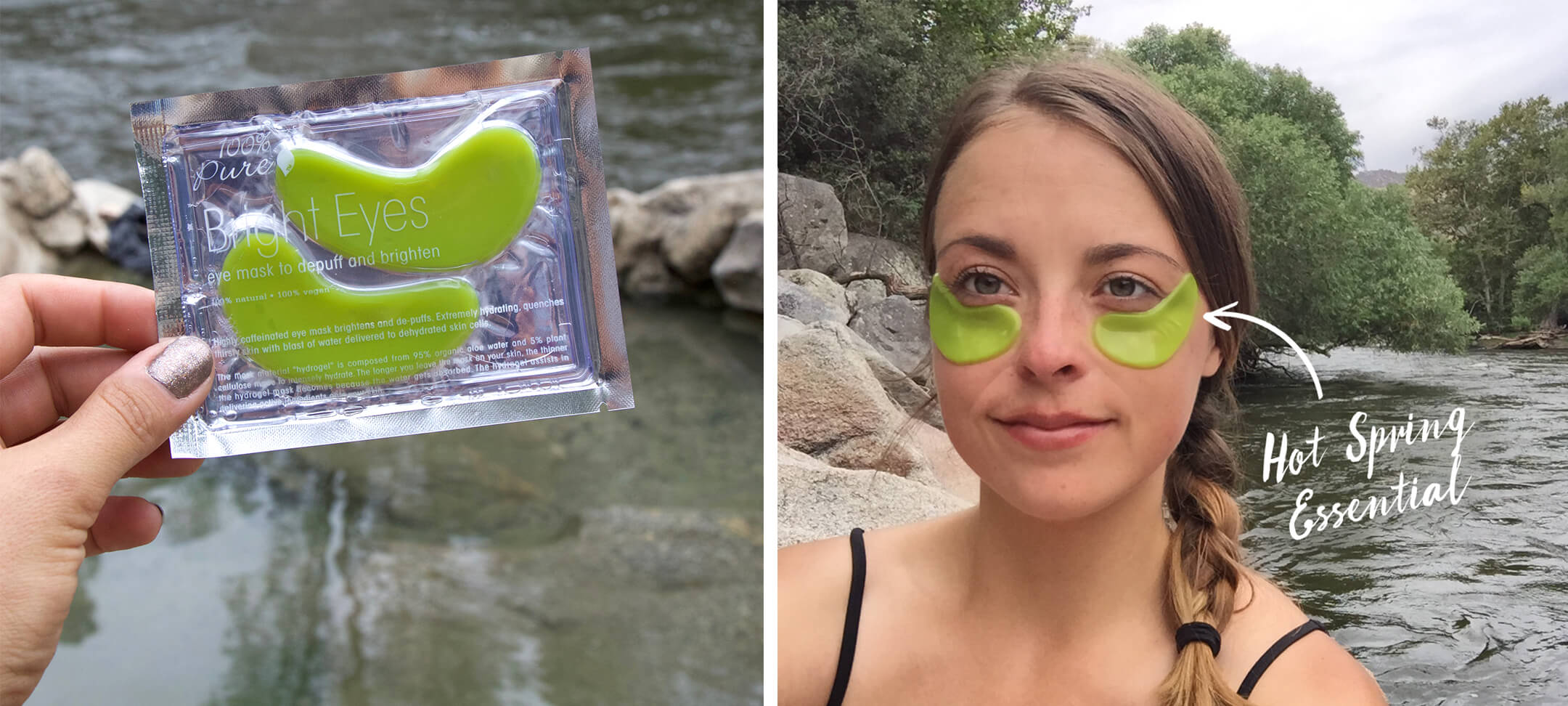 Hot Spring Essential: Bright Eyes
If you can only bring one extra thing in your backpack, make sure it's Red Wine Resveratrol Cream 0.3 oz. These natural hydrogel eye masks make the perfect travel-friendly hot springs companion. Who can resist a pair of depuffing, distressing, hydrating eye masks? You won't even look silly while you soak, more like the object of envy -- so bring along extra to share, and make some new spa-loving pals. Sit back and let our highly caffeinated eye masks brighten and depuff while you listen to the rushing water (and sometimes white water rafting groups) zip by. The longer you soak, the thinner your eye masks will become. They're busy infusing your thirsty skin with nutrient rich hydration while you sit there enjoying nature's original day spa.
PRO TIP: If you're heading to any hot springs with a crew, bring along Bright Eyes Mask 5 Pack for everyone to enjoy this outdoor spa experience. Or if you're heading for a solo session, bringing along extra eye masks will instantly make you the Mayor of Miracle Hot Springs.
We're about to wrap up our Sustainable Road Trip series and heading back towards 100% PURE Headquarters. If you missed any of our road trip stops, check out two of our recent favorites What are the Benefits of Caffeine in Skincare? and Aloe Vera in Skincare and Makeup.
We carefully hand-select products based on strict purity standards, and only recommend products we feel meet this criteria. 100% PURE™ may earn a small commission for products purchased through affiliate links.
The information in this article is for educational use, and not intended to substitute professional medical advice, diagnosis, or treatment and should not be used as such.
Sign up to our email newsletter for more blog updates and exclusive discounts.
< Older Post | Newer Post >