Kojic Acid and Its Skin Benefits
What kojic acid does for your skin - plus how to use this natural skin brightener for an even, radiant complexion
Posted on October 16, 2022
Written by: 100% PURE®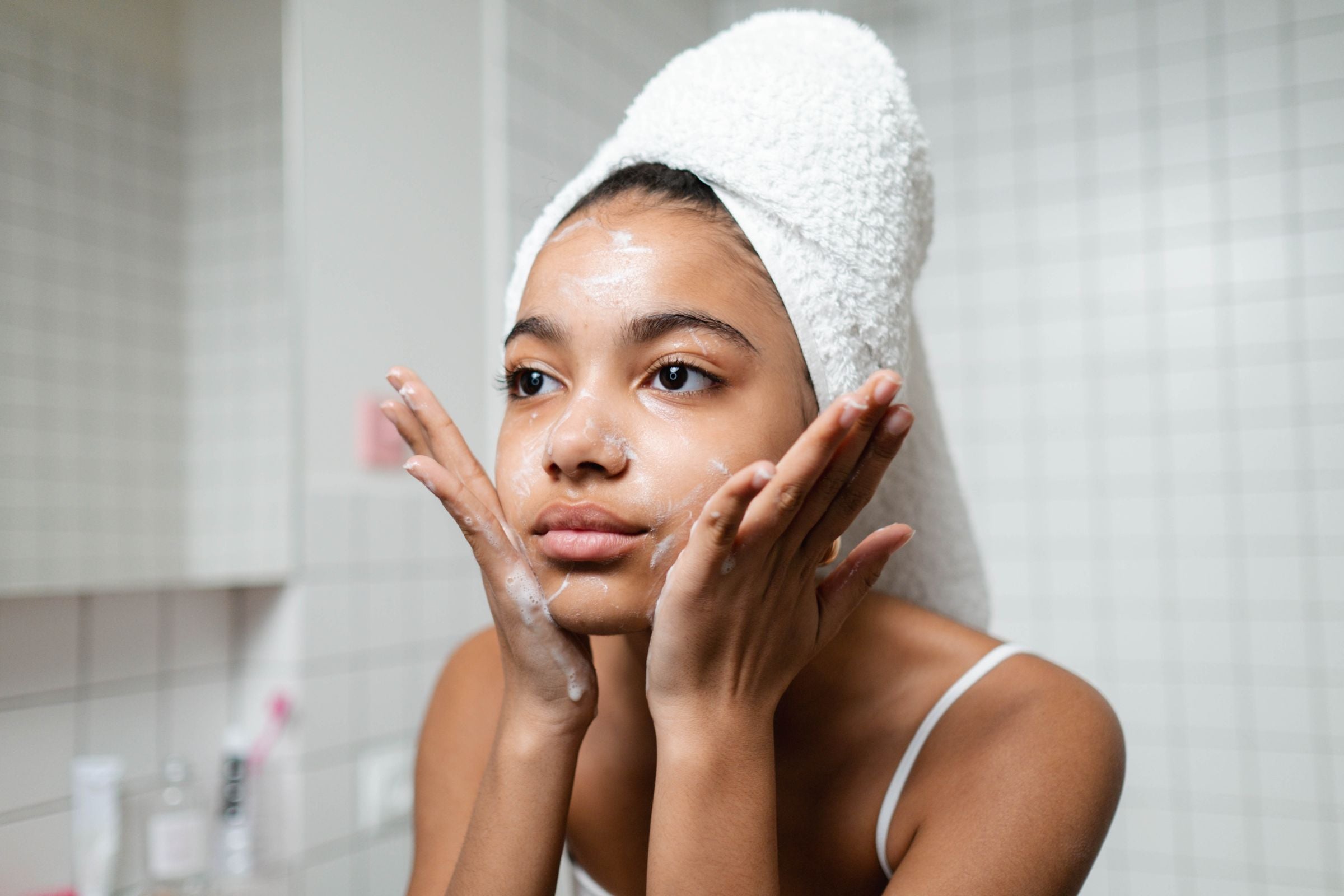 You're probably familiar with alpha hydroxy or glycolic acids, and might even use them in your skin care routine. There's another acid that's been flying under the skin care radar that deserves some time in the limelight, especially if your goal is a brighter, more even complexion. Enter kojic acid!
A naturally-derived ingredient, kojic acid has long been on our "radar love" of sorts as a dark spot fading, skin-brightening superstar. "We've got a thing" – or two – kojic acid products that we want to get on your radar! Come along to get the lowdown on these and kojic acid to brighten and beautify your skin.
And there's more! If you want more youthful skin and are looking to avoid the side effects of retinol (or retinol in general), we have your back – and skin – with a natural plant alternative!
What Does Kojic Acid Do to Your Skin?
In your quest for even, bright skin, you're likely familiar with lightening ingredients like hydroquinone, a chemical that can irritate skin. That's precisely why we use kojic acid as a natural, gentle option that can achieve the same brightening effects as its harsh chemical opponent. Its powers lie in "magic" mushrooms (and rice)!
Kojic acid is a naturally derived ingredient from non-mind-altering mushrooms like the shiitake and matsutake varieties. It can also be created during the sake brewing process from fermented rice. Kojic acid is renowned for its skin brightening and evening complexion abilities as well as its antifungal properties and antibacterial functions, making the acid an all-star for acne-prone skin.
Kojic acid plays nicely both on its own and when paired with other natural lightening ingredients. Using a brightening serum with the all-star ingredient that's full of antioxidants, amino acids, and vitamins is essential for healthy skin. Pairing it with a lightening cream at night can help you reap the full benefits of kojic acid to awaken to fresh, radiant skin. There's a lot to radar-love about kojic acid and its ability to brighten and liven up the skin!
Can Kojic Acid Permanently Bleach Skin?
Spot-fading and skin-brightening is the name of the game for this superstar ingredient. We love how kojic acid can gently transform and beautify the skin. It helps to create an even skin tone and lightens dark spots and discolorations. But does that mean kojic acid can permanently lighten skin?
Kojic acid's most popular function for skin has to do with its influence on melanin production. It can brighten the skin and help fade scar tissue by lowering the production of tyrosine, an amino acid necessary for supporting melanin production. Melanin is the natural pigment that gives skin its range of unique and beautiful shades. It's also one of the main components in scar tissue and dark spots.
Decreased melanin production means less skin discolorations, including age spots, sun spots, or those obnoxious post-breakout marks. But that doesn't mean kojic acid will permanently lighten or bleach your skin. However, when you discontinue use of it, the dark spots might come back.
Unlike using harsh hydroquinone, which has its list of harsh side effects, the chemical lightener can cause the skin to turn a bluish/grey color. No thanks! The great news is the FDA has introduced kojic acid as a great alternative for hydroquinone.
Can You Use Kojic Acid Every Day?
Kojic acid is generally safe for daily use for most skin types. If you don't have super sensitive skin, kojic acid is fairly easy to incorporate into your regimen. It can be steadily added, one product at a time, to ensure that your skin can tolerate the ingredient. On the other bright side, you can give your skin a brightening boost with a total product makeover featuring this naturally occurring acid!
If your skin is highly sensitive, it's recommended to work kojic acid-based products into your skin care routine just once or twice per week to ensure that your skin can tolerate the ingredient. When used over long periods of time, kojic acid can make your skin more susceptible to sunburn and more sensitive to UV rays. Make sure to limit your time in the sun and apply sunscreen daily.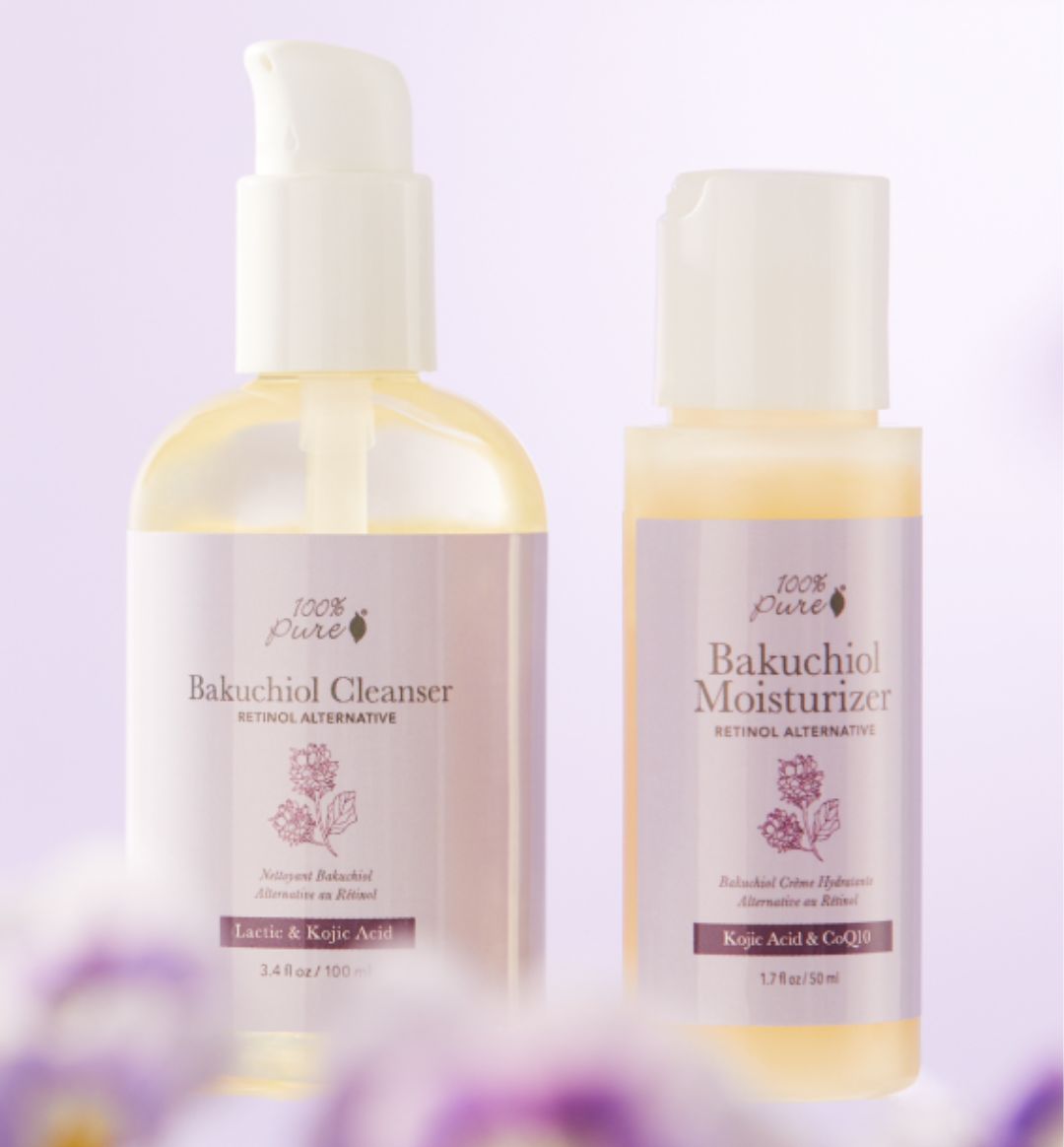 Using Kojic Acid in Your Skin Care Routine
We love how kojic acid can gently transform the skin, creating an even skin tone and soft radiance. As mentioned, our radar-love goes so far that we incorporated the superstar acid into our new serum cleanser and cream. But we didn't stop there! We created a skin love potion by pairing kojic acid with bakuchiol (plus other ingredient goodies) for a two-punch of skin-lightening goodness and anti-aging wonderment!
But first, let's quickly delve into some key benefits of this retinol alternative. Bakuchiol is suitable for all skin types, but it's especially appealing for those who can't use retinol. As a unique compound that's derived from the seeds of the bakuchi plant (hence the name "bakuchiol") bakuchiol's key source is the bakuchi plant, making it both vegan and all-natural. From its stellar anti-aging, firming, and moisturizing benefits, we knew bakuchiol deserved a place in our coveted skin care line.
Our rejuvenating cleanser washes away impurities to stimulate cell turnover for a smoother complexion. This gentle yet powerful cleanser gives you all the benefits of retinol without any of the irritating effects, such as lightening dark spots for a more even skin tone, while lessening the appearance of lines and wrinkles. It washes away makeup, sunblock and other impurities while leaving the complexion refreshed and glowing.
Key Ingredients:
Kojic acid: lightens hyperpigmentation
Lactic acid: gently exfoliates
Licorice extract: brightening, softens skin, calms inflammation
Bakuchiol oil: anti-aging—improves fine lines and wrinkles, pigmentation, skin elasticity
This antioxidant rich, hydrating moisturizer packs a gentle but powerful punch to soften and moisturize the skin. Formulated with deeply hydrating hyaluronic acid and squalane, this all-star botanical boost cellular turnover for increased collagen production, and lightens age and sun spots, while lessening the appearance of lines and wrinkles.
Key Ingredients:
Licorice extract: brightening
Bakuchiol oil: plant alternative to retinol
Kojic acid: lightens age / sun spots and evens skin tone
We love how kojic acid can gently transform the skin, creating an even skin tone and radiant glow. So, now that it's in the radar, what can we further expect with this beloved ingredient? Skin brightening doesn't have to come with harsh lightening effects. Although results won't happen overnight, consistency and patience are key to seeing improvements for the lightening of discolorations, dark spots, and an overall even complexion.
Our brightening collection featuring kojic acid delivers natural ingredients and a concentrated formula. Plus, with our new skin care duo featuring kojic acid and bakuchiol, these must-haves make it important allies in your battle against dark spots – and that's what's making it so popular for beauty routines everywhere!
We carefully hand-select products based on strict purity standards, and only recommend products we feel meet this criteria. 100% PURE™ may earn a small commission for products purchased through affiliate links.
The information in this article is for educational use, and not intended to substitute professional medical advice, diagnosis, or treatment and should not be used as such.
Sign up to our email newsletter for more blog updates and exclusive discounts.
< Older Post | Newer Post >