Illuminate Your Complexion: Unlocking the Benefits of Vitamin C
A behind-the-scenes look at the science and benefits of a skincare treasure and key to a youthful complexion
Posted on June 4, 2023
Written by: 100% PURE®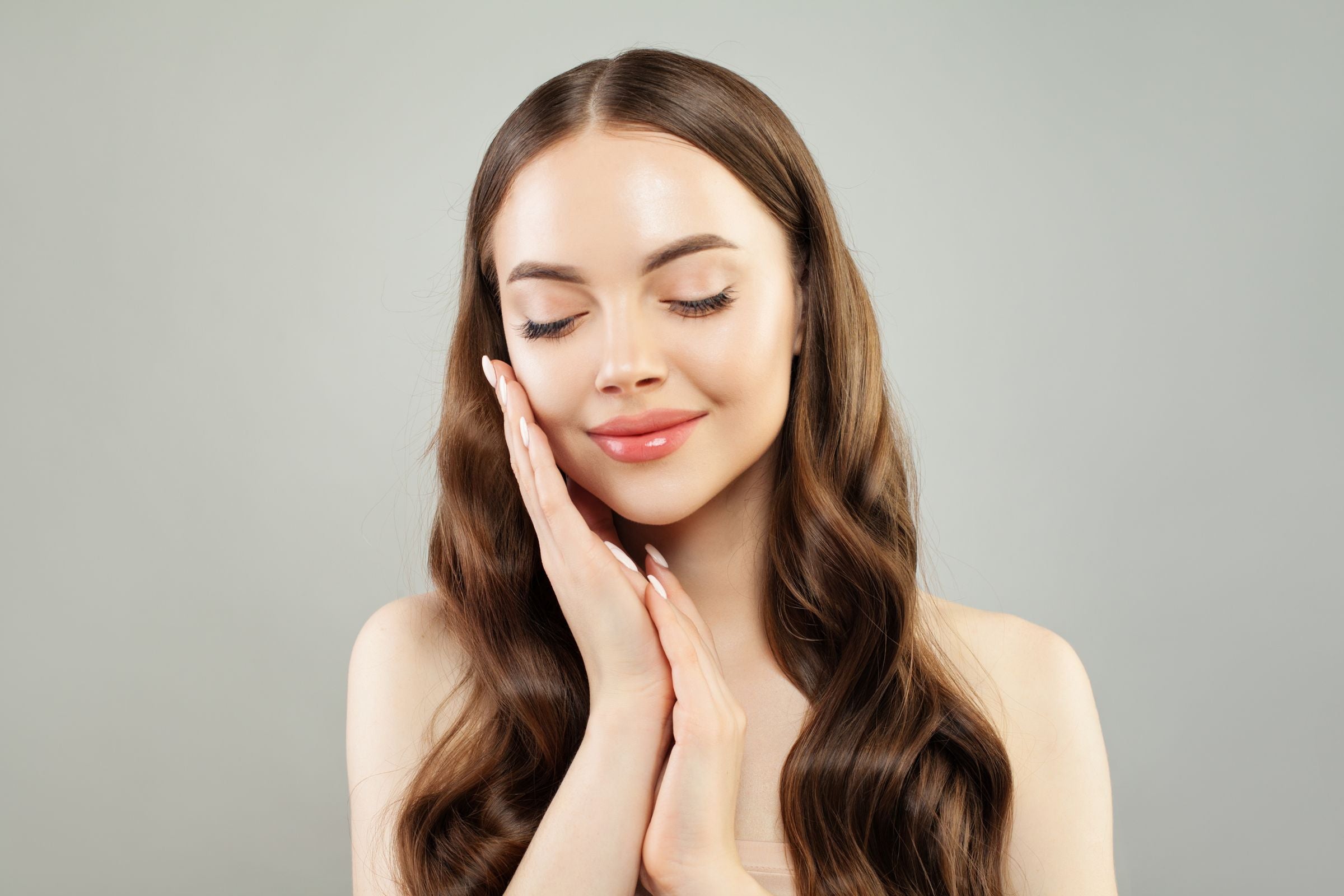 Vitamin C: Though it struts down third on the red carpet of skin care ingredients, behind anti-aging "A", and breakout-preventing "B", vitamin C takes first place from skincare experts as a citrus-celeb as a multitasking skin miracle among ingredients A-Z. So, how does this tiny but mighty antioxidant be the key to opening a trove of skin health and wealth?
Most skincare enthusiasts know the importance of vitamin C, but many might not know the science and benefits of it at a cellular level. Don't worry; we're not going to gate-keep the treasure box of skin-efits of this citrus superhero! But is our skin red-carpet ready to properly work and use this potent antioxidant?
Read on for the low-down and benefits of this complexion A-lister, how to safely use this skin-brightening powerhouse, plus the best products for more youthful skin. Let's blow the lid off the vitamin C treasure box for an out-of-this-world glow-up!
Understanding Vitamin C and Its Importance
Before we turn the key to open the skin benefits of vitamin C, let's delve into its miraculous importance to our bodies. Vitamin C is a nutrient known for its role in immunity, tissue repair, and function support in the nervous system. Though we're impressed with vitamin C as an all-around health superstar, this citrus celeb also has a unique status as a skin-renewal VIP!
Vitamin C, also known as ascorbic acid, is required for the growth and repair of all body tissues, including our largest, the skin. Its dominance of catwalk skin fame lies in its talent to prevent and stop cellular damage from 'outside sources' or free radicals, which include UV rays, toxins, pollution, and environmental damage.
This citrus superstar is an essential vitamin, meaning that our bodies cannot produce it alone, and therefore need a helping hand! Obtaining this nutrient from the foods we eat, from fruits, vegetables, and citrus to supplements – are some of the easiest ways to reap its benefits. Seeing that what you put in your body is as important as what you're putting on it, using vitamin C in your daily skincare regimen has game-changing benefits for your health and beauty all around.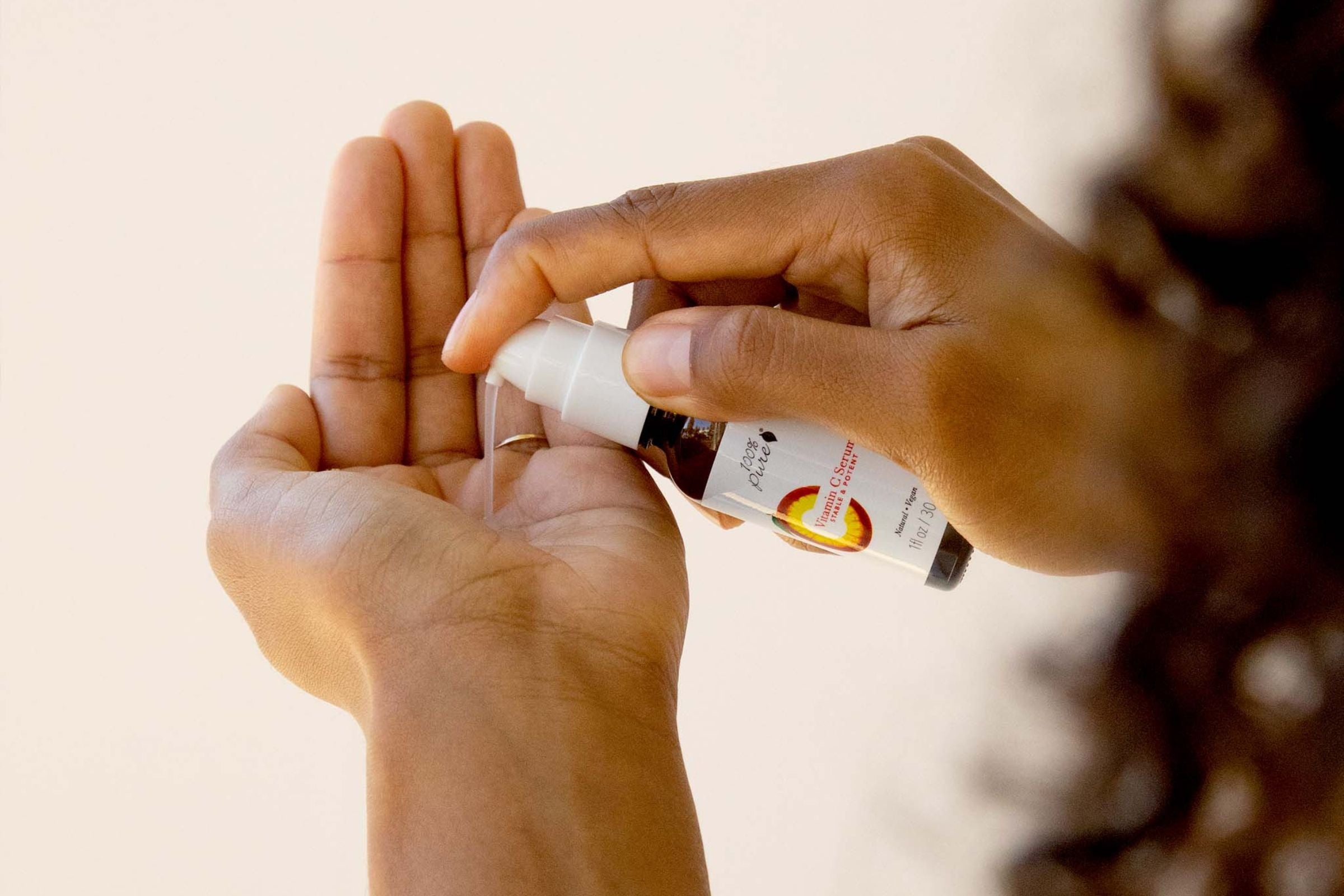 The Science Behind Vitamin C for Skin
Before we unlock the key benefits of vitamin C, we need to learn how this super antioxidant works and why it's doted on for our skin. Unfortunately, things are lurking "free" in our everyday environment that harms our skin. These free-reign culprits or free radicals can include UV rays, toxins, pollution, environmental damage, and so much more than our eyes can see.
The problem with these environmental recluses is our bodies and cells are continuously bombarded with these unlawful body-abiding radicals and they can damage the dermis of the skin and alter its DNA, the moisture barrier, skin texture, color, cell functioning, and how your skin ages. This is all oxidative stress. The nerve – tickets, jail time? Nah; that's where vitamin C has your back – and skin!
Vitamin C's excellent antioxidant properties prevent and stop cellular damage caused by oxidants. This potent vitamin acts as a skin 'shield' that can neutralize free radicals, thus reducing the damage that these unstable atoms can do to your skin. When properly applied, vitamin C doesn't oxidize at all. This shows how topical vitamin C from natural skincare can prevent oxidation, and therefore, slow down the visible signs of aging and sun damage to your precious dermis.
Vitamin C's all-star antioxidant powers encourage collagen production for firmer skin, and it increases cell turnover, which means brighter skin and a more even skin tone. It also protects against UV assailants, and can even scavenge free radicals to prevent the onset of fine lines and wrinkles. This anti-aging star can reduce hyperpigmentation, helping to keep your skin spot-free.
Top Benefits of Using Vitamin C in Your Skincare Routine
If we could dive into the vitamin C treasure box, we imagine we'd be bestowed with many beauty benefits. But until we get our mini-body access via 'Drink Me' potion to that mythical box, we'll thank our lucky stars for the multitude of youth-boosting benefits it already has to offer!
Boosts collagen production

Collagen is a necessary protein for firm, youthful skin. One of the most prominent features of vitamin C is its ability to encourage collagen production in the skin, thus fighting against wrinkles and keeping your skin plump. Collagen production slows down when we reach about thirty years old, but don't stress – vitamin C can help our bodies produce more.
Helps maintain elasticity

With vitamin C's superpowers of encouraging collagen production, it also helps maintain elasticity while repairing tissue damage. So, the fact that vitamin C can help encourage this type of synthesis makes it especially popular as a timeless ingredient in anti-aging and skin-brightening products.
Prevents and diminishes dark spots

Age spots, melasma, sun spots, acne scars… we want all of them gone. Vitamin C decreases melanin formation and protects against UV damage. If you don't have any spots yet, this citrus celeb can help keep them away. Vitamin C is a powerful antioxidant that fights against free radical damage and related hyperpigmentation, helping to keep your skin spot-free.
Brightens the complexion

We all want a healthy glow-up that makes us look youthful and refreshed. The high antioxidant potential in vitamin C means healthier skin cell function and better moisture retention for glowing skin. In addition to enlivening skin with its antioxidant properties, vitamin C also enhances a brighter complexion.
Helps hydrate skin

Magnesium ascorbyl phosphate is one of the main vitamin C derivatives used in skin care. Studies show that MAP can have a hydrating effect on the skin, not so much because it introduces water to the skin, but because it decreases water loss across the epidermis. This affords the skin a better chance at moisture retention.
Newsletter
Subscribe
for more blog updates and exclusive discounts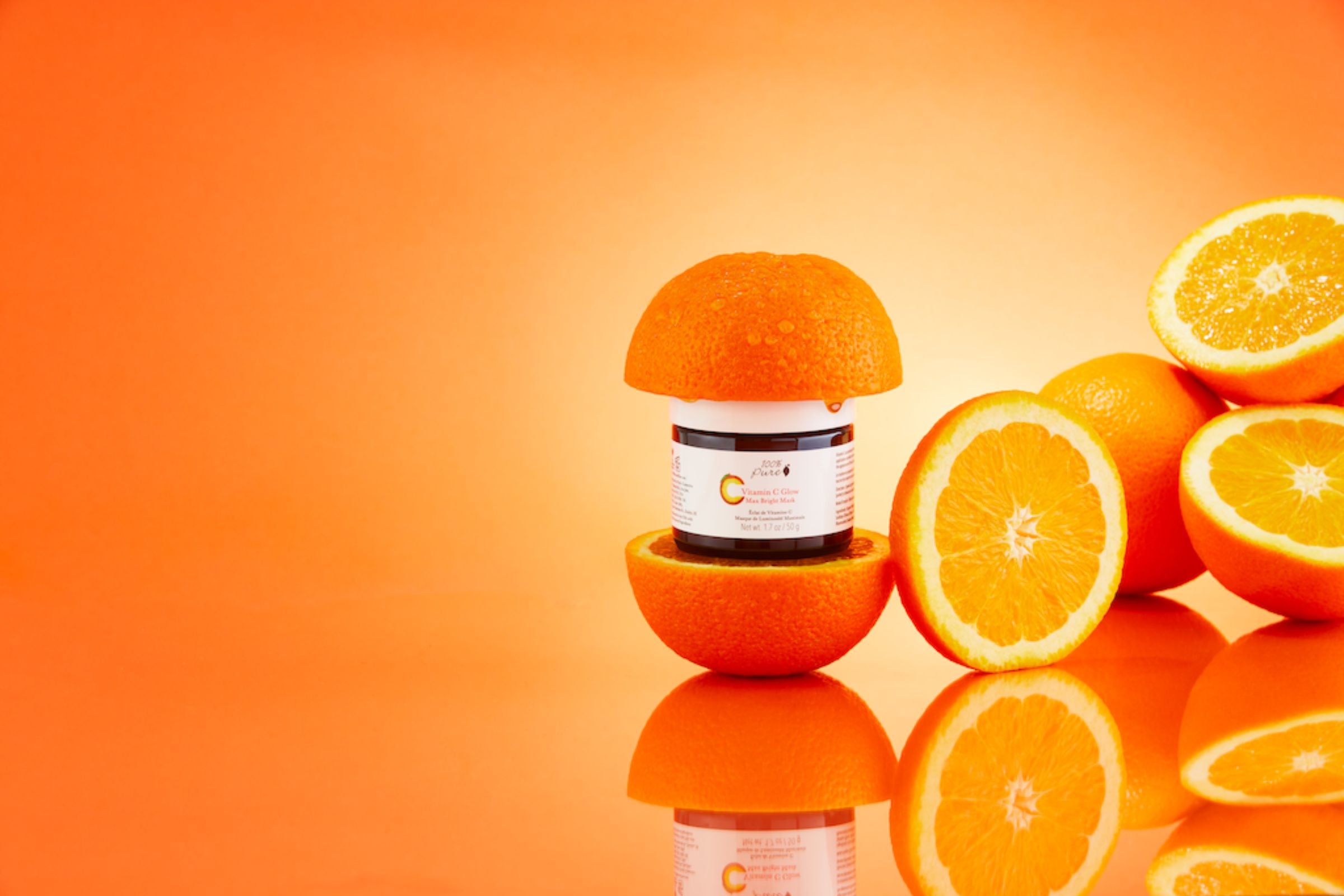 The Different Forms of Vitamin C and How to Incorporate It into Your Skincare Routine
First things first: not all vitamin C's are created equal. The key to this citrus treasure doesn't come down to the product – it's the particular form of vitamin C that's being applied. Let's check out why some vitamin C forms work better in certain formulations or for different skin types and concerns. Don't worry, we'll make it easy as 1-2-C!
#1: Ascorbic Acid
Ascorbic acid or L-ascorbic acid is the most well-known and well-researched form of vitamin C in skincare. It's the most effective at penetrating the skin barrier; the most common type of vitamin C used; it's overall stable, water-soluble, and quite effective.
When properly formulated at a pH of less than 4, this type of vitamin C has great anti-aging benefits for normal skin types. Sensitive skin types should look for a higher pH of 5-7 - closer to the skin's natural pH – to avoid irritation. Start with a low concentration of 10% for dull or uneven tone and slowly increase as the skin can tolerate it.
PRO-TIP: For oily or normal skin types, L-ascorbic acid can be the most beneficial, while dry and sensitive skin types may experience adverse reactions.
#2: Sodium Ascorbyl Phosphate
As opposed to L-ascorbic acid which can penetrate your skin, sodium ascorbyl phosphate converts into ascorbic acid once it's applied to the skin. Though this process will make it less active, it will be less irritating and beneficial for those with super-sensitive skin.
#3: Magnesium Ascorbyl Phosphate
This type of vitamin C also referred to as MAP, is water-soluble, which makes it great for sinking into the skin easily. It's one of the most hydrating in its class, and can effectively soothe skin irritations with its anti-inflammatory properties. MAP is also great for acne-prone skin types, as it can prevent the oxidation that leads to blackheads.
#4: Sodium Ascorbate
This vitamin C goes through a metamorphosis on the skin. Much like its close relative sodium ascorbyl phosphate, sodium ascorbate falls under the category of mineral salts. As we know, ascorbic acid is the purest form of vitamin C, and this form is the sodium salt of ascorbic acid. But it doesn't fall short on its wealth of skin benefits, from scavenging free radicals to lightening skin discoloration.
#5: Calcium Ascorbate
As another mineral salt of ascorbic acid, calcium ascorbate – often referred to as Ester C – is an anti-aging antioxidant that plays a pivotal role in collagen synthesis, tissue and wound repair, and antioxidant defense. Calcium ascorbate also has great skin-hydrating effects and is effective at a neutral pH, which means that it's non-irritating to most skin types.
#6: Ascorbyl Palmitate
As a fat-soluble derivative of vitamin C, ascorbyl palmitate will be non-irritating for sensitive skin types, but more stable when exposed to air and light than ascorbic acid. Ascorbyl palmitate has milder effects on the skin than ascorbic acid. However, it is still beneficial for aiding collagen production, mitigating hyperpigmentation, and improving skin texture.
When you build a natural skincare routine around your best vitamin C form, you can better ensure you're getting the maximum potential from this skin superhero. However, as with most skincare products, proper application and usage are key to unlocking its full skin-efits.
Generally, vitamin C is safe for daily use. Using it as part of your skincare regimen is smart year-round, because of the environmental protection it offers during the dry, cooler months to the skin-moisture-sapping humid and hot months.
We recommend that beauty lovers use our Vitamin C Serum after cleansing, exfoliating, masking, and/or toning — but always before moisturizing. All you should do is apply a couple of pumps of serum to clean fingers, gently press the product evenly over damp skin, and allow it to absorb into the skin. Viola – your skin but better awaits!
FAQs About Vitamin C in Skincare
Ready for some juicy facts about vitamin C in skincare? Yes, we've heard your questions – and we're grateful to offer you answers. Let's call this a 'Q and A' about vitamin C-elebrity and its proper usage in your skincare routine.
Can Vitamin C irritate my skin?
Answer: Not if you're using the proper form of vitamin C for your skin type. For example, those with sensitive or easily irritated skin should choose sodium ascorbyl phosphate or calcium ascorbate.
When is the best time to apply Vitamin C?
Answer: If you'd like to choose the path of least 'resistance' or irritation - or have dry or sensitive skin - it's best to start one day at a time and slowly introduce vitamin C every other few nights since a bit of skin irritability can occur. Do this until your skin gets used to it.
Can I use Vitamin C with other skincare products?
Answer: While you may have seen this popular anti-aging superstar used separately, there has been a rise in popularity using it together with other ingredients, such as the power pair retinol and vitamin C.
How long will it take to see results from using Vitamin C?
Answer: While every situation is different, most people see results from using vitamin C within three weeks. Whether you're noticing a brighter complexion, plumper skin, or improvements in hyperpigmentation, vitamin C can work wonders quite quickly!
Is it necessary to wear sunscreen when using vitamin C products?
Answer: Yes! First off: Always wear sunscreen no matter what products you're using, time of day, weather, or season. Sunscreen also helps prevent your vitamin C from oxidizing on the skin; therefore, improving its efficacy while also preventing sun damage, like hyperpigmentation.
The Best Vitamin C Products for Radiant, More Youthful Skin
Ready to enjoy the juicy benefits of vitamin C? When you build the best natural skincare routine around effective, natural vitamin C products, you can better ensure you're getting the absolute best from this skin superhero.
Without further ado, let's celebrate what makes vitamin C such a skincare C-elebrity!
Our natural Vitamin C Serum has a cult-like following, and employs ultra-stable Magnesium Ascorbyl Phosphate, combining it with an extra hydrating aloe gel base to deliver a drink of hydration to thirsty skin. It features antioxidant-rich botanical extracts like green apple and grape, plus alpha lipoic acid (ALA) for collagen and elastin production while fighting oxidative damage and discoloration with fellow antioxidant vitamin E.
Our Vitamin C Boost is an ultra-concentrated treatment with just two ingredients: vitamin C and hyaluronic acid. In this blend, you'll find Sodium Ascorbate, Ascorbic Acid, and Calcium Ascorbate for a triple punch of our favorite vitamin. It's buffered by hyaluronic acid to deliver a silky, hydrating texture and is perfect for dark spots or overall brightness.
Our Multi-Vitamin + Antioxidants PM Serum is your nighttime backup to your daytime vitamin C serum. Working with the same potent yet stable base as our signature C serum, this anti-aging superstar uses vitamin C, 10% Magnesium Ascorbyl Phosphate (vitamin C), and niacinamide to help minimize dark spots and encourage a healthy glow.
Our 18.3% Active Ingredients Vitamin C Glow Max Bright Mask will turn a dull complexion into a refreshed, luminous, and hydrated glow with this enriching vitamin C concentrated treatment that will leave your skin utterly radiant. Featuring age-correcting Bakuchiol, CoQ10, and vitamin E, this mask will brighten, boost collagen, increase elasticity, and firmness, and lessen the appearance of lines and wrinkles, all while deeply moisturizing and softening skin.
Now that you've got the science and lowdown on the vitamin MVP and how to use it, you're going to notice a boost in elasticity and firmness, with an overall brighter complexion. With all these amazing natural skincare products working synergistically, vitamin glow-getter is your key to unlocking the treasure for your best skin yet.
Your complexion will still land in the limelight for youthful, smoother, and brighter skin. Now that's a strut down the skin catwalk!
We carefully hand-select products based on strict purity standards, and only recommend products we feel meet this criteria. 100% PURE™ may earn a small commission for products purchased through affiliate links.
The information in this article is for educational use, and not intended to substitute professional medical advice, diagnosis, or treatment and should not be used as such.
Sign up to our email newsletter for more blog updates and exclusive discounts.
< Older Post | Newer Post >